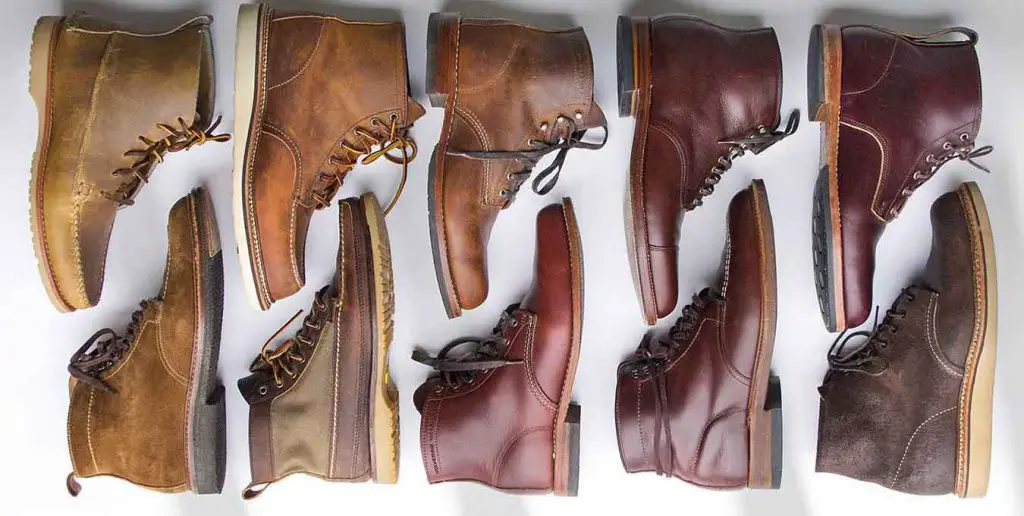 The Best Boots for Men
I can think of plenty of reasons why a man striving to dress better should own a quality set of leather boots. Whether it's their longevity, fit, warmth, or simply their appearance, boots are a staple in the realm of style. From chelseas to moc toes to chukkas, the selection of boots in this day and age is essentially limitless, meaning it's that much easier for you to find the best boots for men!
Though I'm certain you've heard it countless times before, let's get something out of the way first; you get what you pay for, and that goes double for boots. The difference in caliber, durability, and appearance of a well-made, American pair of boots compared to something you find at Target is substantial. Think of a pair of boots as an investment. From the minute you try them on, they'll conform to your feet, age as you age, walk you through the elements, be there when Stacy from accounting doesn't text back (but whatever – she wasn't that cute anyway), and they will become an extension of your own character. In short, a set of solid boots will last a long time and if you treat them well, they'll return the favor. When it comes to the best boots for men, a pair that won't fall apart should be the first on your checklist.
---
Before we get into styles and types, let's get some basic terminology out of the way. I've made a quick diagram to do so:
The Anatomy of a Boot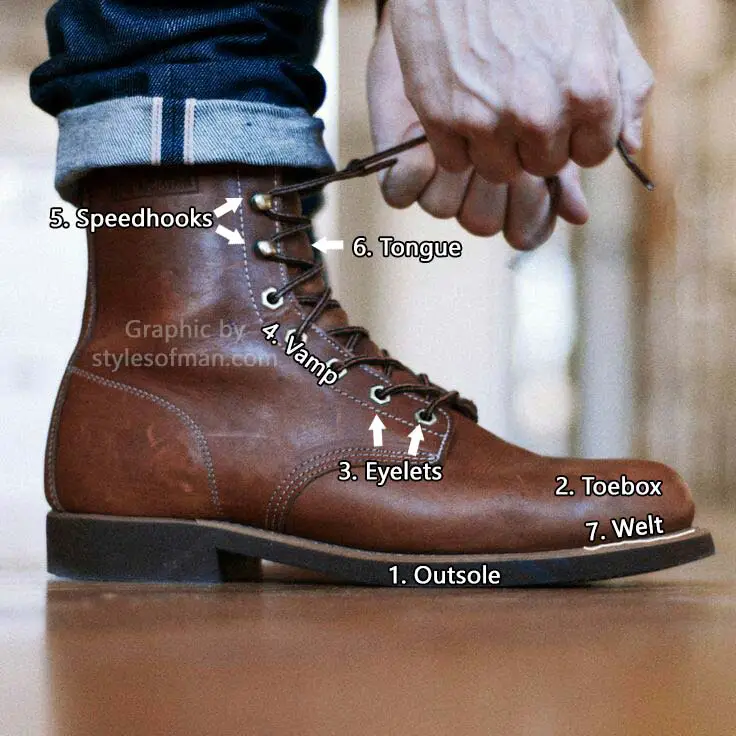 1. The outsole is the bottom part of the boot that directly touches the ground. It's important for this part of your footwear to be sturdy, as it'll be taking the most beating. This part can be made of various materials including leather, crepe, and Vibram, which all have their own separate applications.
2. The toebox provides space and protection for your toes, and is often lined in workboots (hence, steel-toed boots). Your foot's interaction with the toebox is crucial to fit and comfort. This part can come rounded or square, though rounded seems to be much more stylish.
3. The eyelets secure your laces to the boot itself. Pretty self-explanatory part of any footwear.
4. The vamp AKA upper surrounds and protects your foot from the sole upward. This is the part that creates the shape of your boot using a last.
5. For higher-rise boots, speedhooks are often implemented to let you tie/untie your laces quicker. Essentially, it allows one to swiftly insert and remove his foot from the boot.
6. The tongue prevents the laces from rubbing against your ankle.
7. The Goodyear welt runs along the outsole. This part is only found on quality boots as it signifies that the boot-maker used a specific process that's generally believed the be the best way to craft boots. Not all quality boots are Goodyear welted and not all Goodyear welted boots are quality.
Things to Note:
---
Types of Best Boots for Men
Work Boots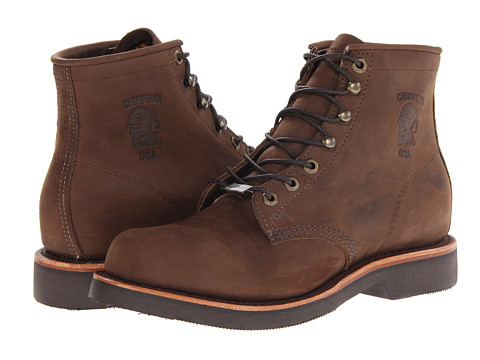 Perhaps the original branch of boots, this category employs a range of footwear ready to take a beating, but that doesn't mean they can't look good while doing it. Work boots are generally made of more rugged leather and often employ Dainite or lugged soles. These are the things your granddad wore. Here are a few brands and models:
Chippewa Apache 6″ Rugged Handcrafted Lace-Up Boot – these were actually my very first pair of boots as well as the purchase that got me interested in men's fashion. They're an excellent pair of boots for the price and the burnished leather is soft and nice. Not to mention, they're handmade in the United States. They're also available in a lugged sole, which offers more grip and traction, but I personally don't like the look of them. Since most boots are designed with the notion that you'll be wearing thick socks, make sure to size down! Chippewa's collection
Thursday Boots Captain – Thursday is a relatively new contender in the boot game, but they're bringing the heat. The Captain is Goodyear-welted, leather lined, and features a cork midsole – all priced for under $200, which is an absolute steal. They're not made in the US, but if you're looking for a good-looking boot on a budget, this is a good bet!
Red Wing Heritage Iron Rangers – The Iron Rangers are near the top of the workboot echelon, and are a cult favorite among boot and denim aficionados alike. The Minnesota-made boots are a staple for the Americana enthusiast. The only problem I see with these is that they might be too nice to use like regular workboots, as I've seen plenty of guys wear 'em casually to the office. They also come in a huge range of different leathers and colors. Red Wing's collection
Alden Indy Boots – (Not to be confused with Aldo) Okay, so I might be a little bit obsessed with these, but can you blame me? First of all, they were made famous by Indiana Jones (hence the Indy). And if you don't think that's awesome, each pair is handmade in Massachusetts – likely by a rugged patriot named John. As with the Allen Edmonds, this is by no means an entry-level pair of boots. Just remember, you don't need to spend an absurd amount of money on boots to look good; there are plenty of budget alternatives available that look just like the expensive boots.
Wolverine 1000 Mile – An excellent contender for an upper mid-tier boot, the 1Ks are another US made boot. The leather is sourced from Horween, a great tannery that actually provides leather for MLB baseball gloves (kind of interesting, right?). I personally have a pair of the Centennial version, which has pebbled leather as opposed to smooth. The boot fits like a glove (heh) and they can fit into a range of outfits, which is why I've included them in my list of best boots for men. I'd recommend a pair of these for sure. They also go on sale a few times a year, so look out for that.
Chukka Boots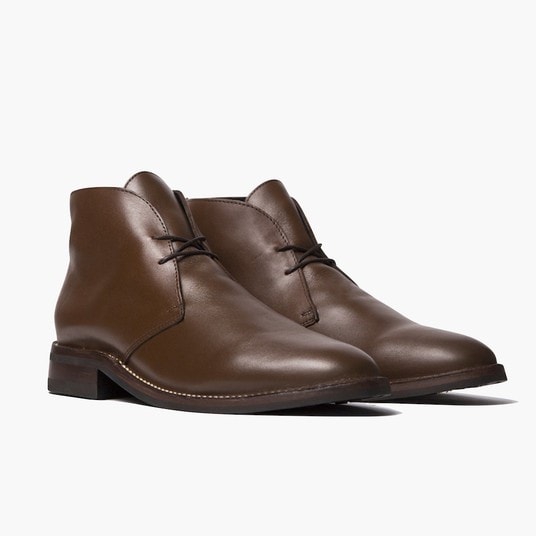 Gaining considerate popularity in the past few years, chukkas are here to stay. Likely the lowest rise of any boot, Chukkas are characterized by simplistic design and usually two or three eyelets. A definitive must-have for the modern gentleman's arsenal of footwear. I personally rank this style pretty high on my list of best boots for men.
Clarks Original Desert Boot – Ah, the infamous CDB. It's practically a meme in the men's fashion community along with *ahem* Uniqlo, but there's a reason why these are so unbelievably popular. First, they're only about $100 and go on sale regularly. Second, a lot of people love the look of the crepe sole (CDBs are inspired by the footwear of British WWII officers which is kind of cool). Third, they come in essentially every color and pattern imaginable (like what…?). To keep things short, these are a staple piece that won't break the bank. I'd recommend the Beeswax colorway if they're your first boot. Check the sizing before you order!
Red Wing Heritage Chukka – These look a bit different than the CDBs and have a couple of other features as well. To begin, they're US-made (I know I keep stressing the importance of this, but you really don't want to buy Chinese leather for both quality and ethical reasons). In addition, Red Wing's take on chukkas has Goodyear welt construction and an additional set of eyelets for a more secure fit.
Thursday Boots Scout – I recently picked up a pair of these in the Honey Suede colorway and I gotta say: I'm a huge fan. The leather finish is sleek, and the lacing system (like most chukkas) is quick and secure. I'd recommend sizing down 1/2 – 1 on these as they do run a bit big.
Chelsea Boots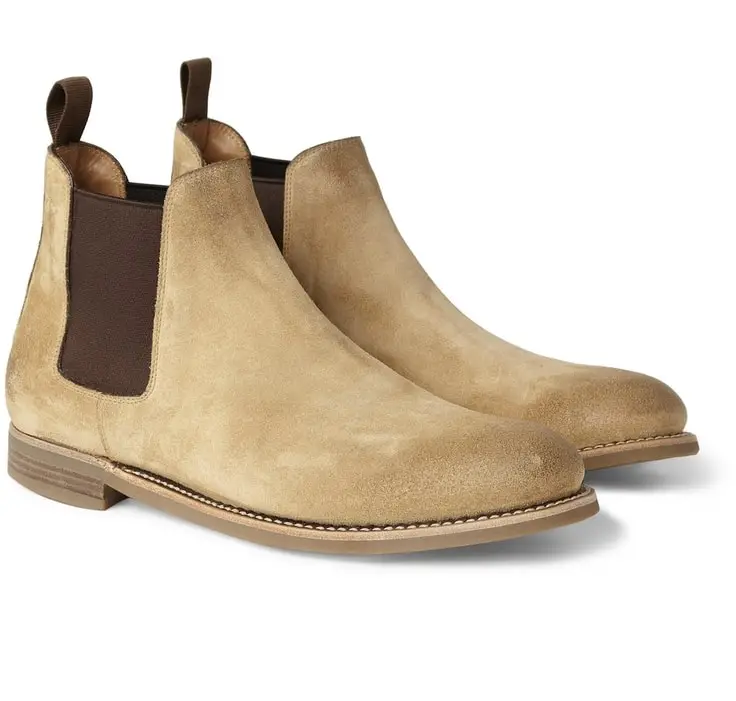 Chelsea boots are laceless, closed-vamp boots that usually have a pull tab to slip them on in addition to the elastic webbing on the sides. This style of boot is often considered to be popularized in the 1960s by the Beatles. These boots are considerably more difficult to pull off as they work best in slim outfits (see Saint Laurent Paris) unless you're Kanye, then you can pretty much do whatever. Chelseas come in either suede or leather, but I tend to see suede more often.
Thursday Boots Duke – Like most of Thursday's boots, these are Goodyear-welted and finished with a beautiful honey suede, which is the perfect color for your first pair of chelsea boots. Like all suede shoes and garments, keep them away from water and invest in a suede brush!
Wolverine 1883 Chelsea – A sort of lovechild between the workboot and chelsea, these are a good choice for those who like the craftsmanship of traditional full-grain leather but the silhouette of the chelsea.
Dress Boots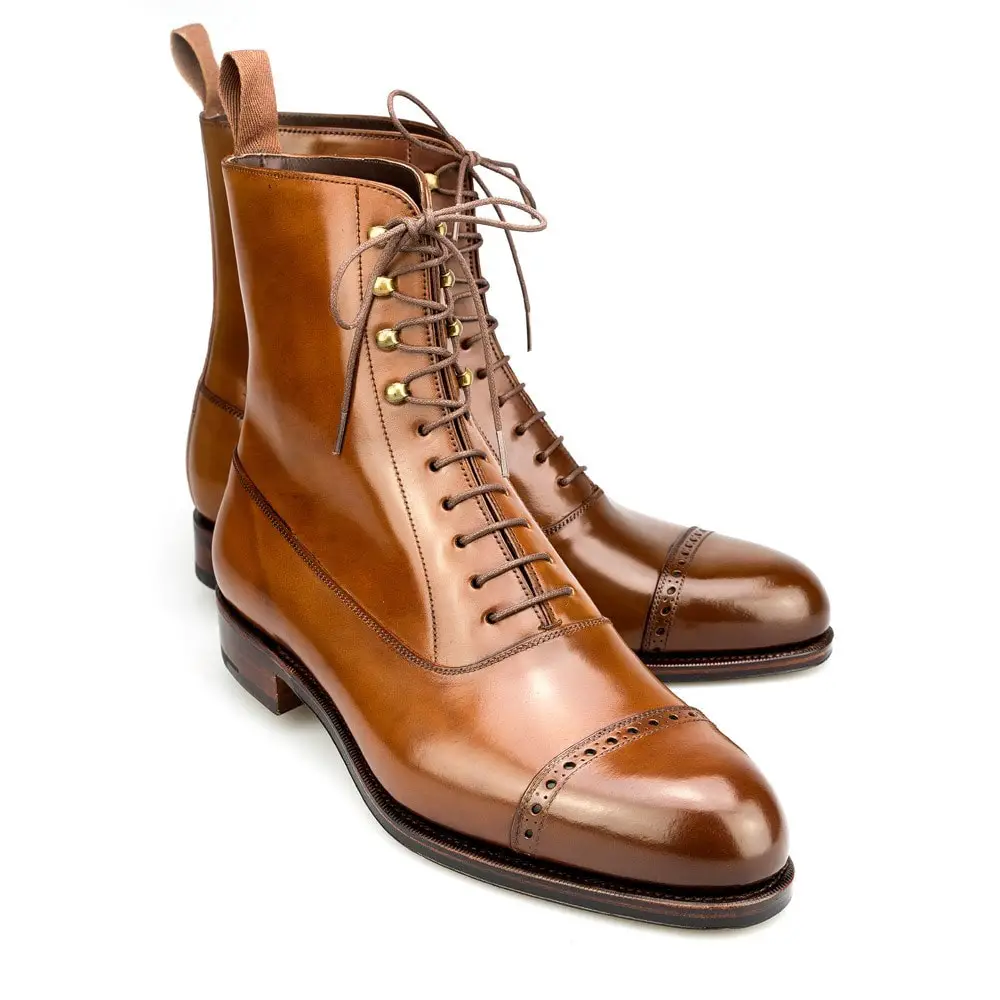 Unlike work boots, dress boots always prioritize form over function, but that doesn't mean they'll fall apart on you. Dress boots often have some sort of ornamentation on the leather as opposed to a flat finish; some people love this, but it's all subjective. If you're looking for the best boots for men that look as great with a suit as they do with a pair of chinos, then this is the category you should be searching in.
Allen Edmonds Dalton Lace-Up – There aren't many names out there in the men's fashion industry quite like Allen Edmonds, and there's a good reason for this. I mean like, damn, look at these things. The walnut leather finish is iconic of AE, and these ornate wingtips are surely no exception. If you're willing to spend half a grand on a pair of boots, these could certainly be a pair to consider.
Carmina Cordovan Balmoral Boot – If you want your boots to be the shiniest objects in your county, you may want to take a look at these Carminas. A much higher rise than the previous options, these boots are built to impress and come in two stately color: a rich, brown cognac and a deep blue marino. These are the best boots for men in a formal setting.
Moc Toe Boots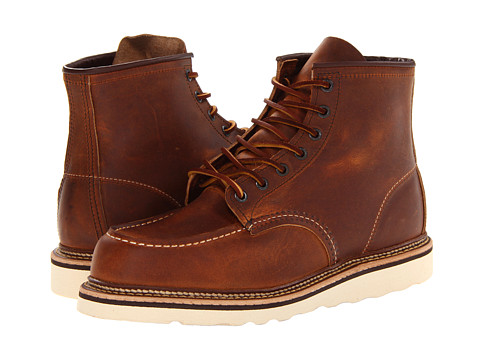 Moc-toe boots can fall into several categories, though they're likely fixed between a casual and a work boot. These kinds of boots are characterized by a bulkier silhouette, contrast stitching, and a thick wedge sole. Some people love 'em, some people hate 'em. I happen to love 'em. (Plus, they're thiccc)
Wolverine Moc-toe Work Boot – Moc-toe boots can fall into a few different categories, this particular pair is definitely built for work. Not as durable as US-made boots, but this is a solid budget option for those looking for beater boots (AKA shitkickers).
Red Wing Moc-toe Boot – Though more expensive than the Wolverines, the Red Wing heritage moc toe is the perfect conception of form and function. They also come in a range of some pretty great colors.
Golden Fox lightweight Moc-toes – I've actually heard some great things about these boots despite their ~$75 price range. Full-grain leather and Goodyear welt construction let this budget boot contend with some of the pricier models. A great choice for those seeking a cheap, sturdy boot.
Vivsim 7 Hole Moc – The Japanese brand's iconic style has made its mark on the men's fashion industry, boasting celebrity advocates from John Mayer to Drake (what the hell are those jeans, Drake?) to Kanye. This model utilizes raw cowhide leather uppers along with Vibram lug soles, TPU heel stabilizers, and its handsewn Goodyear craftsmanship.
Miscellaneous Boots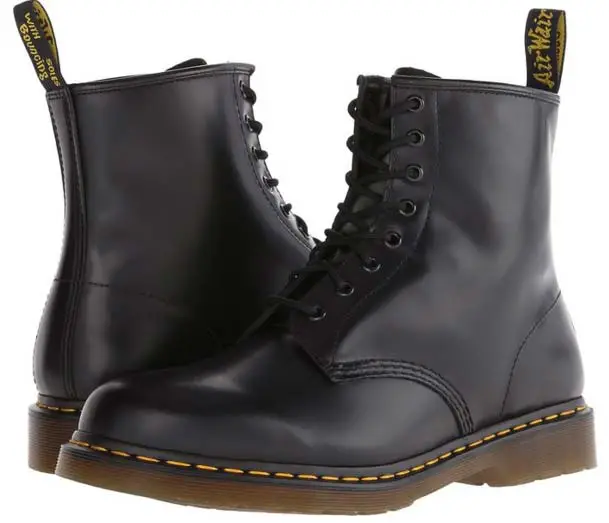 These are a few honorable mentions that I feel should be included in this guide for the best boots for men, but don't fully fit into a category on their own.
Dr. Martens Men's 1460 Classic Boot – Everyone knows about Doc Martens, and there's reason for that. A sub-$100 pair of boots available in plenty of colors including some questionable ones. They were made in England up until 2003 due to declining sales, which is a shame because though the price dropped, so did the quality. They're currently produced in China and Thailand and the leather's quality is mediocre at best. However, they do currently have a 'Made in England' line, though it's near twice the price.
Timberland Classic Work Boot – Aight B, deadass these probably belong in the work boot category, but because they're largely worn as an urban fashion boot, I think they fit here quite well. Tims have been around for a while and have retained popularity for a number of years. Personally, I'm not a fan as I believe you can get a much better boot for the price, but some like that look and that's fine by me.
Nike Special Field Boot – Popularized by Shia Labeouf and often dubbed the Shia Laboots, these boots have become a cult favorite among some streetwear enthusiasts. The SFBs are an interesting boot without a doubt. The lacing closure system ensures a tight fit so they won't come loose, which aligns well with its initial purpose as a first responder's boot.
---
Here's a great graphic from the guys at /r/goodyearwelt, a Reddit community for boot enthusiasts. Check 'em out if you're interested in learning more.
 
Like this post?