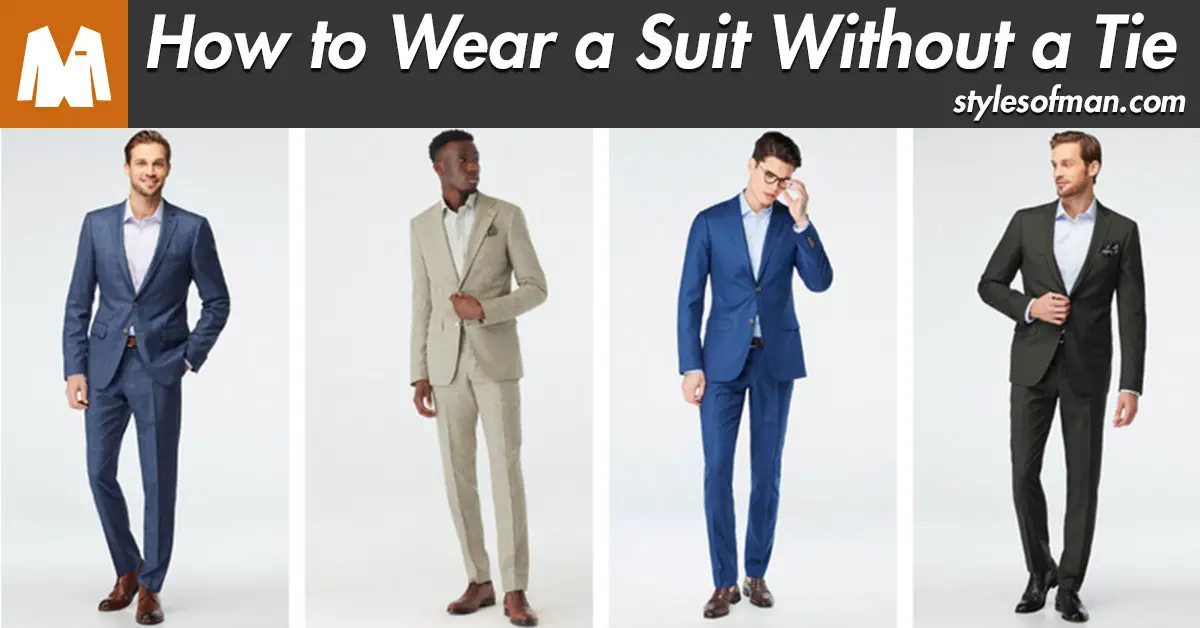 Those who are fashion-minded know the rules of wearing a suit. But they also know when to break them to create something new. Wearing a suit without a tie is often the first step.
This may contradict the classic sartorial grounds; tieless suits are modern gents' armor. You will look confident, effortless, and a guy walking on his own path. But all this takes a little effort.
So, put these ideas into perspective, and learn how to wear the suit without a tie.
Can You Wear a Suit Without a Tie?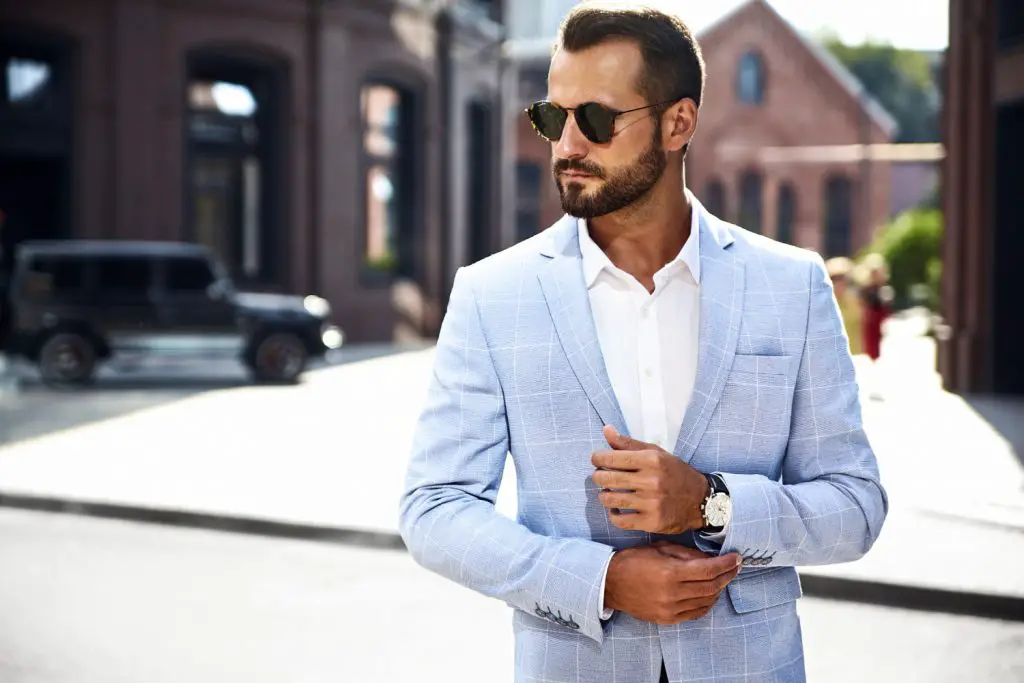 In short, yes. But in a broader view of things, it depends.
Generally, a suit jacket, pants, dress shirt, and tie are all parts of the outfit that go together. Anything is missing, and you start to feel plain or informal.
This is more noticeable in a place full of gents trying to maintain the sanctity of a suit. And you show up without a tie. It looks as bare as not wearing the suit itself.
Therefore, professional occasions like board meetings, formal events, and appointments with important clients are not suitable to skip the tie.
But this doesn't mean you can't wear a suit without a tie. The suit could go without the tie for any occasion that allows you to be creative or casual. These could include summer weddings, going on a date, cocktail parties, on a plane, etc.
We think it's best to have a purpose for why you're skipping the tie. And not simply because you can.
Button Drop vs. Fully Buttoned Shirt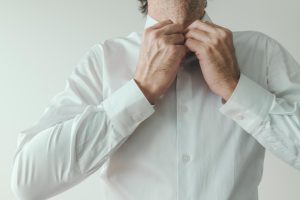 The suit sans tie, and all eyes go on the shirt collar. You can air-tie (buttoning-all-the-way-up) as Ryan Gosling and Timothée Chalamet or go Tom Ford's style button drops. Each carries a different charisma.
Fully buttoned shirts are best carried in slim-cut suits that pivot the norms. Crisp white dress shirts can sometimes be too much. Therefore, try patterns such as dark florals to add a jazz style. It's best to avoid oxford button-downs here.
Unbuttoning the shirt buttons is the other option. Two-button drop is best. It's casually cool but requires confidence to pull off. An after-business look you might carry off to a bar.
A single-button drop, in comparison, is modest. It could be an excellent choice for business casual styling.
Best Ways to Wear a Suit Without a Tie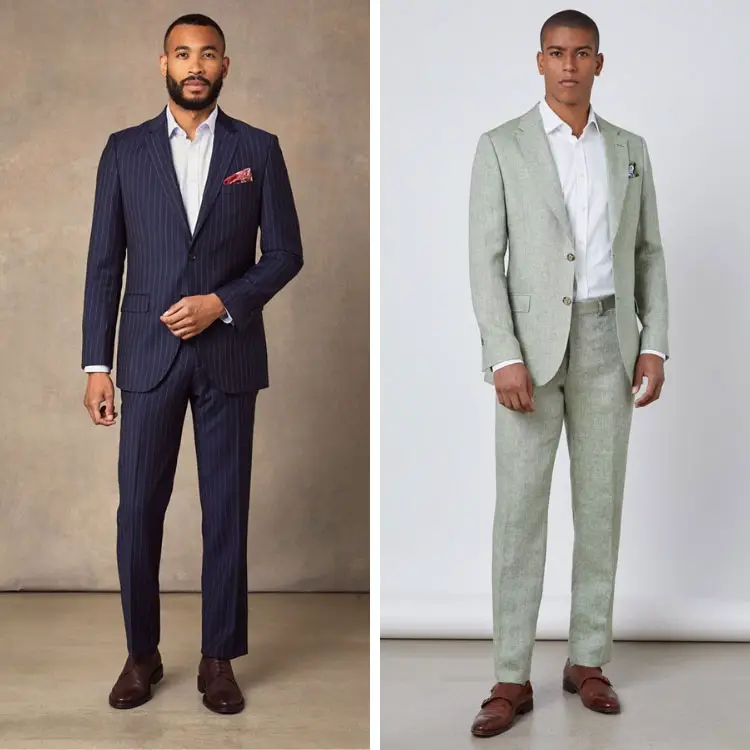 Remember:
The art of looking laid-back in a suit without a tie requires two essential things. The meticulously tailored suit combined with a less-formal shirt.
We consider these important, as they contribute to you making deliberate style choices. Plus, you look very natural.
Do things differently, and it will look like you are unaware of the dress code.
Or, at worst, perceived as copying the Met Gala Hollywood looks.
Here are some stylish ways to go without a tie and still look smart.
Wear a Business Suit and Button-Up Shirt
A navy suit and plain white shirt from a ubiquitous retailer like Men's Wearhouse is often "the way" most gents start to go tieless. In fact, this is the menswear "uniform" for a business-casual office look.
To stand out, we suggest some smart moves. First is to pay attention to the fabric for the suit and shirt. The suit fabric should have some weave, plain or twill. These textures are easier to style than true formal suits as a base. In comparison, plain shirts are acceptable.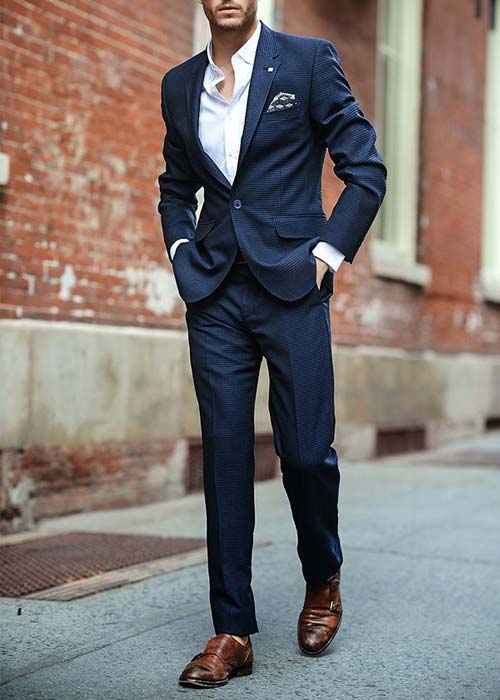 We, however, suggest unbuttoning the one additional button; thus, the two-buttons drop. This projects a relaxed vibe that matches the casual feel of the suit.
You don't need much extra here. However, we consider a subtle pocket square a great addition to the outfit. Also, it's best to swap the oxford shoes with something versatile like double monks and tassel loafers.
Besides navy, you can also wear blue, charcoal, and grey suits. A light blue button-up instead of plain white will also provide a smart look without the tie.
Pair a Casual Suit with a Dress Shirt
This outfit is modern and the easiest option to lose the tie. The idea is that a dress shirt, like a plain white poplin, draws attention towards it.
In contrast, a casual tan or light grey linen suit counterbalances the shirt. This dichotomy appears to be an informed choice to go without the tie.
You can experiment a little, like choosing a taupe suit with a pale blue shirt. Or, a fresco suit with a pink shirt, clearly sans tie.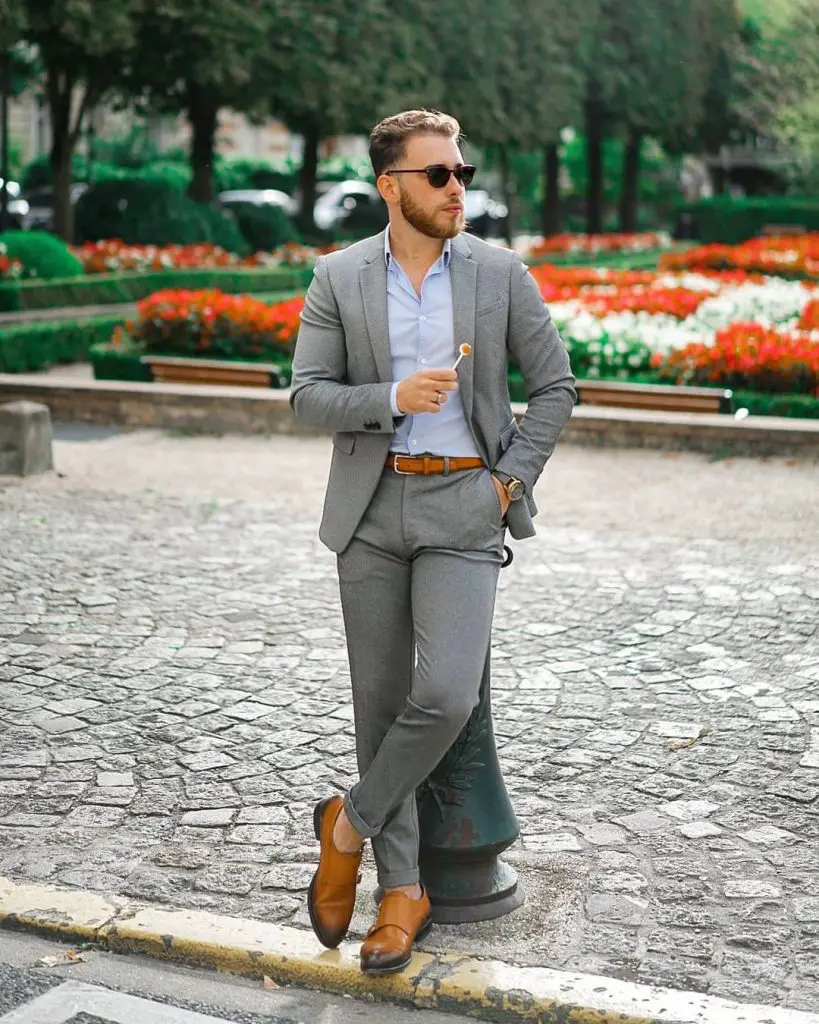 If these outfits seem dull, you can add a flair with a pocket square or maybe with socks. Pocket squares are our favorite, as they are easier to notice. A patterned pocket-square in puff-fold will be a great addition.
Sneakers can be too much with these looks. Therefore, stick to the classic light-brown loafers.
Swap the Dress Shirt for Polo or T-Shirt
Now you came into a completely different league. The tie is out of proportion, and looking smart is easier. Plus, you embrace an extreme comfort that makes these a perfect choice for spring and summer.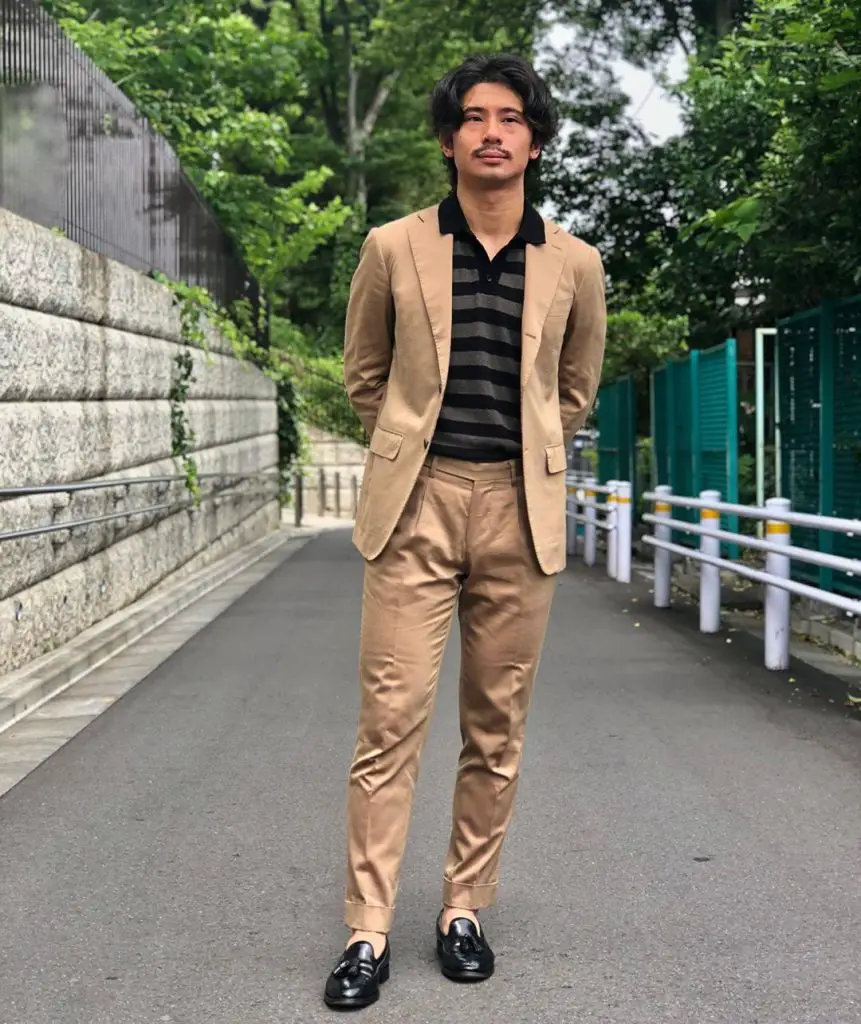 Plain white and black t-shirts look sensational with most suits. Grey, charcoal, brown, beige, and tan suit combinations will be some good preferences.
But with a full suit, we always feel Polos are a better option than t-shirts. This is because the not-so-stiff collars have the same token as a button-up that easily dresses the suit down.
So, look for neutral black, white, navy, and maroon polos. Better to avoid the stripes and any collar detailing. Also, go for a more structured collar.
It would be best if you opted for a casual suit. Cotton tan and grey linen always provide maximum possibilities with polos. Complete the look with loafers or a fresh pair of white sneakers.
How to Style the Double-Breasted Suit Without a Tie
Most of us are not the Pitti Uomo gents. Thus, we can't wear double-breasted suits in the most creative ways possible. But a whiff of confidence is enough to style it without a tie. So here are a couple of crucial pointers to abide by.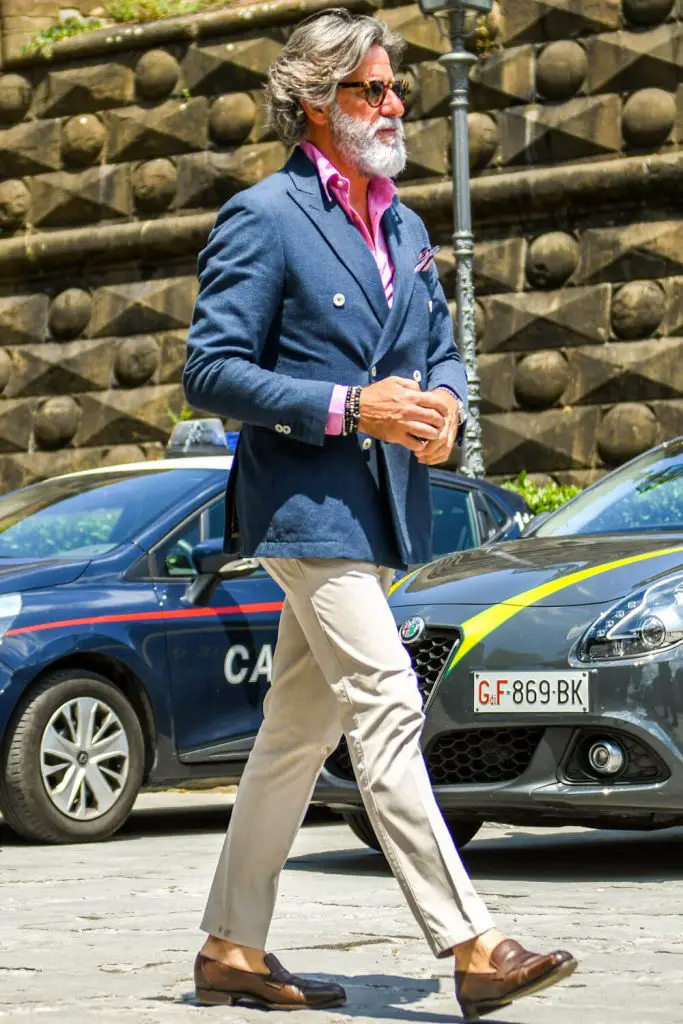 The suit's fabric is more important than the color. Casual ones like cotton and linen are better than wool. For suit colors, grey, navy, and brown will all do fine.
For the shirt, a white poplin or light blue makes a statement. But they should have high collars to sit above the lapels. You can try contrasting the polo to the suit shade. Try a camp collar with the polo if you feel creative.
Other shirt options are pastel button-ups. These create a powerful backdrop, especially with darker jackets. While shirt patterns like check in blue and red or green pop well for a sporty look.
It's better to skip the accessories or keep a bare minimum. For the shoes, oxfords, derbies, brogues, and double monk straps are suitable.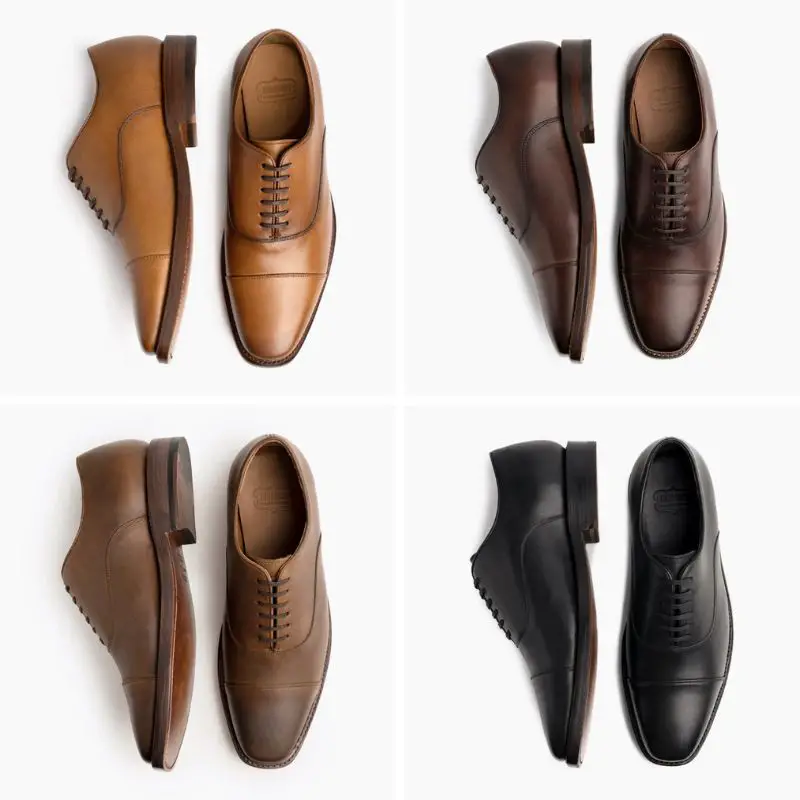 Things to Consider When Wearing a Suit Without a Tie
Not embracing the instant sophistication of the tie and going without it can be tricky. But as long as you know what you're doing, everything will be fine.
Therefore, we have some considerations. Use them as a foreword to your sans tie lookbook. Or as a tool to put forward your style as a statement.
The Occasion
Tie and suit often go together. And if you're going to separate them, the occasion should be appropriate. The easiest you can encounter is a predefined dress code.
Anything below the semi-formal can ideally be put up with a tieless look. Alternatively, cocktail attire and business formal situations are not appropriate to lose the tie.
Daytime events, especially in summer, are casual, and you can easily skip the tie. In comparison, the opposite is true for winters and most nighttime events.
Finally, to blend in with the occasions, always have an ease-with-oneself attitude. Don't question your style choices, and go with confidence.
Suit's Formality
The suit is the centerpiece, so ensure it's not too formal. Pinstripes or genuine formal suits such as black don't look good without a tie. It appears you forgot the tie rather than the deliberate style decision.
Less formal suits with brighter colors and patterns are a better option without a tie. These showcase creativity, and you look natural.
Shirt's Collar
The burden falls on the shirt's collar as you skip the tie. Therefore, collars should look crisp. Here are a few things you can do to style the collar properly.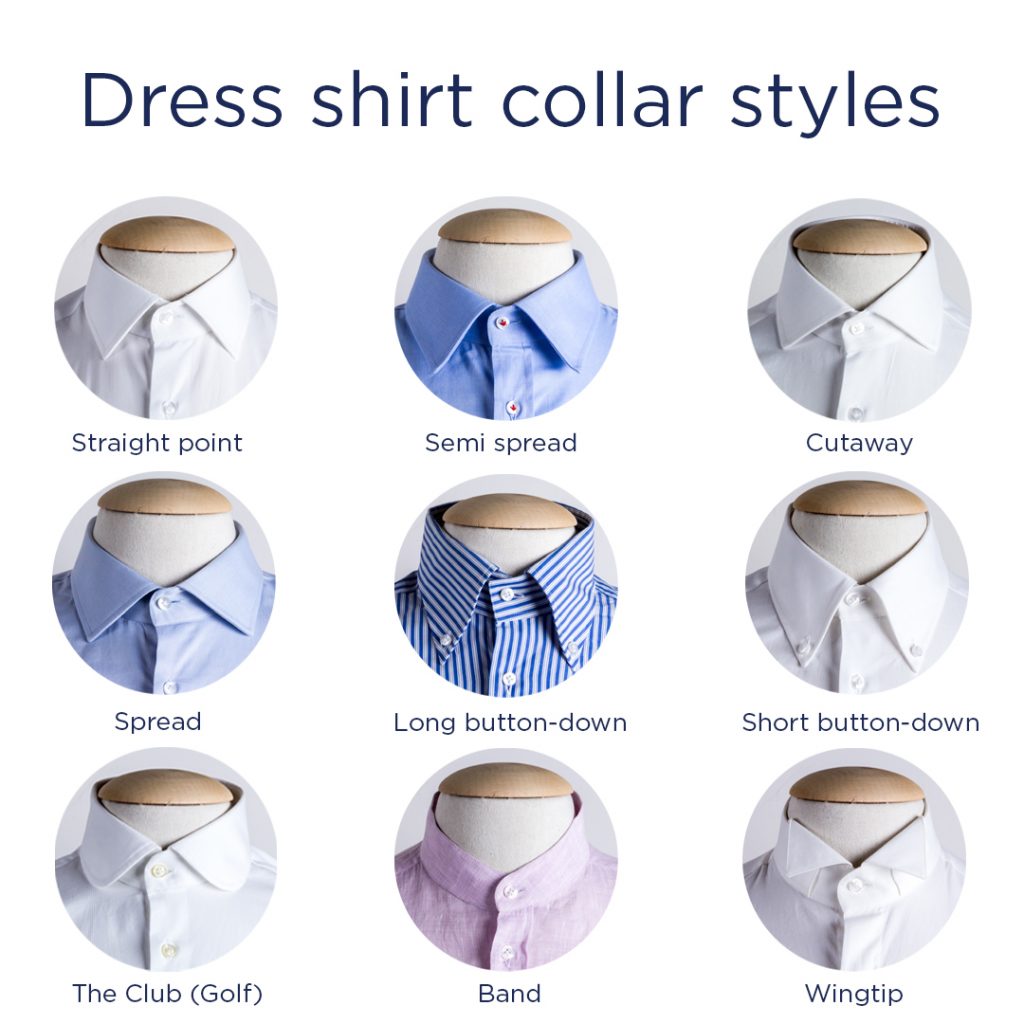 First, choose spread collars instead of straight pointed collars. The wider collar points tuck out of the way, creating a polished look without the tie.
The collars should also look solid and well-ironed. It's good to have collar stays, especially when wearing the suit for a long-time, let's say at work. A strong placket is an absolute requirement. It will prevent the collar from looking sloppy.
Button-down shirts need special attention to the collar. Therefore, choose a good quality shirt with a reinforced placket and properly iron it.
The Undershirt Should Be Hidden
Undershirts are important. They soak up the sweat, insulate the body, and keep the expensive dress shirt safe from body oils. These also compress the figure in an attempt to shape the body better.
But with all this, it should never be visible. Therefore, go for deep v-cut undershirts that stay hidden even after a two-button drop.
Other Accessories You Can Wear
If the tie is not there, other accessories can balance it out. Plus, it allows you to show your personal style.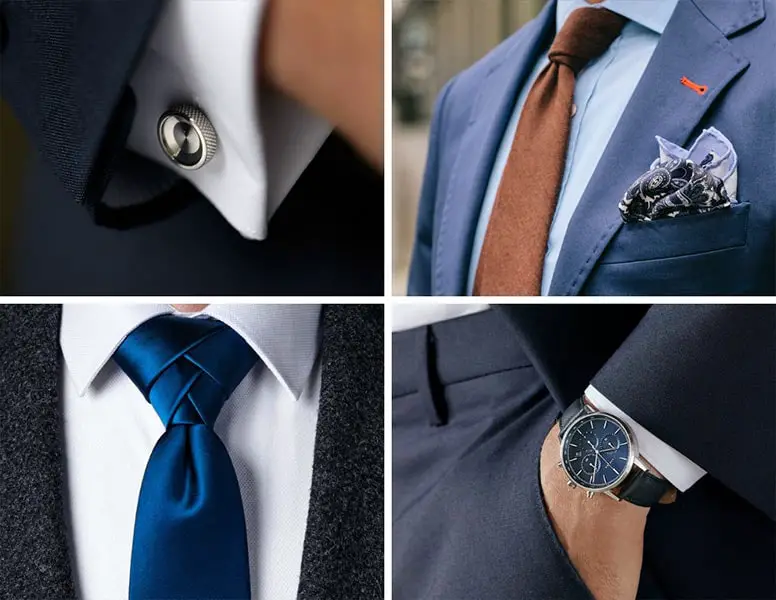 Pocket squares seem to provide much-needed visual interest better than any other accessory. So, be creative with these. A colored pocket square or one with patterns are the best options. Also, try a casual fold.
A little boutonniere/lapel pin can also be an excellent visual addition. Plus, it shows that you put effort into styling. Of course, the same goes for a good-quality watch. But don't go with a big dial, numerical watch. Instead, choose something casual and a little sporty.
Cufflinks can be a good addition. But skip them if you already have too much in the outfit.
Well-polished shoes, however, are a must. You can try sneakers sometimes, but dress shoes have no alternative.
You might like these other popular posts too