Eboy Outfits — The Tik-Tok Craze Taking Over Fashion
Eboy outfits—the latest viral trend to come from Tik Tok— has become one of the year's biggest trends in men's fashion. While the head to toe Eboy look may not be for everyone, incorporating elements of Eboy style in your everyday outfits can add the perfect touch of edginess. It's alternative, urban aesthetic can quickly turn any skateboarder, Hypebeast, or men's fashion lover into an internet style icon.
We'll teach you what Eboy style is and where it came from, as well as teach you how to dress like an Eboy with three Eboy outfits you can easily recreate.
What Exactly is Eboy Style?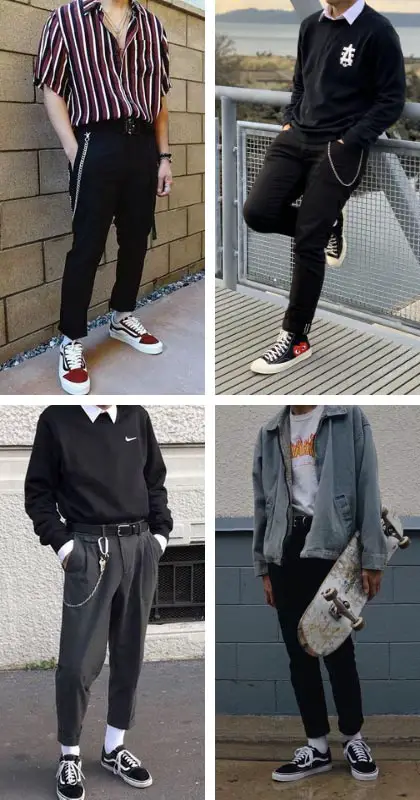 Eboy style is an alternative fashion aesthetic popular among teenage boys and young men. The term Eboy simply refers to a young male (often an influencer or social media figure) with an edgy, alternative style that incorporates some of today's top men's fashion trends. Because of its popularity online, it is quickly gaining attention from younger audiences. The style can be commonly found in the skateboarding and alternative music scenes.
While Eboy style is a very specific aesthetic as a whole, it allows for quite a lot of individualization within it. The look incorporates influences from K-Pop, 90's skateboarding, 2000's goths and punk music. Some wearers choose to favor one influence and incorporate more of its elements into their personal style. For example, one Eboy may be influenced heavily by punk fashion and wear more layered jewelry while another may be a skateboarder, and wear little to no jewelry with his oversized t-shirts and Vans.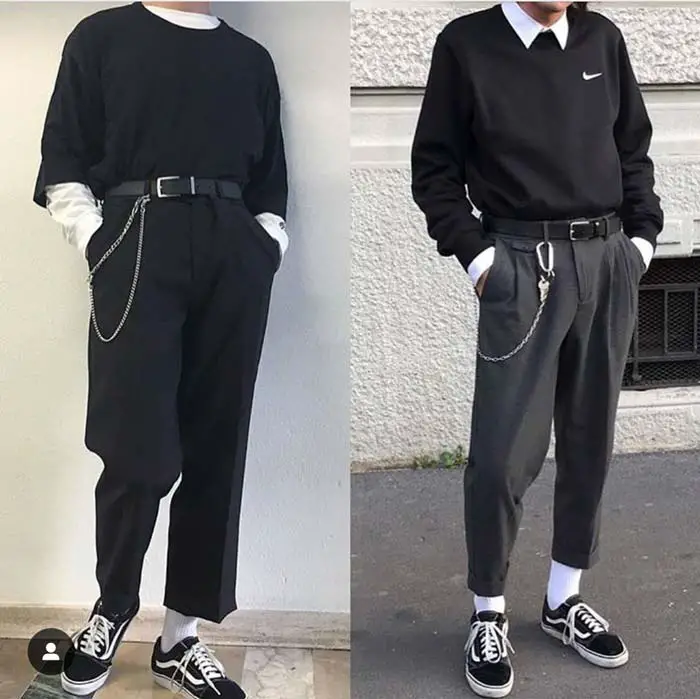 Some Eboys prefer to stick to a minimalist color palette, often dressing in monochrome greys and blacks with pops of white and denim. This style may also be referred to as a Soft-Boy aesthetic. Others are more adventurous with color, and frequently add pops of red and neon green to otherwise black and white outfits. You may hear them called Cyber Goths.
A cornerstone of nearly all Eboy/Softboy style is a solid pair of black skinny jeans. Our go-to lately has been the Skinny Jay denim from Mott & Bow, which has 11% elasticity woven into Italian fabric. Perfect to wear cuffed or uncuffed for any Eboy fit.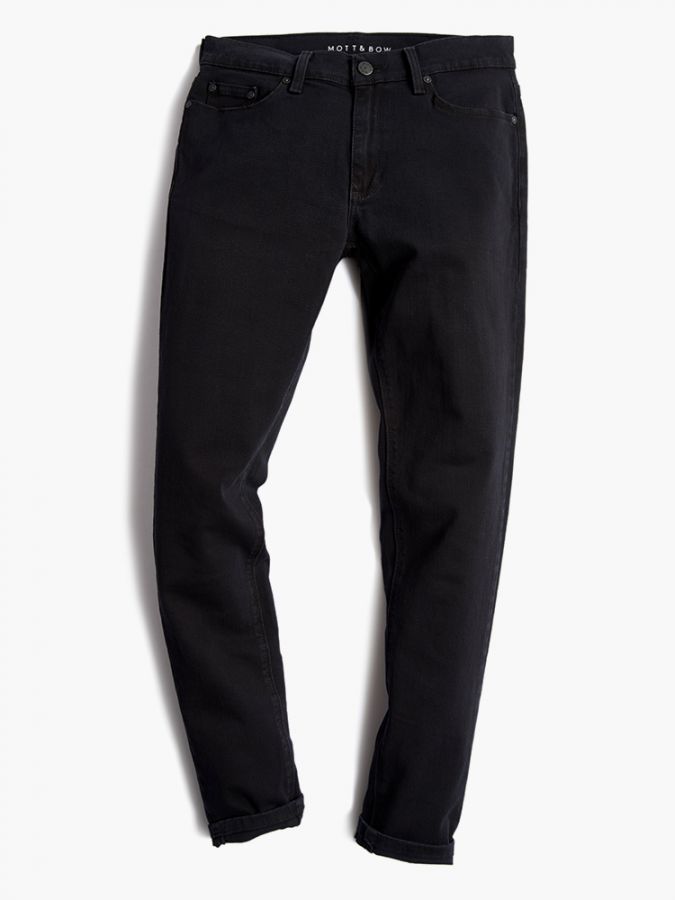 True Eboy style incorporates far more than just your clothing. It's a lifestyle. So much so that you'll notice most guys sport the same long, flowy hairstyle. It's also popular among the trend's followers to bleach or color your hair— likely a result of the trend's K-Pop influences. You'll find many with platinum, pastel blue or light green locks. An emerging trend amongst the edgiest of Eboys has been dubbed 'Cruella Devil hair', and involves dying only half of your head and leaving the other half natural.
The Origins of the Eboy Clothes
The Eboy look first emerged online in the late 2010's. In 2019, the aesthetic gained widespread popularity on TikTok, a video-based social media platform popular among Gen Z audiences. Its rise to popularity was similar to that of the E-Girl look, a similar internet-based alternative style popular among young women.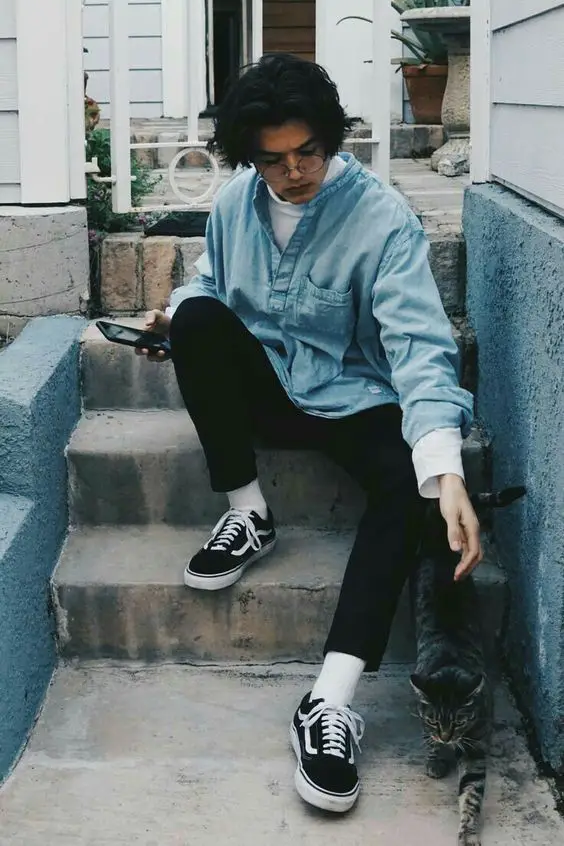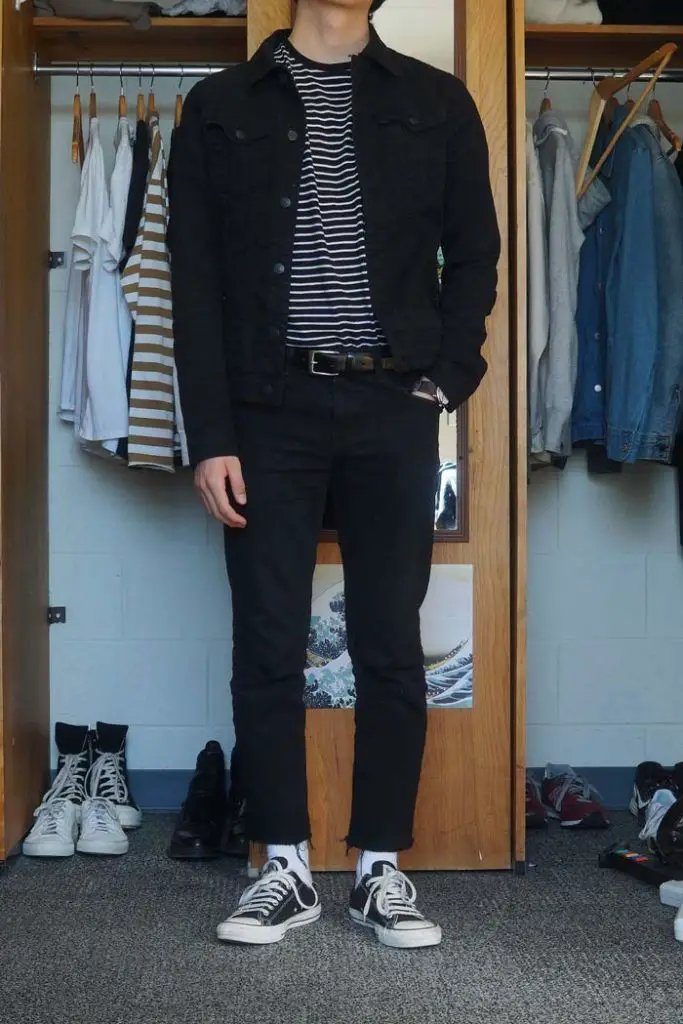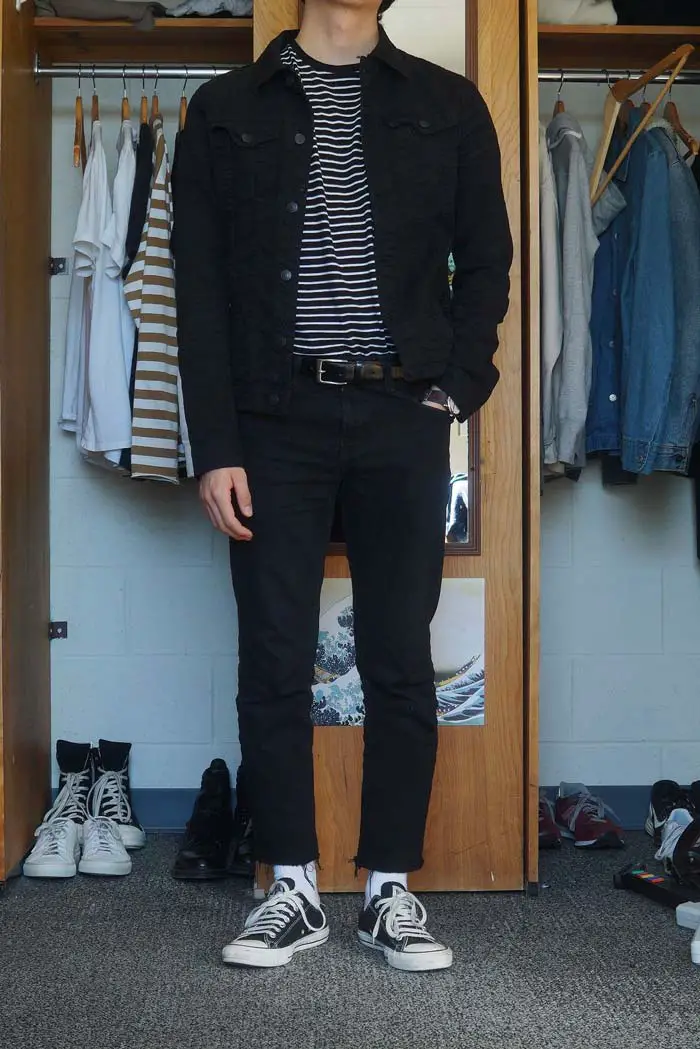 Eboy clothes are a combination of influences from earlier styles of alternative fashion and modern internet-driven pop culture. In many ways, the aesthetic is an evolution of the emo style popular during the 2010's. You can find influences of 90's skateboarding, goth, punk, and K-Pop throughout the Eboy wardrobe.
The Eboy Look in Pop Culture
Timothee Chalamet is a great example of celebrity Eboy style, both on and off-screen. His signature floppy curls and fashion-forward red carpet looks have captured the attention of millions on social media. On a regular day he can be seen wearing layered oversized t-shirts and cuffed pants. You can even find elements of his Eboy style on screen in his leading role in Beautiful Boy.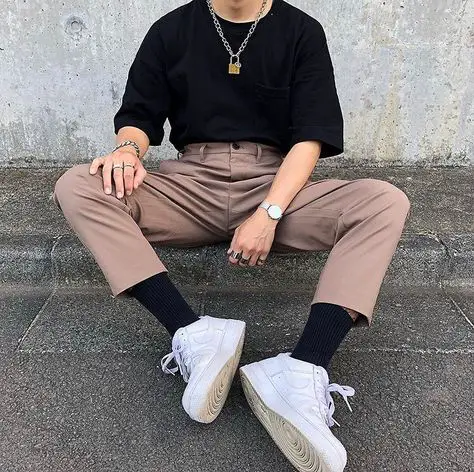 The aesthetic can also be commonly found amongst some K-Pop stars, and many of their fans. You'll often see K-Pop stars sporting neon hair colors, layered jewelry and oversized tees that guys frequent. Many credit K-Pop for the androgynous, gender-neutral feel that much of the Eboy aesthetic has.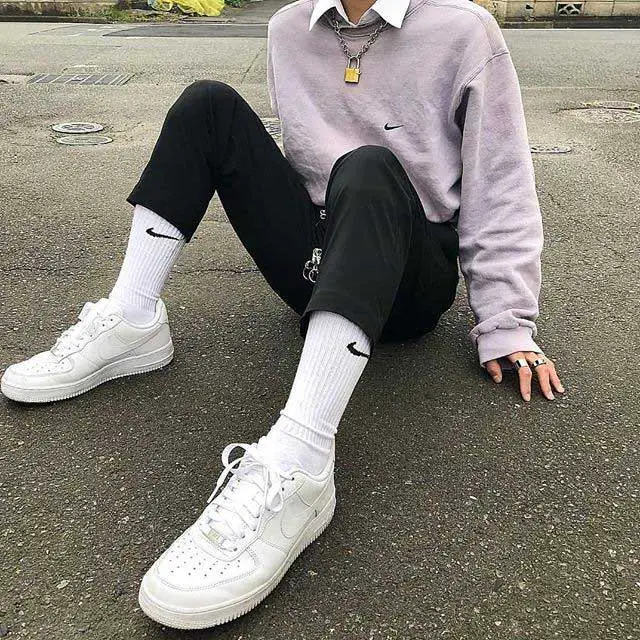 While the look is most popular among boys, it has also had an influence on women's fashion as well. Billie Eilish's lime green locks and extremely oversized clothes are an obvious example.
How to Dress Like an Eboy
Eboy outfits mix elements of both casual and formal dressing. The foundational elements of an Eboy wardrobe are oversized tops and cuffed pants. While most clothing is solid colored, they incorporate a few pieces with wide stripes and checkerboard prints as well. They often experiment with mixing prints and colors together in unexpected combos— often by layering a short sleeve t-shirt over a long sleeve. They frequently wear streetwear and skatewear brands like Thrasher, Nike, Off-White, and Rick Owens. Many find their unique clothing at thrift stores and vintage shops. Some add DIY touches like distressing and bleach dying.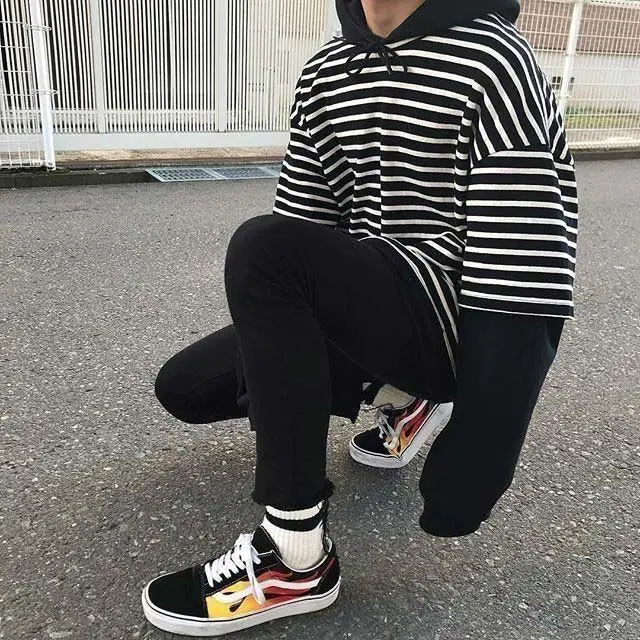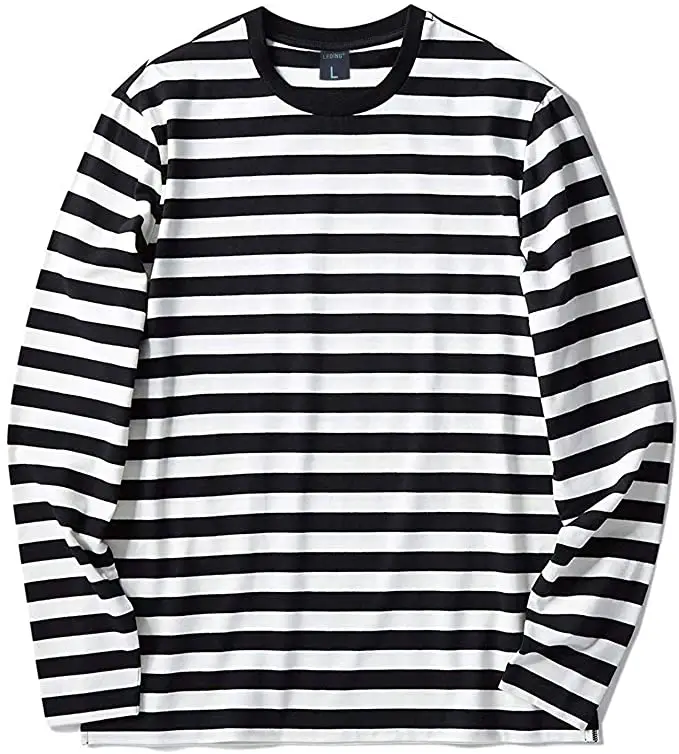 Clothing items that you would likely find in an Eboy's wardrobe include:
oversized white T-shirts (relaxed fit, longline)
long sleeve striped T-shirts (layer underneath a short sleeve shirt)
vertical stripes (button-ups, T-shirt, pants)
crewneck sweaters
distressed denim (any wash works fine)
black joggers
grey trousers (slim or skinny fit)
Dressing like an Eboy means accessorizes liberally with chain belts and jewelry, beanies, chunky rings, and pierced ears. Their footwear has a lived-in feel, often a pair of beat-up Vans or Converse, with which they almost always wear white tube socks. Doc Martens or black leather oxfords also fit into the aesthetic quite well.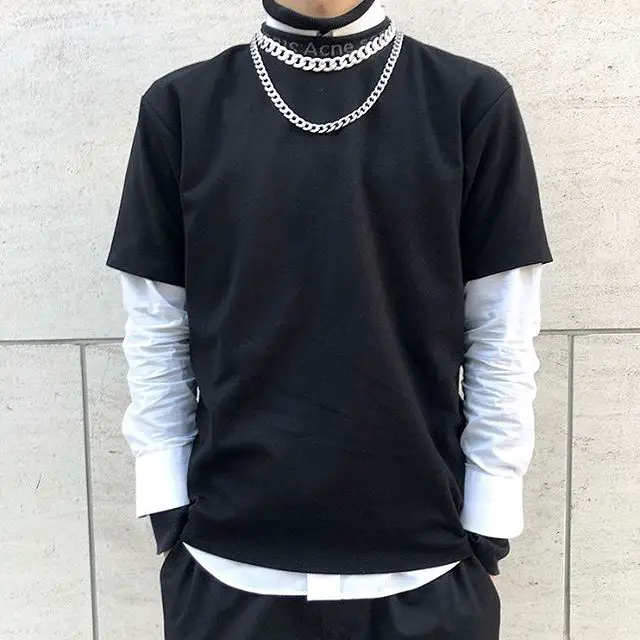 More alternative Eboys may also wear trendier items like gothic cargo pants, padlock necklaces, chipped black nail polish and perhaps even draw a teardrop on their cheek with eyeliner.
Eboy Outfits Inspiration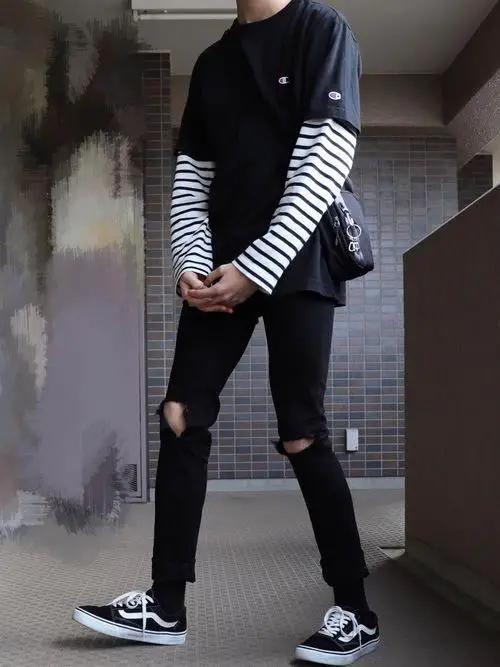 One of the most popular Eboy outfits is a striped long sleeve shirt and cuffed jeans. Add a chain wallet or belt, white tube socks, and a pair of checkerboard or black/white Vans.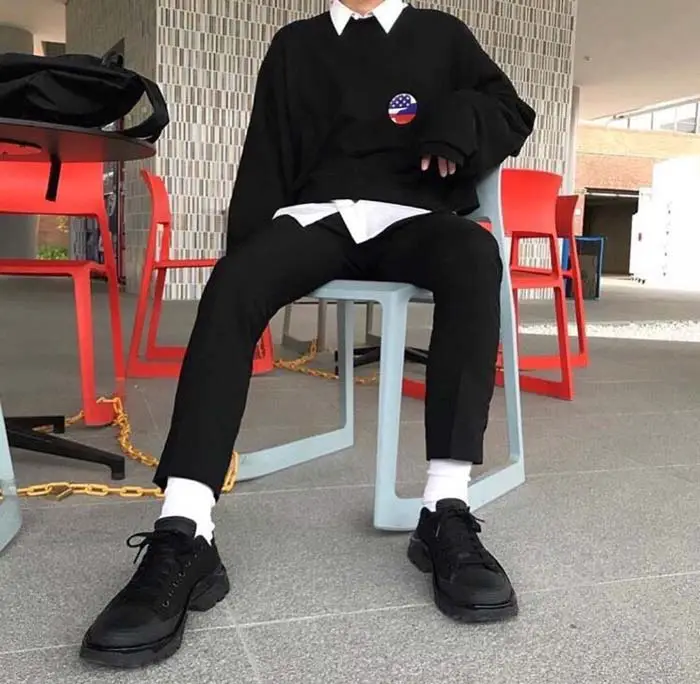 For a quick cold-weather appropriate outfit, layer a collared button-up under a crewneck sweatshirt, and pair with cuffed trousers. Style with black sneakers or oxfords and white tube socks.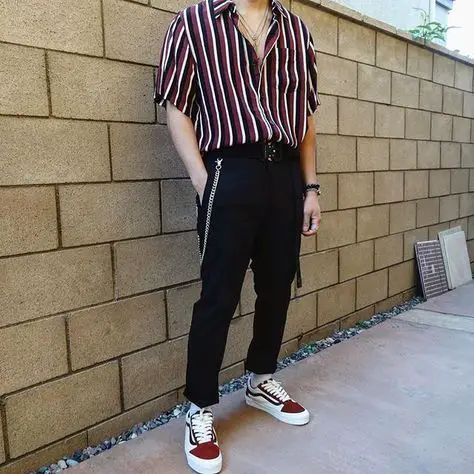 Another popular Eboy outfit is pairing a vertically-striped collared shirt with a white t-shirt and a pair of black trousers. Accessorize heavily with layered jewelry and a chain belt. Add tube socks and white sneakers.
You might like these other popular posts too