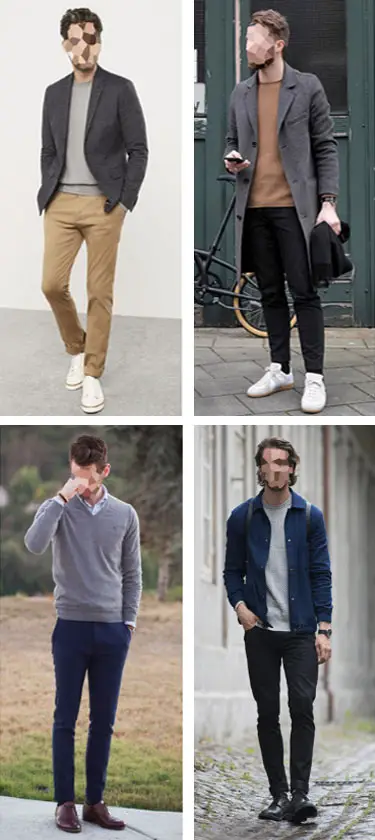 Smart casual practically shrouds itself in ambiguity. We see or hear it all the time, but too many guys have questions about the men's smart casual dress code. When do I wear smart casual? Are jeans smart casual? What even is smart casual for men? We're here to help you understand the nuances of smart casual attire and to nail the look.
What is Smart Casual Attire?
At its most basic form, smart casual style essentially bridges the gap between casual wear and business casual. It's become the go-to dress code for many startups, tech firms, and even some corporate offices.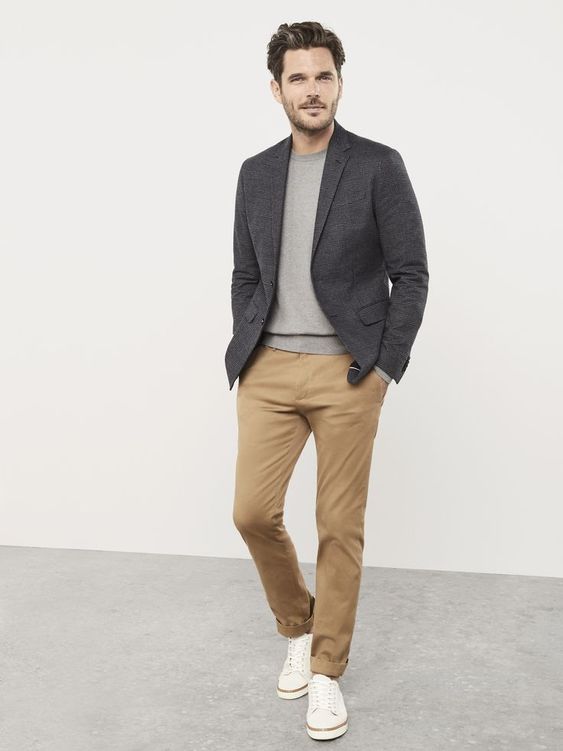 Why? Smart casual attire retains a clean, semi-professional veneer while encouraging the individual to express themselves accordingly. Though versatile in nature, smart casual varies by culture, climate, occasion, or your Zodiac sign (kidding on the last one, but you get the idea).




"neat, conventional, yet relatively informal in style"
Think of smart casual as put-together, but not over the top. As vague as that may sound, we'll break down everything you'll need to know about creating a versatile wardrobe, creating outfits, and mastering the dress code.
Difference Between Smart Casual and Business Casual
Though similar in some aspects, the smart casual dress code differs quite a bit from business casual and even more so from men's cocktail attire. For starters, business casual is objectively more formal with fewer opportunities to break away from the traditional office uniform. Funky ties aside, business wear confines itself to a neutral long sleeve collared shirt, chinos or khakis, and leather oxfords or brogues. It doesn't get much more basic than this.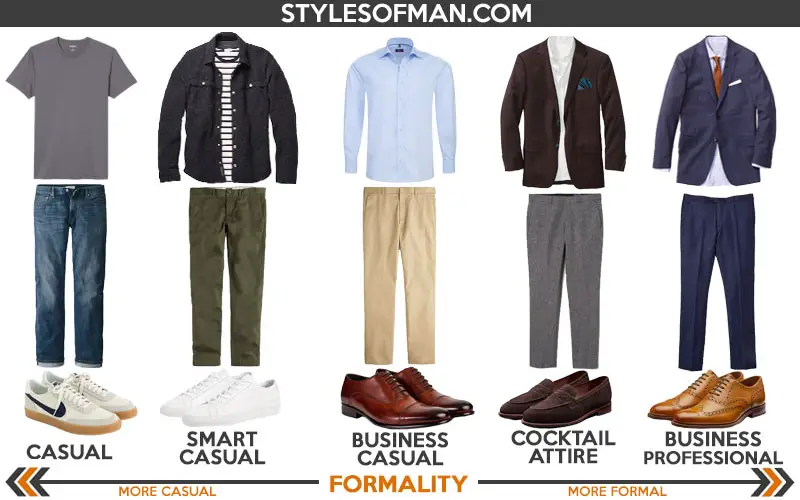 When it comes to smart casual, think of it as a more flexible extension of business casual. We're presented with far more avenues of self-expression, both in range of appropriate clothing and styling as well. For instance, a T-shirt would never fly in more formal styles, but layering it underneath a fitted blazer or overshirt works well in smart casual. Elevating casual garments through purposeful, cohesive pairings is the smart casual ethos summed up.
Smart Casual Dress Code for Men: Do's and Don'ts
Do try to avoid any eye-catching logos or branding Do make sure your clothing is clean and wrinkle-free
Do layer efficiently based on the weather
Do pay attention to the fabric of each garment
Do know the different types of collared shirts, as fabric, cut, and length makes all the difference
Don't wear shorts or pants with excess pockets
Don't go for graphics or loud patterns
Don't wear anything too restricting or baggy
Don't wear a suit jacket in place of a blazer
Smart Casual Shirts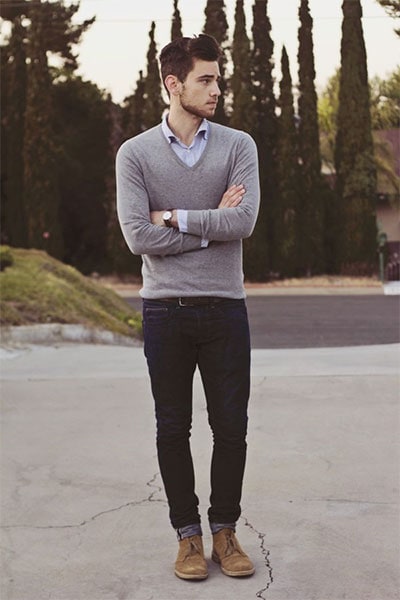 When it comes to shirting, your best bet will be the tried-and-true long sleeve button down. Since this dress code leans more relaxed, ditch the tie and unfasten the top shirt button. For chillier days, opt for a thinner wool sweater, cardigan, or blazer (not a suit jacket) over your shirt. If going the blazer route, we'd recommend an unstructured blazer, which has no added shoulder padding.



More layers mean more opportunity to weave your personal style into your men's smart casual outfit. Simple patterns and textured fabrics can add depth to an otherwise plain outfit, but don't go overboard. No single garment should be too eye-catching, so avoid any "statement" pieces.
Our current go-to shirt is definitely the slim fit button-down from Mott & Bow, which is perfect for smart casual men.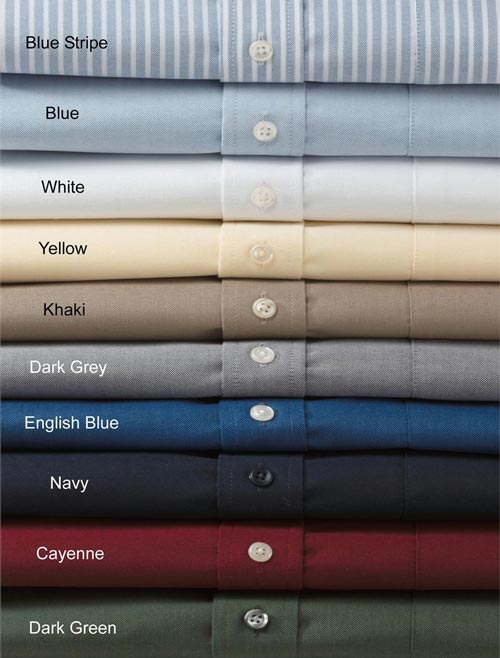 At the center of all men's shirting stands the standard collared shirt, a great starting point for creating men's smart casual outfits. While polos, short sleeve button-ups, and T-shirts can make their way into some definitions of smart casual, a long-sleeve button-down shirt remains the safest bet.
As far as fabrics go, few restrictions exist for smart casual for men. Broadcloth, oxford cloth, linen, twill, chambray, and herringbone can all do the job and do it well.
Button-up Versus Button-Down Shirts
Though often used interchangeably, button-up and button-down shirts do differ in both construction and formality. More formal dress codes require button-up shirts, which refer to a shirt that uses a placket of buttons to fasten the front. A button-down shirt takes this one step further by having buttons that fasten the collar to the body of the shirt.
Button-up shirts often have inserts woven in each side of the collar for metal or plastic collar stays, which keep the collar rigid and proper.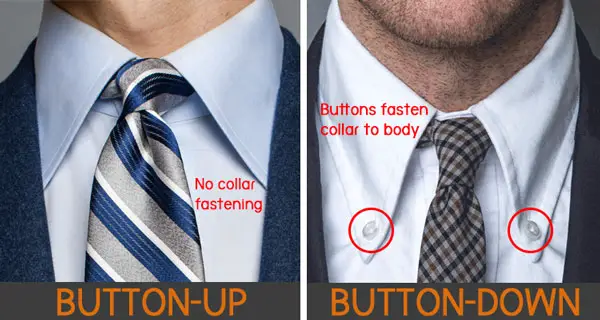 For smart casual attire for men, we'd recommend a button-down shirt as they're more casual in nature and come in more options. An oxford cloth button-down (OCBD if you're a hip, acronym-slingin' trendsetter) should be a good starting point for most outfits. The bottom hems of button-down shirts run on the shorter side, so no need to tuck it into your pants.
Outerwear
Seasons change [citation needed], so cooler weather means layered outfits.
Blazers are a tried-and-true jacket choice to elevate nearly any look. Though far from optimal for inclement weather, blazer jackets can dress up a smart casual outfit all while combatting blasting AC units inside.
More casual outerwear options include overshirts, Harrington jackets, peacoats, mac coats, and quilted jackets. Avoid flashy nylon bomber jackets, bright parkas, or that leather double rider jacket that's two sizes too big on you. Mosty everything else is fair game.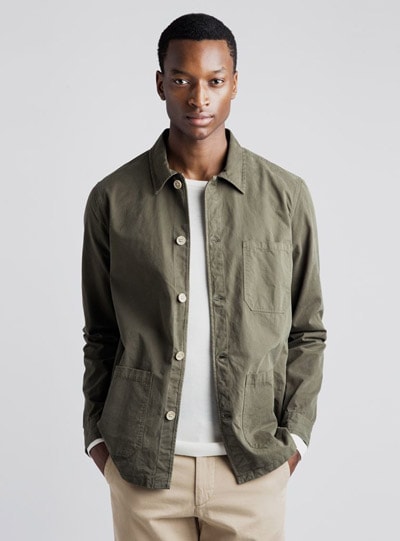 Now, outerwear – as its name suggests – is meant to be worn outside, so lugging around a thick peacoat all day isn't always practical. Layering on a merino wool sweater or cardigan can be a smart way cut down on bulky outerwear. Dress smarter, not more.
Pants
Aside from keeping you out of HR's office, your trousers bridge the visual gap between your footwear and shirt. Chinos, wool trousers, and dress pants comprise the vast majority of smart casual outfits.
While denim is a no-go for business casual attire, dark denim is perfectly acceptable in the smart casual dress code. If going the jeans route, avoid any sort of distressing or ornamentation. A small cuff with selvedge denim is perfectly fine.
Fabric composition is essential when selecting the right pair of pants. Breathability, drape, wrinkle-resistance, and comfort all differ between different fabrics. Though lightweight and breathable, linen wrinkles easily. Cotton is inexpensive and widely available but absorbs moisture.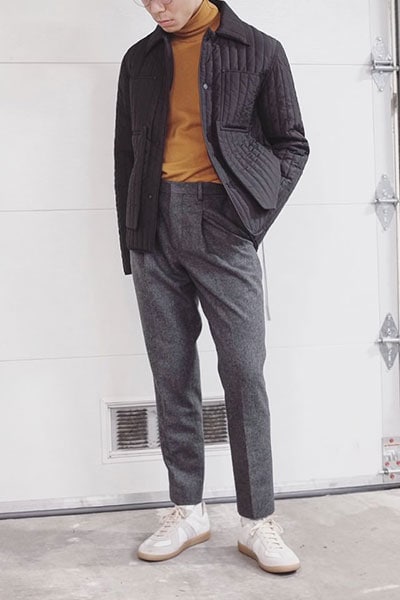 For warmer weather, opt for linen, cotton, or lightweight denim. Cooler weather options include wool, moleskin, cotton, or thicker jeans.
Avoid any pants that look too baggy or skinny. Men's smart casual attire in 2019 favors a slimmer cut, so choose your pants accordingly. As always, fit is more important than price or quality. A well-fitting, $10 pair of pants from Uniqlo goes way farther than something that's $100 and fits like a tent.
Smart Casual Shoes
When it comes to smart casual for men, we have quite a few footwear options at our disposal. From low-profile sneakers to chelsea boots to dressier options like derbies, the range of footwear spans far and wide.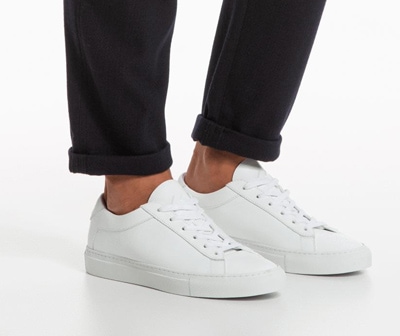 Minimalist, logo-less (skip the Swoosh) sneakers are likely the safest and most versatile bet when it comes to creating smart casual outfits. For sneakers, neutral colors like white, black, brown, or grey will work best in most circumstances. Smart casual sneakers should be "dressy" in the sense that they're both physically and aesthetically clean. Leather or suede will look the best, but often come at higher price tags.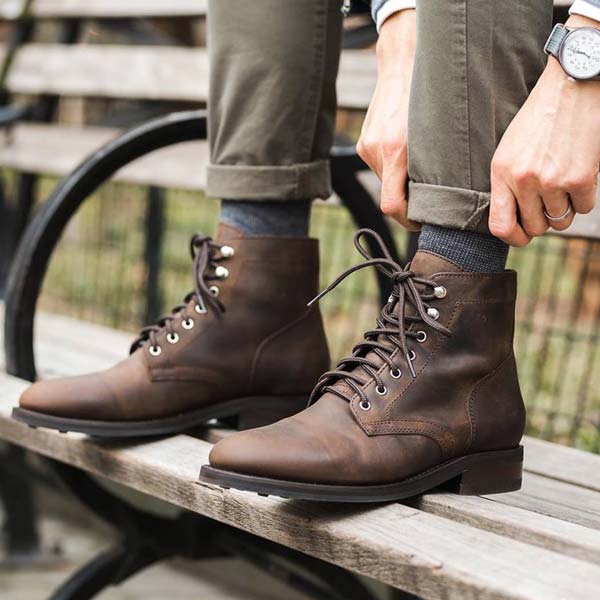 A more formal take on footwear, leather boots work very well for the men's smart casual dress code. Traditional lace-up boots, chukkas, or Chelsea boots can elevate your look where sneakers often fall short, just be sure to leave the Timbs at home.
Men's Smart Casual Outfits
You have important things to say. Don't let your outfit do it for you.
We now know what individual components make up the men's smart casual dress code, but combining them into cohesive outfits is another feat entirely. As a whole, smart casual attire leans towards the darker, monochrome end of the color spectrum, championing subdued colors over brighter colors more typically found in casualwear.
Remember that at its core, smart casual is a type of uniform. Your goal isn't to stick out with the coolest and most avant-garde outfit. Whether you're meeting with the project manager or grabbing drinks with your Tinder date, an outfit accentuates one thing and one thing only: you.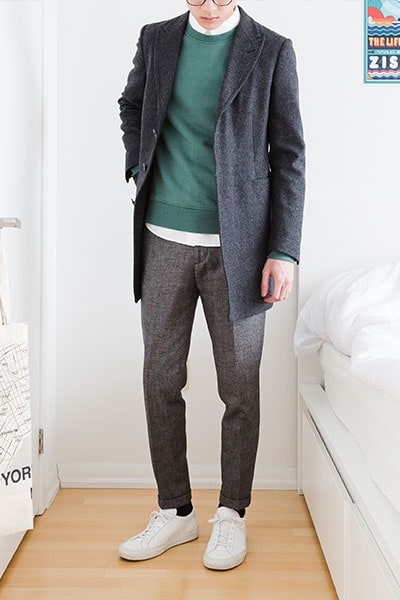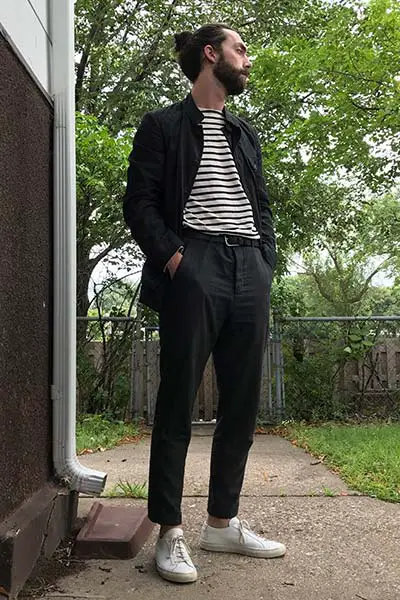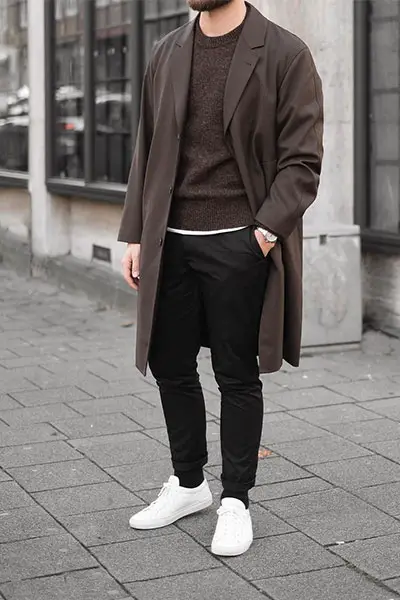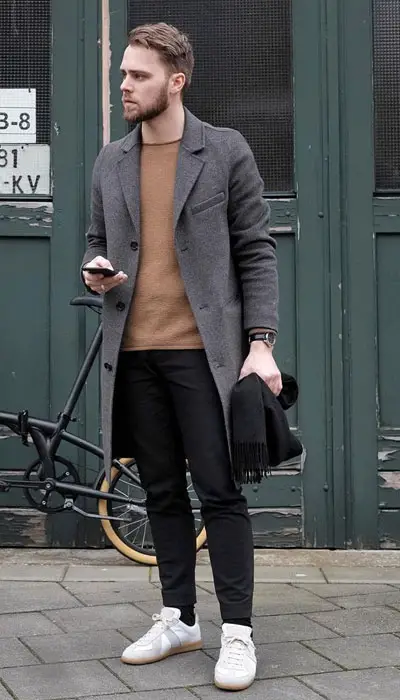 You might like these other popular posts too