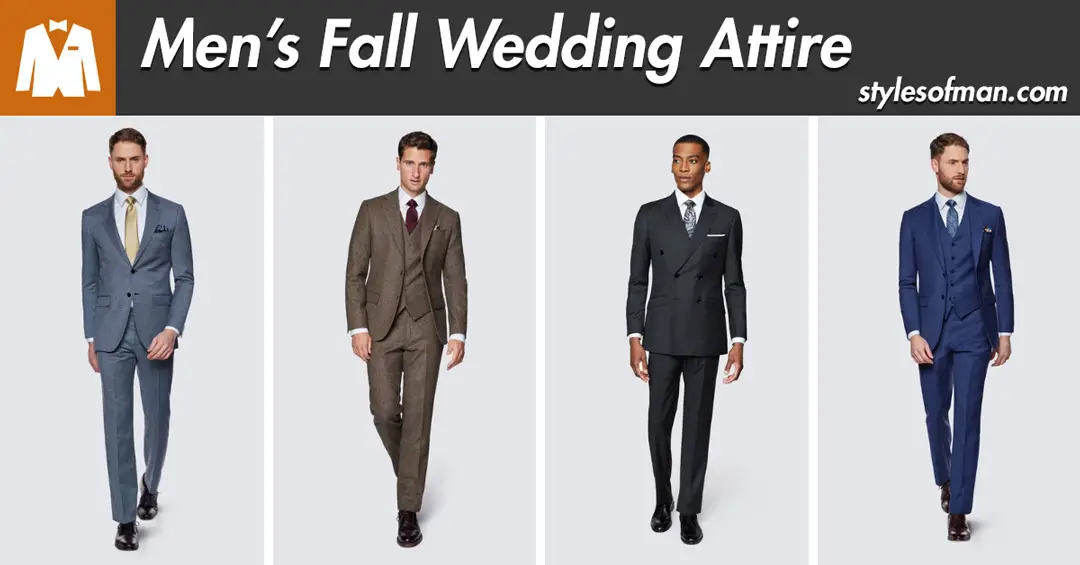 What Does Men's Fall Wedding Attire Look Like?
It's almost fall—meaning cooler temps, football, flannels, and Halloween are right around the corner. But know what other kind of event tends to also come up during this time of year?
Weddings.
Whether you're the groom, the best man, a groomsman, or a guest, your outfit should showcase your style in the best possible way. So that flannel you were contemplating wearing? You may want to leave it at home for now.
But don't worry; we won't leave you hanging. Dive into our men's fall wedding style guide to help you look your best at any fall wedding—yours or otherwise. 
What Should a Groom Wear to a Wedding?
The groom is the second most important person at the wedding, so it makes sense to dress your best, right? When it comes to men's wedding attire, a groom can safely choose between a classic wool suit or a more dressy tuxedo. Fit is king when it comes to suiting, so you may want to consider something like a custom tuxedo.
There's no doubt that your partner will look phenomenal as they walk down the aisle, so it only makes sense that you look your best too. A bespoke tuxedo or suit is a great way to help you stand out while staying comfortable.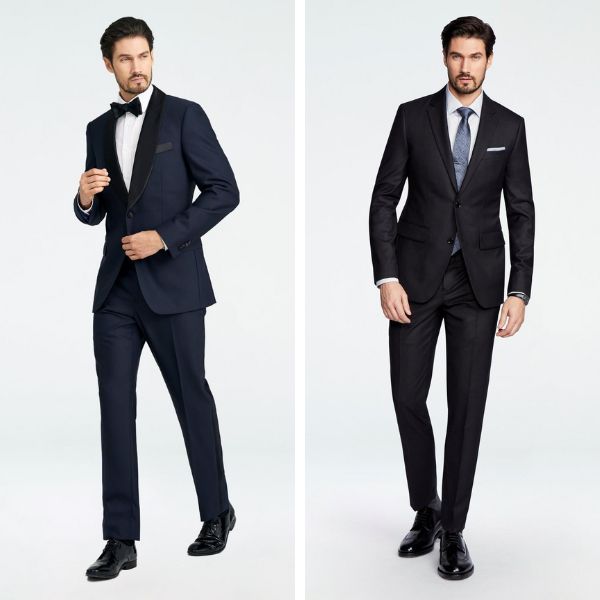 The groom should wear a tailored suit for something more classic or a more formal tuxedo
Weddings can get long, and no one wants to sit in an uncomfortable tuxedo on their big day. Be sure to have a clear vision of what you'd like your tuxedo to look like before visiting a professional. That way, confusion won't make the process longer, and you'll know that you're getting exactly what you want.
A Classic Suit
As a best man or groomsman, you'll be standing next to the groom—meaning many eyes pointed in your direction. You'll certainly want to look as sharp as possible. If you find a bespoke tuxedo or suit is out of your budget, a well-made suit is a great option.
Remember:
Men's suiting can range from a few hundred bucks to a few thousand. Regardless of the pricetag or brand, the most important component of your look will be the fit. You can skip the designer suit, but never cheap out on a good tailor.
As a groomsman, picking a suit shouldn't be too difficult, as the groom should give you insight into the style he or his partner wants for the wedding. From there, it's all about finding a suit that fits the couple's guidelines while maintaining your sense of style. Most men in the wedding besides the groom only require a classic tailored suit, so you should be in luck. Just make sure to coordinate with the groom and other groosmen to ensure you're all matched and ready for the big day. 
A Simple Button-Up Shirt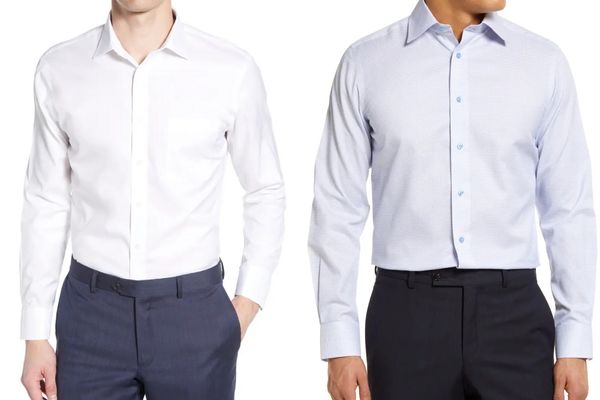 As a wedding guest, your attire has more room for stylistic expression. While you should look nice, there's less pressure on you as you don't need a full suit or tuxedo. If you want to wear one, that's okay too, but ensure that your attire abides by the dress code (check the wedding invite).
Don't overdo it, as the focus should be on the soon-to-be-married couple. However, if you're on a budget or want a more simple look, a crisp button-up shirt and ironed chinos or pants won't fail.
Don't overdo it, as the focus should be on the soon-to-be-married couple.
Since you're a guest, you won't have as much direction on what you should wear. But since you're preparing for a fall wedding, some style tips are well-known.
First, dark red and green variations are essential. Impress the people at the wedding by understanding the fall color palette and consider wearing a terracotta or hunter green shirt. Second, wear layers over your button-up. During fall, you'll never know if you're getting a medium warm or slightly chilly day. Adding a layer to your outfit, like a vest, will provide warmth should you need it but also give you the chance to remove it if you get hot.
Wedding Dress Shoes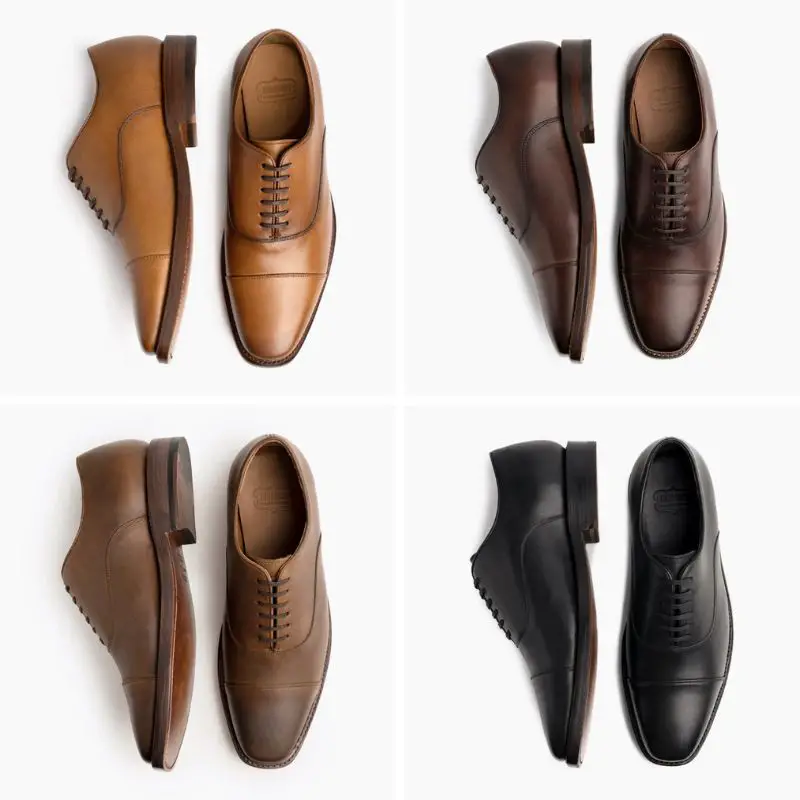 Everyone should have on a nice pair of shoes for the wedding, but nice doesn't have to mean expensive.
There are great quality shoes out there that are also budget-friendly. You can never go wrong with a pair of lace-up oxfords or penny loafers when completing your formal look. You can typically find these shoes at most department stores which usually offer luxury and non-luxury brands.
If you aren't going to buy new shoes for the event, make sure you wear your best pair. The shoes should be free of dirt, have no offensive smell, and be sturdy enough to hold up for the entirety of the wedding. The last thing you want to do is realize that your shoe is falling apart as you walk to your seat, down the aisle, or to your significant other.
Men's Wedding Style Tips
Hairstyle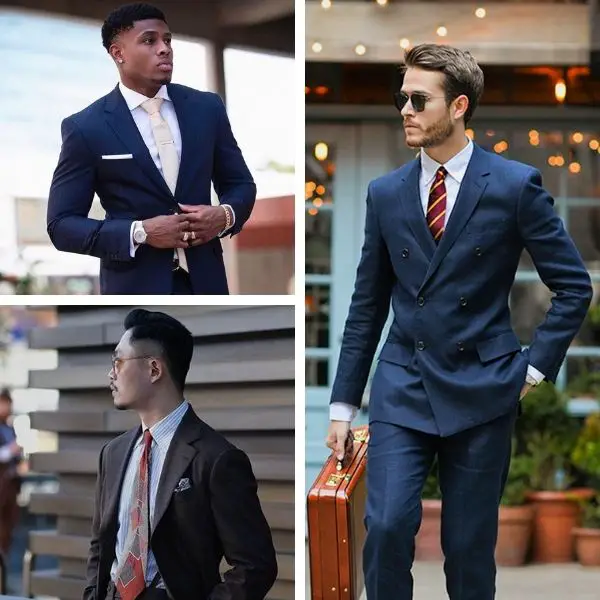 Your hairstyle matters! Your hairstyle contributes to your overall look, and you should carefully plan it out, just as would your shoes or tuxedo. Most people involved in the wedding know about the event for months (or even years) in advance. That means you have time to get your hair in shape.
If you are someone who experiences hair thinning, start your hair regrowth process sooner than later. Most hair loss prescriptions like Finasteride or Minoxidil are highly effective at blocking hair loss and promoting thicker hair. However, you may not see noticeable changes until several weeks or months later. The same goes for repairing damaged hair or dead ends. Start correcting those issues with deep conditioners, trims, and strengthening oils as soon as possible.
Unsure where to start with your haircut? Try a fade; the cut works with any hairtype and always looks sharp at a wedding. Click here for some fade haircut styles for those who want a shorter look.
Accessories

Who said that men don't accessorize too? For a big event like a wedding, especially your wedding, it's okay to enhance your look with some additional pieces. One easy addition you make is by adding a statement tie! Use color or patterns to your advantage and let your necktie do the talking. While we're on the idea of including colorful pieces, apply the same notion to your pocket square.
Whether you go light or dark, pattern or no pattern, make sure that your tie and pocket square doesn't clash with your overall wedding day ensemble.
If you're a guest at the wedding, a nice watch can help to elevate your look. There are many watch brands for men to consider, so find one that fits your style and go from there.
Whether you're the groom, in the wedding party, or a guest, weddings are a special event that you want to look your best for. Use these tips before the big day and show people that you're prepared to show up looking dressed to perfection.
Good luck!
You might like these other popular posts too