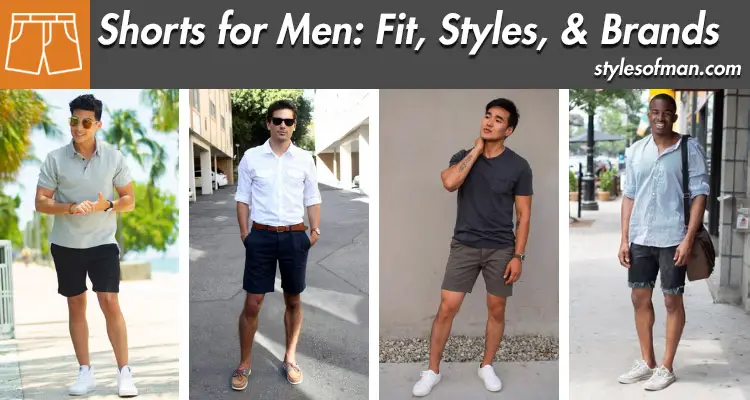 With summer in full swing, it's time to stock up on a few good pairs of shorts that can handle the heat waves and keep you cool and comfortable no matter your next adventure.
So to help you find your perfect pair of men's shorts for all your summer outfits, we've rounded up a few of our favorite brands of shorts for men and the styles below. But before you start shopping, let's look at what kind of men's shorts are in style in 2021.
What kind of men's shorts are in style in 2021?
Chino Shorts
Even if you aren't much of a chino pants guy during the winter, men's chino shorts make a great addition to your warm-weather wardrobe. Thanks to their preppy feel and lightweight cotton twill fabric, they bring a refined touch to casual summer button-ups, polos, and tees.
While these days chino shorts come in countless color options, you can't go wrong with a practical neutral like khaki, navy, or grey.
Source: @nemanja_grujic , @nunoantunes_
Sweat Shorts
Consider sweat shorts the summer-friendly version of your go-to sweatpants. They're perfect for pairing with your favorite graphic tee or sweatshirt for running errands or throwing on with a button-up and blazer while working from home.
To elevate your loungewear shorts, style them as a matching set with a monochrome top and sleek white sneakers.
Source: @artur__fit , @alex_debiase
Technical Shorts
Technical shorts are one of the hottest items in gorpcore— a utilitarian, hiking-inspired aesthetic that's become one of the biggest streetwear trends for men in 2021. Branching from techwear, Gorpcore prioritizes comfort and function (especially when it comes to wardrobe essentials like men's shorts) without sacrificing one ounce of style.
Most pairs of technical shorts are made with moisture-wicking or water-resistant performance fabrics, practical zippered pockets, and a bit of stretch for full mobility. While these shorts will certainly elevate your look during outdoor activities like hiking or golf, they look just as stylish on the streets.
Source: @elizhacolquitt , @everydaydrew
Short Shorts
Thigh-baring short shorts were projected to be one of the best men's fashion trends of the Spring/Summer 2022 season. So why not get ahead of next year's trends by adding a stylish to your closet now?
To nail the European inspired-look, stick to shorts with an inseam length of 7" or less depending on your height.
Source: @malikarakurt, @jeromeparkerr
Modern Cargo Shorts
Yep, you read that right.
Cargo shorts are making a major comeback in 2021. But unlike the unflattering dad shorts of years past, many of today's cargo shorts for men come in slimmer silhouettes that feel sleek and modern. Paired with a simple tee and a pair of statement sneakers, they make for a modern casual look.
For more of a hip-hop-inspired streetwear look, opt for a pair of oversized cargo shorts in a classic khaki or camo.
Source: @solo_elvis , @massiii_22
Which brands have the best shorts for men?
With so many men's clothing brands on the market, finding the perfect pair of shorts can feel like quite a daunting task. To help you narrow down your search, we've highlighted a few of the best men's shorts from some of the most popular brands on the market. These versatile styles can easily be dressed up or down and will pair well with nearly everything in your closet.
Bonobos
If you're someone who struggles to find the perfect fit, try a pair of men's shorts from Bonobos. The New York-based brand prioritizes fit and aims to make shopping a painless experience for men of all heights, builds, and body sizes. The secret to their best-selling shorts and pants is their signature curved waistband, which conforms to the natural shape of your waist for a comfortable, flattering fit no matter your body shape.
Stretch Washed Chino Shorts
If there's one style of men's shorts every guy should own, it's a simple pair of chinos. Bonobos Stretch Washed Chino Shorts feature a simple design that can be dressed up with a blazer and button-down shirt or dressed down with your favorite basic tees and hoodies. In addition to an extended size range, Bonobos' chino shorts come in a wide range of colors, four length options, and three different fits.
Olivers Apparel
Olivers Apparel is known for its athletic wardrobe essentials. Their versatile pants, shorts, tees, and sweatshirts blend a timeless aesthetic with innovative materials and construction techniques. Every Olivers Apparel design is made from high-quality performance fabrics that maximize comfort and mobility.
All Over Shorts
These stylish All Over Shorts from Olivers Apparel are made with a lightweight, water-repellent nylon-spandex blend that offers four-way stretch and superior breathability for all-day comfort.
While these performance shorts are great for running errands and lounging around the house, their durable materials and practical design details mean they can tackle any outdoor activity come rain or shine. Plus, they come in six earthy tones to pair with all your favorite tees, tanks, and casual shirts.
Public Rec
Public Rec makes comfortable athleisure for men that prioritizes style and fit. Thanks to sweat-wicking, stretch fabrics and modern designs, Public Rec's all-day, everyday technical apparel is practical, versatile, and (perhaps most importantly) built to last. In addition to everyday outfits, their technical shorts, pants, and joggers are ideal for travel.
Workday Short
Public Rec's Workday Short is a technical short designed for more formal occasions. They're sure to be your new go-to shorts for golf, travel, and casual Fridays. Their classic, minimalist style is easy to dress up thanks to sleek design features like belt loops, a classic front zipper fly, and a hidden back zipper pocket to keep your valuables secure. The modern slim-fit skims your hips and thighs with an 8 ¼ inch inseam that hits just above the knee.
Everlane
Everlane's affordable, sustainable basics are a worthy addition to any man's wardrobe. They're made transparently with sustainable materials like recycled polyester and organic cotton using ethical labor practices. Their minimalist styles offer modern updates to classic pieces that you'll keep forever.
The Track Short
The Track Short from Everlane is versatile enough to wear with almost anything in your closet and comfortable enough you'll want to wear them every day. The classic sweat shorts design is made from 100% organic French terry cotton with a comfortable elastic waist, adjustable drawstring, side pockets, and a back patch pocket. To elevate your casual outfit, pair them with one of Everlane's coordinating sweatshirts to create a sophisticated matching set.
Myles Apparel
Myles Apparel is on a mission to create the perfect athletic shorts for men— a pair with the right balance of style and function. Their versatile athleisure can be worn to the gym, on a hike, or just to run your weekend errands. Plus, most of their styles come in a wide of colors so that you can stock up on multiple of your favorite products.
Everyday Shorts
Myles Apparel's Everyday Shorts for men are made from lightweight, durable double-weave fabric with a water-repellent finish and a modern tailored fit that'll be in style for years to come. To keep your valuables safe during your outdoor adventure, they're equipped with a secure back pocket and two bounce-proof mesh front pockets. The best part is, they're available in three inseam lengths: 6 in, 8 in, and 10 in to flatter men of all heights and builds.
Todd Snyder
Todd Snyder is a New York-based menswear designer that offers versatile wardrobe staples for the modern gentleman. Everything from their custom suiting to their affordable basics channels quintessential American style. But unlike many sophisticated menswear brands, Todd Snyder's high-quality pieces are surprisingly affordable.
Utility Cargo Short
Todd Snyder's Utility Cargo Short offers both an elevated take on classic sweat shorts and a casual twist on classic cargo shorts. The comfortable style is made from 100% cotton French terry cloth fabric in a relaxed silhouette with a drawstring waist, back patch pockets, and side cargo pockets.
Levi's
When it comes to denim shorts for men, Levi's is hard to beat. As the creators of the world's first pair of jeans, the American denim brand has set the industry standard for over 150 years. And thanks to their timeless cuts and classic washes, their affordable jeans and denim shorts never go out of style. In fact, they only get better with age.
501 '93 Cut-Off Men's Denim Shorts
Levi's 501 '93 Cut-Off Men's Denim Shorts are a summer-friendly version of the brand's original 501 jeans, invented by Levi Strauss himself in 1873. The vintage-inspired knee-length shorts have a classic 90s look and fee thanks to heavyweight denim fabric (with the addition of 1% elastic for a bit of stretch), a raw bottom hem, and classic five-pocket styling.
Carhartt WIP
Carhartt's Work in Progress label (Carhartt WIP for short) is a favorite amongst streetwear-savvy young men. They've become iconic in underground fashion scenes like hip-hop and skateboarding. To keep up with today's top fashion trends, every practical piece offers a modern update to a classic workwear style.
Single Knee Short
Carhartt WIP's Single Knee Short is made from Carhartt's organic Dearborn Canvas fabric with practical utilitarian details like tool pockets, a hammer loop, and triple-stitched reinforcements at key stress points. But heads up, they're known to run large, so Carhartt recommends ordering one size down from your usual pant size.