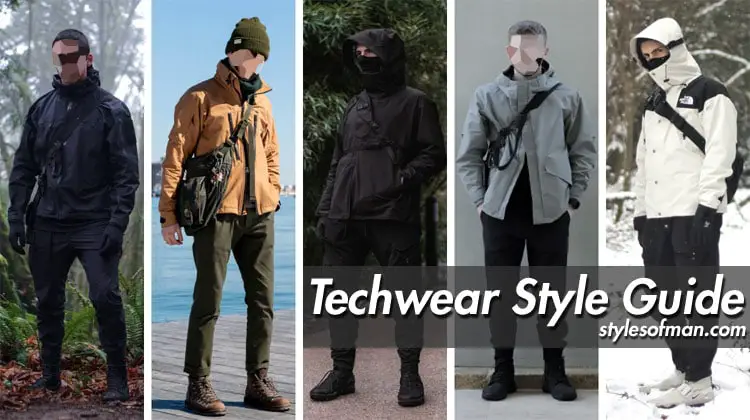 Techwear? You mean like the Apple Watch?
C
lothing has always been functional. Miners needed denim pants tough enough for the Gold Rush. Sailors needed wool coats warm enough for the high seas. In fact, if one counts "avoiding public exposure tickets," the very act of "clothing" is a function itself.
And then there's techwear clothing, a testament to function over form, though the latter is hardly understated.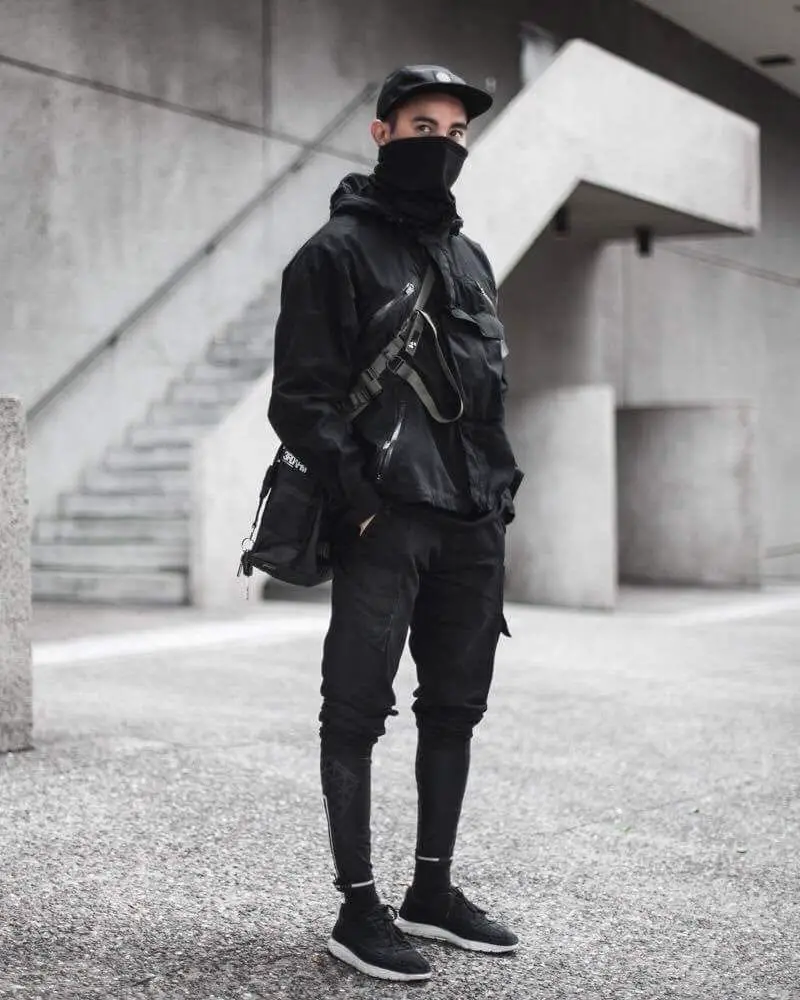 Already know your stuff? Skip to our techwear clothing essentials.
In the pantheon of style, technical clothing is both an aesthetic and a philosophy. "Techwear" (short for – you guessed it – technical wear) is an umbrella term that describes an approach to fashion that puts function at the core of an outfit. While cotton shirts and leather shoes may avoid the dreaded "no service" trifecta, they're far from adaptable in a demanding environment.
Weaving technical materials into Athleisure apparel, Public Rec is our definitive go-to for technical clothing for when the father falls just short of inclement. Flexible fabric, hidden zippers, and streamlined silhouettes can be found on nearly everything from the brand. Check out the All Day Every Day Jogger for the perfect pants for travel, a day in the city, and everywhere in between.
Technical fabrics allow garments to stretch, wick, regulate, and brush off elements with ease. Some, like Schoeller's c_change membrane, even resist monsoon rains with no issue. Cut for versatility and movement, these high-tech textiles take on a sci-fi veneer.




Techwear is sleek, potent, and always built for the road ahead. Each garment's utility speaks for itself, so you can forget about the focus on logos and branding. As a whole, techwear clothing just looks different, but it's exactly here that it gets its aesthetic and devout following.
It should be noted that tech fashion isn't just limited to abundant zippers and GORE-TEX fabrics. As mentioned, techwear is an umbrella term. With "function over fashion" as a deep-rooted commonality, the techwear space includes a wide variety of styles. Some techwear styles lean more towards streetwear; others, towards tailoring. Over the course of this techwear guide, we'll go through each, outlining the brands, 'Grams, and all the style inspiration you'll need to create a core techwear wardrobe.
Whether you're looking for a more comfortable work shirt or some pants that could survive the apocalypse, here's everything you'll need to know about techwear organized by practical ways you can wear it.
What is Techwear Clothing?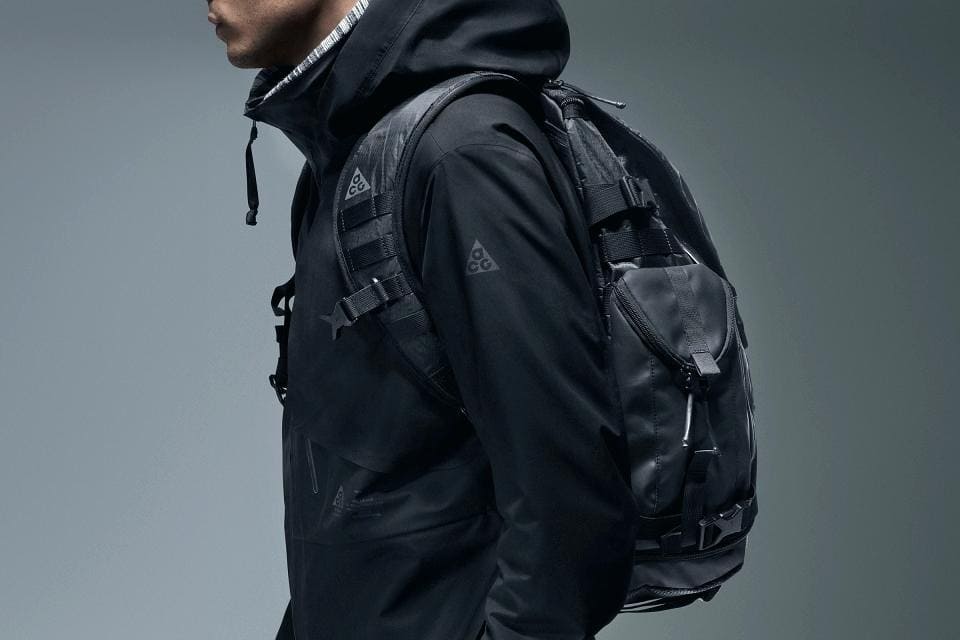 While fashion inspiration albums may restrict "techwear" to black jackets, zippers, and extra pockets, techwear clothing slots into a wide range of styles. Here are the five types you're most likely to see.
Urban Techwear
AKA, what people think of when they think of "techwear".
Urban techwear defines an offshoot of streetwear in which technical apparel is styled with nods to the dystopian future portrayed in '80s and '90s media. This is sui generis techwear: matte GORE-TEX jackets, black cargo pants, sling bags, zippers – you name it. Draped in blacks and grays, one dressed in urban techwear looks like a cross between Solid Snake and Shadowrun. Add in the brands named like insurgent factions (alk phenix, Stone Island, ACRONYM, Guerilla Group), and it's easy to see where urban tech finds both its inspiration and its edge.



All of the styling conventions that make techwear so radically different from the typical hoodies-and-sneakers range of modern casualwear are almost caricatured by the military-inspired, aggressively-cut garments that encompass it. Make no mistake: dressing in urban tech will get you weird looks on the subways. But just as seriously, the clothes are so goddamn cool.
There's a reason movies like Blade Runner have stayed rooted in popular culture: over-the-top, future-facing functionality just looks badass.
Brands to know: ACRONYM, Guerilla Group, Stone Island, C.P. Company, alk phenix, 4dimension, Visvim.
Key pieces: ACRONYM J66-GT jacket, Guerilla Group Grid Tank, Stone Island Cargo Pant.
Gray Man Techwear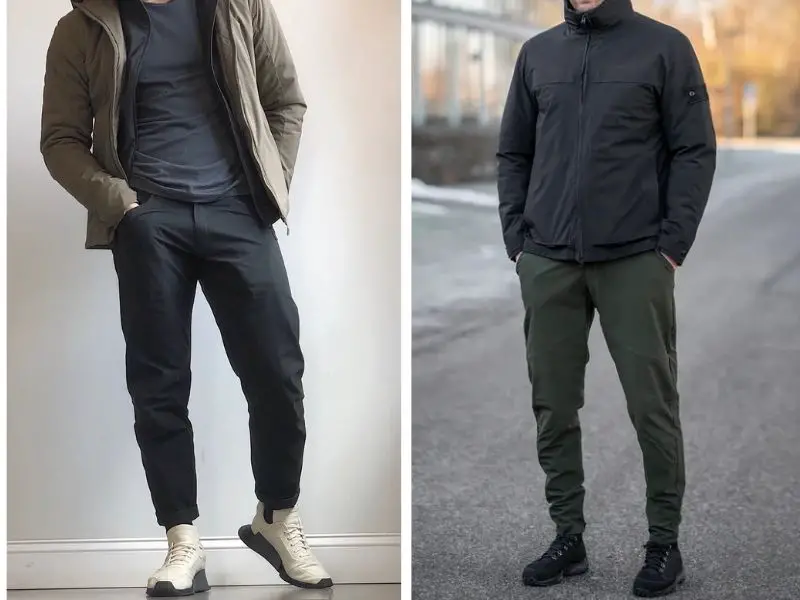 AKA, garments that still look "tech" but draw as little attention as possible.
Gray Man techwear is best described as technical apparel worn to leave no impression at all. This style takes its name from the intelligence community where an operative would blend into an environment while still outfitted with the right equipment. Between cloak-and-dagger "black ops" and the flag-flying "white ops" comes the neutral "gray men".
Gray really is the new black
When it comes to men's technical wear, Gray Man style is a complex thing. Unsurprisingly, it's every bit as functional as the more traditional zippers-and-cargos styles that turn heads online, just pared back aesthetically. In fact, most Gray Man pieces mirror conventional menswear silhouettes (e.g the fishtail parka, the five-pocket pant), just made with high-tech fabrics. Only the slightest modifications (nested pockets, reinforced joints) separate Gray Man from Red Fleece past ten paces.
When it comes to true Grey Man techwear garments, Ministry of Supply leads the charge. With technical apparel that looks just as good at the office as it does at a BBQ with the boys, these fabrics are nothing short of space-age. Literally – the fabric in their Apollo Dress Shirt is the same material developed by NASA to regular astronauts' body temperature in orbit (and it's 19x more breathable than cotton). Function garments that don't announce their tricks. That's the Gray Man ethos.
Think of Grey Man as the older brother of urban techwear: a 3L waterproof trench coat with hidden pockets throughout functions the same as a bulky Visvim parka. It could also move through Times Square without attracting stares. In a world of big tech surveillance, perhaps Gray really is the new black.
Brands to know: Arc'teryx Veilance, Goldwin, Nanamica, Icebreaker TABI, NikeLab Collection, Western Rise
Key pieces: Arc'teryx Veilance Monitor Down Coat, Nanamica Gore-Tex Cruiser Jacket, Icebreaker Tabi Tech Pants.
Outdoor Performance Techwear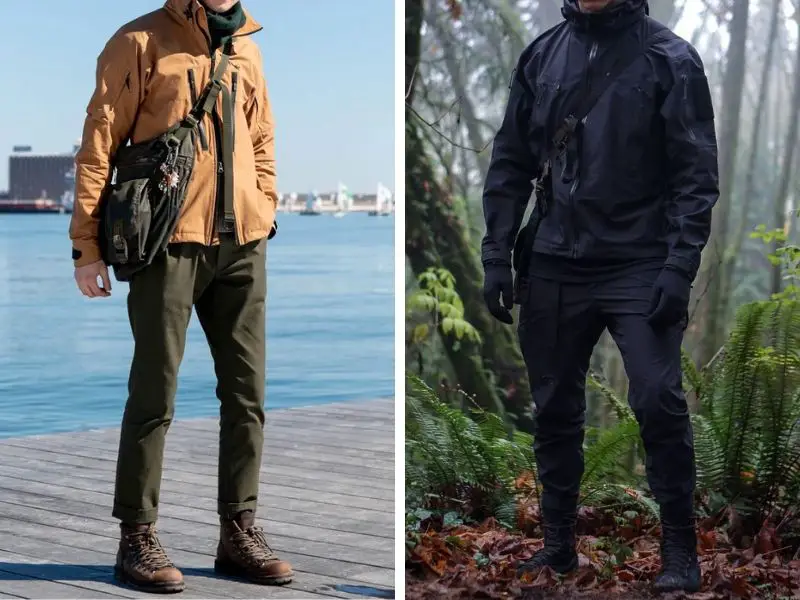 AKA, hardcore performance apparel straight from the source.
GORE-TEX jackets. Articulated cargos. Ultralight down outerwear. When it comes to an outdoors techwear garment, it's either on the list of "best techwear clothing" or the sale rack at REI.
Historically, technical apparel was developed to meet the needs of just two major parties: the military and the outdoors industry. The down jacket was invented by a Seattle outdoorsman named Eddie Bauer after he almost froze to death on a hunt. Similarly, PrimaLoft was invented nearly fifty years later as an all-weather alternative to down for soldiers' sleeping bags. It's a small wonder then that the uber-functional garments developed for the worst Mother Nature can conjure fit in pretty well with function-driven garments of all stripes. Colder where you live? See some of our top picks in our men's winter wardrobe guide.




Outdoors Tech is techwear designed first for the outdoors industry, but folded into everyday outfits. That's all there is to it. In street-ready colors (read: black, olive, or gray), outdoors gear from brands like Arc'teryx, Goldwin, and The North Face forms an essential part of the tech apparel universe. As a result, many brands have even introduced "contemporary" lines that mimic aspects of Grey Man or Supermodernity apparel (e.g. Arc'teryx 24 and The North Face Purple Label). If you're looking to face down a winter commute, a down vest designed to climb Everest will likely provide all the function you need.
Brands to know: Arc'teryx, Goldwin, The North Face, Blackyak, Norrona, Haglofs, 66North, Snow Peak.
Key pieces: Arc'teryx Atom LT, 66North Snaefell Jacket, Goldwin Hooded Down Coat, The North Face Progressor Base Layer.
Supermodern Techwear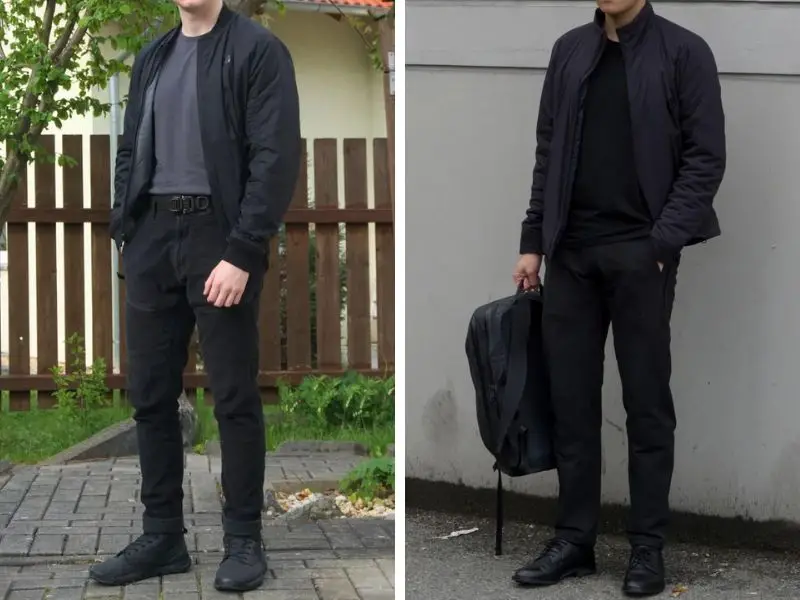 AKA, "substituting" technical fabrics into conventional garments.
Supermodern clothing is technical apparel designed as 1:1 upgrades for traditional pieces – essentially, the Grey Man ethos, "detuned."
Rather than frame technical apparel through aesthetic references, place the use of functional fabrics in the context of clothing history. To many, "techwear" doesn't mean dressing like a space traveler – instead, it means applying fabric research to the demands of the world we see in front of us. After all, the denim jeans we know and love today were designed centuries ago. However, as distances shorten and cities grow, perhaps it's worth some reevaluation.



Of all the techwear styles, Supermodern techwear is the most accessible in terms of price and wearability. Outlier's Slim Dungarees will wear the same as your chinos, just more comfortably. Ministry of Supply's Apollo will wear the same as your button-down, just more resiliently. Swapping your old MA-1 for Mission Workshop's Advanced Projects "Bomber" is as close as the technical space gets to leveling up: a straight-line upgrade courtesy of advanced fabrics and supermodern design.
If it was the "function over fashion" principle that drew you to technical wear, Supermodernity may be for you. The future is bright — and sometimes, even stretchy.
Brands to know: Mission Workshop, Outlier, Ministry of Supply, CIVIC, Rhone, Uniqlo, Y-3, Western Rise
Key pieces: Outlier Slim Dungarees, Mission Workshop Eiger WX, Ministry of Supply Apollo shirt, GREATS All-Weather Wool Royale.
Weekend Warrior Techwear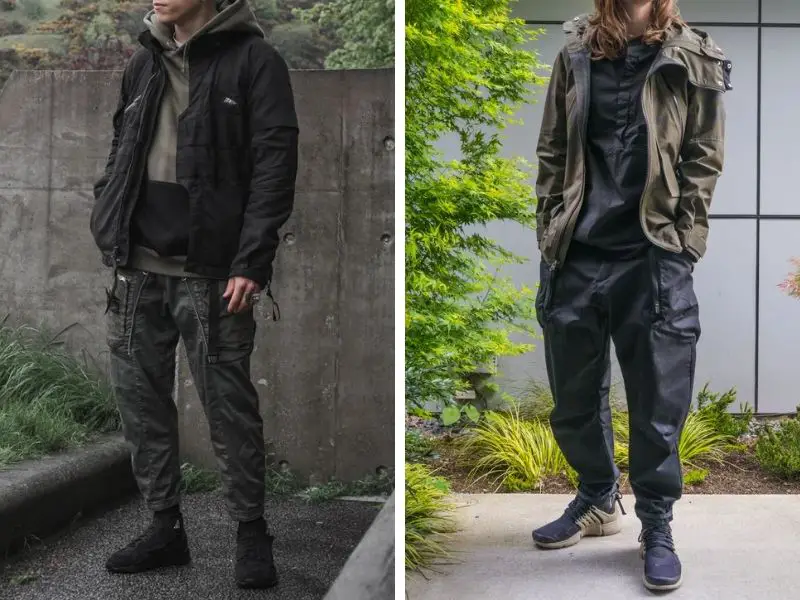 AKA, military-inspired fits that often include surplus gear, the original "design for function" garments.
Historically, technical apparel was developed to meet the needs of either the outdoors industry or the military. So, last but not least: the other side of the coin.
Weekend Warrior techwear describes the wearing of military-inspired technical pieces in everyday outfits. While lots of technical apparel dances around its armed forces inspiration, Weekend Warrior embraces it head on. New-label pieces are worn with streetwear staples for an in-the-know take on Urban Techwear. Surplus garments – many of which *ahem* mirror the designs of labels like Stone Island and ACRONYM – are worn openly as the highly-functional garments they are.
While it may seem distasteful at first, this is how most of the world wears technical apparel. In a vacuum, much of society wears "surplus-inspired" designs on the daily. What are M65 field jackets and MA-1 bombers but "military-inspired"? What is a wool overshirt but two degrees from a vintage soldier's uniform?
The differentiator is only the message sent.




In that same vacuum, Nike SFB's worn with an Arc'teryx LEAF jacket is much less disarmingly retro than a black Buzz Rickson's. Yet, compared to the eyebrow-raising "mask and jacket" combo of the typical Urban Techwear outfit, it's pennies versus pounds.
If you're looking to try out techwear without breaking the bank, taking surplus cargo pants to your local tailor is the single best way to do it.
Brands to know: Rothco, ColdSmoke, Triple Aught Design, Arc'teryx LEAF, ACRONYM, Stone Island Shadow Project, KommandoStore.com (for surplus buying online).
Key pieces: Austrian M75 Pants (surplus), Austrian GORE-TEX Hardshell (surplus), Arc'teryx LEAF Alpha Jacket Gen 2, Nike SFB 8" Boots.
Techwear Wardrobe Essentials at Every Budget
Still not sure where to start? Check out our recommendations for the six essential pieces every techwear wardrobe needs, with options at every budget.
AN EVERYTHING-PROOF TECHWEAR JACKET
HIDDEN-STRENGTH SHIRTS
$$$$: Goldwin Regular Collar Shirt
$$$: Mission Workshop Hayes LS
$$: Western Rise Limitless Merino Wool Shirt
DO-ANYTHING TECHWEAR PANTS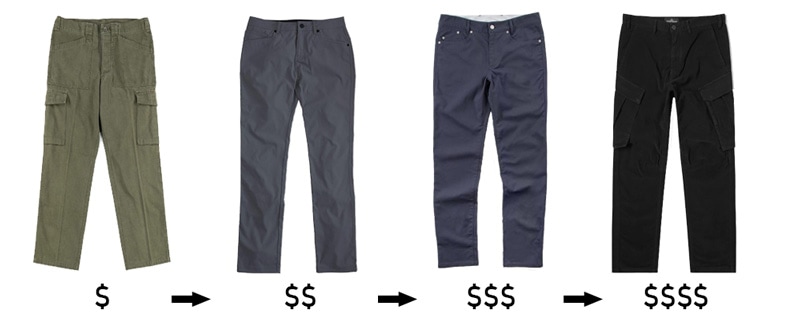 $$$$: Stone Island Shadow Project Cargo Pants
$$: Western Rise Slim Rivet Pants
$: Austrian M75 Pants, taken to your local tailor
A HIGH-TECH HEAT LAYER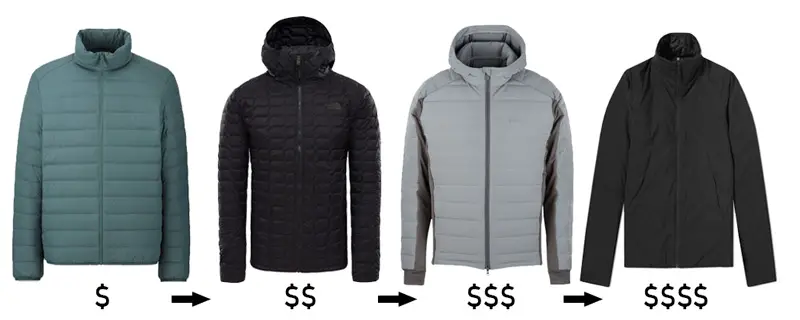 $$$$: Arc'teryx Veilance Mionn IS
$$$: 66North Ok Down and Fleece Jacket
$$: The North Face Thermoball Zip Hoodie
$: Uniqlo Ultra Light Down Jacket
BOUNDARY-BREAKING TECHWEAR SNEAKERS

$$$$: Nike x ACRONYM Air Presto
$$$: Salomon Snowcross ADV LTD
ROUTE-DEFINING BOOTS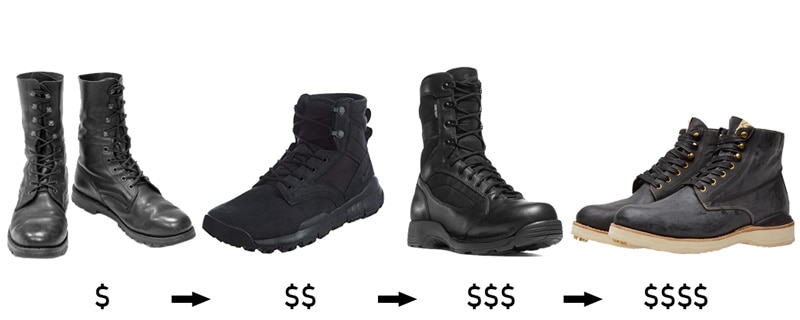 $$$$: Visvim Black Virgil Folk Boots
$$$: Danner Men's Striker Torrent GTX 8"
$: Grade 1 Austrian Paratrooper Boots (surplus)
You might like these other popular posts too