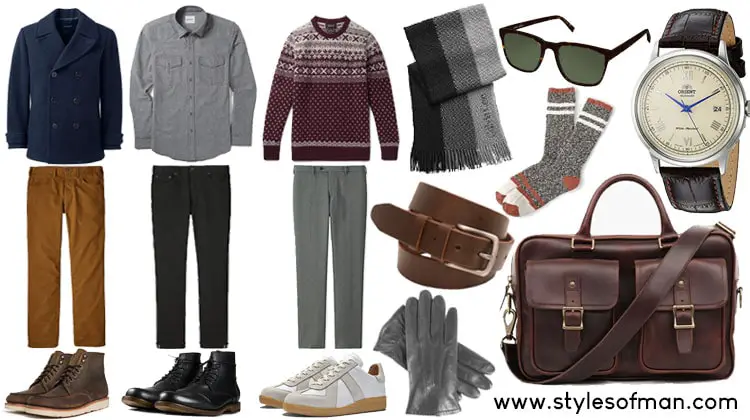 CONTAINS AFFILIATE LINKS [?]
"Winter is Coming…"
At its core, the purpose of men's winter fashion is simple: stay warm.
Sure, it's easy enough to burrow inside your winter coat, but avoiding the cold doesn't require sacrificing style. With an emphasis on layering, more pronounced textures, subdued colors, and thicker fabrics, winter fashion for men is far from mundane. Before we sled right into this guide, I'd like to note that winter weather can vary widely depending on the client.
Yeah, the wind hurts your face, and the sun sets at 5 PM, but remember the feeling of your favorite sweater and that extra hour of sleep you got on Daylight Savings?
Winter Outfit Fabrics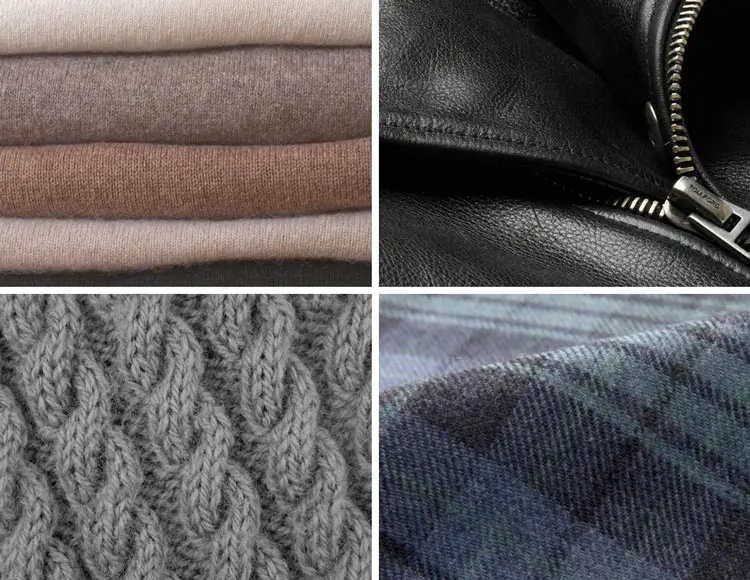 Before breaking down what a man should wear in the winter, we first need to talk about winter fabrics. What's the difference between an undershirt made of polyester instead of cotton? A leather jacket to a nylon one? To put it simply: a lot.
Every fabric offers a unique combination of properties like moisture-wicking, heat retention, and stain resistance. As a result, certain materials perform far better during the cold months. Having a basic understanding of these common fabrics can save you from lingering sweat odors and freezing cold toes:



Cotton
As the backbone of the fashion industry, cotton makes up the vast majority of all apparel, and for a good reason. It's inexpensive, durable, and easy to care for. The downside to this material is that it wrinkles easily, shrinks or stretches out with improper care, and absorbs body odors. Whether you mean to or not, cotton garments— like tees, denim, sweatshirts, and loungewear— will likely compose the vast majority of your winter wardrobe.
But it's important to note that not all cotton is created equal. Many factors determine the material's softness, color retention, and durability. Pima, for example, is a long-staple cotton that's very soft to the touch but more expensive than traditional cotton. If you're looking to minimize your closet's carbon footprint, opt for basics made from fair-trade, organic cotton.
Flannel
Contrary to popular belief, flannel is not a pattern (e.g. plaid). It's a type of fabric finished with a process called napping, which creates its iconic "fuzzy" look and feel. This process allows flannel fabrics to be incredibly warm and cozy without being too heavy for everyday layering. While traditionally made from 100% wool or heavyweight cotton, contemporary pieces incorporate polyester and other synthetic fibers.
Wool
While wool can come from all sorts of animals, including goats, alpacas, yaks, and rabbits, the most common is sheep wool. Wool is animal-friendly (the sheep is unharmed if properly sheared) and environmentally sustainable. It's warm, hypoallergenic, odor/stain resistant, and insulates when wet. In fact, wool doesn't feel damp to the touch until it absorbs 60% of its weight in water. The material's high water and nitrogen content even help it be fire-resistant too!
I could go on and on about why wool is one of the best fabrics for men's winter fashion, but I'll save you an earful about the nuances between merino wool, cashmere, and lambswool. Just know that wool is an excellent material for sweaters, shirts, and especially socks.
Polyester, Nylon, Acrylic & Other Synthetics
Polyester, nylon, and acrylic are synthetic fabrics spun from chemical solutions. Advantages of these fabrics include inexpensive production, moisture-wicking, strong shrink-resistance, and added stretch. You'll commonly see polyester used in shirts, trousers, and lightweight jackets; nylon for windbreakers and outerwear; and acrylic for sweaters and other knitwear.
Leather & Suede
Leather, suede, shearling, and its vegan alternatives are becoming increasingly popular fabrics for winter. Generally speaking, these tanned animal hides offer outstanding durability and heat retention. But if you're looking to add a new leather jacket to your wardrobe, it's worth saving up for a high-quality piece made with ethically-sourced materials and environmentally-friendly tanning processes.
Men's Winter Jackets
Wool Coat
If there's one item worth investing in this winter, it's a classic wool coat. Over the past few decades, peacoats, carcoats, and other wool overcoats have transformed from military uniforms to winter wardrobe staples for modern men. Stick to timeless silhouettes and easy neutral colors like black, grey, or tan for maximum versatility and longevity. Look for outerwear pieces made with at least 60-80% wool or cashmere. Anything made with polyester won't be nearly as warm.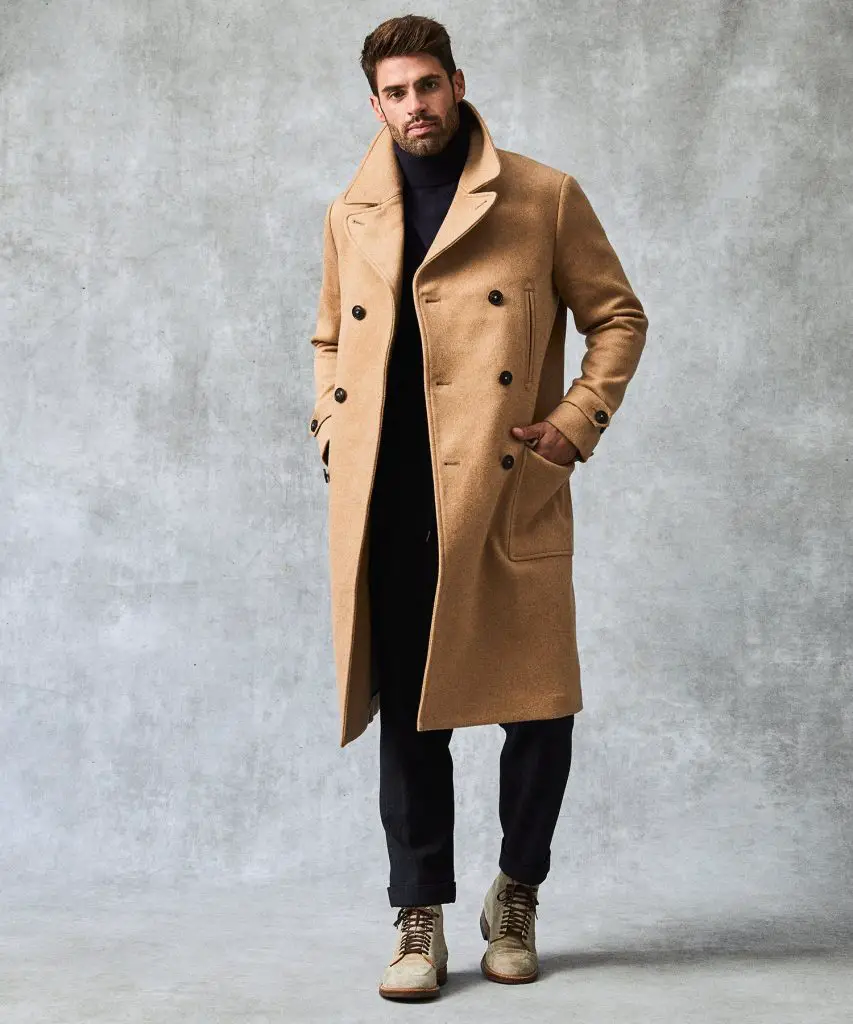 You'll want your coat to fit well through the chest and shoulders with enough room to layer a thick sweatshirt or chunky sweater underneath. Today's outerwear trends lean towards laid-back, oversized fits that maximize comfort and wearability. The best styles have exterior pockets to keep your hands warm and phone handy, as well as inner pockets to stash your wallet, keys, or flask (because sometimes you need that extra shot of warmth).
Parka/Anorak
When you hear the term winter coat, you probably think of a parka or anorak. These fashionable hooded coats were adapted from traditional Inuit tribe outerwear and range from lightweight shell jackets to heavy, fur-lined styles.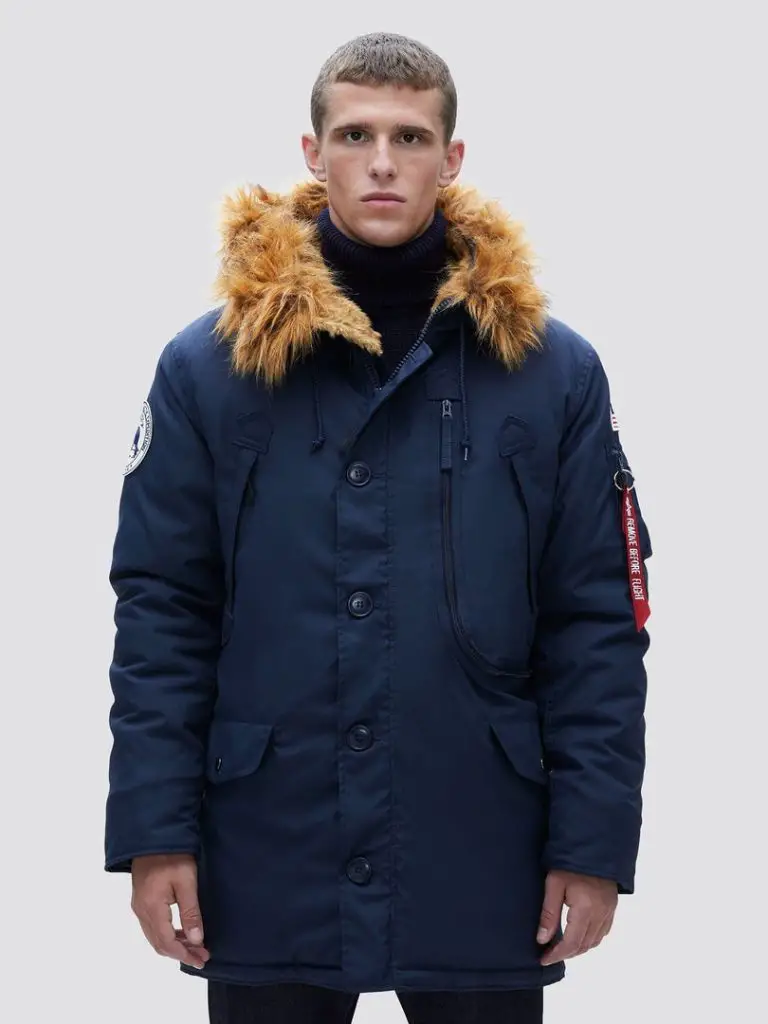 Every man needs a heavy-duty coat— like this time-tested Alpha Industries N-3B— on hand for cold winter weather. The functional jacket was initially designed for the US military, giving it a timeless, utilitarian feel. No matter how you style it, you're sure to stay toasty in any conditions.
Puffer Jacket
Puffer jackets are undoubtedly one of the most popular men's winter fashion staples today. Filled with insulating down or down-alternative, these waterproof winter coats provide ample warmth and protection. They're equally as suitable for a snowy commute to work as they are a day at the mountain.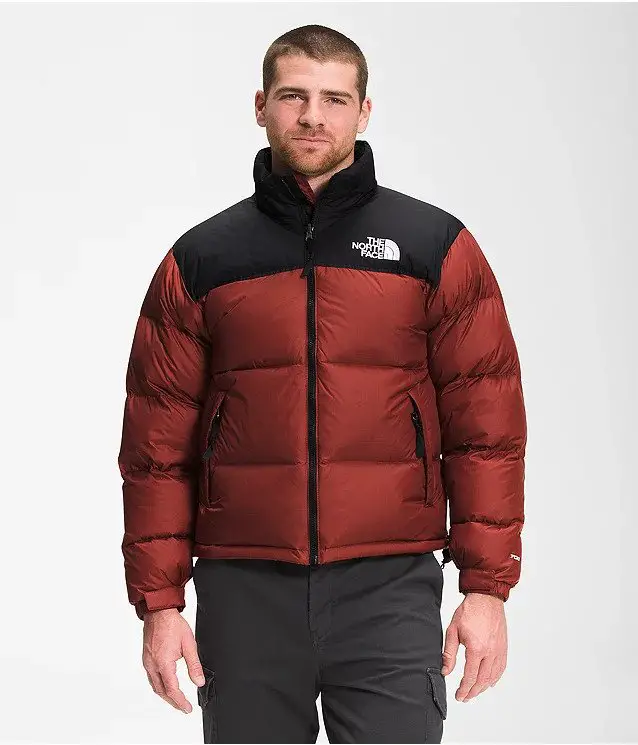 To ensure you're purchasing something that'll actually keep you warm, stick to activewear and outdoor apparel brands like The North Face, Patagonia, Nike, or Canada Goose. These products will be made using ethically-sourced down fill and durable, weather-resistant materials like GORE-TEX or rip-stop nylon.
Technical Jacket
Technical jackets encompass windbreakers, raincoats, and other outdoorsy shell jackets. While these jackets are incredibly practical for rainy days and cold-weather hikes, they're becoming increasingly fashionable too. Today, "gorpcore" is one of the biggest streetwear trends for men.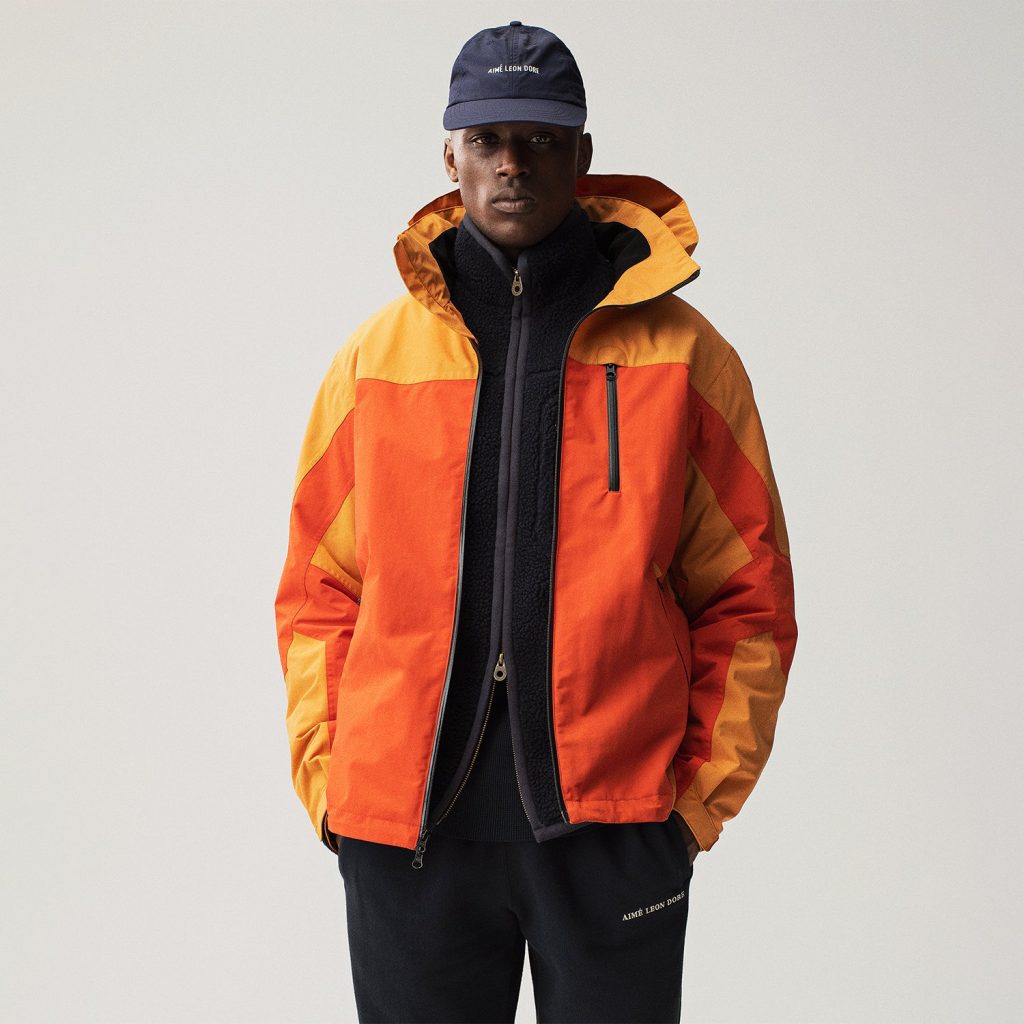 If you're looking to splurge on a technical jacket, do it on a collab between a cool streetwear label or emerging designer and a time-tested outdoor apparel brand. You'll get the perfect balance of style and function in a piece you'll keep for a lifetime.
Bomber/Flight Jacket
First manufactured for World War I pilots, bombers and flight jackets have come a long way since their introduction over 100 years ago. Back then, planes had open cockpits, so flyboys needed a coat that could provide ample protection from the elements. Traditionally, flight jackets boasted thick, sturdy leather and fur lining to keep pilots dry and warm from takeoff to landing.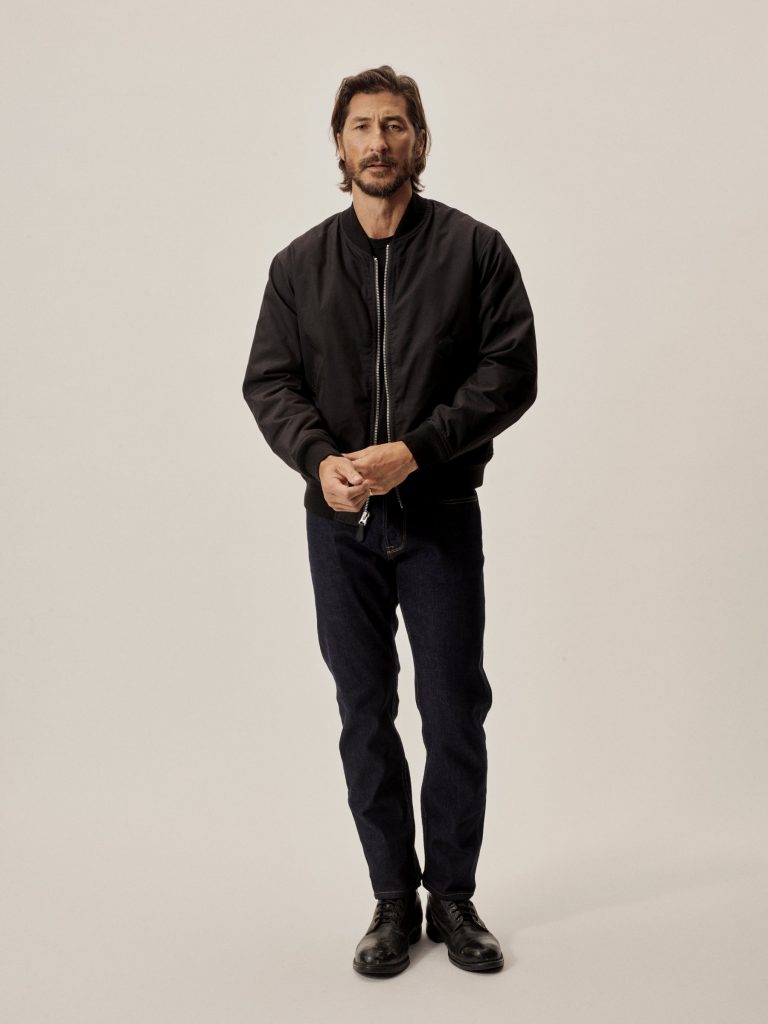 If you're looking for a traditional leather bomber or military flight jacket, head to your local vintage shop. Modern bomber jackets are typically composed of nylon or polyester. While some styles are thick and cold-weather friendly, others are lighter and better suited for wearing indoors.
Shirt Jacket
Winter fashion is all about layers. A shirt jacket— sometimes called a shacket— is a great medium-weight layer that can be worn as a casual button-down shirt or a lightweight jacket, depending on the weather. Style yours casually with tees, sweaters, and hoodies just as you would a flannel or chore coat.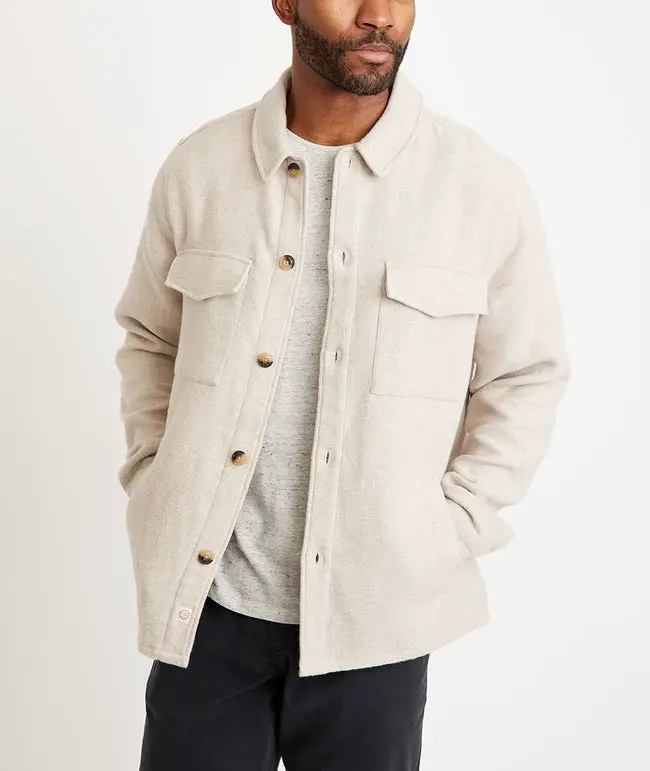 Quality styles are made using wool or wool-blend fabric that maximizes warmth without adding bulk. Many are lined with fleece or sherpa for added warmth. They're not typically very heavy, so it's definitely a jacket to save for a warm winter day.
Shirts, Sweaters, and Other Winter Tops
Sweaters
Sweaters are a suave winter wardrobe essential no man should live without. They're clean, effortless, and easy to wear. Dress them up, dress them down, and layer them with any tee, button-down, blazer, and winter jacket you'd like.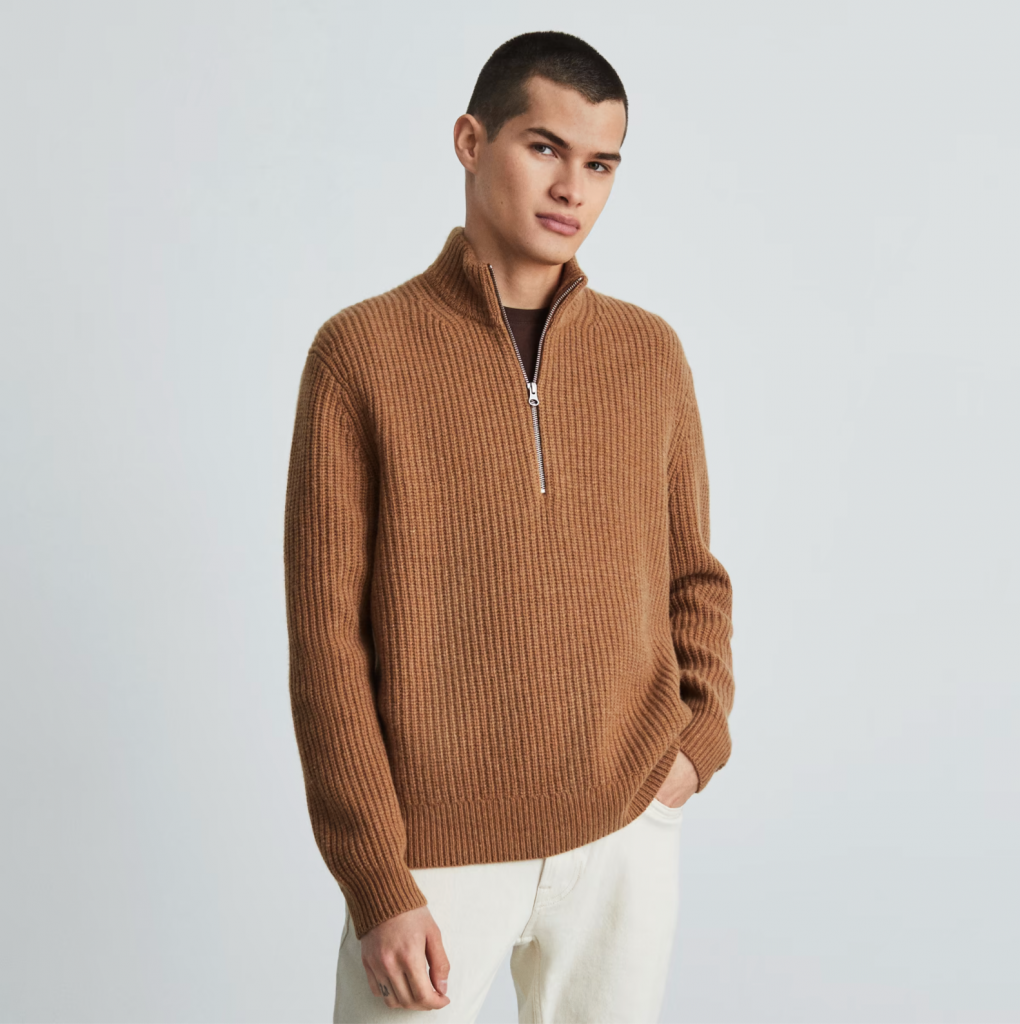 Men's sweaters come in every neckline, weight, and knit texture imaginable. Standard fabrics include cotton, wool (merino or shetland), and cashmere. Popular necklines include crewneck, V-neck, quarter zip, turtleneck, and shawl collar. The most flattering and fashionable style depends largely on your build and personal tastes. Don't be afraid to stock up on multiple colors once you find a product you like.
Button-Down Shirt
Button-down shirts are a broad category, so we won't be diving too deep. In the winter, you'll want to swap your linen and chambray shirts with heavier fabrics like oxford and broadcloth. A popular look is to layer a sweater over your collared shirt to play with color, texture, and pattern.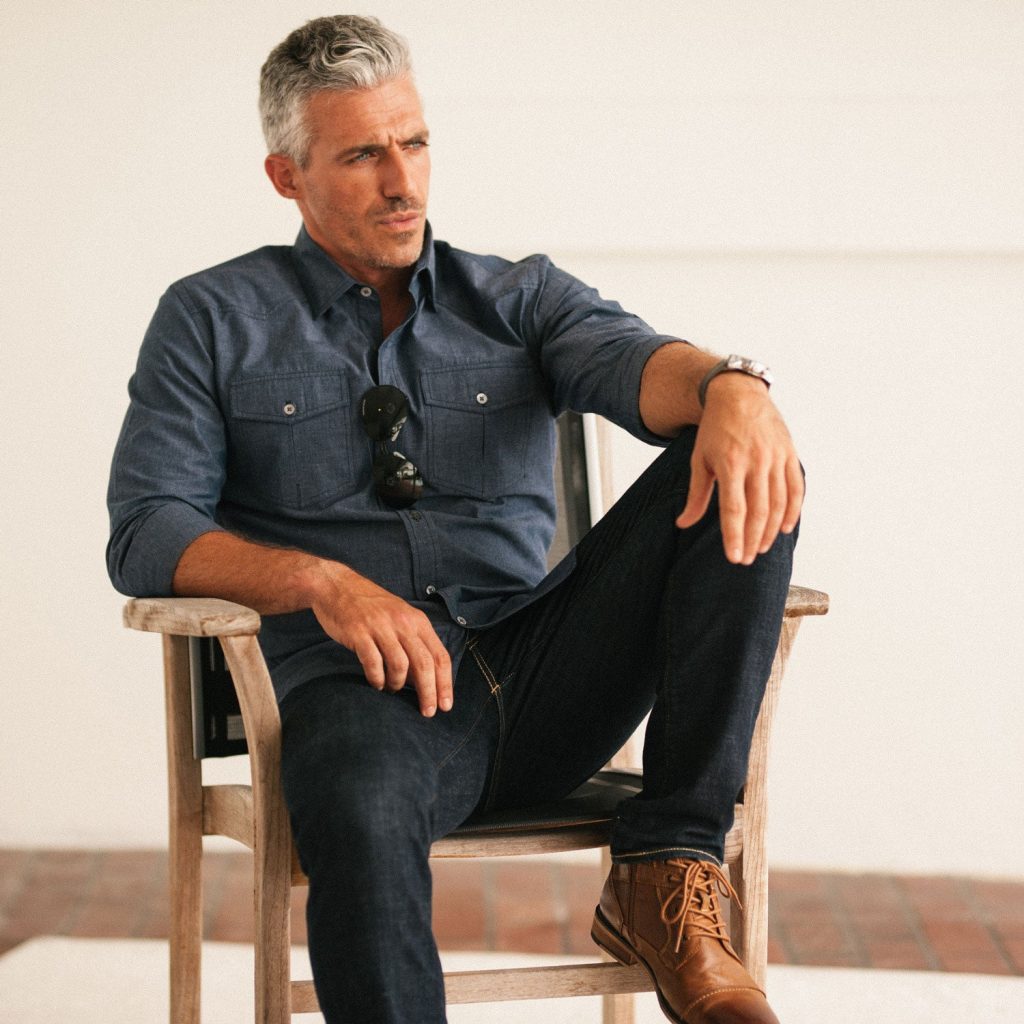 With countless button-up shirts on the market, it can be hard to pick between products. Personally, I'm a huge fan of the utility shirts from Batch. Their thicker weight makes them the perfect mid-layer for a complete men's winter outfit. With multiple cuts and colors to choose from, you'll never need to shop anywhere else.
Henley
Henleys make an excellent layering piece as the temperature drops. The classic long-sleeve shirt is characterized by its round, buttoned neckline. Think of the men's winter fashion staple as a collarless polo shirt.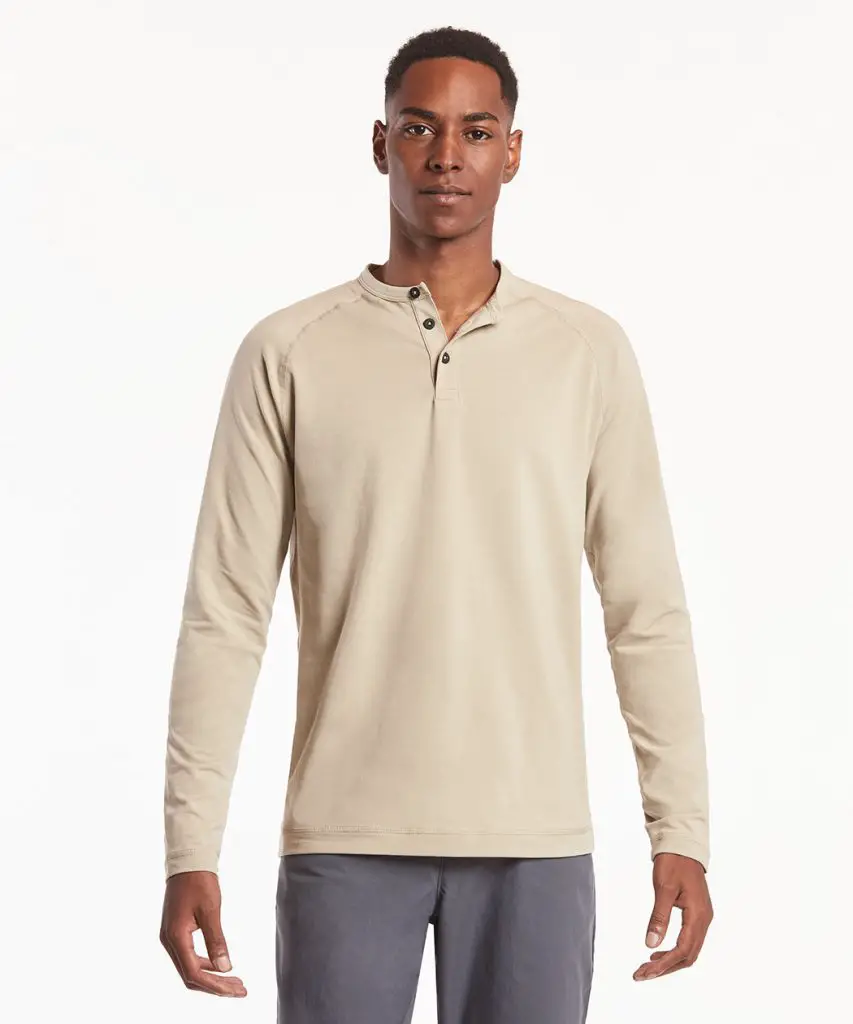 Most men's henleys are made from thick cotton fabric with a ribbed or waffle-knit texture. Aim to fill your t-shirt drawer with a range of versatile neutral colors like white, gray, tan, and navy. These sleek colors help ensure the casual shirt comes off looking smart instead of sloppy.
Flannel
Flannel shirts belong in any man's winter fashion rotation. Think of them as a warmer version of your favorite casual button-up shirts. They come in a range of colors and prints, so they can be paired with pretty much anything and everything. Paired with chinos and a basic tee, they're a no-brainer for casual everyday looks.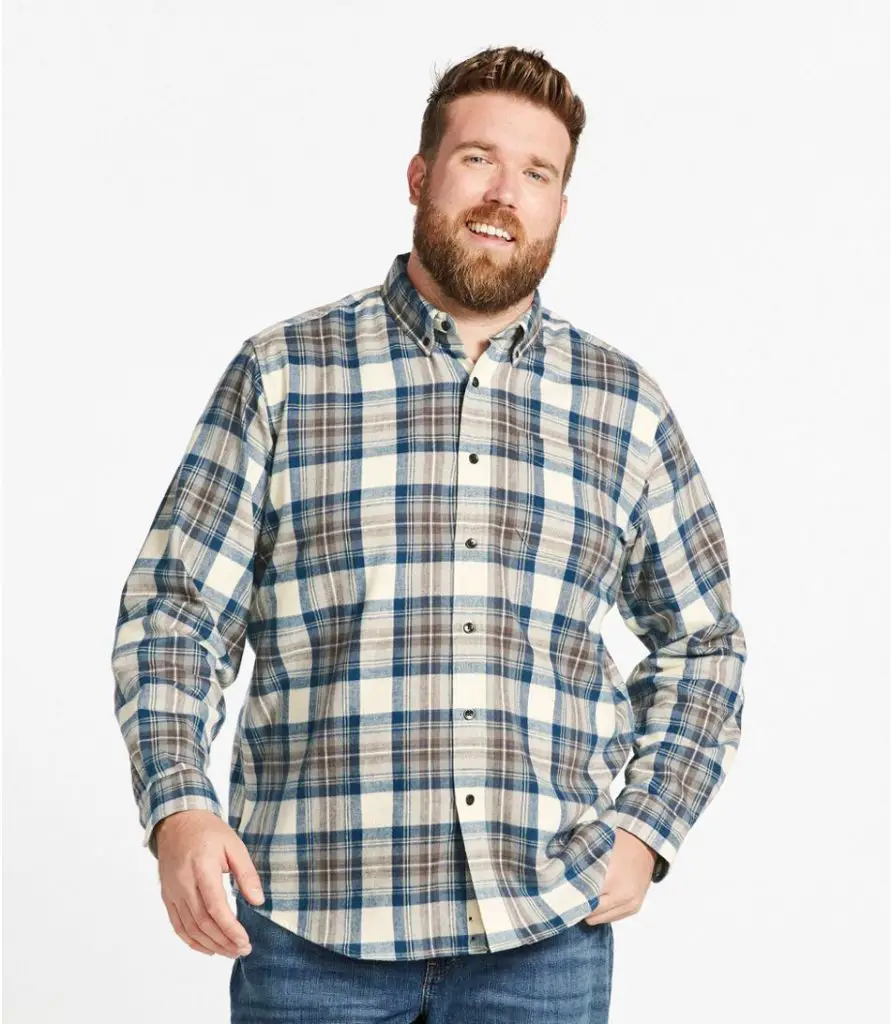 When deciding on a color scheme, think about what other colors you own. What would pair well with your colored tees, chinos, and loungewear? Though slick new styles are released every day, there's an endless supply of vintage options out there for a grungy, 90s-inspired look.
Fleece Pullover
A fleece pullover or quarter-zip offers a sporty alternative to a classic hoodie. Designed to wick moisture and retain body heat, they'll keep you comfortable while you run errands, walk the dog, or work from home. Don't be afraid to toss yours in your hiking backpack or ski bag too!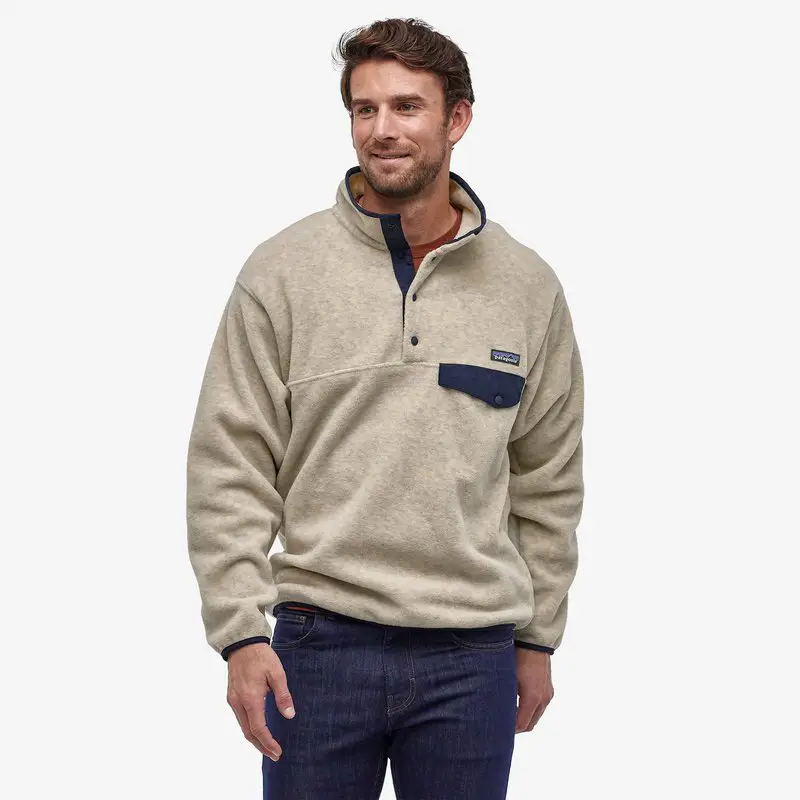 When it comes to fleece, nothing compares to Patagonia. The eco-friendly clothing brand creates timeless pieces that'll you'll love for decades to come— and they've got a repair program to ensure they'll last. If you're willing to do a bit of searching, you can find some pretty cool vintage Patagonia fleece jackets.
Sweatshirts & Hoodies
Let's be honest. When working from home in the winter, you're lucky if you even put real clothes on, let alone get dressed up every day. And as far as casual clothing goes, there's nothing quite like the feel of your favorite sweatshirt. For added style, mix and match them with a pair of coordinating joggers or sweatpants.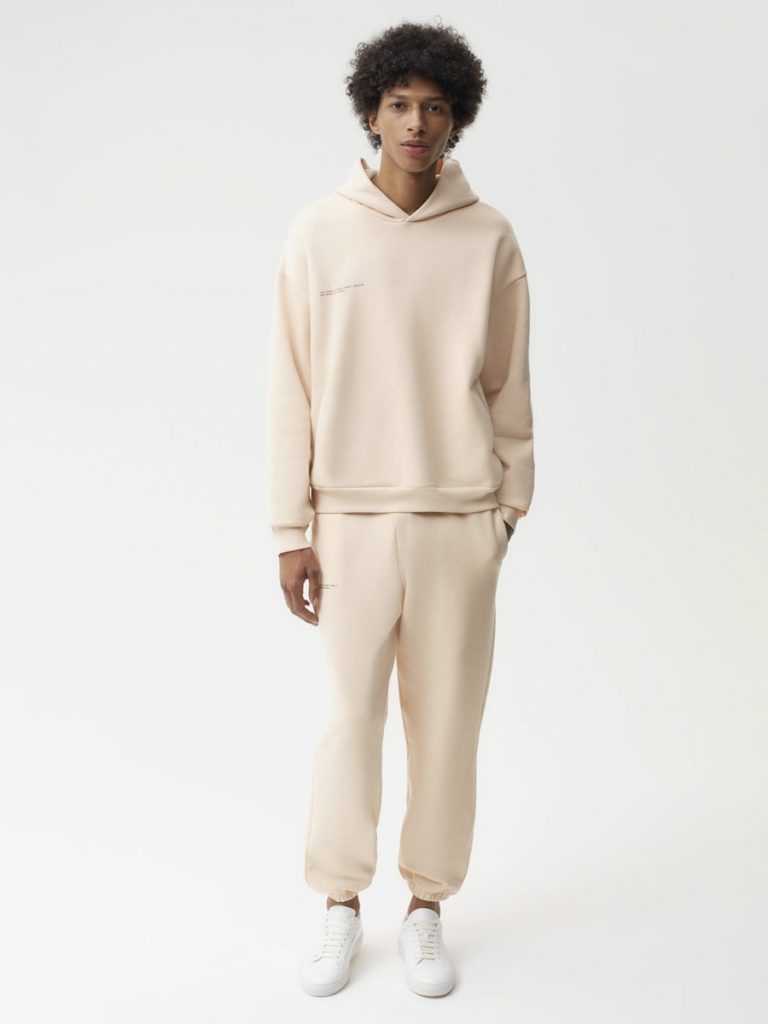 Though sweatshirts are as easy as they come, that doesn't mean they can't be stylish too. Save your worn-out sports team hoodie for the gym and stick to tailored styles made from luxe fabrics like heavyweight cotton, wool, or cashmere.
Pants
Unfortunately, societal standards require us to wear pants (total BS, we know), but that doesn't mean we should be stuck with sweatpants and bootcut jeans all winter. In fact, the cold season permits the most experimentation with different pant styles and fabrics. And let's face it. Pant fabrics and textures are often underrepresented in men's winter fashion wardrobes.
Denim
As the cornerstone of every man's winter ensemble, denim hasn't changed much since its inception more than a century ago. In 2022, men's denim trends are shifting towards more relaxed, 90s-inspired dad jeans. Avoid anything with an overly skinny leg.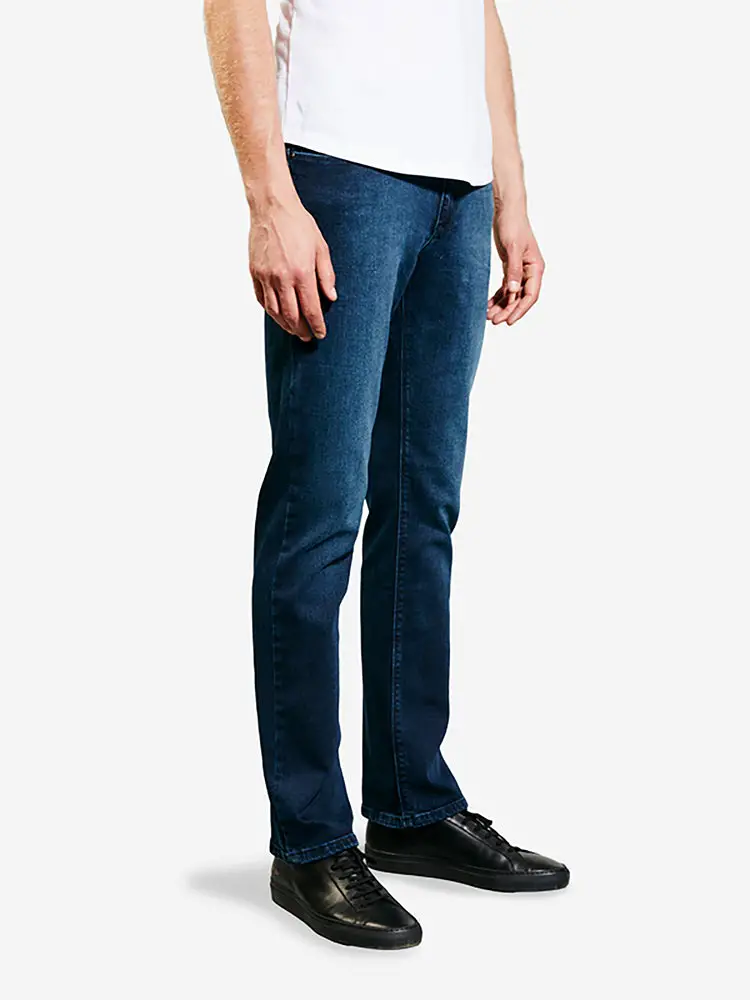 Darker washes integrate well with the more subdued color palette that defines men's winter fashion. Plus, they can be dressed up for the office. No need to go overboard with the denim lineup. Two pairs in indigo and black will serve you just fine for winter 2022.
Wool Trousers
Wool trousers don't get the credit they deserve, especially in men's winter fashion. They're incredibly warm and can provide some awesome depth to an otherwise flat outfit. Wool pants pair perfectly with your favorite boots, chukkas, dress shoes, or even some sneakers.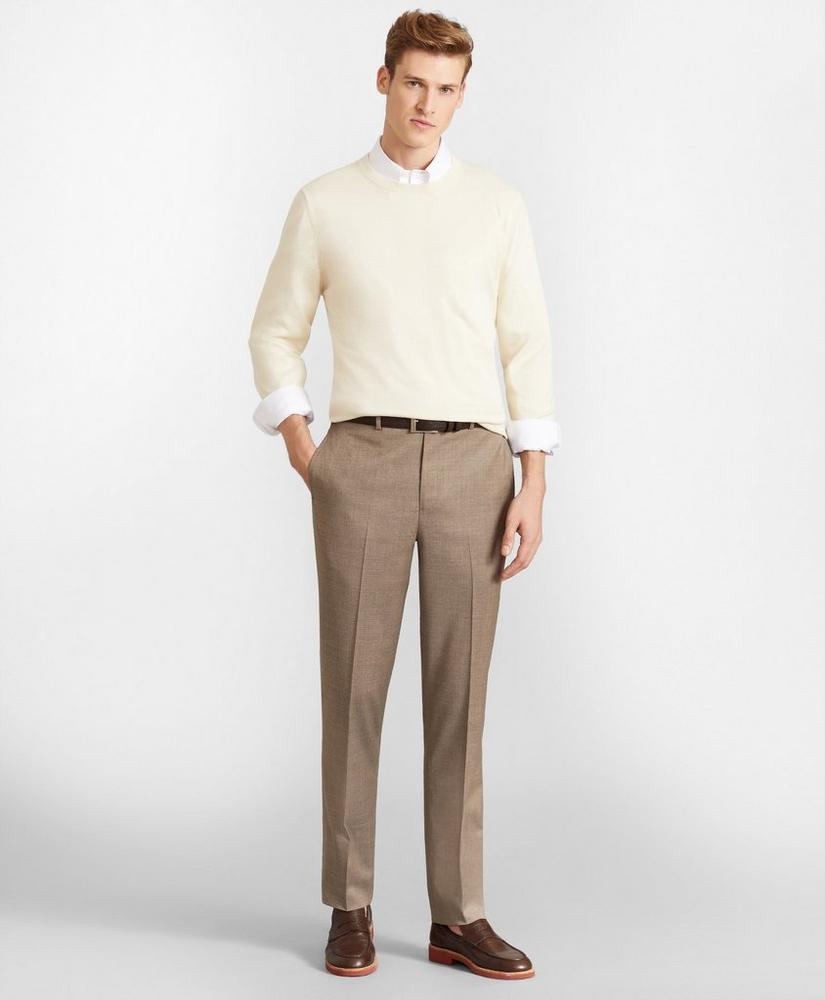 When a regular pair of chinos simply isn't warm enough, a thick pair of wool pants are sure to do the job. Fill your closet with a pair in black, charcoal grey, and camel. Paired with a button-down or sweater, they're great for professional settings and more formal occasions.
Chinos
The sheer versatility of chinos is uncontested. Similar to jeans, khakis come in varying cuts and styles, so choosing the right pair for you may require some trial and error. They can be dressed up for work and down on weekends for endless outfit possibilities.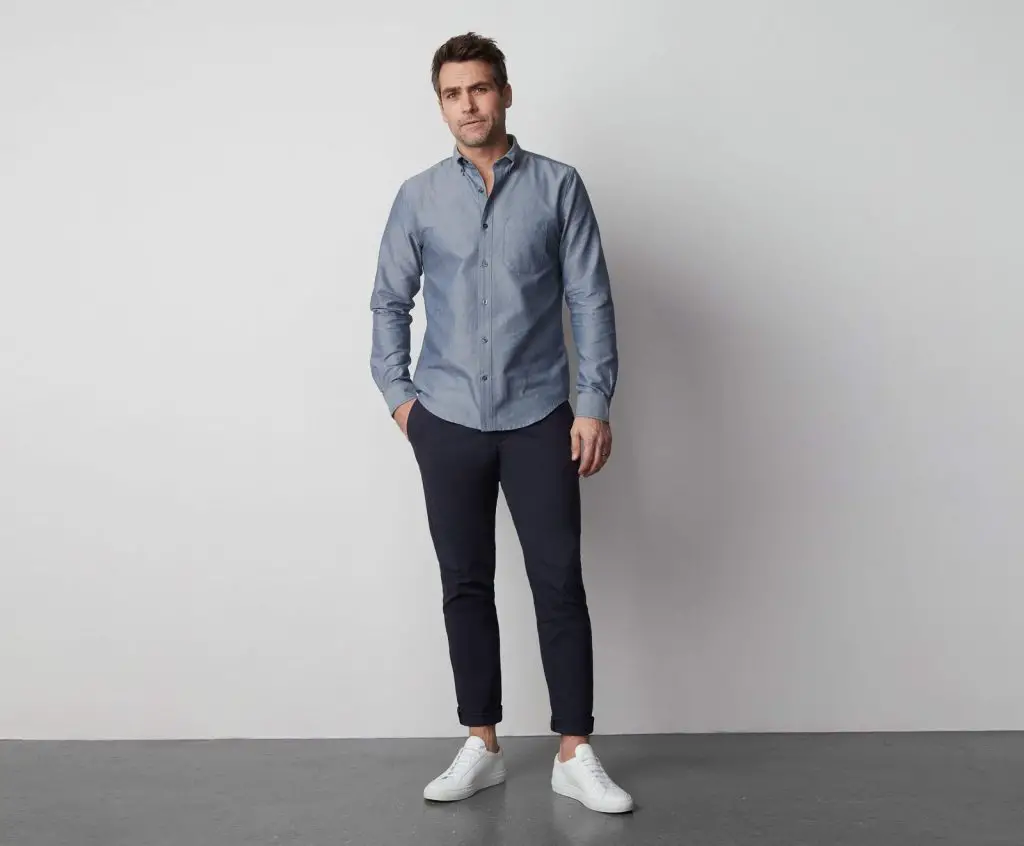 The vast majority of chinos are composed of medium-weight cotton, which may under-deliver on colder days. Thicker, warmer fabrics include duck canvas and moleskin. Or try a pair of  "technical" chinos that offer moisture-wicking technology that's great for wet winter days.
Men's Winter Boots & Shoes
Sneakers
Some believe sneakers should only be worn in the summer. I am not one of those heretics. Sleek, minimalist sneakers can be worn any time of year. White sneakers may not be the most practical for soggy winter weather, so consider adding another neutral colorway to your repertoire.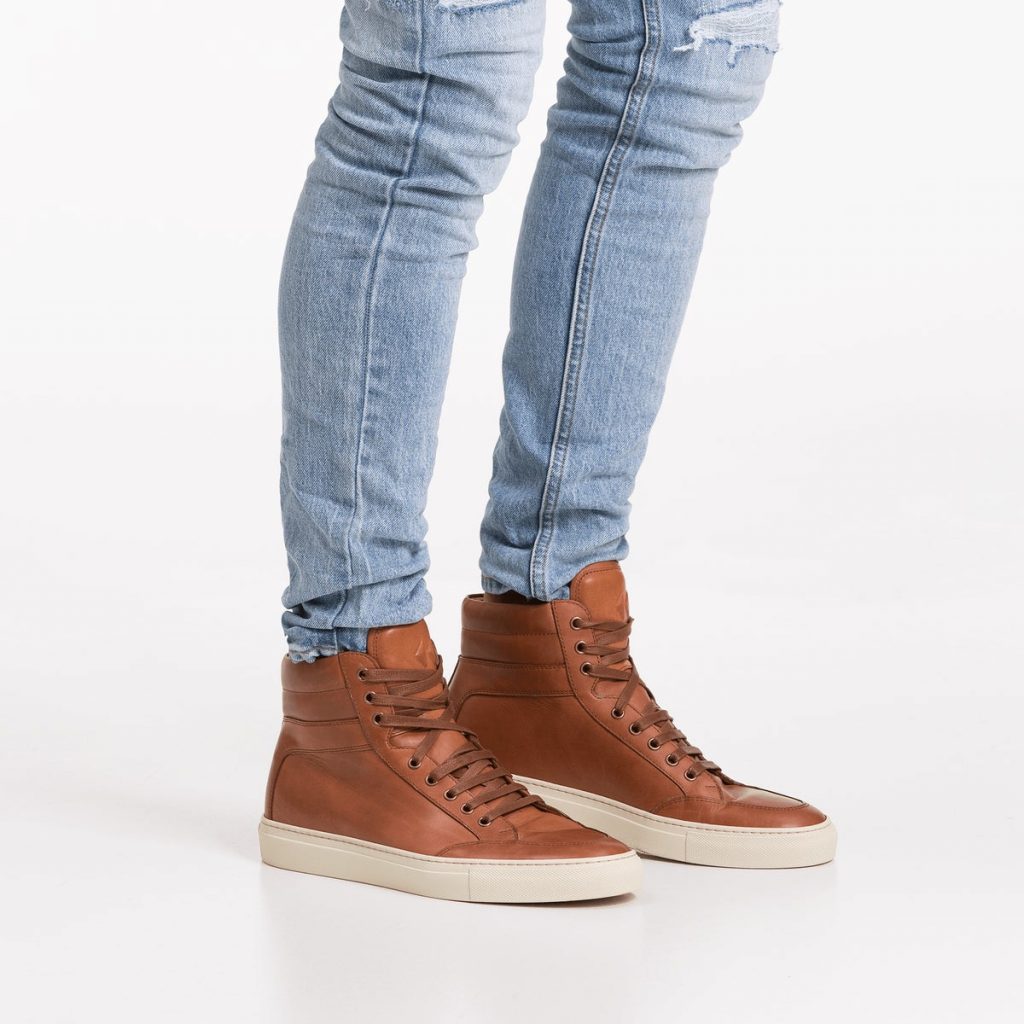 High-tops are great for winter because they help keep cold air from sneaking in around your ankles. Not to mention, they can look incredibly stylish too. If you're prone to getting your sneakers dirty, the added winter elements certainly won't be doing you any favors. Try a water/stain repellent spray like Crep Protect on your sneaks to keep them looking fresh.
Boots
You'd be hard-pressed to find a men's winter fashion guide that doesn't mention some sort of boots. Aside from being a practical option for braving the winter elements, boots look good on just about everybody. Comfortable, warm, and stylish, boots should undoubtedly have a place in your wardrobe.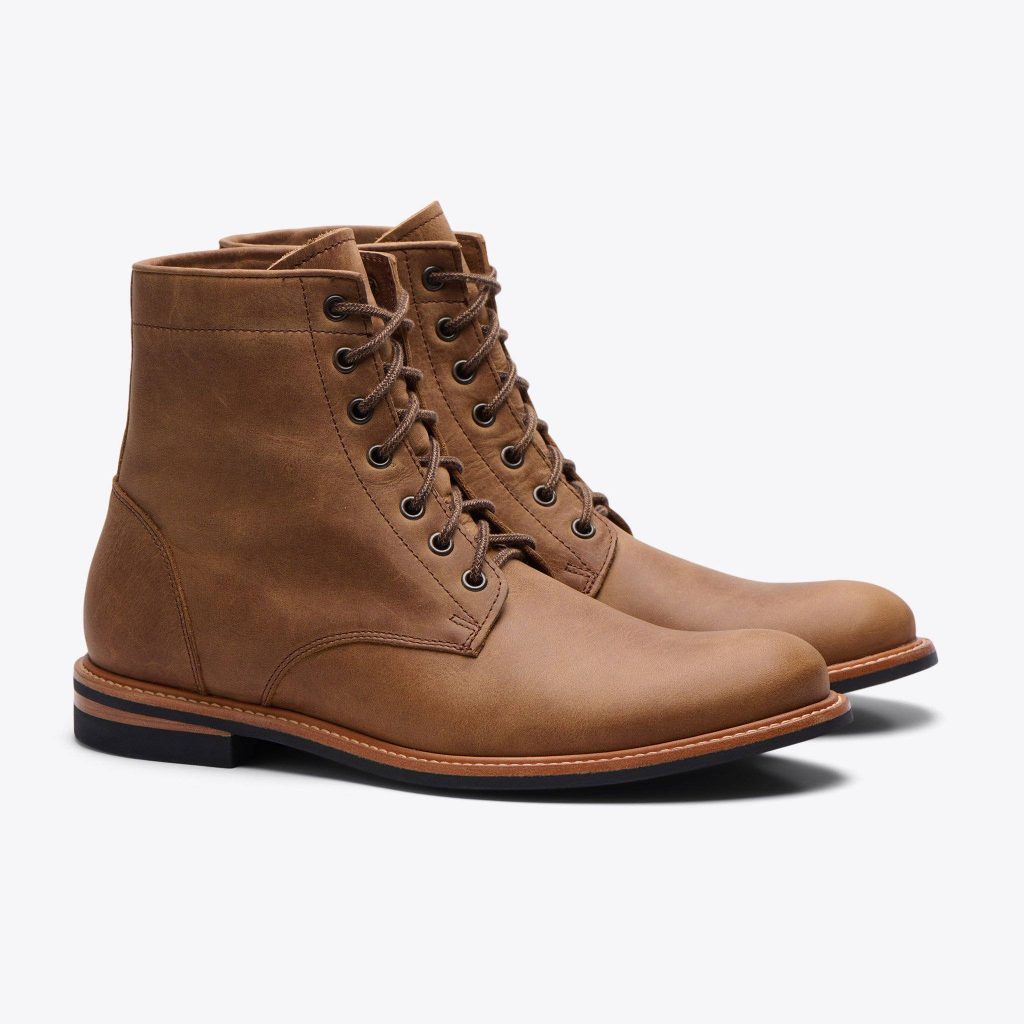 Everyone's taste in boots is different, but some popular styles include lace-ups, chukkas, moc toes, and Chelsea boots. For an entry-level boot, stick with a service boot or chukka with Goodyear welt construction. My favorite boots come from Sutro Footwear, Thursday, Red Wing, and Chippewa. Check out the Styles of Man boot guide to learn more.
Dress Shoes
Even if you don't dress up often, it's crucial to have the means of doing so. This business casual guide covers dress shoes in-depth, so we won't dive too deep here. A reliable oxford, brogue, or monk strap dress shoe should do the job just fine. Keep them clean, polished, and ready for whatever event might spring up.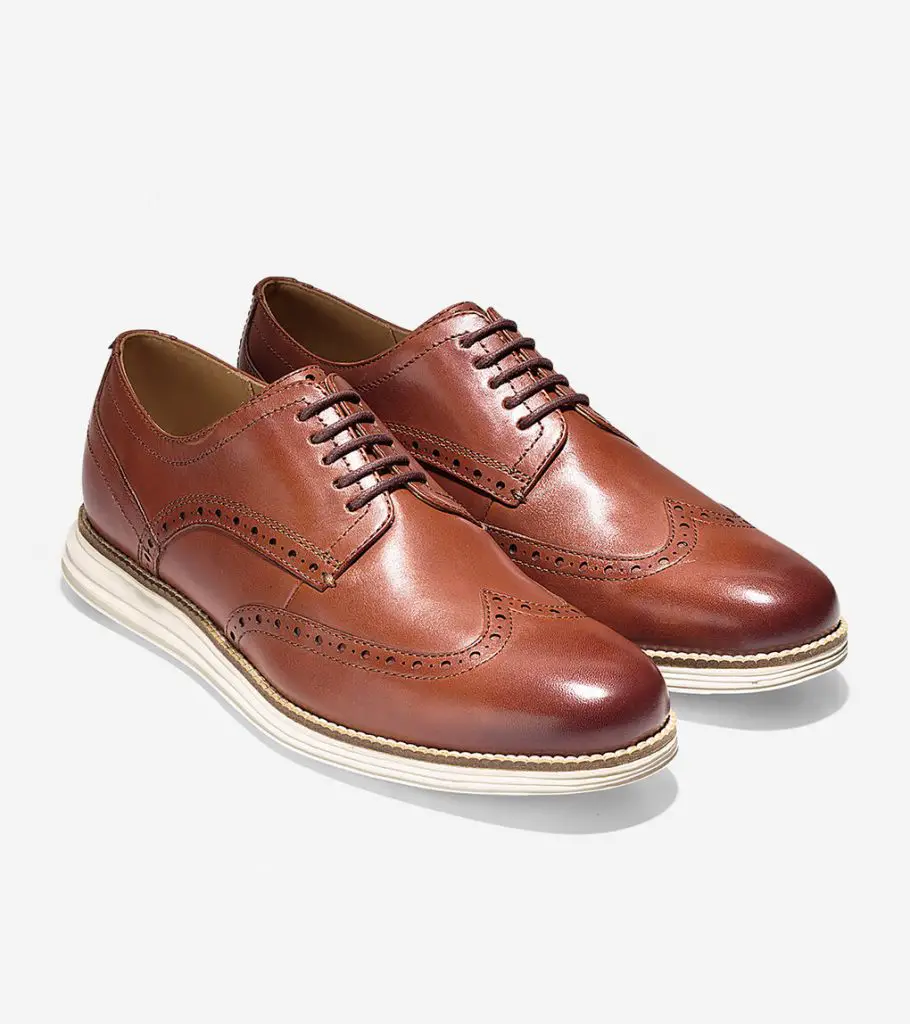 For added traction, comfort, and versatility, try a pair of hybrid dress shoes. These street-ready styles are made with a classic leather upper and a sporty sneaker-inspired sole. They're great for long days on your feet.
Men's Winter Fashion Accessories
Watch
Owning an expensive watch isn't a priority for everyone, so there's no shame in choosing something functional and affordable. Any watch can add noticeable depth to your look, whether it's a budget-friendly Timex or a pricey Rolex. It's less about the timepiece itself and more about what it means to the man wearing it.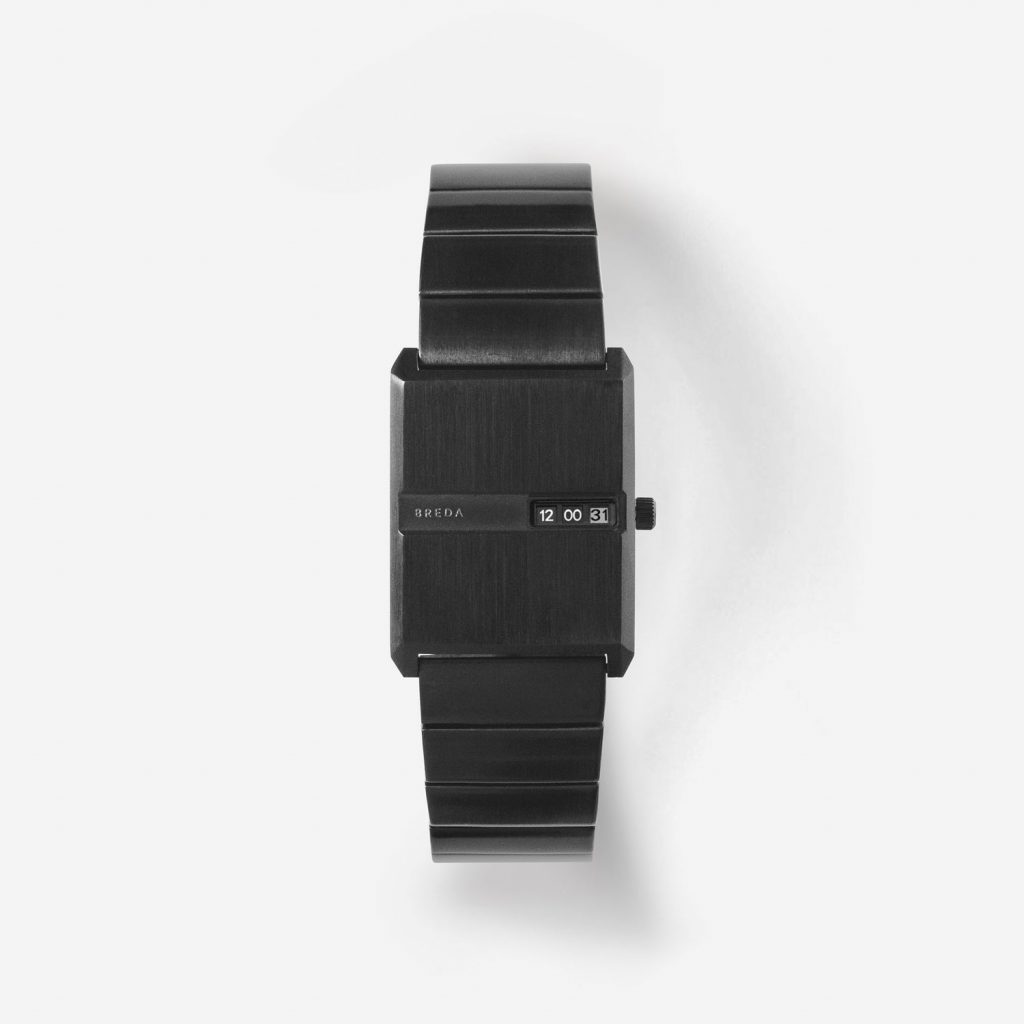 For winter activities, you'll probably want something a bit more practical. Try something with a nautical or sporty feel that pairs well with streetwear and casual athleisure. Made from weatherproof materials, it'll last through a lifetime of use.
Wool Socks
When most people think of wool socks, they think of the thick ski socks you'd sport during a day at the mountain. But there are all sorts of cozy men's wool socks for everyday wear. Just like your favorite cotton socks, you can find them in every color and print imaginable. Trust me when I say that transitioning to wool socks makes all the difference, especially in colder temperatures.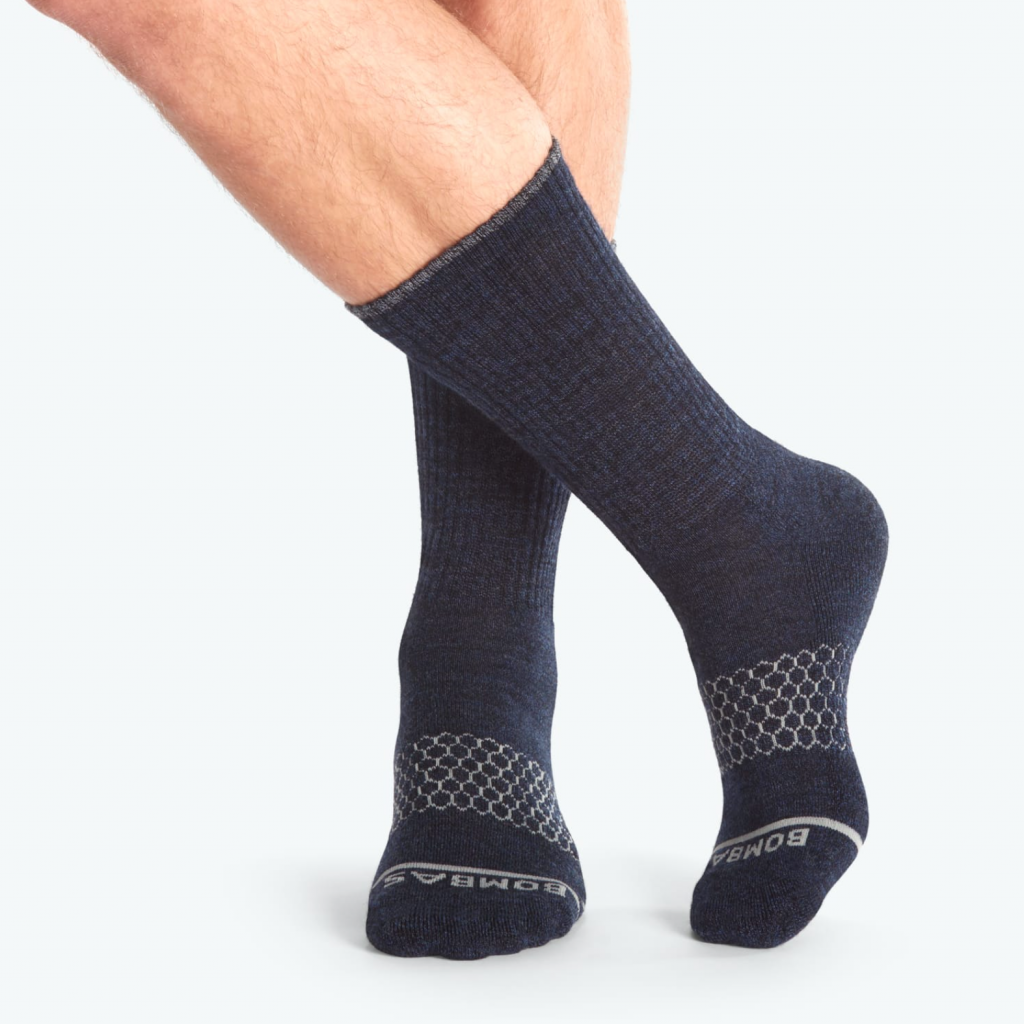 I'm a big fan of Bombas' Merino Wool Socks. They're supportive, itch-free, and for every pair purchased, the Certified B Corp donates a pair to a homeless shelter in the US. If you're prone to sweaty feet, the natural odor- and moisture-repelling properties of wool will be a total game-changer.
Sunglasses
While it's easy to forget your sunglasses on cloudy days with early sunsets, the sun's harsh rays can still damage your vision during the winter. Even in cloudy conditions, up to 80% of UV rays can still penetrate. Not to mention, UV exposure can be amplified up to 50% on bright snowy days.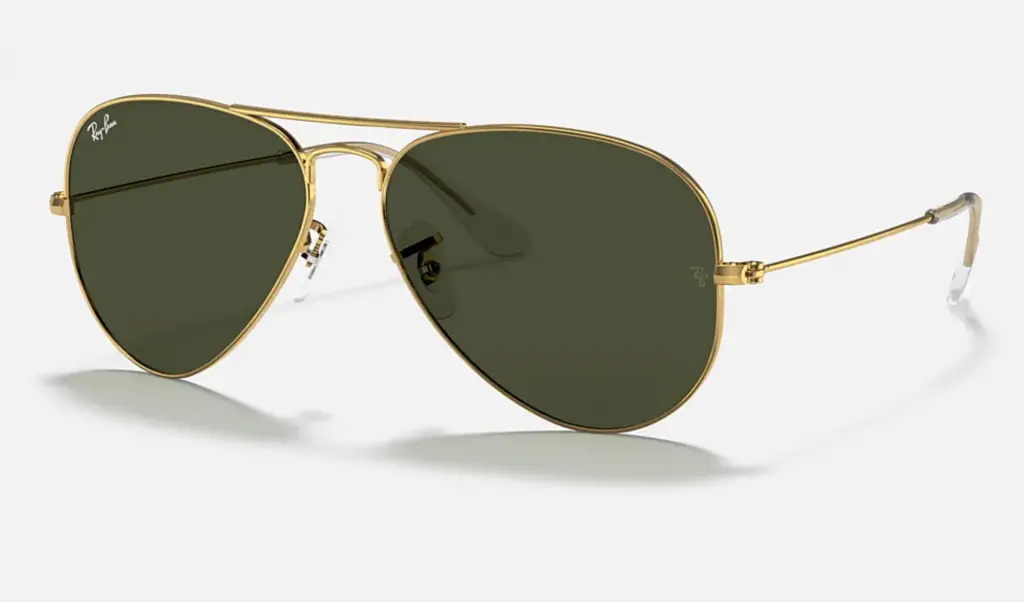 I'm a firm believer in eye protection, so I consider a polarized pair of sunglasses a winter wardrobe essential. If you typically wear glasses, it's worth getting a pair with prescription lenses. Few men's accessories are more timeless and versatile than a pair of Rayban aviators or wayfarers. They've been in style for decades and will be for many more to come.
Scarf
When the windchill has no chill, a cozy scarf can be a lifesaver. Aside from being a functional way to keep your neck warm, a scarf is a great way to add a little extra flair to any outfit.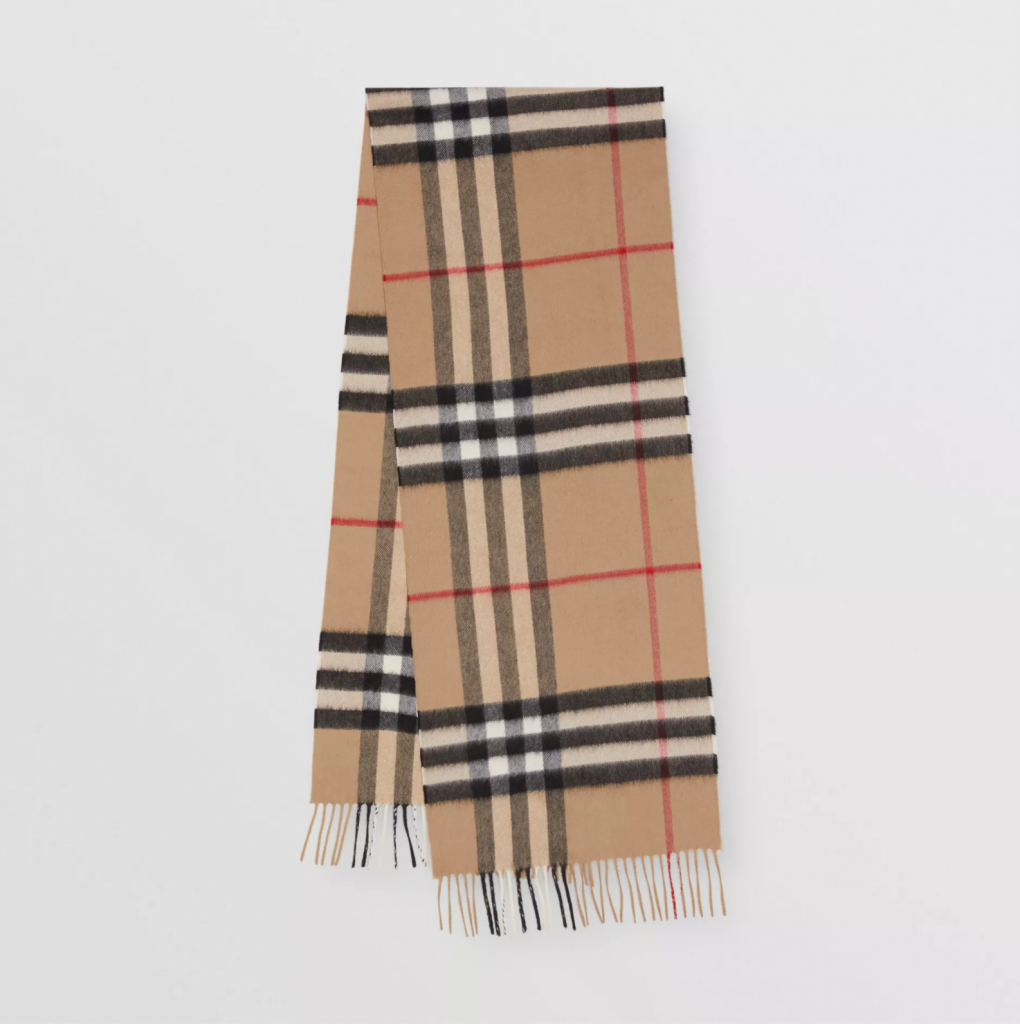 With countless varieties to choose from, scarves make an easy addition to any man's winter wardrobe. The versatile winter accessory is typically made from wool, cashmere, or acrylic yarn with a knit texture or fringe detail on the end. Treat yourself to something sumptuously soft— like this iconic Burberry plaid scarf— that you'll look forward to sporting every winter.
Well, that just about covers it for this men's winter fashion guide. Feel free to shoot an email to [email protected] or a DM to @stylesofman on Instagram if you've got any questions about men's winter clothing. Until next time, stay warm (and stylish).