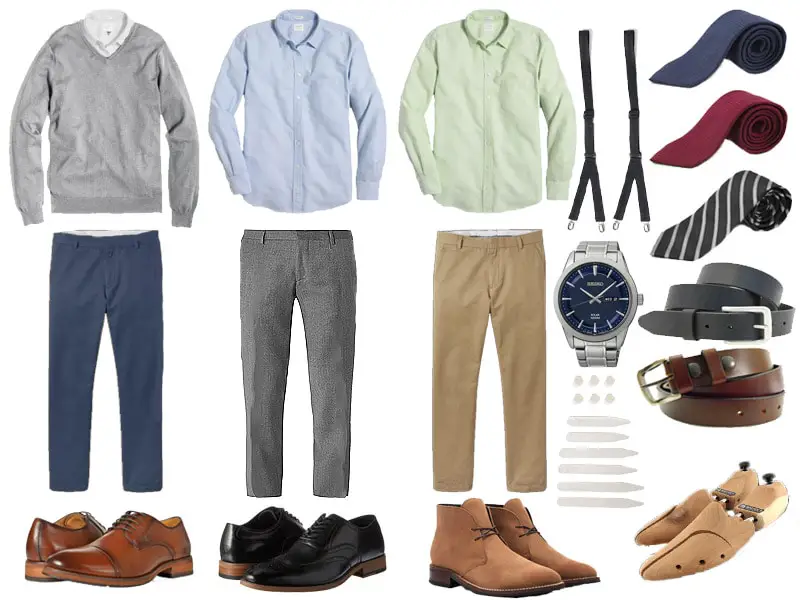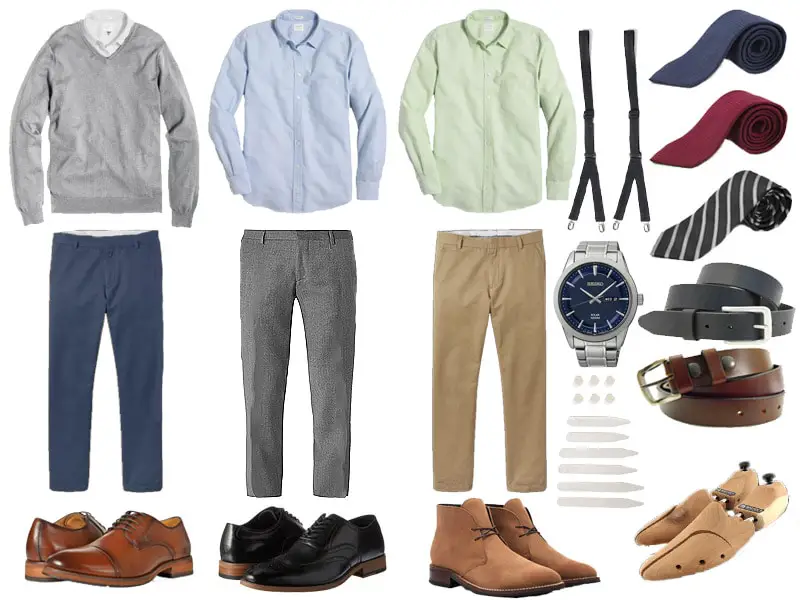 Congratulations! You've successfully secured your first job in the professional world but unfortunately, you're uncertain what "business casual" really means. Either that or you already do understand business casual and you are looking for some ideas on how to liven up your wardrobe a little bit. Fortunately, this guide to business casual for men can help you with both.
Business Casual for Men
Let's start with the most basic framework of what business casual should be: button-down shirt, pants or chinos, and some nice shoes. Depending on the culture of your workplace, this framework can definitely change.
Some workplaces allow for chinos, some require ties, and others may have casual Friday thrown into the mix. (There's a good guide to get you started on that here btw). On every other day of the week though, you are going to need to leave the jeans, sneakers, and t-shirts at home. Consult your recruiter, manager or the company website for the policy on their guidelines. Now that we've got that out of the way, let's dive into the nitty-gritty of business casual for men.
The Dress Shirt
The classic dress shirt is the cornerstone of any business casual outfit. It's both your sidekick and your business partner and it will literally have your back (pun absolutely intended). This garment sets the tone for what the rest of the outfit is going to be and it's usually the first choice a man makes for the day's look.
You want the cut of your dress shirt to complement the figure of your body but not so skin tight that you can't breathe. There are three main types of dress shirts to consider: slim, regular and relaxed (some brands also have athletic fit).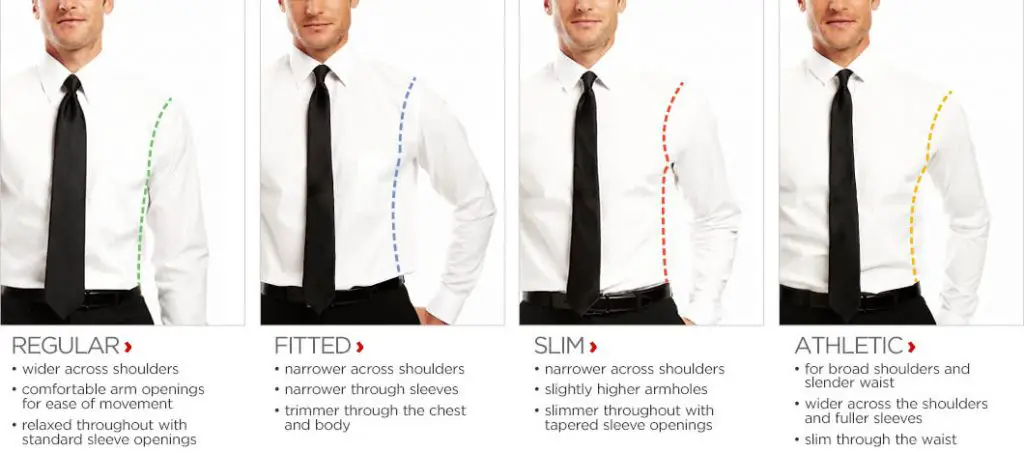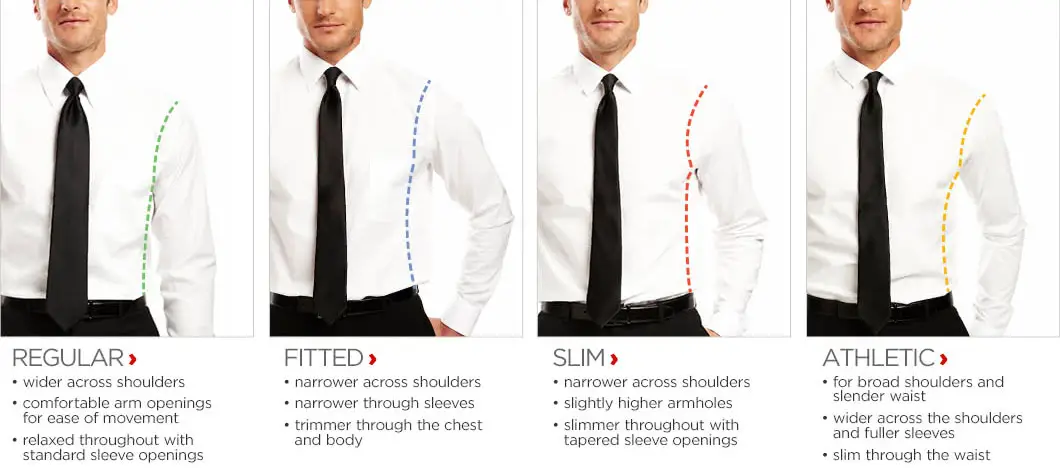 Modern male fashion tends to favor a slimmer fit, so if your body type will allow for that, by all means, go for the slim fit. If you can't do slim fit, regular fit is good for any situation, especially if you are working in a conservative space that doesn't allow for too much leeway in the dress code. If your body type doesn't allow for either of those relaxed fit is the way to go. Whether you're wearing a slim, regular, or relaxed fit – remember one thing: tuck your damn shirt in.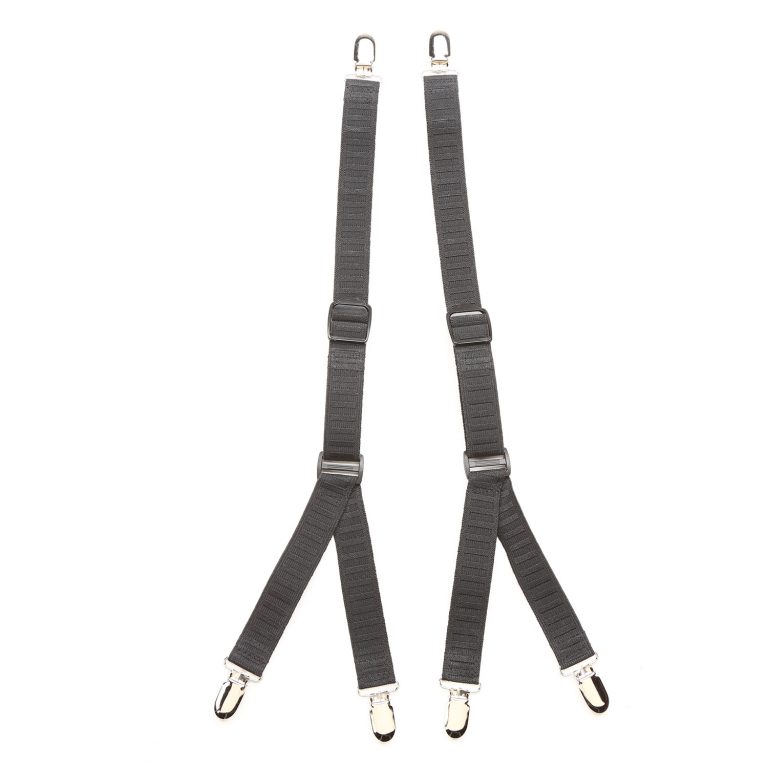 One product we've found to work wonders for stubborn shirts that just won't stay tucked is this type of shirt stay. It'll attach to the bottom of your shirt's hem and your socks to make sure your shirt is crisp and tucked all day. Surprisingly enough, it's not at all uncomfortable or cumbersome.
When choosing a dress shirt to wear, you want to choose something that goes with the type of company you work for. Is it a bank? A law firm? You probably want to go with conservative colors and patterns (e.g. light blue or white, plain or thin stripes).
If it's a tech startup or more creative role, you may be able to get away with some trendier patterns, more casual fabrics, or even rolling up your shirt sleeves. As a rule of thumb though, your first day you probably shouldn't wear anything too crazy.
It's typically a better idea to play it safe and overdress than to show up underdressed on the first day.
Dressing to impress but don't want to come in a business professional full suit? Throw a sports jacket and tie on to go along with the outfit. For fall or winter weather, it's usually a great move to layer a sweater on top of your usual dress shirt.
Crew, v-necks or quarter zips are also excellent options. They are a great option to layer the outfit and express your style a little bit more. We'd recommend to wear a less chunky version both to avoid sweating through a nice shirt and to retain the crisp and professional appearance. Merino wool is an awesome material for this. It's lightweight, odor-resistent, and just outright classy. Check out the merino sweaters from Asket.
Business Casual Pants
Before you walk out the door in just your dress shirt though, let's not forget about the next most important part: pants.
Pants are integral in putting an outfit together because, you know, you'll probably get arrested walking around without them (but don't let us stop you).  They also can help express your style in every type of environment.
The bottom of the pant leg opening can actually vary quite a bit. The "break" refers to where your pant meets your shoe. It's typically a measure of how much extra fabric is left once you run out of leg. A pant break can be the difference between having a well-fitting pair of dress pants and looking like you're swimming in your trousers.
A tailor is your best friend when it comes to making your clothes fit your body and you should absolutely not skimp out on altering your dress pants. I would suggest going either quarter break or half break since they're typically much tidier than a full break. Do note that there's a thin line between no break and pants that are too short. Check out this visual as a reference. Your tailer will know exactly what to do.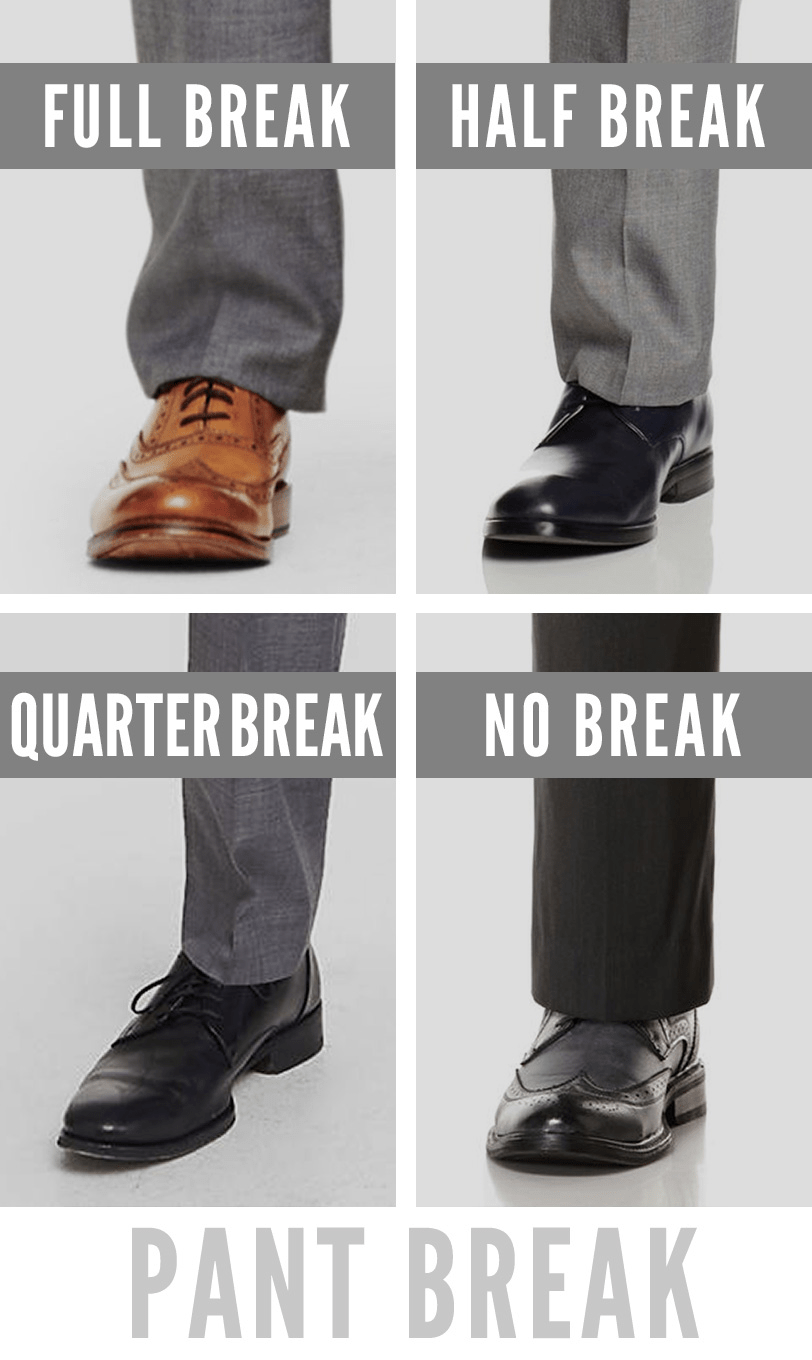 Making sure the pants are matching your shirt is crucial. If you're going to wear black pants with a dark blue shirt, you might want to take a step back and rethink your entire life. Khaki pants are a good staple of many business casual outfits out there. If your workplace allows chinos, they are a great modern look for everyone. Not to mention, they're probably the most versatile pant out there.
Chinos come in many different colors but for a business casual workplace, it's best to play it conservative. Try khaki (all different shades), grey, or navy.
As with shirts there are also different cuts for pants. There's relaxed fit, regular, slim, athletic, and skinny cuts for pants depending on the manufacturer. There's no secret "best" fit when it comes to men's business casual either. Just be sure your pants aren't too baggy or tight. An all-around great chino is the Dockers Alpha Khaki. They're offered in a multitude of fits and colors. They're also budget friendly! Higher up on the chino echelon are Jomers (often limited releases) and Bonobos.
Business Casual Footwear
Onto the last part of the basic business casual outfit: footwear. Shoes can make or break your entire business casual appearance, so it's important to choose wisely.
Before we go any further, though, just in case you missed that day at school: your belt needs to match your shoes. If you're wearing a watch to go along with that, make sure that matches too – but more on that later. Belt. Shoes. Match. Got it? Good!
There are many different types of dress shoes out there: Oxfords, Monkstraps, Dress Boots, Derbies, Loafers, Brogues – all with their own individual style and means of expression. Allow me to break them down for you.
Oxford – The most versatile dress shoe out there. This should be your go-to dress shoe when starting your professional wardrobe. Timeless and classic, the oxford will provide you with a solid foundation shoe that you will want to come back to for years to come.
Derby – The Derby is very similar to the Oxford, but the subtle differences should still be mentioned. The Derby is known for its stitching on the top of the "vamp" (middle section of the shoe). This type of stitching is referred to as "open lacing". The difference between this and the Oxford is that the Oxford has "closed lacing" because the stitching is on the bottom of the vamp. The derby is just as versatile as the Oxford, though the Oxford is viewed as more conservative historically. Again, check the culture of your workplace!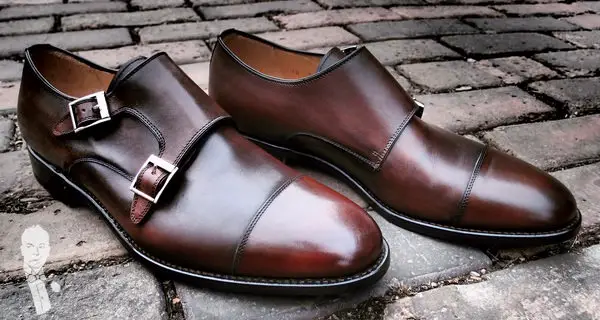 Monk Strap – Similar in construction to an Oxford or Derby, the Monk Straps is differentiated by the one or two leather straps (as opposed to laces) to secure the shoe. Do note that Monk Straps are usually less versatile than the Oxford or Derby in the sense that the most conservative workplaces this might be frowned upon. This is a business casual for men guide, so it should be fine in most workplaces.
Loafers – The slip-on shoe for the modern man. Although historically known as a more casual shoe, it has crept its way into the workplace as a business casual shoe within the past 30 years. Loafers feature usually either a tassel, buckle, or belt where laces would traditionally go. Less formal than most shoes but a good addition to the wardrobe nonetheless.
Brogues – "Oxfords not Brogues" – the callsign of the Kingsman. It's fun to pretend that you are a Kingsman and have sex with Swedish princesses in your spare time but let's not get ahead of ourselves. You're probably just going to be doing entry-level work for now.
There's nothing wrong with that, though, because everyone has to start somewhere. Now onto what determines a "Brogue" shoe. Brogueing refers to the perforations you see in certain shoe styles. There are quarter, semi, and full (commonly referred to as "wingtip").  Brogueing can complement any shoe and help you develop your individual sense of style; however, I would recommend a good pair of Oxfords or Derbies before you make the jump to a pair of wingtips.
Business Casual Accessories
Now for the part where you can turn that basic business casual outfit into something that really expresses your style: accessories. If you imagine your outfit as a present, accessories are the neat little bow that ties the entire ensemble together. How fun! There are many different accessories you can use to liven up any boring outfit to show everyone the true fashion icon that you are.
Ties
If they aren't necessary (or even if they are), ties are a great option for an accessory. There are literally millions of different options of ties out there. The same policy for shirts in the workplace also goes for ties.
If it's a pretty conservative workplace you might not be able to run with that Hawaiian floral print, but a solid color or neutral patterns should work wonderfully. A tie bar is even great to put a little extra detail into the tie itself, as well as keep it from flailing all over the place as you walk around.
Watches
Every man should own at least one watch, period. Whether its brown leather, black leather, metal, nylon – whatever. Watches may not technically be needed now to tell time because of cell phones; however, their timeless (timefull?) style of them is here to stay.  If you're not used to wearing one at first it may feel strange, but it makes all the difference in even casual outfits. Plus, you can look at them and say you have to leave to exit an awkward conversation.
Silver metal watches are great because they can go with almost any outfit but nothing beats the classic style of a brown leather strap. There are many different styles of watches out there, so look around for some that interest you. When making your first watch purchase, think about how you'll pair it with what is (or isn't yet) in your wardrobe. Check out our coupon codes section for some great deals on some!
Belts
Although some may not think of belts as accessories, if used correctly they can be. There are more than just plain leather belts out there. There are braided leather, braided cloth, accentuated leather grain – the list goes on. There are patterned belts as well, but save those for your casual outfits.
Pocket Squares
If you do decide to rock that sports coat to go with your business casual look, you might want to consider a pocket square as well. It provides a nice splash of contrasting color against the jacket you're wearing. Like ties, there are millions of different styles to choose from.
Fedoras
Do not.
Hopefully, this guide has given you a basic understanding of how men's business casual style works and how you can start building your wardrobe accordingly.  If you need some inspiration for what outfits you want or what to look like, check out our Instagram page. Good luck out there, gentlemen.
Zachary Nicholas