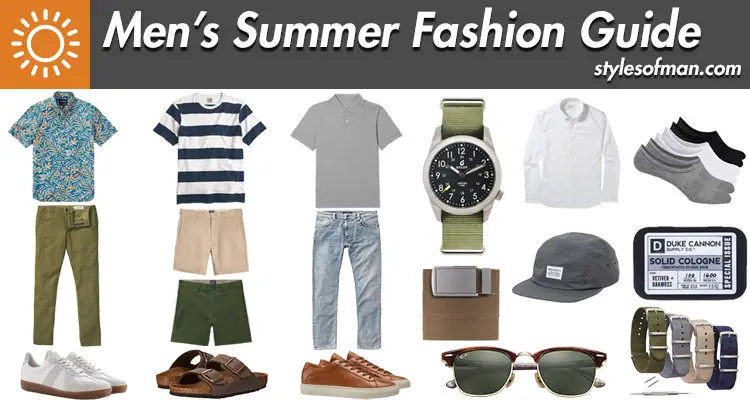 With summer on the horizon, we can finally look forward to some much-deserved sunshine, beer gardens, and outdoor adventures. But just because our layers peel away with the heat doesn't mean a guy can't look stylish all while being equipped for the summer heat. As backyard barbecues abound and people move outdoors, our clothing's fabric becomes increasingly important in our men's summer fashion outfits.
Roll up your sleeves, pour yourself a drink, and dive into our men's summer fashion guide to keep yourself looking good all without breaking a sweat!
Men's Summer Fashion Shirts
For summer fashion, a good rule-of-thumb for shirt fabrics is to opt for natural fibers over synthetic ones. Synthetics tend to trap in moisture rather than release it freely, restricting breathability and sweat dispersion through clothing.  Fabric weave, weight, and cut matter as well, with looser, lighter fabrics allowing heat to escape. Though cotton reigns supreme in essentially all pillars of men's summer style, we've outlined a few on-trend pieces that'll give your summer wardrobe a boost this season.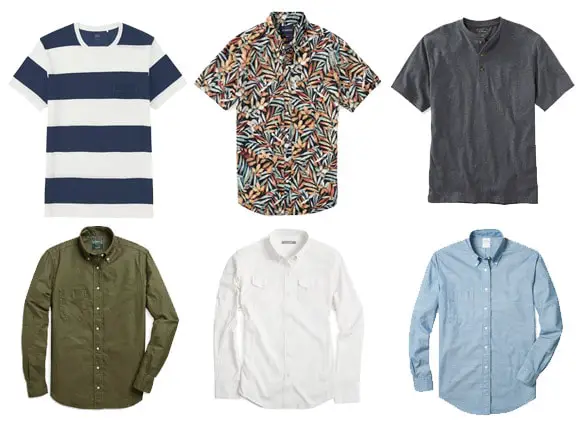 Chambray Shirt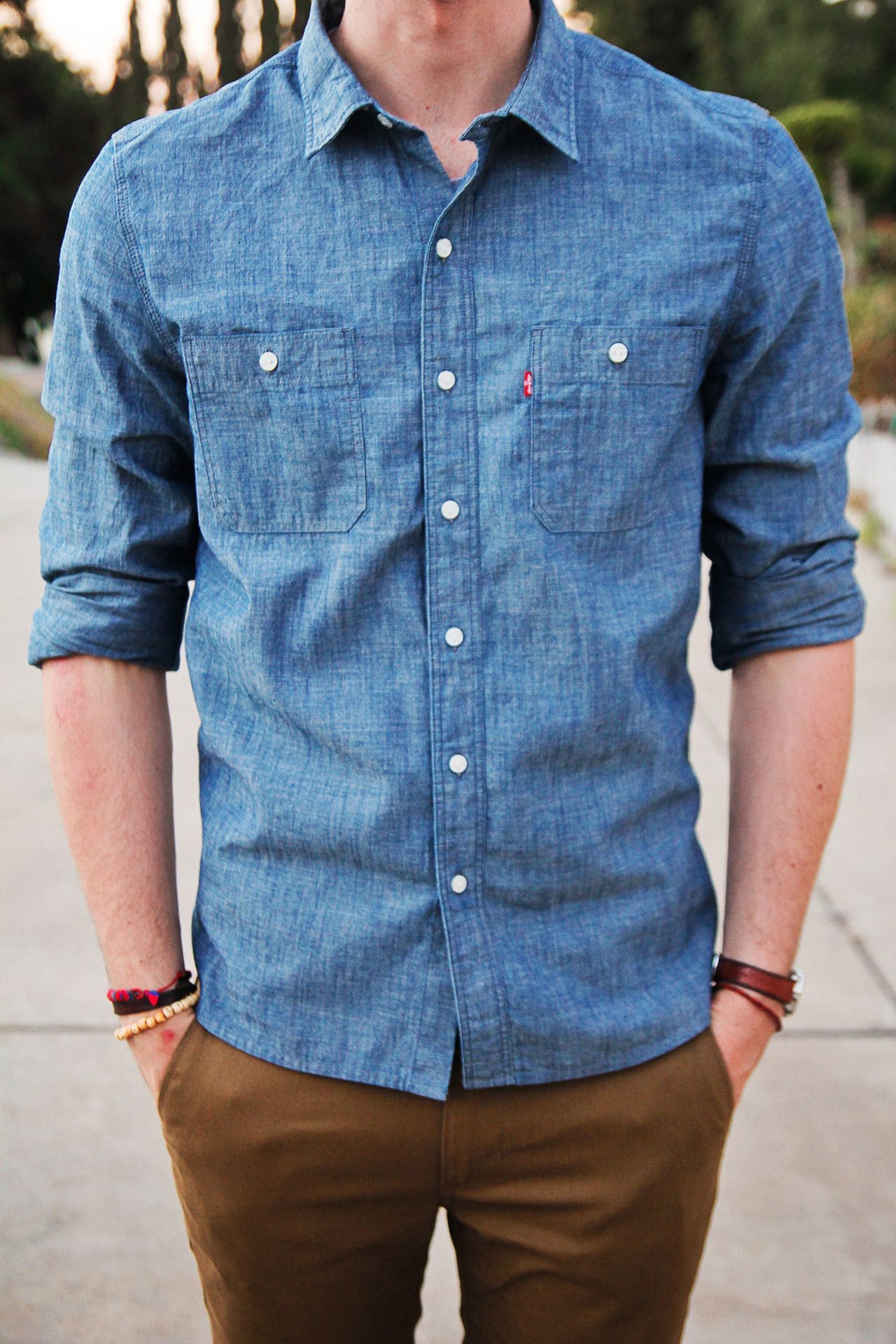 No man's summer shirting arsenal is complete without a garment made from chambray, a lightweight plain-weave fabric. Though visually similar to denim, chambray shirts retain the breathable and moisture-wicking properties of lighter fabrics, which make it ideal for spring and summer weather. Chambray comes in a few colors, though it's always woven with a white thread to give it more of a pastel sheen. Stick with light blue (the classic), white, or light red for men's summer fashion.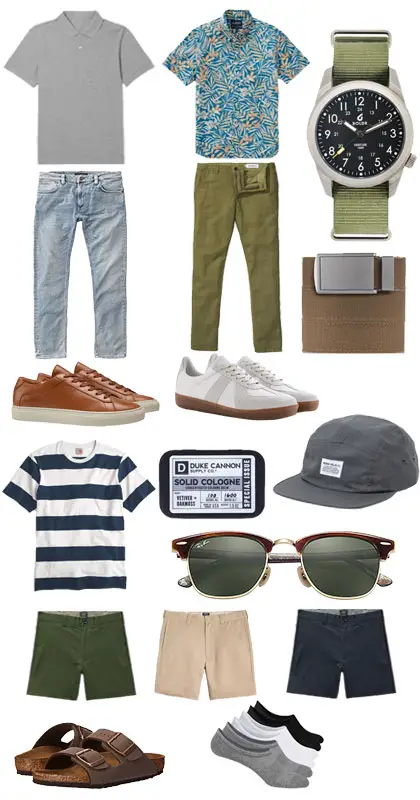 Linen Shirt
Effortlessly stylish in its simplicity, linen shirts remain a decisive summer essential.  Linen comes from fibers of the flax plant, creating a strong, absorbent, and quick-drying material — perfect for summer! However, linen wrinkles much easier than thicker fabrics, but it's totally expected and helps create more casual, comfortable men's summer outfits. Linen is very breathable, so we recommend long sleeve button downs in favor of the short sleeves. Shoot for olive, white, off-white, and light blue shirts.
Seersucker Shirt
There's no fabric quite as synonymous with summer quite like seersucker, a puckered cotton that sits away from the skin.  The rippling in the material allows the body to be kept cooler, which is why it's often ubiquitous with humid climates.  Traditionally a thin pattern of stripes, "railway stripes" are woven into the fabric, but you can also get seersucker in solids and fun patterns as well. Seersucker falls more towards the preppier side of men's summer style, so be sure it's a good fit for your wardrobe.
Slim T-shirt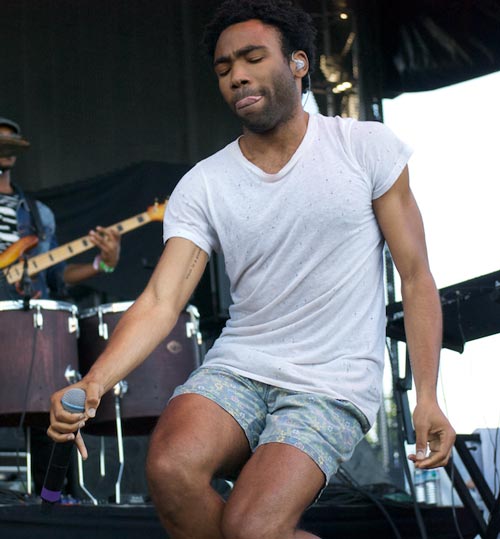 Nothing's more versatile in the summer than a well-fitting, comfortable lightweight tee.  Opt for shirts that feel lightweight yet strong, and aren't too see-through when you pull your hand up from the underside. Stripes are fun without being too loud, and solid light colors like sage (light green) and persimmon (burnt orange) add character to your wardrobe without skewing too dark for the sun's rays. You don't need to go overboard with designer shirts; inexpensive tees from Uniqlo, J Crew, or Jomers will do just fine. Looking for the perfect summer shirt? Check out our post on the best cheap T-shirt for men.
Short Sleeve Henley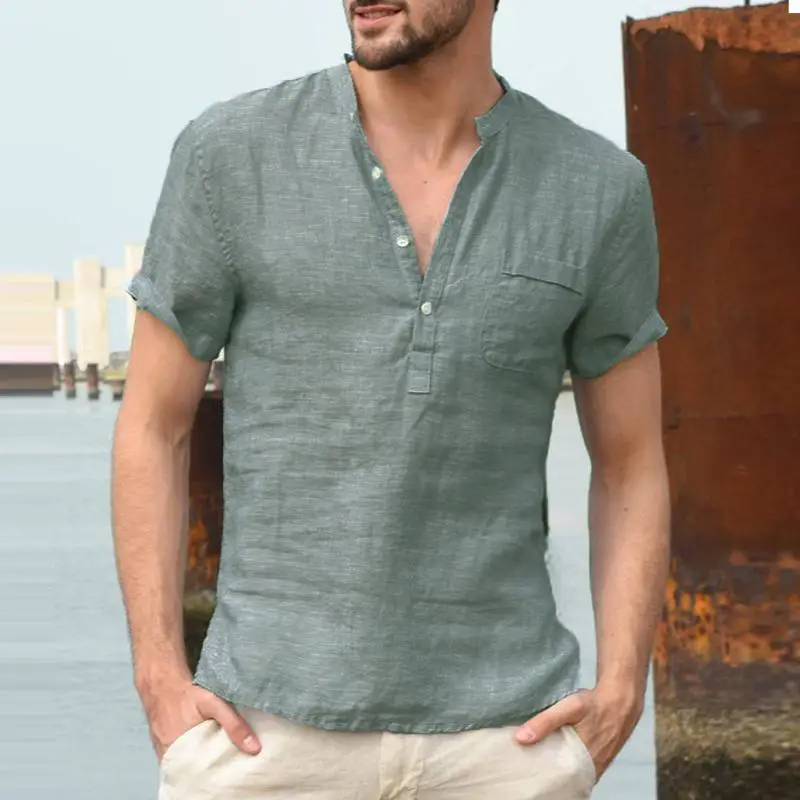 While their long-sleeved counterparts are a staple for any fall and winter wardrobe, a short-sleeve henley can add some variety to the typical line-up of t-shirts. Henleys draw most of their design from a typical tee, adding 3-4 buttons for some more character.
Men's Summer Pants
The perfect summer pants unite fit with fabric, resulting in a pant that disperses heat without limiting movement. 2020 men's summer fashion trends favor looser fitting trousers made from linen or cotton, while skinnier fits and thicker fabrics get a break. Even with the rising heat, a few pairs of weather-friendly trousers are a must-have for nights out on the town and breezier days.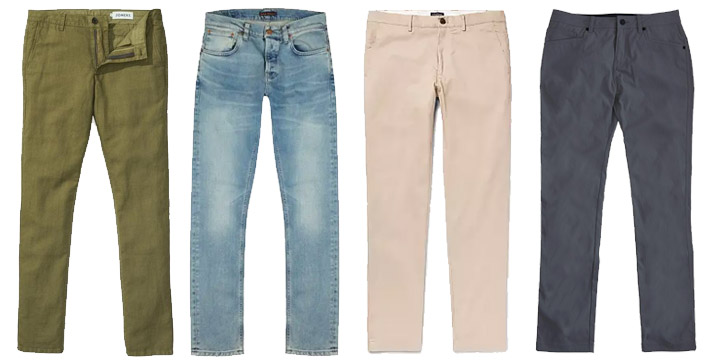 Chino Pants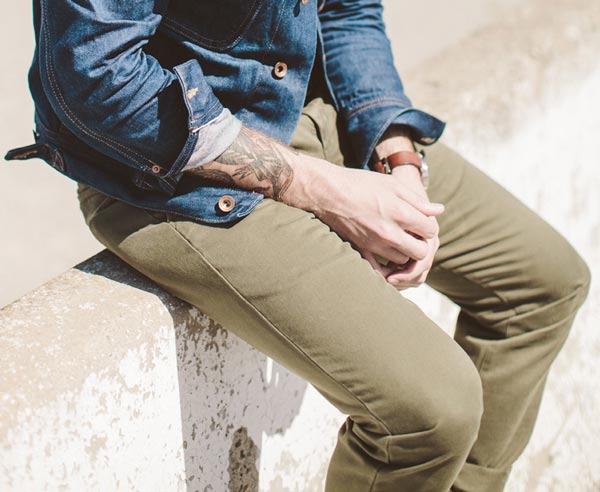 The chino pant, a season-less staple for nearly all occasions, should replace jeans as go-to pair of pants.  Often made with a twill weave, chinos easily become a cooler alternative for a neutral look. Wear them in a slightly looser style (certain slim fits, classic fit) with the bottom hem cuffed a few times. Though khaki and navy are the status quo in terms of color, don't shy away from more expressive tones. In the summer, off-white chinos carry well from day into night.
Linen Pants
Remember when we talked about how kick-ass linen shirts are in men's summer outfits? It goes double for pants. Linen trousers in looser, roomier fits are an absolute game-changer when it comes to unbridled comfort met with classic style. With the wrinkle-prone tendency of linen, opt for a pair of linen pants that are blended with cotton. We love the linen pants from Jomers, which use a near-even split of linen to cotton.
Lightweight Jeans
Even with the warmer weather, some guys just don't want to hang up that favorite pair of Levi's and honestly, we're in that same camp. Thinner denim compositions and lighter washes pave the way for summer weight denim that'll keep you looking cool without the sweat. With the typically lighter color palette of summer fashion for men, save the dark wash indigo denim for the colder months. 2020 men's summer style lends itself to thicker jean cuffs, preferably paired with minimalist white shoes or some chunky sneakers.
We found Mott & Bow's slim fit denim to be perfect for summer!
Shorts
Shorts can often be a touchy subject, with some men swearing by the sky's-out-thighs-out mentality while the other end of the spectrum has enough cargo pockets to supply a battalion. When it comes to men's summer shorts, aim for a middle-ground between too short and too long. There's no magic number when it comes to inseam length, as every guy is built differently. As a good rule-of-thumb, you'll want your shorts to end just above your knee. Your thigh should have a few inches of clearance between the short fabric. Remember, you want your shorts to be form-fitting, not form-defining (leave something for the imagination, gents)!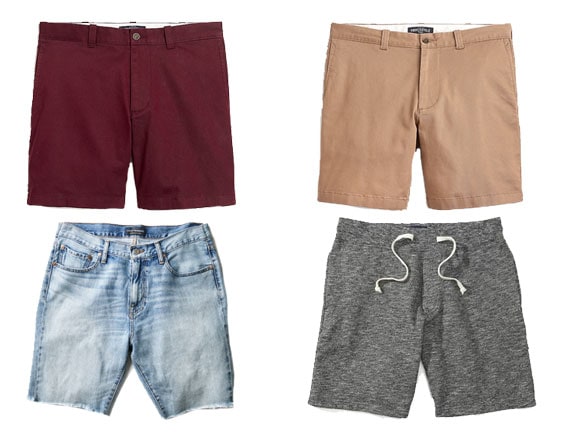 Cotton/Chino Shorts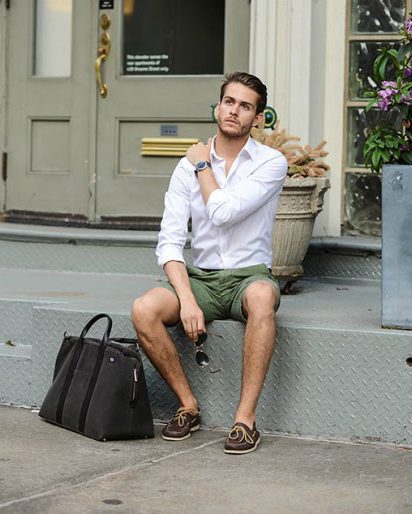 An irreplaceable staple in practically all men's summer outfits, the chino short keeps you cool and fashionable. Some brands call their cotton shorts chino shorts, but there isn't really any rhyme or reason to this other than a tendency to have a streamlined silhouette. More versatile colors like olive, khaki, navy, and gray open up lots of combinations with shirts and shoes. While bright colors are perfectly fine, colors like salmon/"Nantucket red" can very easily push into the "fratboy" aesthetic, brah.
Jean Shorts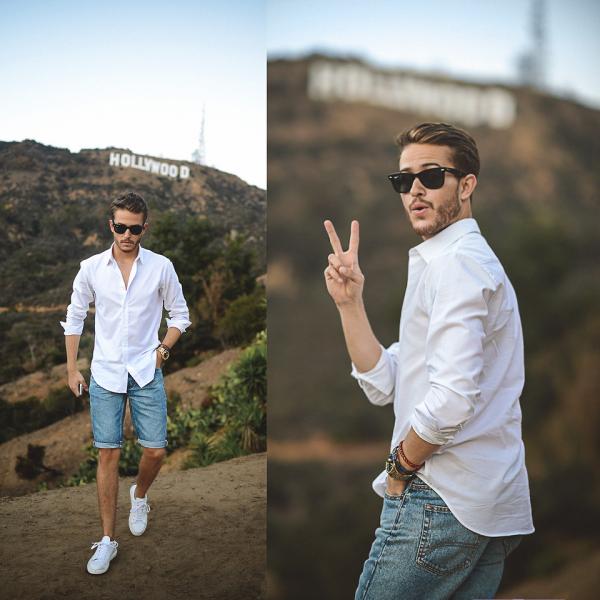 Though certainly an acquired taste, denim shorts have always had a presence in men's summer style. Boasting the comfort of denim without the cumbersome length, jean shorts lend themselves to be the right fit for a guy wanting a bit of edge to his look. As with regular denim, medium or light wash jean shorts will look best with summer's color palette.
Sweat Shorts
When it comes to battling the summer heat, nothing beats a comfortable lightweight pair of sweat shorts. Sweat shorts, as their name suggests, the cropped little brother of traditional sweatpants, but they're far from unfashionable. Whether you're lounging around the house or running an errand, a well-fitting pair of sweat shorts keeps you comfy without sacrificing style.
Men's Summer Shoes
Keep your feet cool yet comfortable with our favorite men's summer shoes picks.  Stick with light colors in the summer, and opt for canvas or other woven material when possible to ensure your feet stay dry and comfortable.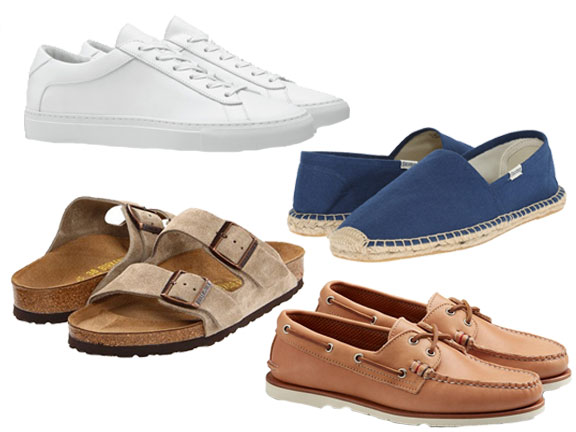 Low-top White Sneakers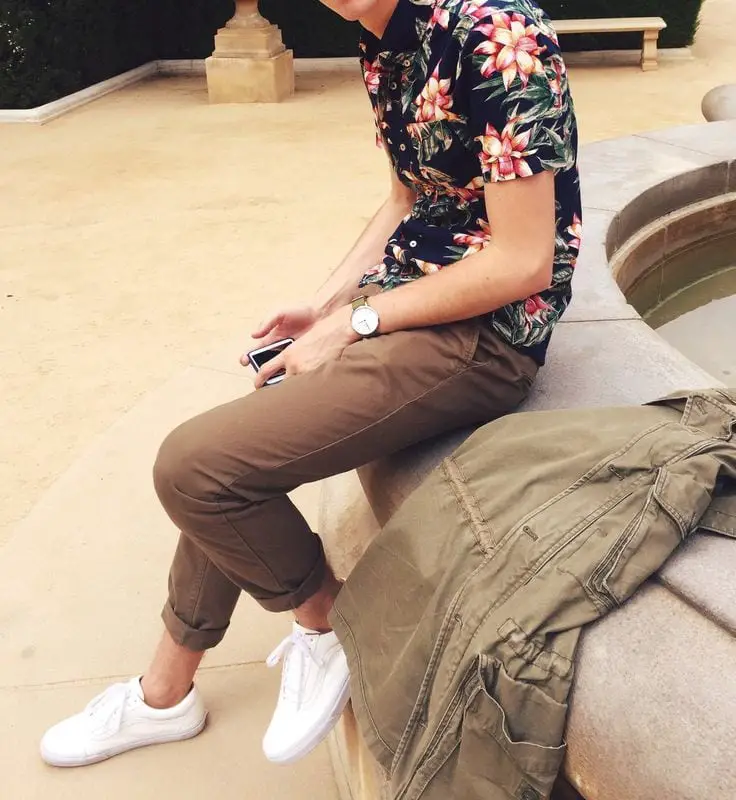 Time and time again, the minimalist white sneaker affirms that it's here to stay — and we're not complaining. The stark white contrast of low-top white shoes with the more vibrant colors of summer creates a definitive recipe for success. The fan-favorite for white sneakers is smooth leather, though it's hard to go wrong with canvas and perforated leather.
Boat Shoes
>Deriving their name from their functionality, boat shoes were originally created as shoes to be worn when sailing.  Their wave-like rubber soles prevented the wearer from taking a slipping on a vessel's polished deck. Boat shoes have carved their way into many styles, but they remain a tried-and-true staple of American prep.
Sandals
You can keep your feet cool while still looking put together with styles that are less casual than the rubber flip flop.  While these are perfectly fine poolside or by the shore, choose leather sandals in a slingback or slider style for everyday wear.
Birkenstocks
>A dressier take on the sandal, these German staples are both comfortable to wear and offer your feet amazing support.  While there was a time these were considered passé, they've made quite the comeback in recent years.  The buying trick with Birkenstocks lies with the leather choice, with oiled leather lasting longer and skewing more classic.
Summer Jackets for Men
Even with the pleasant weather, summer nights can still get a bit chilly, so don't skimp out on outerwear. A light jacket or overshirt is the perfect transitional garment as summer days fold into the night. Whether it's a midnight stroll, a sudden rain shower, or s'mores by the bonfire, these lightweight jackets will do just the trick.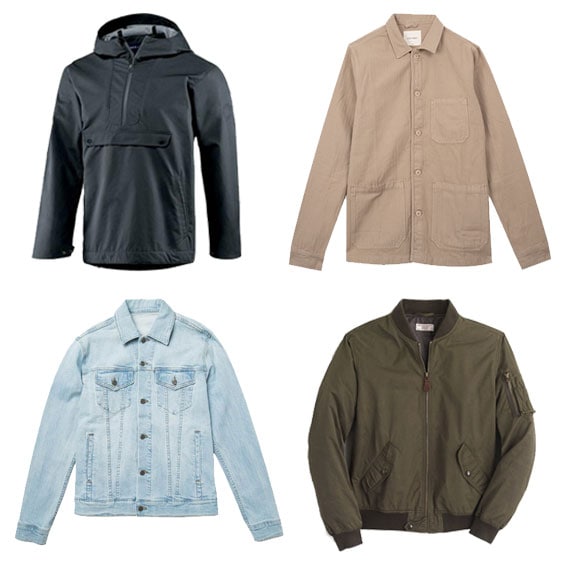 Overshirt
Overshirts (AKA shirt jackets) blend the form of a traditional button-down with the composition of a thicker jacket, making them a great lightweight layer for summer nights. Typically made from materials like cotton twill, they're more robust than a button-down but are much lighter than a jacket. We love the overshirts from A Day's March and this lightweight linen will is the perfect choice for summer.
Anorak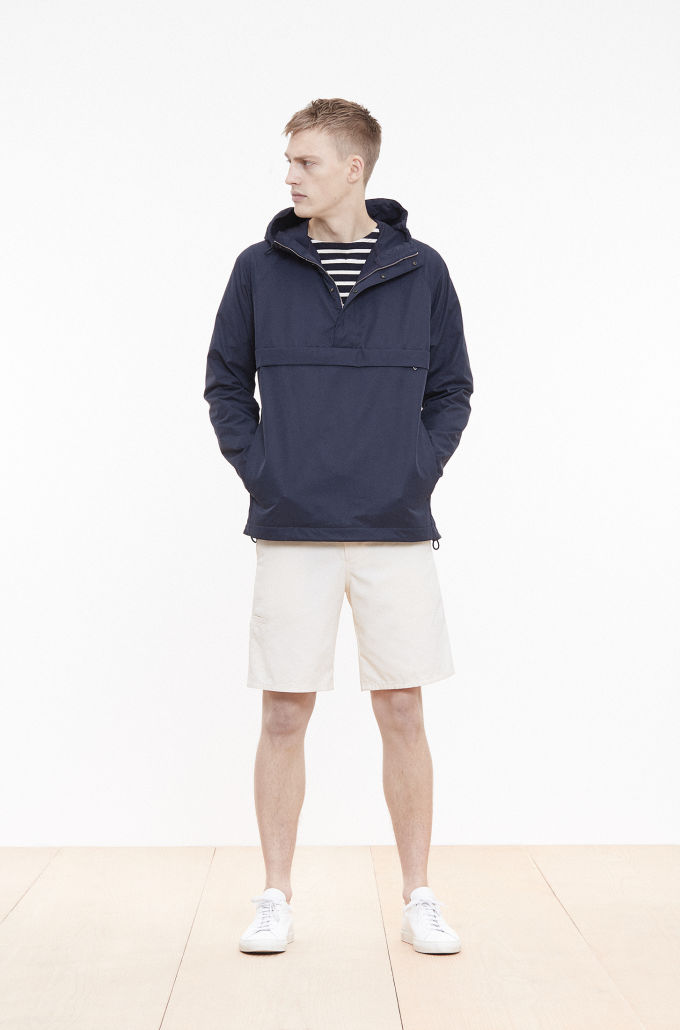 At the crossroads of form and function comes the anorak, a pull-over rain jacket with a large chest pouch for storing your keys, wallet, phone etc. Lightweight and often packable, anoraks shine in light rainfall or breezier summer days.
Summer Bomber Jacket
These lightweight sporty jackets have the added functionality of being a windbreaker, as they often come in nylon and polyester.  Wear one to a baseball game or outdoor movie for a casual mid-century look. Depending on the material, some bombers double as light rain jackets, but they'll never have a hood, so don't forget the umbrella!
Men's Summer Fashion Accessories
Sunglasses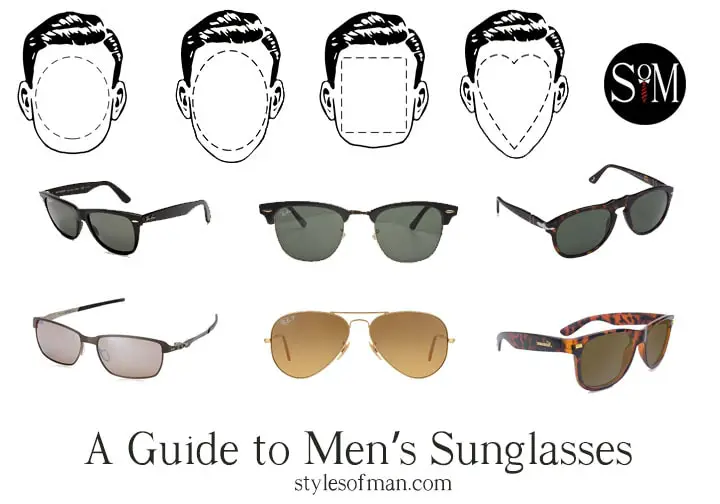 If there's one thing to never sacrifice quality on, it's a pair of polarized sunglasses. You only have one set of eyes (we'll amend this article as soon as cybernetic implants become available), so be sure to protect them with tinted, polarized lenses. Learn all about polarization, trendy sunglasses, and how to choose a pair of sunnies based on your facial shape in our men's sunglasses guide.
5-Panel Hat
Aesthetics aside, a simple ballcap is a great choice to combat the piercing summer heat. If you're not entirely on board the "dad hat" trend, a 5-panel cap retains the function of a traditional baseball hat with a more grown-up style.  Keep any headwear a neutral color like tan or navy to avoid throwing off the balance of your fit. We love the caps from Norse Projects and Ebbets.
Woven Belt
Less formal than a solid leather belt, these come in a variety of colors and designs to add just the right amount of personality to your look. Classic preppy styles are made in a cotton weave with leather detailing.
Simple Watch
No matter the occasion, there's a watch for the job. We're not saying to break out the Rolex for a casual picnic, but a simple timepiece can add a lot of character to a man's summer outfit. If you find the typical leather straps overplayed, pick up a few NATO nylon straps. They're inexpensive, waterproof, and an excellent way to freshen up your favorite watch. Looking for a stylish timepiece without breaking the bank? Read our list of the best men's watches under $200.
Solid Cologne
Your style goes farther than just the clothes you wear, so your scent is no exception. Solid cologne is a balm-like alternative to the typical liquid fragrances we're used to wearing. It's much easier to layer on just the right amount to avoid being "cologne guy". We swear by the stuff from Duke Cannon – they smell great and can last years!
No-Show Socks
If there's one major men's summer fashion mistake we catch a lot of guys making, it's that their socks completely stifle their shoes. Going sockless is possible, but lots of people are prone to sweaty (and eventually stinky) feet, so the best choice is certainly a no-show sock. You'll want these socks to cover the entire base of your foot to your ankle without showing too much fabric past the collar of your shoe. Stick with a light gray or even socks that match your skin tone more closely. You want your shoes to make the statement, not your socks!
You might like these other popular posts too