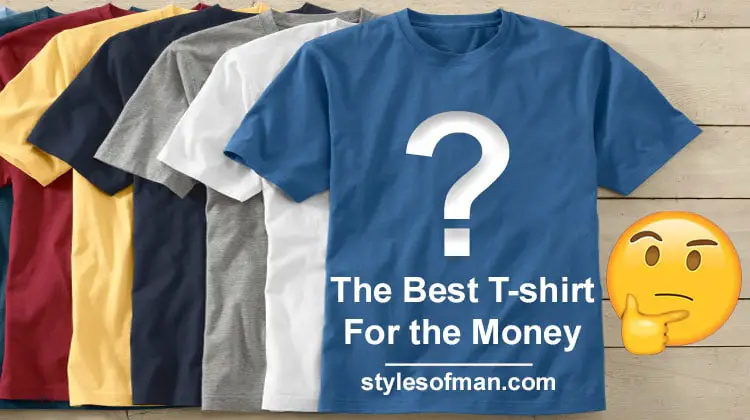 If you're anything like me, you probably have dozens of T-shirts lying around in your closet. They range from warehouse-tier boxy fits to shirts so tight you frequently hear "hey, are you cold" as you glance down to see your nips protruding like daggers. These T-shirts are hardly worn, vestiges of a past journey to find the perfect, slim-fitting, cheap T-Shirt. Well, my friends, we've found a contender that fits these criteria to a tee (hey-o).
For such an incredibly simple and basic garment, the T-Shirt is the workhorse of any man's wardrobe. Whether it's simple layering or an undershirt or just hangin' around the house, a T-Shirt is a reliable go-to. This begs the question:
What are the Best Cheap T-Shirts for Men?
So, I actually first discovered this brand when I bought a shirt from RPMWest (rip). They were offering "free" T-shirts with $6 shipping (AKA a $6 shirt with free shipping). I loved how it fit – appropriately slim but not too tight – on top of its soft material, sleeves that did not flare out, and a price you can't beat. I thought I had found the best T-shirts for men, but after RPMWest went under, I had to learn more about their tees…
So I found out that RPMWest actually rebranded these shirts from a company called Bella Canvas, more specifically their Tri-Blend T-Shirt, though they make several variants with similar fits which I'll also cover.
The Bella Canvas T-Shirt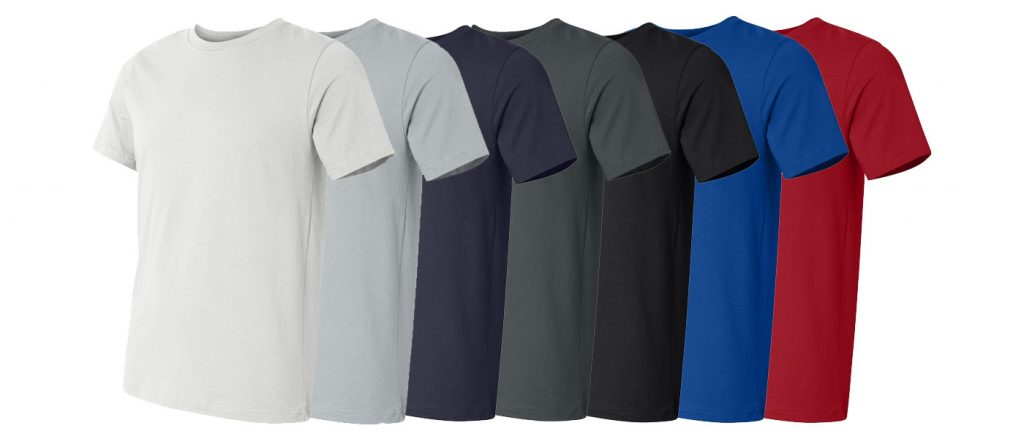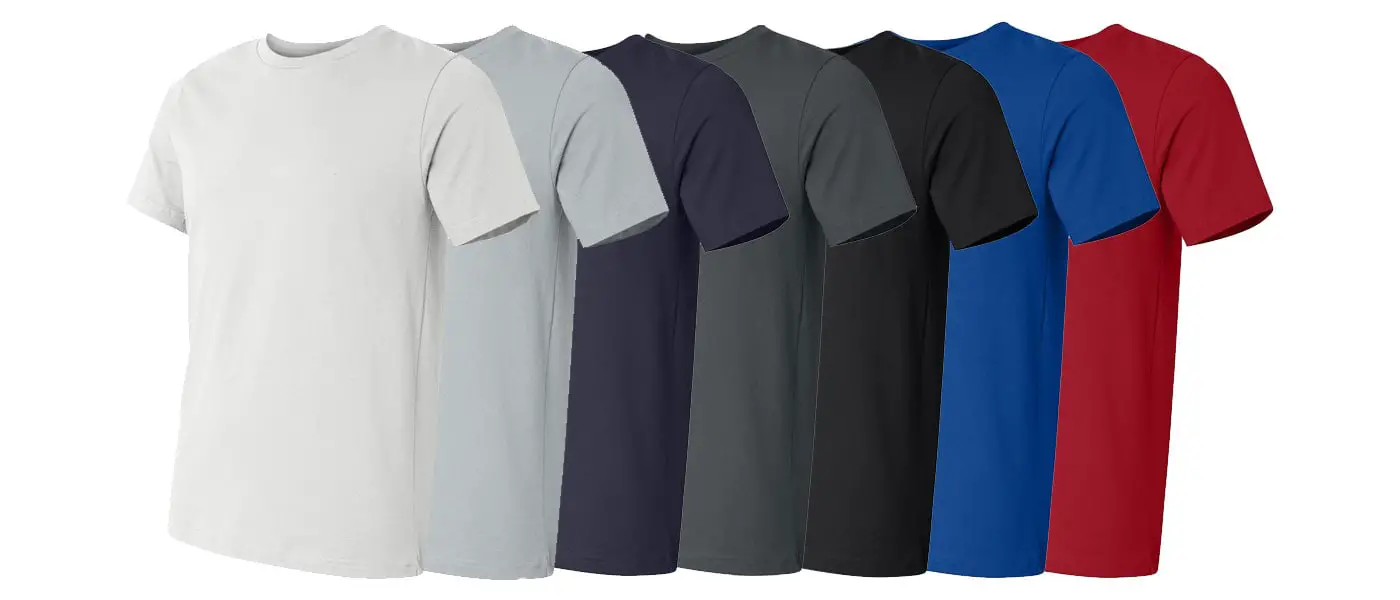 Bella Canvas makes "blank" apparel that's most often used for screen printing or embroidery. This drive's the price way down as there's no logo or any sort of real brand value, which means all the costs go into making the garment.
Now, I know most people associate blank apparel companies with brands like Gildan, which makes unflattering, ill-fitting shirts you'd find at boardwalk shops with hilarious, totally-cool designs that the ladies love. I assure you that these Bella Canvas shirts are unlike this.
As soon as I had learned that the shirt I loved so much was made by Bella Canvas, I purchased a few of each type:
~$7.50 w/ free shipping
50% cotton, 25% poly, 25% rayon
30+ colors
3.8 ounces
~$6 w/ free shipping
Made in Nicaragua
100% combed and ringspun cotton
50+ colors
4.2 ounces
~$7-8 w/ free shipping
Made in the USA
100% combed and ringspun cotton
15+ colors
Made in the USA
4.2 ounces
My Thoughts on Bella Canvas Tees
Not gonna lie, I was pretty excited to get these in the mail, which is a bit weird since they're, you know, T-Shirts. I was eager to determine if these Bella Canvas tees would satiate my desire to find the best T-shirts for men.
The Fit

The first shirt I tried on was the Tri-blend variant and lo and behold it was exactly the same from what I could tell (disclaimer: Still earning my Bachelor's of T-Shirts). I have a size small and it's a bit too tight so I probably should have gone with a medium. Here's a size chart for Bella Canvas T-Shirts: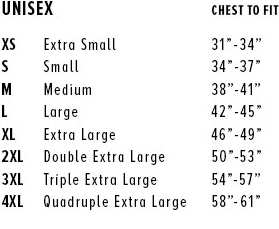 The 3001 and 3001U (US-made) shirts were a tiny bit heavier since they're 100% cotton, but it's not noticeable at all when worn. I noticed the 3001U shirt was about an inch longer than the 3001. I was happy to discover that the fit of all three T-Shirts was near-identical across the board: slim but not restricting down the torso, a bit more room in the shoulders, and tailored-like sleeves that followed the bicep.
In my opinion, the sleeves are the often the hardest to get right with T-Shirts, especially less expensive ones. You've probably seen or been a victim of the dreaded "sleeve wings" that result when sleeves are either outright too large or aren't sewed properly.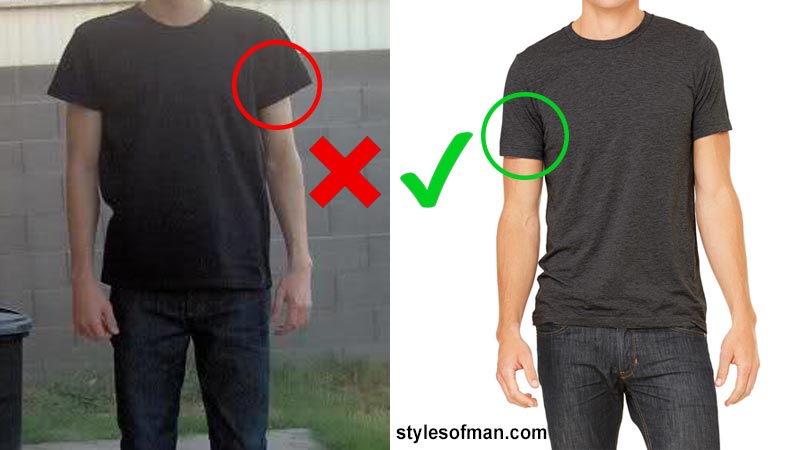 The Construction
Admittedly, there isn't a whole lot to say here since it's a relatively simple garment. I found one slightly loose thread on the tri-blend shirt, but nothing major. The 3001 shirts both came without any manufacturing errors. It does seem like the 3001U has slightly better stitching, but that might just be in my head ('Merica).
The tags are incredibly easy to rip off, but I'd recommend marking the back side of the shirt if you decide to discard the tag. I didn't and I'm doomed to always think I'm wearing one of my shirts backwards (it looks the same either way).
The cotton shirts did shrink a tiny bit when washed, but not by much. I actually think they fit better on me now than the tri-blend.
The Value
You can't beat it. Plain and simple. 
Bella Canvas T-Shirts are, in my own opinion, the best cheap T-shirts for men when it comes to the price-to-quality ratio. Dozens of colors, solid build quality, and a spot-on fit make this a top contender for a space in your drawers.
All in all, you're telling me I can buy a well-fitting, American-made T-Shirt in my god damn favorite color for 7 bucks…? I'll take 20.
The perfect companion to a crisp, new T-Shirt? How about some selvedge denim? Read about selevedge and raw denim here.