CONTAINS AFFILIATE LINKS [?]
What are the Best Men's Watches for Under $200?
You can tell a lot about a man by the watch he wears. Fortunately, long gone are the days of having to drop a whole paycheck just to snag a decent-looking timepiece. Shopping for men's watches in 2019 starts with dispelling the age-old myth that quality watches come with a hefty price tag. We've compiled a list of our 12 best men's watches under $200 that never sacrifice style, dependability, or durability for the price.
Orient Bambino V2 Men's Watch
Spearheading our list of the best men's watches for under $200 is the Orient Bambino V2. Orient automatic watches for men may be one of the best-kept secrets in the watch community. The Japanese company builds their watch movements in-house, allowing them to sell their timepieces at a fraction of the cost of competitors. The automatic movement means you won't have to fuss with a battery, powering the watch with the natural movement of your wrist. The sturdy genuine leather strap and scratch-resistant domed crystal face work to ensure your Orient Bambino stands the test of time (pun intended). Consider this watch the secret handshake among watch lovers. The Orient Bambino commands itself as a top contender in our list of the best men's watches under $200. ($119, Amazon.com)
Specs:
Movement: Automatic
Case Diameter: 40.5mm
Water Resistance: 100m (not recommended for swimming or prolonged submersion)
Strap: Genuine Leather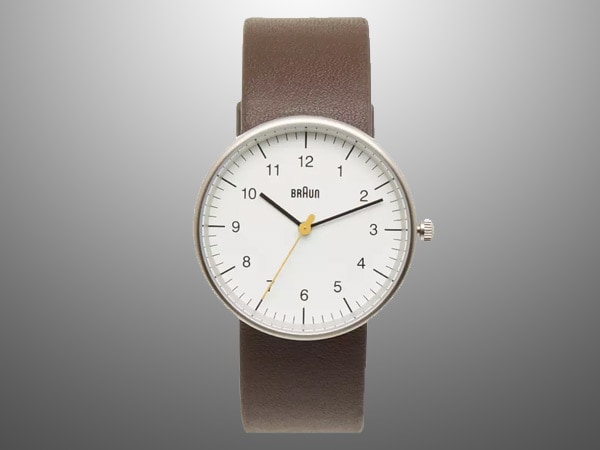 Braun BN0021 Men's Watch
Entering our list with a more minimalist approach is the Braun 0021, offering a cut-and-dry timepiece at an accessible price point. The simple white dial strikes a bold contrast against the smooth brown leather, while the orange second hand adds just the right amount of colorful flair. A reinforced mineral crystal ensure your display stays crisp and clear while brushing off light bumps and scrapes with ease. Minimalist watches for men are a dime a dozen these days, yet the Braun BN0021 continues to stand on its own. ($125, ENDclothing.com)
Specs:
Movement: Quartz 3
Case Diameter: 38mm
Water Resistance: 50m
Strap: Genuine Leather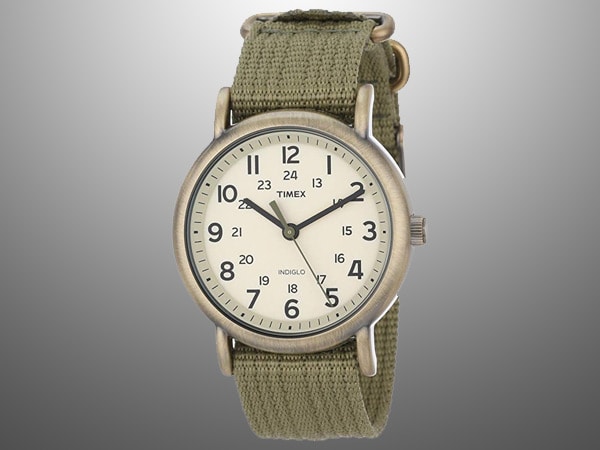 Timex Weekender Men's Watch
A classic Timex doesn't require an introduction. It's a durable, casual beat-around watch that's perfect for daily wear. Pressing the crown activates the Indiglo feature, which lights up the watch's dial in a nice blue backlight that's not too sharp in low light. Nothing fancy, but just exactly what you need for knocking around town, hanging out with friends, and getting up to whatever it is you get up to on the weekend. Additionally, you can swap the strap for other bands depending on your mood or style. Pick up a pair of inexpensive nylon NATO watch straps for an easy way to change up your Timex Weekender. ($30+, Amazon.com)
Looking for something more premium? Check out this Undone watch review at watchdig.org.
Specs:
Movement: Japanese Quartz
Case Diameter: 40.5mm
Water Resistance: 30m
Strap: Nylon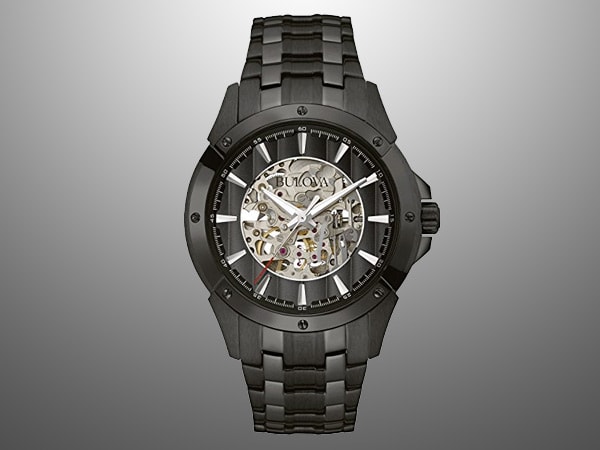 Bulova 98A147 Men's Watch
This Bulova automatic skeleton watch is practically guaranteed to draw a few compliments. The black plating and sleek design are equal parts stylish and professional while the skeleton inner dial is the true show stopper. We can't promise you won't get distracted by the inner mechanisms of this Bulova tick and tock away to keep you on time. These watches utilize a unique movement developed in the late 1950's which ensures more accurate timekeeping, making them a strong option for one of the best watches for men. This men's watch challenges the all-too-common fallacy that the best men's watches have to come at a steep cost. ($134, Amazon.com)
Specs:
Movement: Automatic
Case Diameter: 43mm
Water Resistance: 30mm
Strap: Stainless steel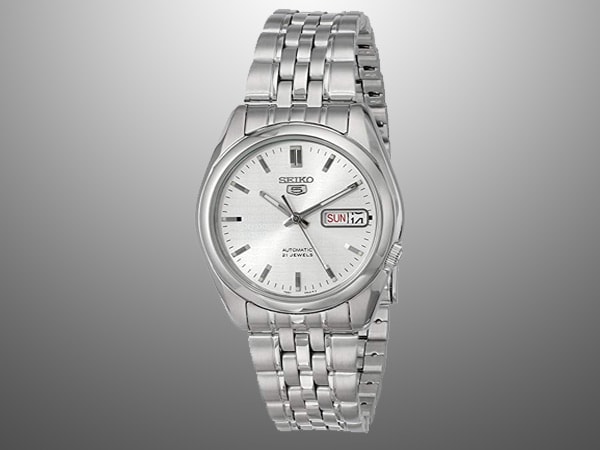 Seiko SNK355 Men's Watch
If you're about to seal a deal and sign on the dotted line, do it confidently with a Seiko on your wrist. This model's stainless-steel band adds depth and character to any professional look. The Japanese-made watches are the pinnacle of master watchmaking and engineering, so much so that they even pioneered the modern automatic watch movement. The attention to detail is nearly unmatched, making the inexpensive pricepoint even more of a steal. ($116, Amazon.com)
Specs:
Movement: Automatic with analog display
Case Diameter: 37mm
Water Resistance: 30mm
Strap: Stainless steel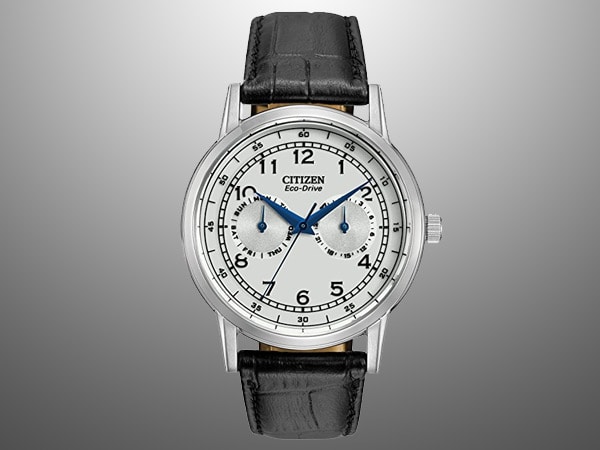 Citizen Eco-Drive Men's Watch
Ah, the weekend warrior of watches. The Eco-Drive's unique dial and crisp, blue accents bridge the gap between dressy and casual watches. Citizen has made its name as an engineering innovator and this particular watch certainly doesn't stray from that prestige. It's an Eco-Drive model, so there's no battery—and it's completely charged by the sun through a solar panel – how cool and progressive! ($123, Amazon.com)
Specs:
Movement: Japanese Quartz with analog display and solar charging
Case Diameter: 42mm
Water Resistance: 30m
Strap: Synthetic Leather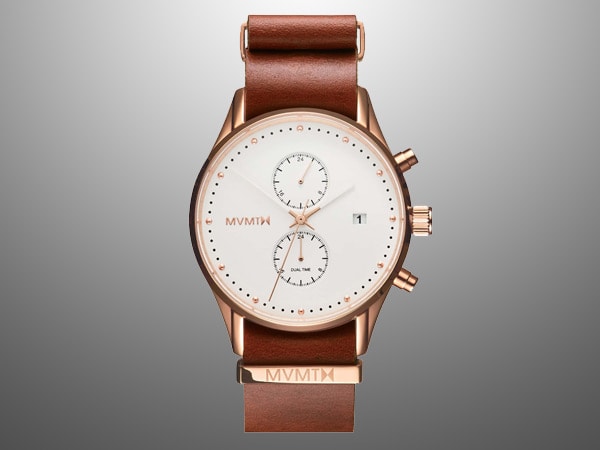 MVMT Voyager Men's Watch
Unapologetically breaking away from the typical silver or black watches stands the rose gold MVMT Voyager. The Voyager watch's warm colors and soft-spoken details form the perfect unity of simple sophistication and minimalist design. The chocolate leather strap, rose gold-plated dial and buckles, and white enamel face are the perfect answer to tie together a date night outfit. ($145, Nordstrom.com)
Specs:
Movement: Japanese Quartz
Case Diameter: 42mm
Water Resistance: 100m (not recommended for swimming or prolonged submersion)
Strap: Tanned Leather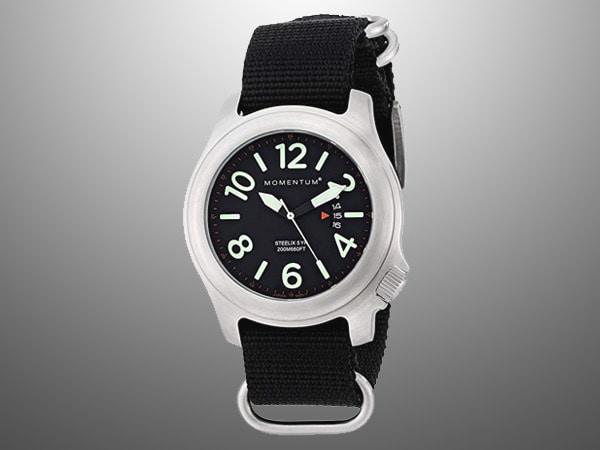 Momentum Steelix Men's Watch
Not many of us will probably need a watch that can withstand a scuba trip 600 feet, but if you want to be ready for a plunge, opt for the Momentum Steelix watch. This timepiece is machined from a solid block of stainless steel. Momentum watches are notoriously hard to damage, attributing them as being the ultimate adventurer's watch. A simple, yet far from understated design ensure your Steelix will navigate just fine both in the office and in the wild. ($99, Amazon.com)
Specs:
Movement: Japanese Quartz
Case Diameter: 44mm
Water Resistance: 200m
Strap: Nylon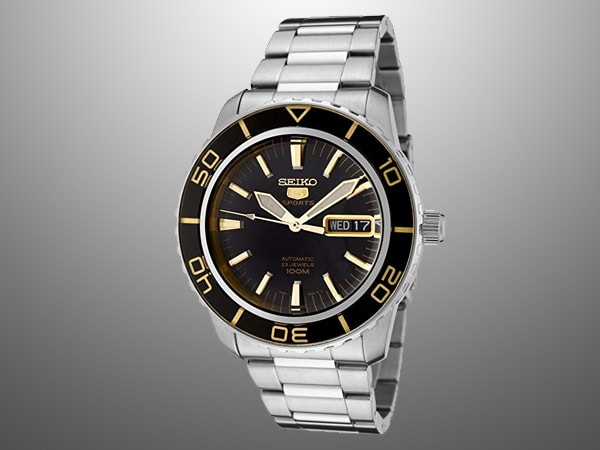 Seiko 5 Men's Watch
There's a reason Seiko has shown up twice on this list of the best men's watches for under $200. This particular model is made with durable mineral Hardlex crystal proprietary to the Seiko watch lineup. Tasteful gold accents practically glow amongst the Seiko 5's deep black dial. A silver stainless silver strap brings the perfect harmony to the more eye-catching watch face, delivering a balanced timepiece for all budgets. ($159, Amazon.com)
Specs:
Movement: Automatic
Case Diameter: 42mm
Water Resistance: 100m
Strap: Stainless steel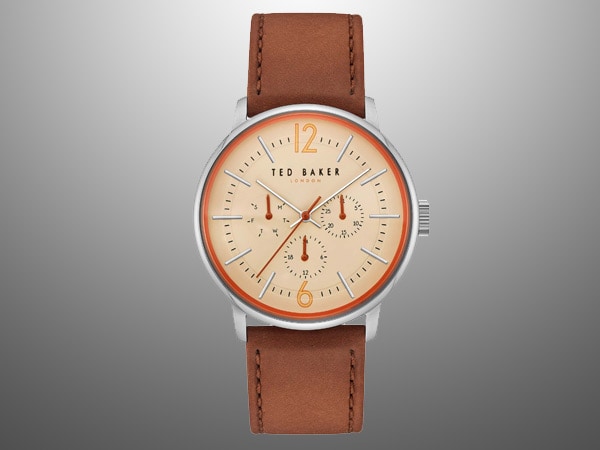 Ted Baker Jason Men's Watch
If this watch could talk, it'd land a starring role in a Wes Anderson film. A silver bezel, hands, and hour markers balance a set of subdued orange accents, ensuring this watch goes with just about everything in your closet. The Jason can Dress up or down, making it a versatile men's wardrobe essential. From the unique subdials to the eye-catching color palette, one thing's for sure; this watch has character.  ($145, Nordstorm.com)
Specs:
Movement: Japanese Quartz
Case Diameter: 42mm
Water Resistance: 50m
Strap: Genuine Leather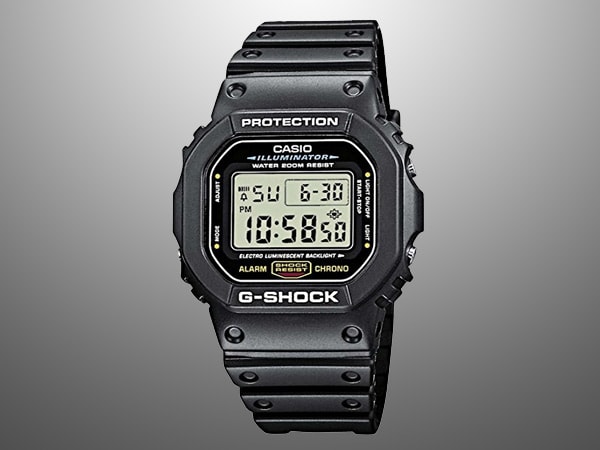 Casio G-Shock DW 5600E Men's Watch
Plain simply, this watch gets things done. We could wax poetic about all the benefits of this virtually-indestructible watch for hours. In the interest of time, we'll condense it to these main points; it's shock and water-resistant, has Afterglow backlighting, countdown functions, and programmable calendar. In short, the Casio G-Shock is a tough watch that does a few things but does them damn well. ($40, Amazon.com)
Specs:
Movement: Digital
Case Diameter: 45mm
Water Resistance: 200m
Strap: Resin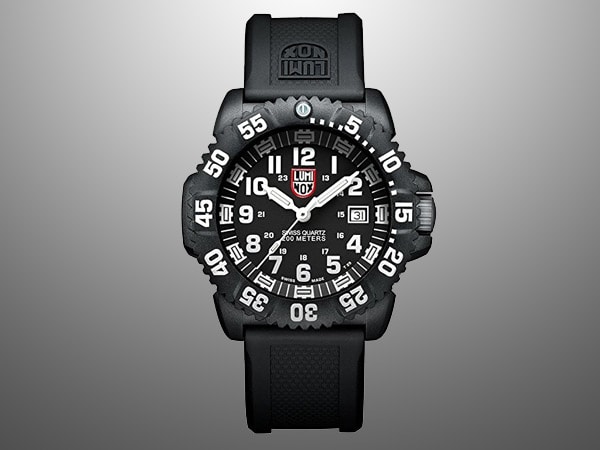 Luminox EVO SEAL Men's Watch
This ergonomic timepiece is a go-to for Navy SEALS and other elite military groups for its durability and readability in darkness. Luminox watches are fitted with tritium inserts which emit a constant glow for up to 25 years. This provides unfaltering functionality in low light without becoming an eye-sore. Luminox lends modern technology with a classic silhouette to build a commanding watch with a lot to say in our lineup of the best men's watches under $200. ($186, Amazon.com)
Specs:
Movement: Swiss Quartz
Case Diameter: 44mm
Water Resistance: 200m
Strap: Polyurethane
You might like these other popular posts too