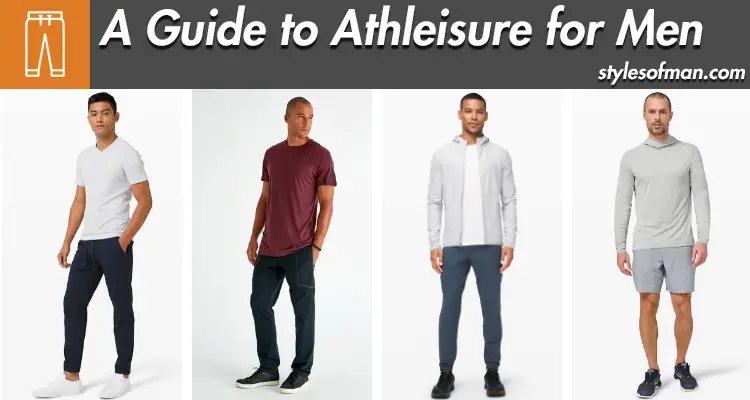 With most of us working remotely and spending the majority of our time in stretch pants, elevated casualwear feels more relevant than ever. Athleisure for men offers a number of benefits that make it ideal for wearing while you work from home. It's comfortable, versatile, and practical. One outfit can take you straight from the gym to the office to running errands… or these days, straight from your Zoom call to your couch.
In this guide to athleisure for men, we'll cover the key features of athleisure clothing, how to wear athleisure and give you the best athleisure brands for men so you can shop with confidence.
Already know your stuff?
Jump to our favorite athleisure brands
What is Athleisure?
Athleisure can be defined as a category of casualwear that combines aspects of athleticwear— workout clothing focused on comfort, mobility, and moisture-wicking— and streetwear— casual clothing made popular by high-fashion, social media, and pop culture. Though athleisure uses many of the same fabrics as techwear, the two clothing styles differ slightly. While techwear prioritizes function over aesthetics, athleisure finds an equal balance between the two.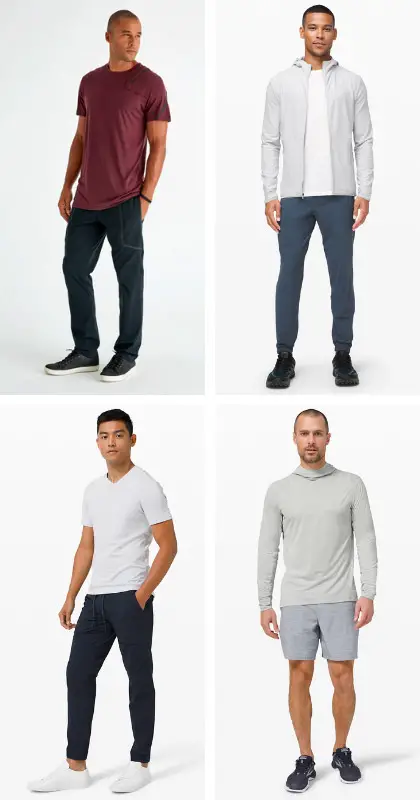 The start of today's casualwear craze can be traced back to the popularity of Lululemon's famous yoga pants in the early 2000s. The company remains one of the most popular and most profitable athleisure brands today. Thanks to Lululemon's stylish activewear, fashion-focused women (and soon men) began prioritizing comfort over conventional casual clothing. Soon wearing yoga pants to the grocery store and t-shirts to the office was the new norm.
Three key factors— material, fit, and functionality— define the athleisure styles we wear today. Let's break down each one so you'll be able to easily identify men's athleisure clothing next time you're out shopping.
Materials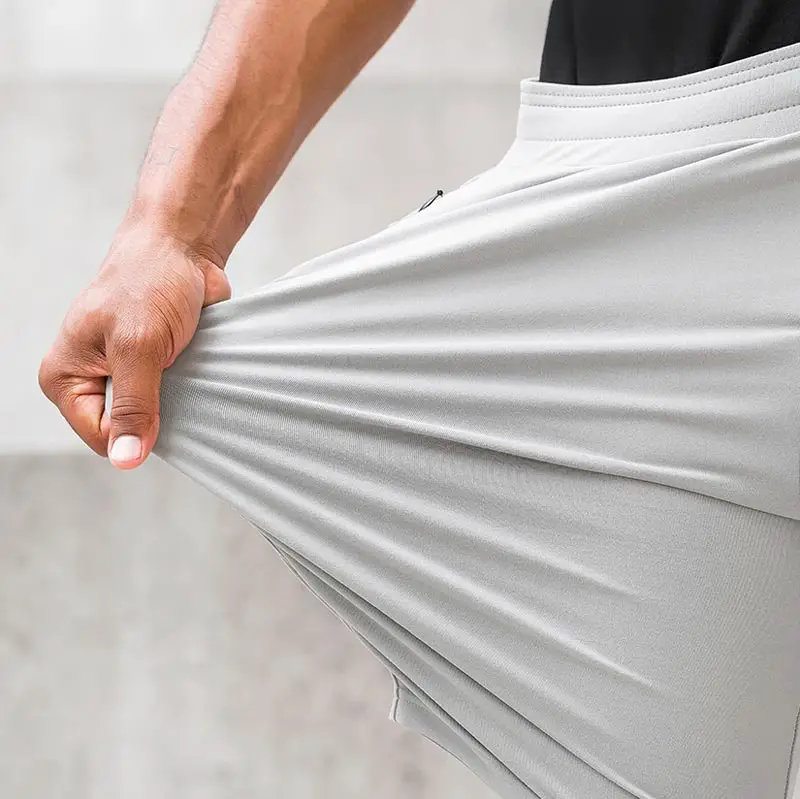 The majority of activewear styles use performance fabrics like polyester, nylon, rayon, and spandex. These flexible fabrics offer increased comfort, range of motion, and moisture-wicking. Plus, they don't wrinkle easily, making them perfect for stuffing in a suitcase. Many outerwear styles are made with waterproof technical fabrics, making them equally as practical for morning commutes and weekend hikes.
Fit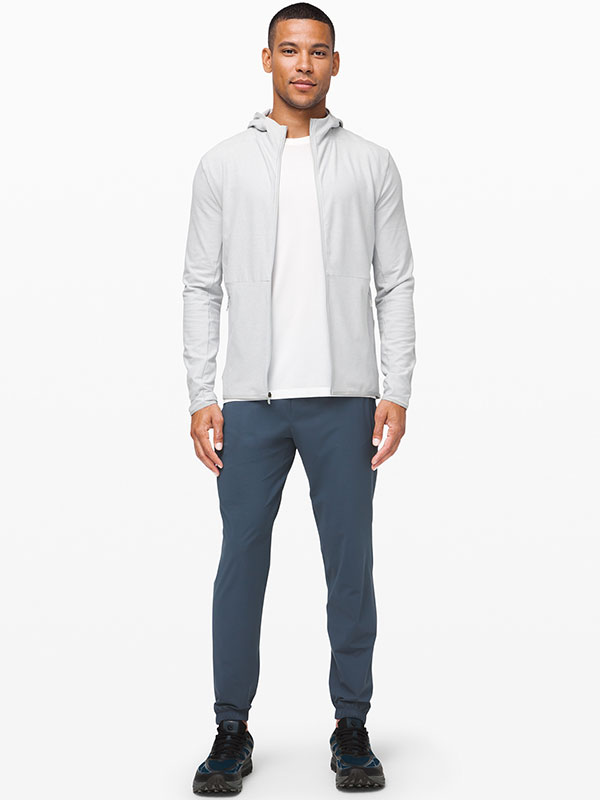 Athleisure elevates itself from other casual and athletic clothing through a superior fit. Streamlined silhouettes draw attention to the body and give off athleisure's signature just left the gym look. It's important to avoid baggy clothing, which can make you look like you just rolled out of bed. By wearing well-fitting clothing that flatters your body, you'll appear more put together, despite the fact you're still in sweatpants.
Functionality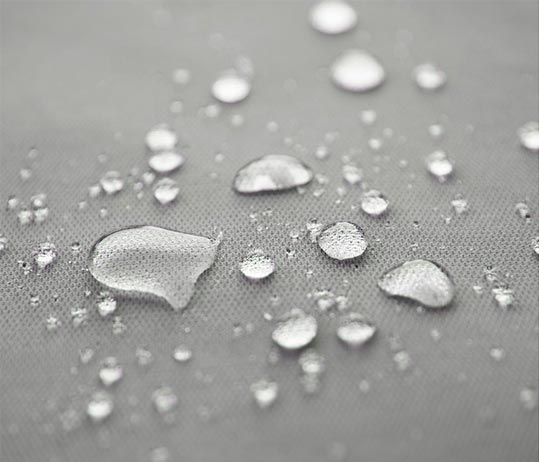 Athleisure goes beyond making its wearer look great and feel comfortable. It's also extremely practical and versatile. Most athleisure pieces use drawstrings, snaps, or zippers instead of buttons. You'll often see cell-phone pockets, hidden zippers, and a plethora of pockets. Nowadays, some brands utilize patented technical fabrics to increase functionality in unique ways like providing thermal insulation or appearing reflective.
How to Wear Athleisure Clothing
It's important to remember that while you may be wearing casual clothing, you still want to look sharp. The key to pulling off athleisure is looking put-together. By choosing high-quality, well-fitted pieces, you'll look intentional instead of last-minute. If you follow these athleisure outfit ideas, you're guaranteed to look great.
Footwear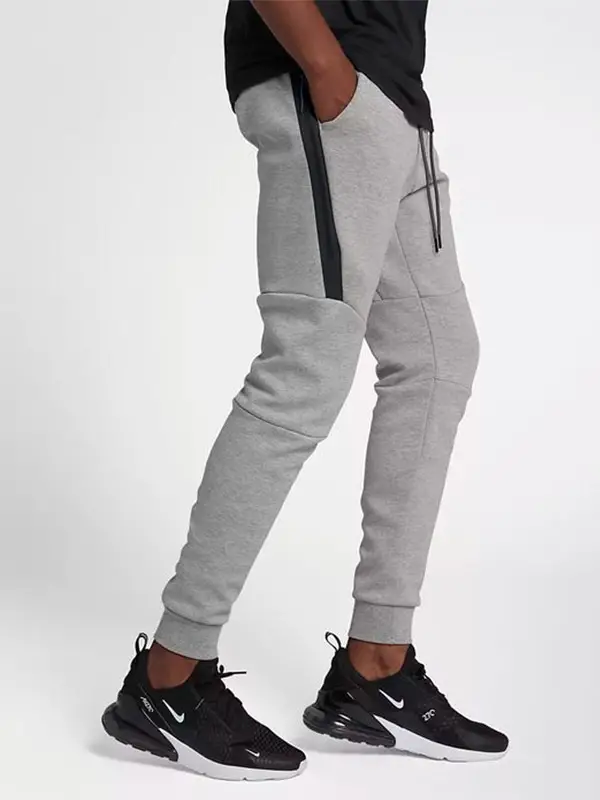 When it comes to footwear, athleisure is a sneakerhead's dream. Consider your sneaker choice a chance to add a bit of your personality to the look. For a more athletic look, go with classic running sneakers. Canvas low tops like Converse or Vans give off a more laid-back skater vibe. Avoid wearing athletic slides (especially with crew socks), which can make you look like a lazy college kid.
Tops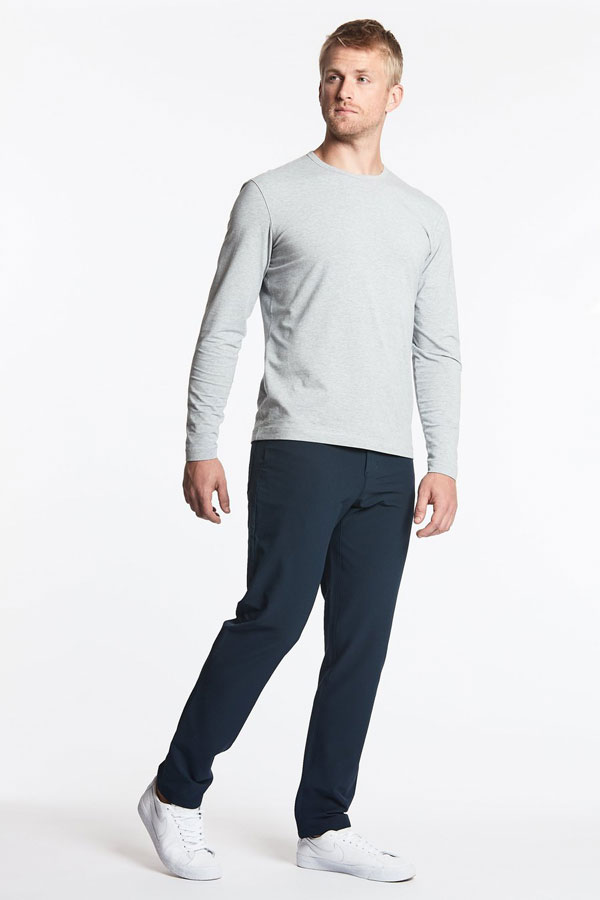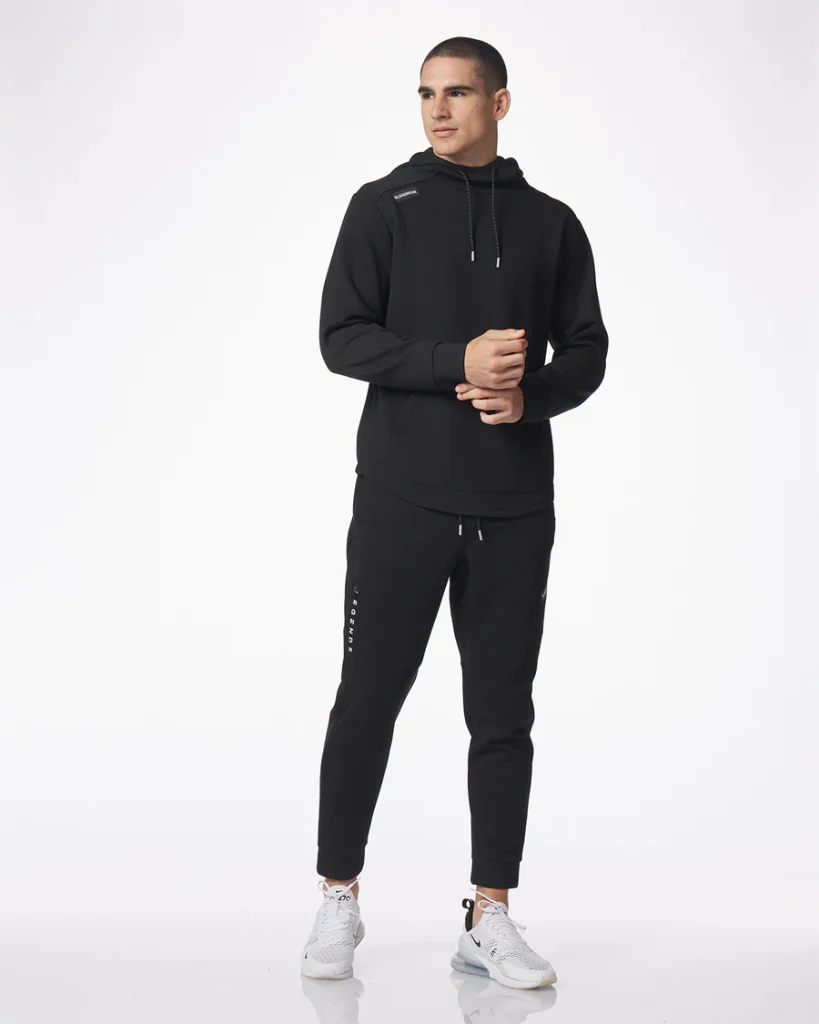 On top, stick to mostly t-shirts and sweatshirts. Feel free to mix in a few casual collared shirts, but stick to technical fabrics. Remember, while you may be wearing casual pieces, you shouldn't be wearing just your grubby old gym tee. Instead, go with slim-cut sweatshirts and lightweight tees in performance fabrics.
Bottoms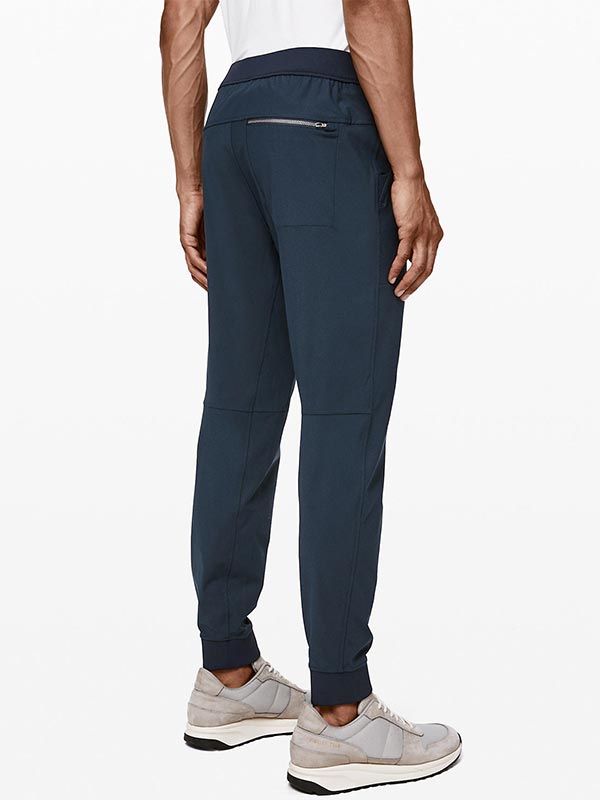 Finish your athleisure look with a pair of sweatpants, joggers, or athletic shorts. Look for styles that feature a slim fit with a tapered leg. Again, opting for performance fabrics and functional fits instead of terry cloth cotton loungewear ensures you look put-together.
Our favorite athleisure pants? The All Day Every Day Jogger from Public Rec.
Outerwear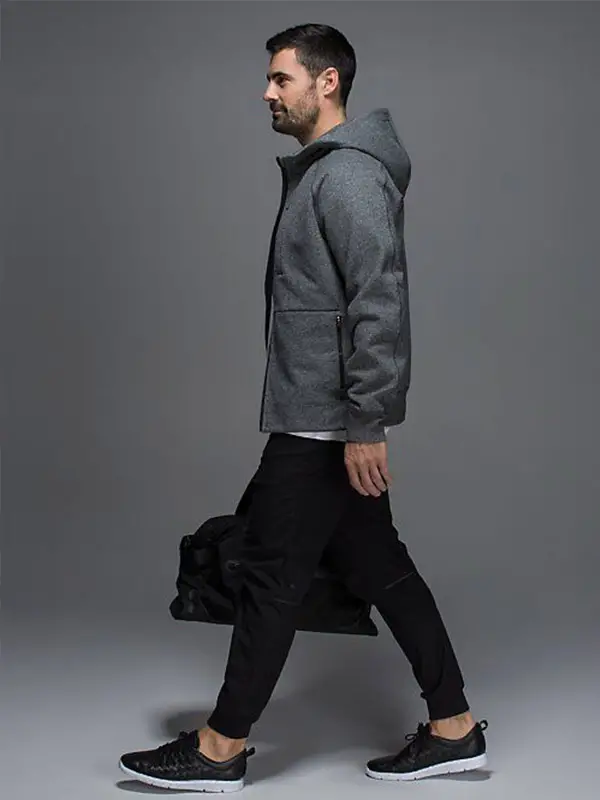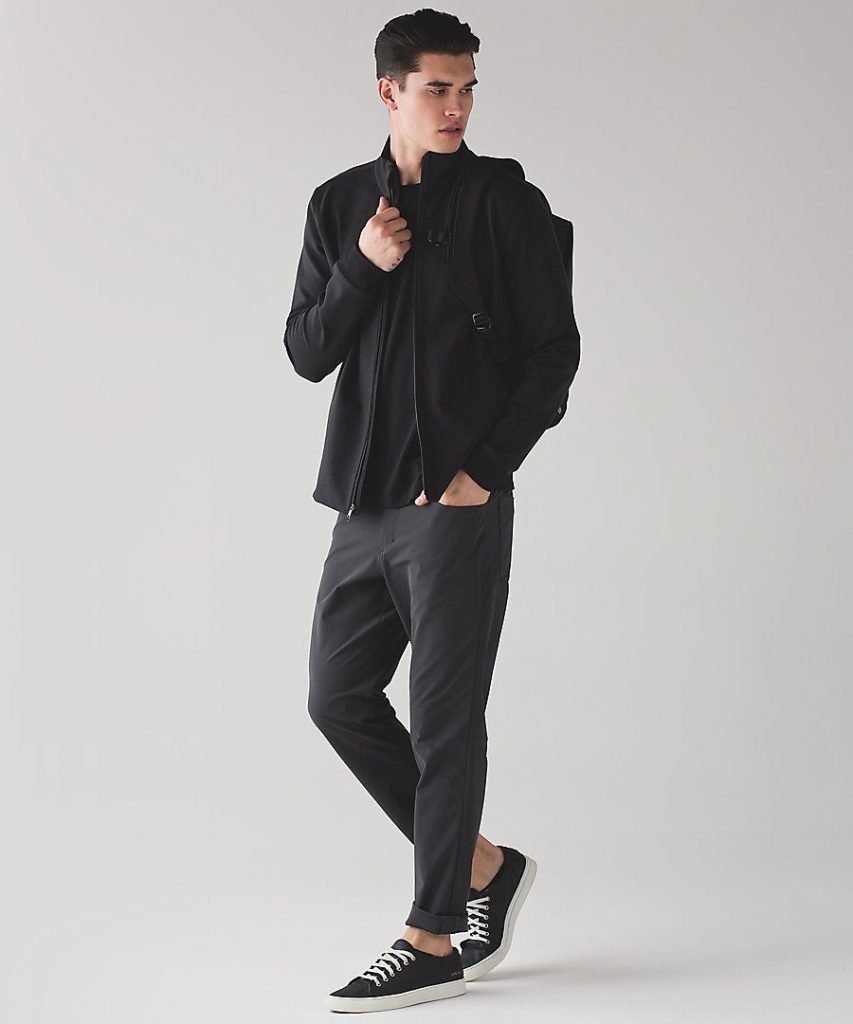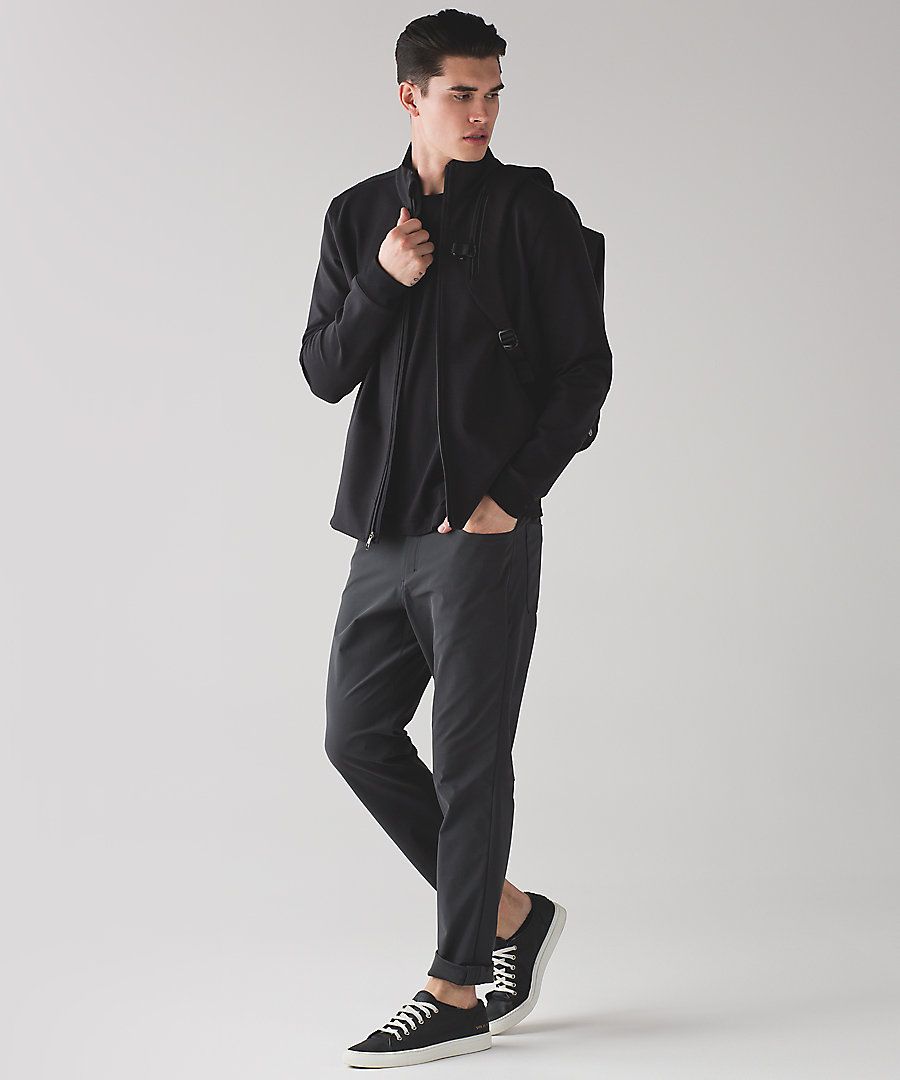 Athleisure offers a number of options when it comes to outerwear. Track jackets, bombers, and fleece zip-ups make great outerwear pieces that can really pull a look together. If you're looking to splurge on any single athleisure piece, invest in a practical jacket you'll use for years to come. You'll get plenty of bang for your buck with one that can be used for everyday wear, travel and outdoor activities.
The Best Athleisure Brands for Men
Below you'll find a few of the best athleisure brands for men. These brands focus on creating the perfect fit and elevating casual pieces with high-quality materials. It's important that you avoid low-end loungewear brands like Hanes or Fruit of the Loom. Stylish, well-made clothing rarely comes in a Target multipack. If you want to look like a million bucks, a $10 pair of sweatpants isn't going to cut it.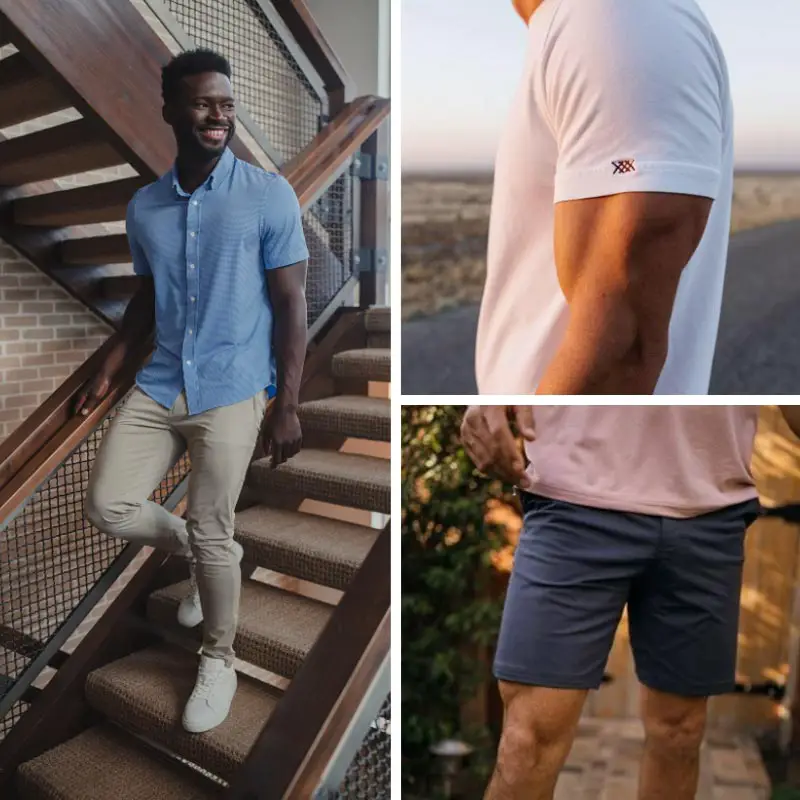 Armed with an ethos of being "committed to the committed", Rhone exploded into the world of men's athleisure clothing in 2014 with activewear that's both functional and attractive. Unlike some competitors, Rhone develops its own proprietary technology to set itself apart from the pack. Materials like SilverTech and GoldFusion combine traces of precious metals into the fabric itself to improve color fastness, moisture-wicking, and odor control.
Priced similarly to Lululemon, Rhone breaks down its apparel into three categories: Commute, Active, and Weekend. Though garments in each category differ in composition and cuts, the message remains the same: activewear with a purpose.
Having had a chance to test out some picks from their latest drop, here are our favorites:
7″ Commuter Short – a technical upgrade to a classic flat-front "chino" shorts
Reign Tech Sleeveless Shirt – though pricier than your average gym cutoff, this'll be the last one you buy
7″ Mako Short – DWR-coated workout shorts with gusseted seems. Go for the option with built-in inner liner!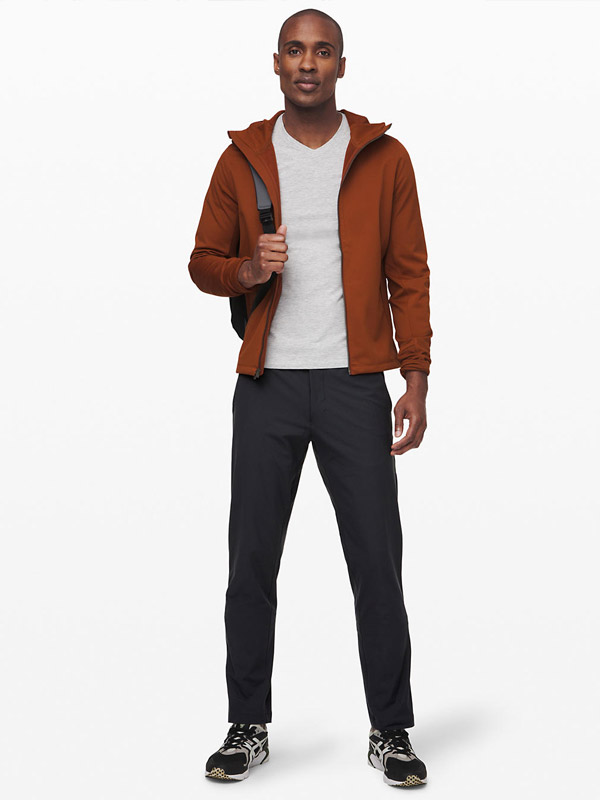 As a pioneering titan of men's athleisure clothing, Lululemon has proven time and time again that athleisure's here to stay.  Along with a loyal following of ride-or-die enthusiasts of the brand, Lululemon's an excellent choice for someone wanting to test the waters of performance clothing. Despite the ever-increasing number of athleisure brands, Lululemon's high-quality performance fabrics remain hard to beat.
Want a taste of the OG of athleisure fashion? You'll want to check out the Evolution Polo and 7″ Warpstreme Shorts.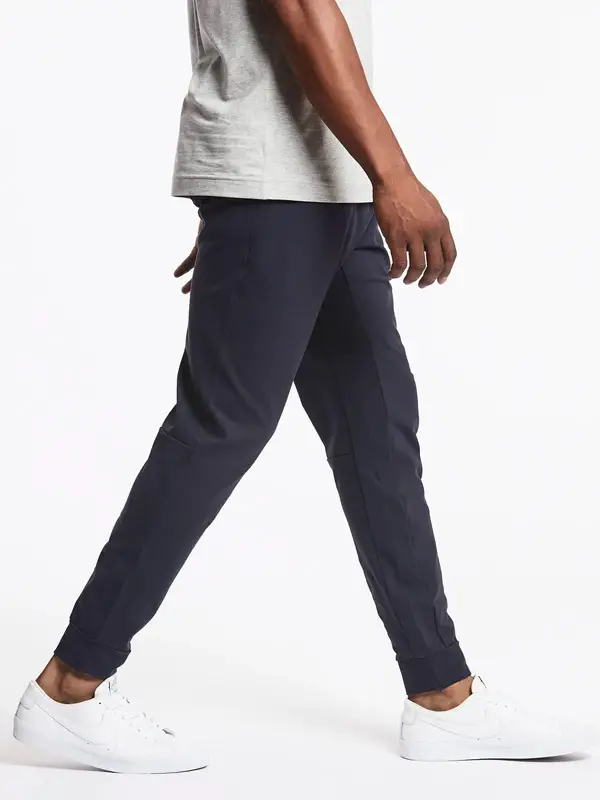 Unlike most brands, Public Rec makes their leisurewear by waist and inseam sizes, so say goodbye to guesswork with sizing. They believe that with a better fit, comes more comfort. Aside from using soft and comfortable fabrics like Peruvian Pima cotton, Public Rec hones in on garments that can take you from the gym to the office and everywhere in between.
In this era of work-from-home, we've been wearing the All Day Every Day joggers more often than we'd like to admit!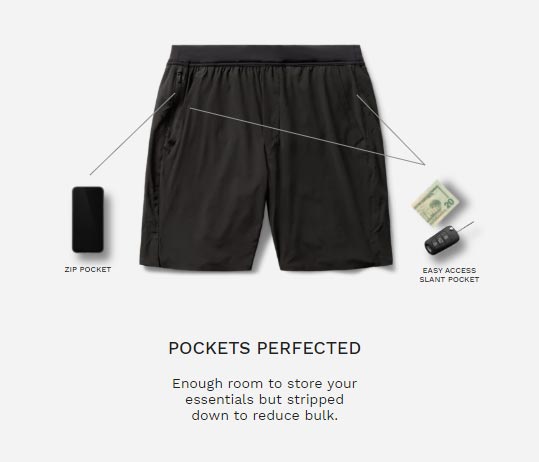 Bridging the divide between athleisure and activewear, Ten Thousand's streamlined product offering revolves around their shorts (and they're damn good shorts). The brand's namesake and ethos stem from the amount of time it takes to become a master in something. The direct-to-consumer company skips the bells and whistles to deliver a gimmick-free line of apparel built for performance. Ten Thousand found a formula that works and they're sticking with it.
We've been testing out the Interval Shorts as both a gym short and lightweight loungewear. Grab a pair with the built-in liner (for an extra 10 bucks) and find yourself never looking back at those old gym shorts from college.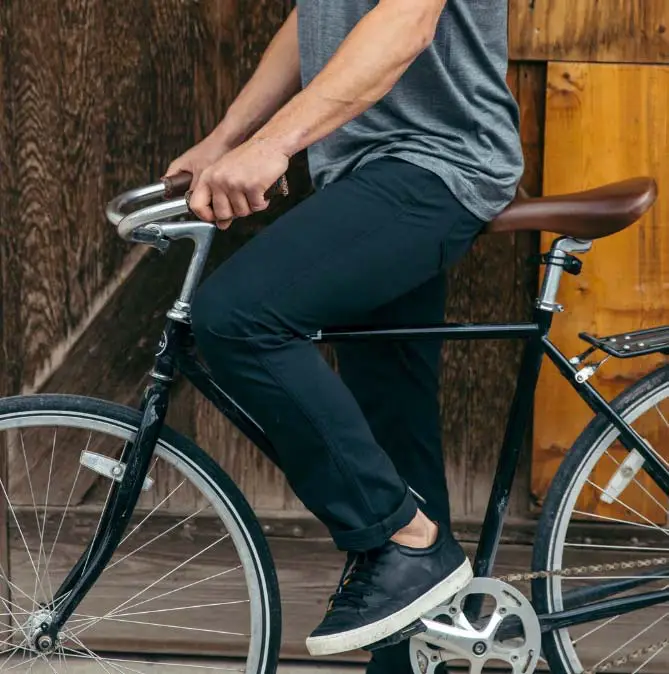 Western Rise's thoughtfully designed technical apparel brings classic staples like 5-pocket pants into the 21st century. With a focus on contemporary design, futuristic materials, and quality construction, their garments will last you for years to come, even with frequent wear. Plus, they'll donate 1% of proceeds to the planet and are certified to be climate neutral, so you can feel even better about looking great.
Our recommended entry into the brand? The Diversion Pant. Hands down the most comfortable 5-pocket pants you'll own.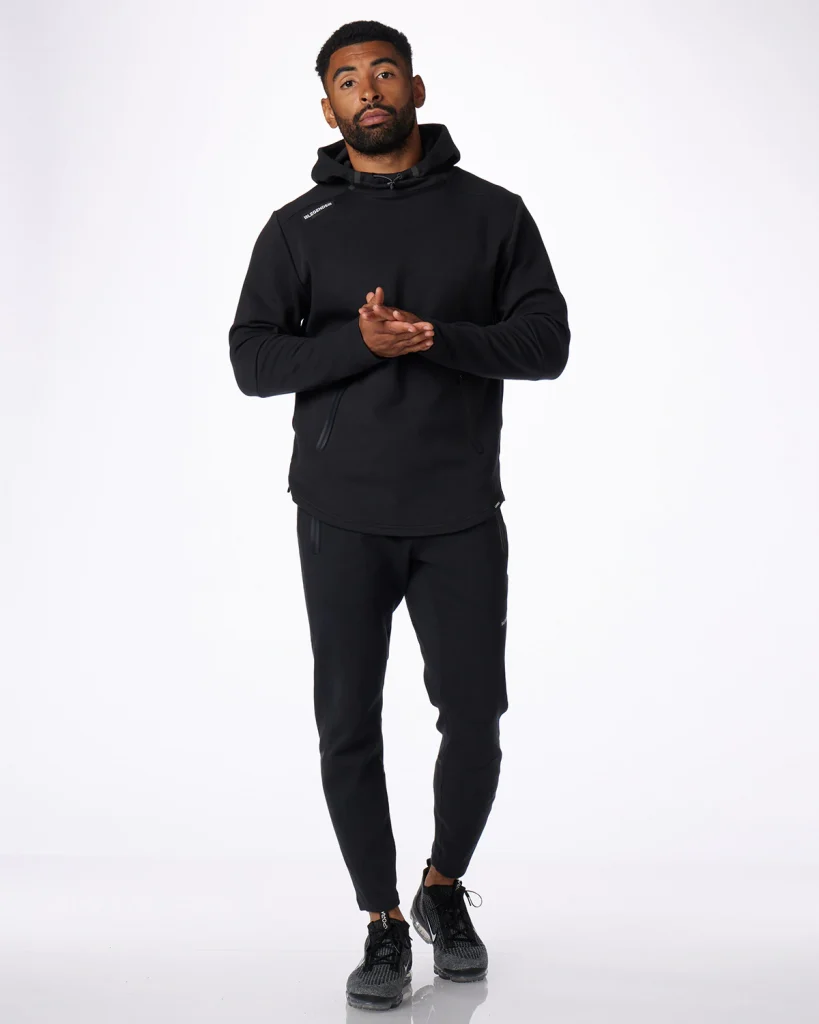 If you find yourself looking for that next great workout hoodie or leg-day shorts, Legends brings a lot to the table. Weaving technical materials into modern-cut athleticwear, the LA-based brand's bread-and-butter is its gym-day apparel. Small details like hidden pockets, zippers, and fabric choices are plentiful in the Legends line-up, so carrying things like a phone, keys, or an AirPods case won't slow you down.
We'd shoot for the Hawthorne tech hoodie or the Relay Shorts with the built-in liner option. Be sure to grab the 15% off discount with newsletter sign-up!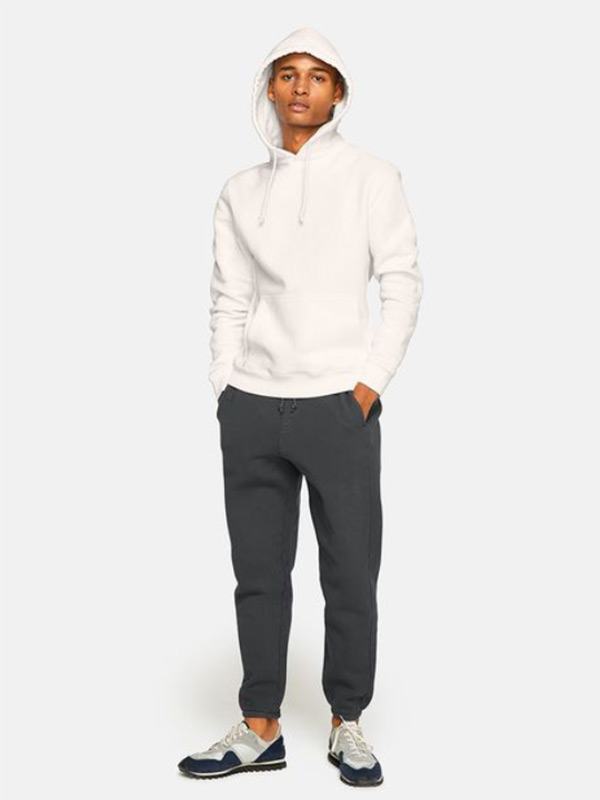 Outdoor Voices offers simple styles in unique patterns and vibrant colors, making them perfect for men looking to experiment a bit more with their style. Plus, most of their pieces are under $100 so you won't have to feel bad about buying your favorite style in multiple colors.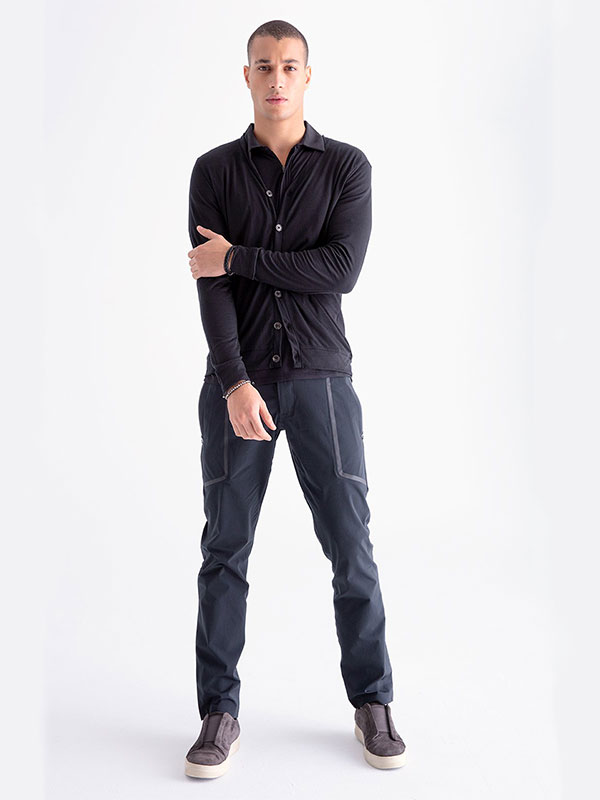 This sustainable, Black-owned athleisure brand is perfect for socially conscious consumers who don't want to skimp on style. They offer a unique style— a blazer made using technical fabric typically reserved for outdoor activewear— that's perfect for casual Fridays.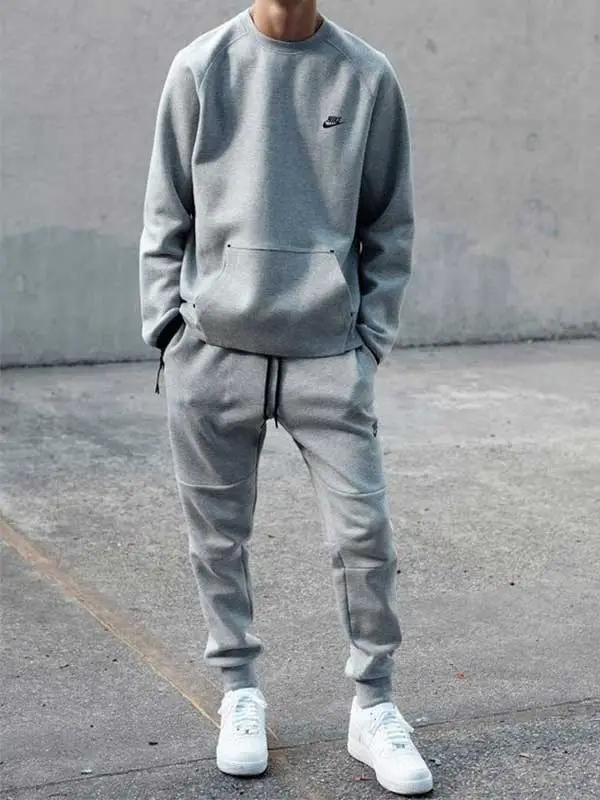 Nike is arguably the most common athleisure brand on the market today. Their innovative Dri-Fit fabric helps wick moisture away and helps to keep you feeling cool. Their Nike Sportswear collection is full of affordable basics and exclusive collabs with top athletes and celebs.
You might like these other popular posts too