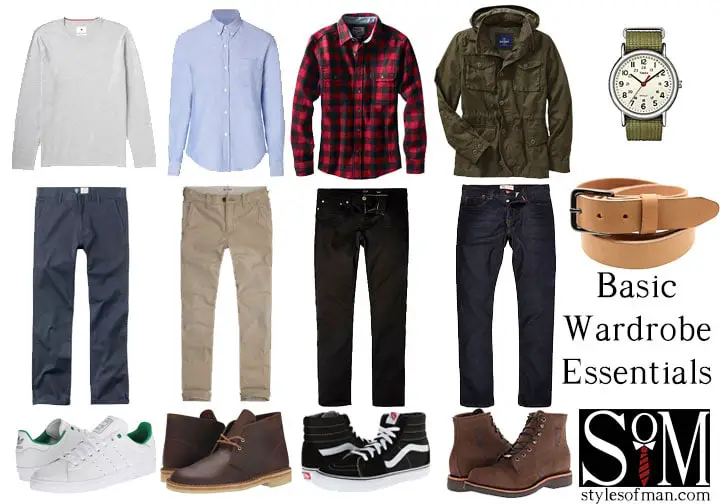 The key to dressing well is a refined, versatile wardrobe, but what comprises one? This men's wardrobe essentials guide will tell you what you need to know.
Different people have different thoughts on what the basic men's closet holds, and that's totally fine. This is by no means an authoritative men's wardrobe essentials guide for what you must have to be a stylish guy. Style varies, so this post aims to help encompass a solid foundation for a casual men's wardrobe. This post is geared towards the colder weather (e.g no shorts) and assumes you already have items like t-shirts, underwear, etc… and it does not include formal items such as suits or dress shoes.
Looking for a more seasonal wardrobe guide?
Summer Style / Spring Style / Winter Style / Fall Style
Men's Button Down Shirts

Ah, the button down… The sheer variety and adaptability of the button down family is nothing short of impressive, with shirts being made from virtually limitless patterns, colors, and fabrics. Perhaps the best part about the button down is its spectrum of applications; they're wearable year-round in tons of different outfits. For Spring/Summer, lighter fabrics like chambray and linen are solid choices as they're light and breathable while you may want to switch to heavier flannel or oxford cloth (though oxford can usually be worn S/S as well).
Chambray: A type of plain weave cloth (usually cotton) with a colored warp and white weft, giving it a speckled-like appearance. Chambray comes in a bunch of colors, but the most common for men are light blue, dark blue, and gray. The best way to think of it is like a light and clothy denim. For a basic wardrobe, you can't really go wrong with any shades of blue or gray. These also look great with a band (AKA collarless) collar like this one from Uniqlo.
Oxford: A basketweave cloth that's not too light yet not too heavy. It's a reliable fabric that finds its way into all sorts of styles. The oxford cloth button down (or OCBDs as us hip, young people call them) are made by countless manufacturers and come in all sorts of colors and patterns. There's a reason this type of shirt is an MFA favorite. Colors you should have at your disposal include: light blue, white (can never have too many white button downs), and light green – aim for neutral, plain colors as they're easiest to wear with other clothes and busier patterns.




Linen: Made from the fibers of the flax plant and laborious (and therefore expensive) to manufacture, linen is the ideal fabric for hot weather. In fact, mummies were usually wrapped in linen as a sign of purity and wealth (and do you know how hot it is in Egypt?). Linen constitutes a large portion of Spring/Summer clothes, including shirts, blazers, pants, bags, etc… After buying my first linen button down this past Spring, I definitely have plans to have more as the fabric is substantially more breathable than my OCBDs, though it does wrinkle easier (my solution is a cheap handheld steamer like this). For a truly versatile wardrobe, a man must be prepared for whatever elements nature can throw at him, so linen is a key fabric to combat the summer heat.
Gingham: This is a mid-weight pattern woven from cotton or blended yarn, and is always checkered in white plus another bold color. Usually worn in S/S, gingham is often mistaken with plaid, though the patterns differ; Gingham is white with another color and has equally spaced lines, while plaid can be any combination of colors any varying line spacing. Gingham is a very "busy" pattern, so it's not the easiest to pair into fits. I'd recommend either a blue or red one, though black gingham stays true to the style if brighter colors aren't your thing. Don't go overboard with distracting patterns like this as the key to a solid basic wardrobe is simplicity and cohesion.
Flannel: A soft woven material made from wool or cotton, a flannel is a time-tested choice for a reliable casual look. Though far too casual for any sort of tie, flannels offer considerable comfort without sacrificing style. They come in essentially every color combination imaginable, so you're sure to find one that fits your style. You can never go wrong with a classic red flannel, but again you should pick a color that will contribute something to your wardrobe. Be warned though, as some flannels are made in very large, boxy fits so be sure to check the size measurements before buying one online.
Sweaters

Not much needs to be said about sweaters besides that they keep you warm and they can be wornfor both casual and more formal attire. For men's wardrobe essentials, stick to safer neutral colors (heather gray, dark gray, navy, black, beige) as they're easiest to create cohesive outfits with. There are several different types of styles and materials, so we'll go over a few:
Cable knit: Though more a method of knitting than just a category of sweater, cableknit sweaters are great for giving off a chunky look. This makes them an excellent choice for the colder months. Cable knit sweaters are a wardrobe essential because their texture alone defeats the need for any sort of pattern, which sets them apart from your other pullovers. I'd recommend at least one cable knit just so your sweater lineup has some texture variety. Go for gray or navy.



Wool: Obviously not just used for sweaters, but wool is probably the second most common material for sweaters next to cotton. Wool comes in several different varieties such as merino, lambswool, and shetland. Wool sweaters are very warm, but can sometimes be itchy so it may be a good move to layer a t-shirt underneath a wool sweater (make sure the shirt's color doesn't peek through the sweater). I like this one from Smartwool, though it's a blend of different fabrics.
Henley: Okay, so this isn't even a type of sweater, but I figured it was similar enough to include in the same category. Popularized by Dexter (not really but also maybe), henleys are a must-have in a basic wardrobe as they look stylsh standalone or while layered underneath something else. It wouldn't be a poor choice to pick up one or two henleys (I'd say white plus gray or navy).
Outerwear

Perhaps my own favorite category of apparel, outerwear is comprised of tons of different kinds of coats and jackets from vests to flight jackets to top coats. Check out this awesome visual to look at all the types and their weather application. As you can see, the spectrum of outerwear is quite sizeable, which makes choosing men's wardrobe essentials tedious. Now because layering is a considerable component to dressing well in the colder months, the selection I've chosen isn't overly warm or suitable for low temperatures on its own. Wear them over a sweater or henley to maximize your body temp. As I've said previously, it's important to comprehend your own personal style and see if these pieces fit into it:
Denim Trucker: Though not everyone's cup o' tea, the denim trucker is a staple in the wardrobe of the Americana enthusiast. A great choice for a casual setting allows the trucker to go with a number of different outfits. For a beginner's wardrobe, I'd recommend the Levi's model, but those who like selvedge and raw denim may want to take a look at the Naked & Famous one.
Field Jacket: Modeled after the M-65 jacket manufactured for soldiers during the Vietnam War, the modern field jacket can come in all sorts of types. It's a great piece to pair with denim and boots to complete that rugged aesthetic. I personally love the J Crew field mechanic jacket though it's a pricier option for a basic wardrobe. Gap and Old Navy have some solid field jackets for the sub ~$60 range. I chose the field jacket because green is generally an underused color and it can add a lot of variety to your looks.



Cotton Parka: Parka is an umbrella term for a hooded coat, so they can range from something like thick and heavy like this to something lighter like the cotton parka. Parkas/anoraks are a large part of Scandinavian fashion. If you're not familiar, check out this Norse Projects inspiration album. This type of jacket was included because it serves as an exceptional layering piece that goes great with a knit sweater with a pair of chinos and boots.
Bomber: Bombers can come in a range of materials including nylon, leather, cotton, wool etc… Giving off more of a streetwear-esque look, this category of jacket is easy to make "work" and like the denim jacket, is great for casual settings. For starters, I'd recommend a black nylon jacket. If you plan to get a leather one, don't cheap out on faux leather; the real deal is always worth the extra cash. I've been loving my twill bomber from A Day's March personally.
Peacoat: The classic peacoat is a personal favorite of mine. They were originally created for sailors dating back to the 18th century, peacoats are characterized by broad lapels and double-breasted fronts. The best material for a peacoat is a wool blend because 100% wool models often lack structural integrity. Common colors include navy, black, and gray, but recently camel/tan peacoats (and other outerwear) have become increasingly popular. I included the peacoat because it's a timeless jacket that not only does a superb job at keeping one warm but is eternally stylish as well.
Bottoms

This post is directed more towards Fall/Winter styles, so this category will only include pants (check out my Spring wardrobe guide). The main two categories of pants in a casual wardrobe are jeans and chinos and honestly, they're pretty much all you need.
Jeans: I think it's safe to assume that if you're reading this, you have a pair of jeans; however, it's important to know that the decrepit boot-cut pair you may have lying around isn't what you want to be wearing to be stylish. The current trend for jeans is a modern slim fit. For the basic wardrobe, the best bang for the buck is the Levi's 511 without a doubt. I would recommend a pair of Rigid Dragons as well as one in black.
Chinos: Man, I love chinos. They're completely effortless, yet everyone thinks you dress well if you wear them (win-win). Like jeans, aim for more of a slim fit with these, though not too skinny. Levi's makes chinos in the 511 fit as well.  Recommended colors include khaki, olive, navy, and gray.
Footwear

Possibly the most enjoyable part of selecting wardrobe basics, the footwear category is one that can't be skimped out on. I personally own each of these pairs of shoes and boots, and they're all very popular in the men's fashion industry. Each choice is relatively affordable <$150 and it's more than possible to swap them out depending on your own style. These are just some common staples:
GREATS Royale: Though not pictured, these have been my go-to sneaker for many months now. The Italian-made Royales feature an incredibly well-balanced silhouette along with a soft leather lining (perfect for going sockless!). They're available in a ton of different color combinations, and you simply cannot beat the price for the quality of sneaker you're getting.
Clarks Desert Boots: I go in-depth on these in my boot guide, but basically they're a  super versatile chukka and go particularly well with both chinos and jeans. I'd recommend the Beeswax color with the original crepe sole. Stay away from the Bushacre model.



Adidas Stan Smith: These have definitely caused a buzz this past year, largely because they're an affordable, minimalist sneaker that has a nice silhouette – not too chunky though not too small. They come in a ton's of different colors, but I'd recommend getting a pair that's mostly white.
Vans SK8 HI – A hate it or love it kind of sneaker, the Vans SK8 HI is ideal for a casual look. Some may think it's a bit too casual of a sneaker and I can't necessarily disagree, but if you like the look, they're very easy to incorporate into your normal looks.
Chippewa Apache – Like the CDBs, these are also gone into more in my boot guide, so check that out if you're interested. This was my first pair of boots and they were worth every penny. Similarly to chinos, wearing boots is one of those things that isn't necessarily difficult, but gives substantial style factor.
Vans Era – A perfect answer to a budget canvas shoe, the classic Vans Era sneaker should be in every man's footwear lineup. They come in nearly any color imaginable, but I'd stick to neutral colors like white, black, and gray because some of the other colors look a bit juvenile.
Bass Oxford – Though technically a derby, the Bass line of shoes isn't the best quality, but they're  an affordable option for a dressier shoe. I own a pair in the Taupe color and it's held up very well so far.
Accessories

Timex Weekender: The Weekender is a great watch for the money. It has a clear, simplistic face and uses easily interchangeable NATO straps in case you want to switch up the look a bit. I own a pair of these, and their biggest drawback is the loud ticking. Though barely noticeable during the day, you'll be able to hear the ticking in a quiet room when you're trying to sleep – definitely keep this in mind if you're considering one.
Leather belts: If your pants have belt loops, wear a belt. It's as simple as that. You'll wear a belt almost every day, so it's definitely worth the extra money to get one that's made of sturdy, durable leather. I've been wearing my Orion belt every single day for over a year now and it's still going strong. It's expensive, so some cheaper alternatives are Dockers and Levis. I'd recommend having at least two; one in brown and one in black.



Bracelets:  So, these are totally unessential as are most accessories that don't possess utility, but I've been seeing a lot more bracelets being worn by guys recently. Don't go overboard; however, a minimalist bracelet can add a nice touch to your look. I personally wear an ox bone skull bracelet by fellow Redditor Kangalex.
Shoe Trees: These help keep your footwear (mainly leather shoes) from losing their shape, developing creases, and they also eliminate odor. Though not absolutely necessary to own, they're a good investment if you own or plan on owning an expensive pair of shoes or boots.
Like this post?