After a bitter winter, who wouldn't welcome some well-deserved warmth? The time has come to store away the chunky wool sweaters, hang up the heavy coats, and deploy the springtime clothing arsenal as our winter layers peel away. This men's spring fashion style guide aims to help you construct a basic, yet versatile spring wardrobe in preparation for the warmer months.
What Are 2020's Men's Spring Fashion Trends?
There's something about this season that's particularly alluring; the warm sunshine on your skin, the colorful plants, or simply the fact that the piercingly-cold wind no longer hurts your face. For those of us who like to dress well, it's also a time of creativity and self-expression via retail therapy.
Long Sleeve Shirts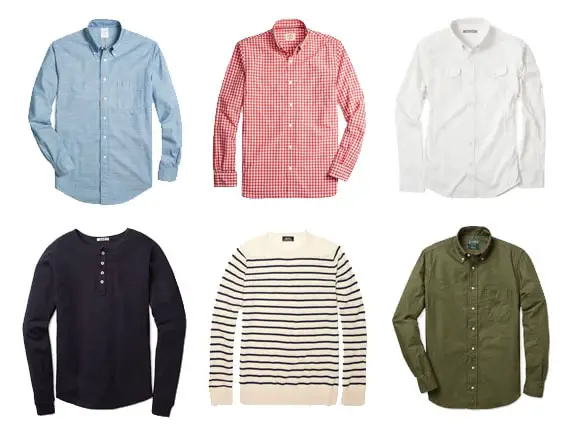 Left to right: Red Gingham, Light blue chambray, Batch utility shirt, Norse Projects Villads shirt, Navy henley, breton
Though spring brings sunshine and general happiness (if you don't have allergies), it may certainly still get cold depending on where you live. Because of this, the long sleeve button down is the most versatile shirt for any men's spring wardrobe in my opinion, especially with the cuffed sleeve look. The most substantial difference between shirts is definitely what fabric they're made of. Here are a few popular fabrics and patterns that comprise a lot of spring apparel.
Chambray

This is a type of plain weave cotton cloth with a colored warp and white weft, giving it a speckled-like appearance. Chambray comes in a bunch of colors, but the most common for men are light blue, dark blue, and gray. The best way to imagine it is like a light and clothy denim. Light blue is the most "classic" color and objectively the easiest to pair.
Linen

Made from laboriously intensive flax plant fibers, linen is the ideal fabric for hot weather. In fact, mummies were usually wrapped in linen as a sign of purity and wealth (and do you know how hot it is in Egypt?). Linen is a lighter, thinner fabric so it wrinkles very easily. To combat this issue, pick up a handheld steamer. It's portable and much quicker + easier to use than setting up the iron.
Gingham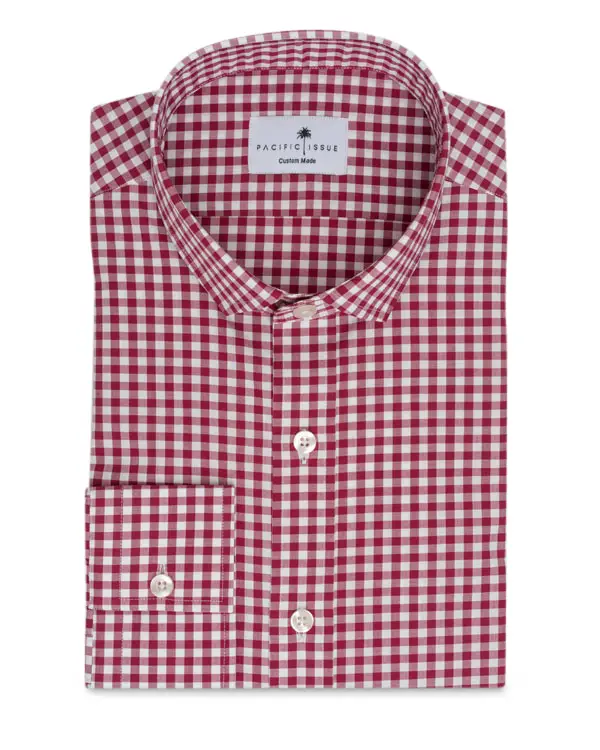 Ginham is a mid-weight pattern woven from cotton or blended yarn and is always checkered in white plus another bold color. This fabric is commonly mistaken with plaid, though the patterns differ. Gingham is white with another color and has equidistant lines, while plaid can be any combination of colors and spacing. Gingham is a very "busy" pattern, so it's not the easiest to pair into men's spring fashion outfits. Match gingham shirts with a more neutral bottom to ensure your look isn't too loud.
Oxford Cloth
Oxford cloth is a basketweave material that's on the heavier side as far as spring fabrics go. Colors you should consider having at your disposal include: navy, grey, olive, and white (can never have too many white button downs, especially if you're like me and have an average white shirt lifespan of 22 minutes).
Henley
Henleys are generally form-fitting, cotton shirts with 3 or 4 buttons stemming from the collar. They're a great, casual choice for layering under a jacket but also look great standalone. Effortless and simple, the henley is an essential component of any man's spring wardrobe and look best when they fit closer to the body (show off them winter gains, brah).
Breton

Stemming its roots from French sailors in the 1850s, the original breton shirts had 21 stripes (one for each of Napoleon's victories). These look awesome with a pair of dark denim, and they're easy to work into an outfit.
Short Sleeve Shirts

Left to right: Pima tee x3, Kent Wang polo, J Crew floral
Pima Cotton Tees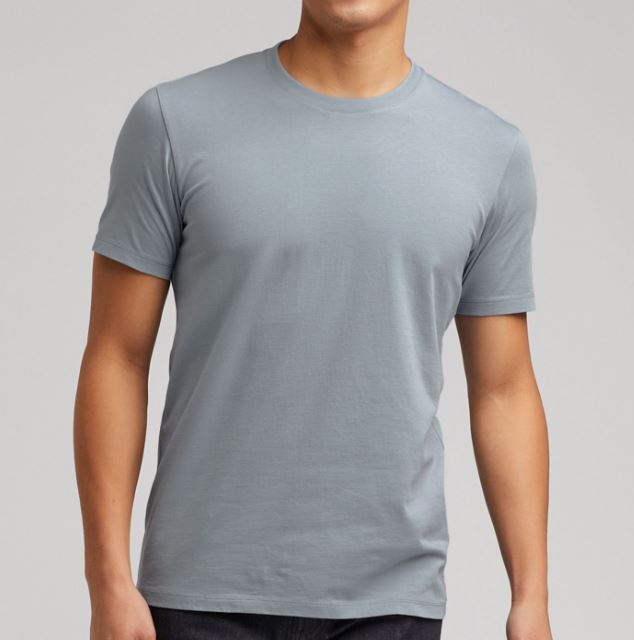 Pima is type of cotton with much longer fibers than traditional cotton, which make the fabric much stronger and softer to the touch. When compared to traditional cotton T-shirts, the difference is night-and-day. I've stocked up on quite a few colors of Pima tees from Uniqlo for the season and I haven't looked back since. As a plus, they're budget friendly with the Uniqlo tees dropping down to $8 semi-regularly.
Short Sleeve Button Downs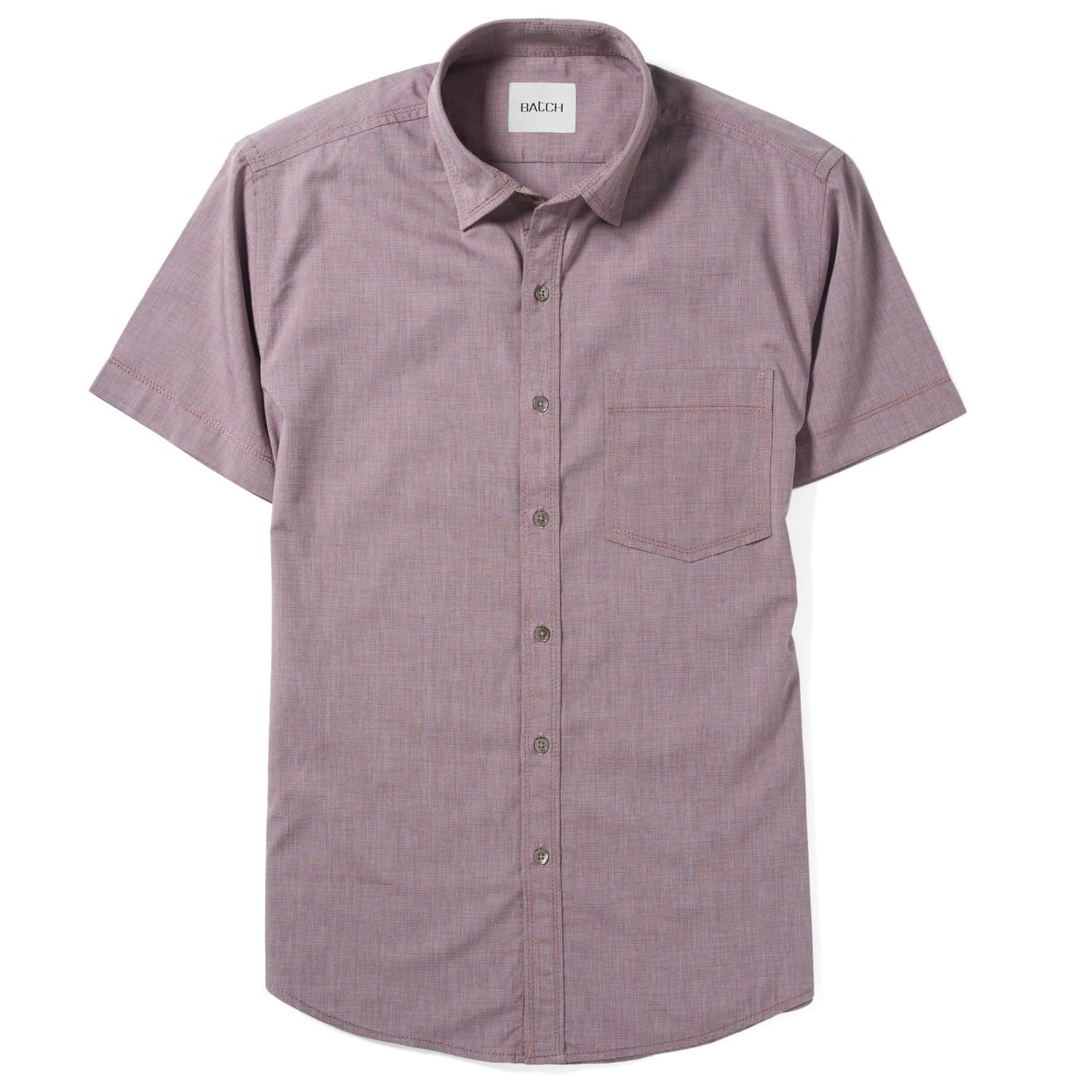 Some people prefer to roll the cuffs of a long-sleeve button down rather than buy another shirt, but it entirely comes down to personal preference. They look great in solid colors, wear patterns well, and make great statement pieces. However, when considering any patterned shirt, be sure the design isn't too obnoxious or flashy.
Men's Spring Jackets

Left to right: Levi's trucker, A Day's March Twill bomber, Alpha Industries M-65, Fjallraven Anorak, Blazer
Depending on where you live and its seasonal climate, you may or may not have a need for outerwear. I live in the Northeastern United States, so our springtime can vary from '"Damn, I lost another finger to frostbite" to "I've shaved every inch of my body and I'm still sweating". Regardless, here are a few types of outerwear that won't let you down this season.
Denim Trucker

Without a doubt, the denim trucker is one of the most classic displays of Americana outerwear. The simple jacket has not only been around for a century, but is here to stay. It's a reliable, mid-weight choice for a nice breezy day.
Field Jacket/M-65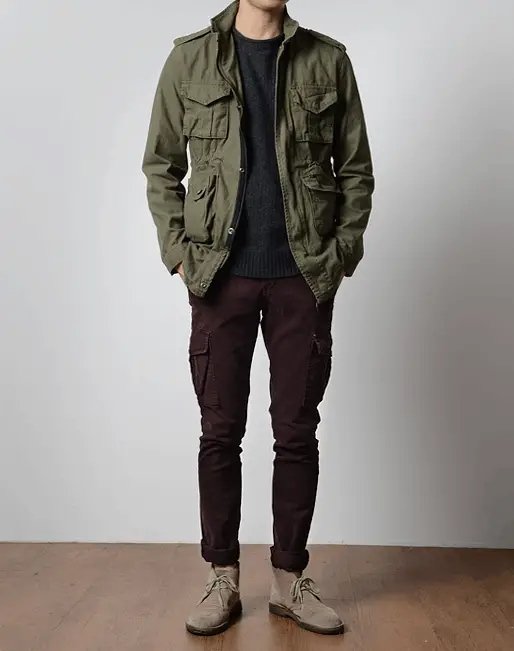 Most modern field jackets stem from the M-1965 jackets worn by American soldiers in the Vietnam War. Fortunately, you won't have to fight in the jungles of Southeast Asia to obtain one; many different variants are available and most large brands have their own take on the classic coat (like all of them – check out J Crew, Banana Republic, Gap, Old Navy etc.).
Anorak/Parka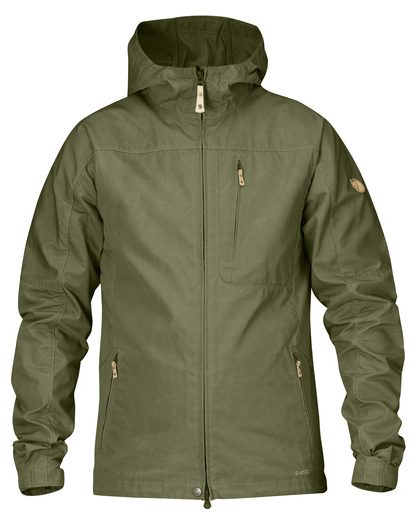 April's [often torrential] showers bring May flowers, so it's always a wise choice to have some functional, yet stylish weather-resistant outerwear. Compact and packable, an anorak stows away in a backpack or car in the event of sudden rainfall.
Bomber
Bomber jackets are named for their use by WWI bomber pilots who needed the extra warmth for uncovered cockpits, are available in many different materials and styles. Leather or suede pay homage to the original jackets while the more streetwear-esque synthetic versions revitalize a classic.
Men's Spring Pants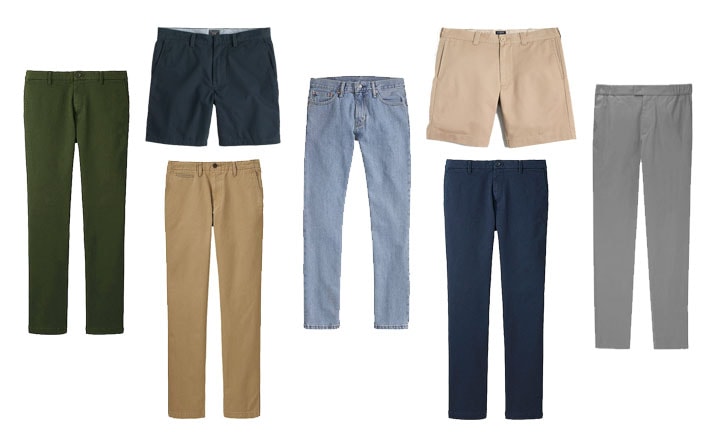 Left to right: Levi's 511, assorted chinos, J Crew Factory Reade shorts
Jeans

Aside from business casual and cocktail attire, there aren't many situations where jeans fall out of place. For spring and summer, lightwash denim reigns supreme, so it may be time to give your indigo selvedge a break. Cuffing your denim to expose some ankle has been immensely popular last season and shows no signs of stopping for 2020, so cuff away! A tried-and-true contender for the best budget-friendly slim denim remains the Levi's 511 cut.
Chinos
Chinos (AKA khakis, though not always beige) are without a doubt the most versatile pants for the warmer weather. Lighter, breathable blends of cotton and linen comprise a fair share of men's spring fashion outfits. Classic khaki, olive, navy, and grey chinos should find a place in your spring wardrobe. Jomers, Bonobos, A Day's March, and Dockers Alpha Khakis are great brands to search for.
Shorts

Unsurprisingly, the rising temperatures make way for shorts, so if you took that "one week break" from squats all winter, now might be time jump back in. In terms of men's spring fashion, stick to the classic chino short with a 6"-9" inch inseam depending on your height. You'll want the bottom hem of your short to rest just above your knees. Don't be afraid to show a little quad, but also don't be that guy, Brad.
Men's Spring Shoes
White Sneakers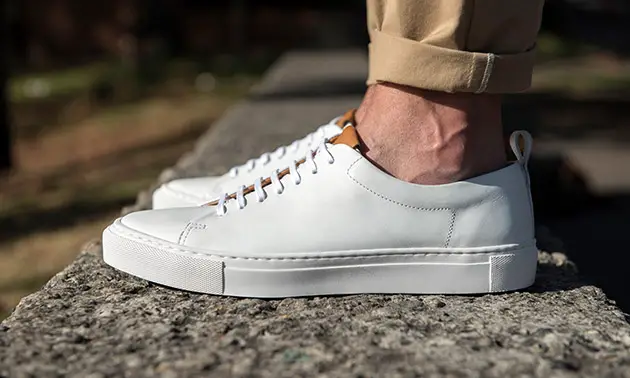 If you hoped that 2020's men's spring fashion trends finally shifted away from low-top white sneakers, you may be disappointed. Offering a clean, minimalist look and great contrast for most outfits, a solid white sneaker is often the workhorse of any man's footwear arsenal.
Boat Shoes
Arguably the most iconic American footwear for warmer weather, boat shoes are typically constructed of canvas or leather, though you should opt for the latter. Boat shoes are one of those love-it-or-hate-it types of footwear, most likely as a result of the direct affiliation with American fratboy culture. Regardless, they're an easy-to-pair shoe that's great for the heat. Those seeking something a bit more "grown up", may find some luck with loafers.
Boots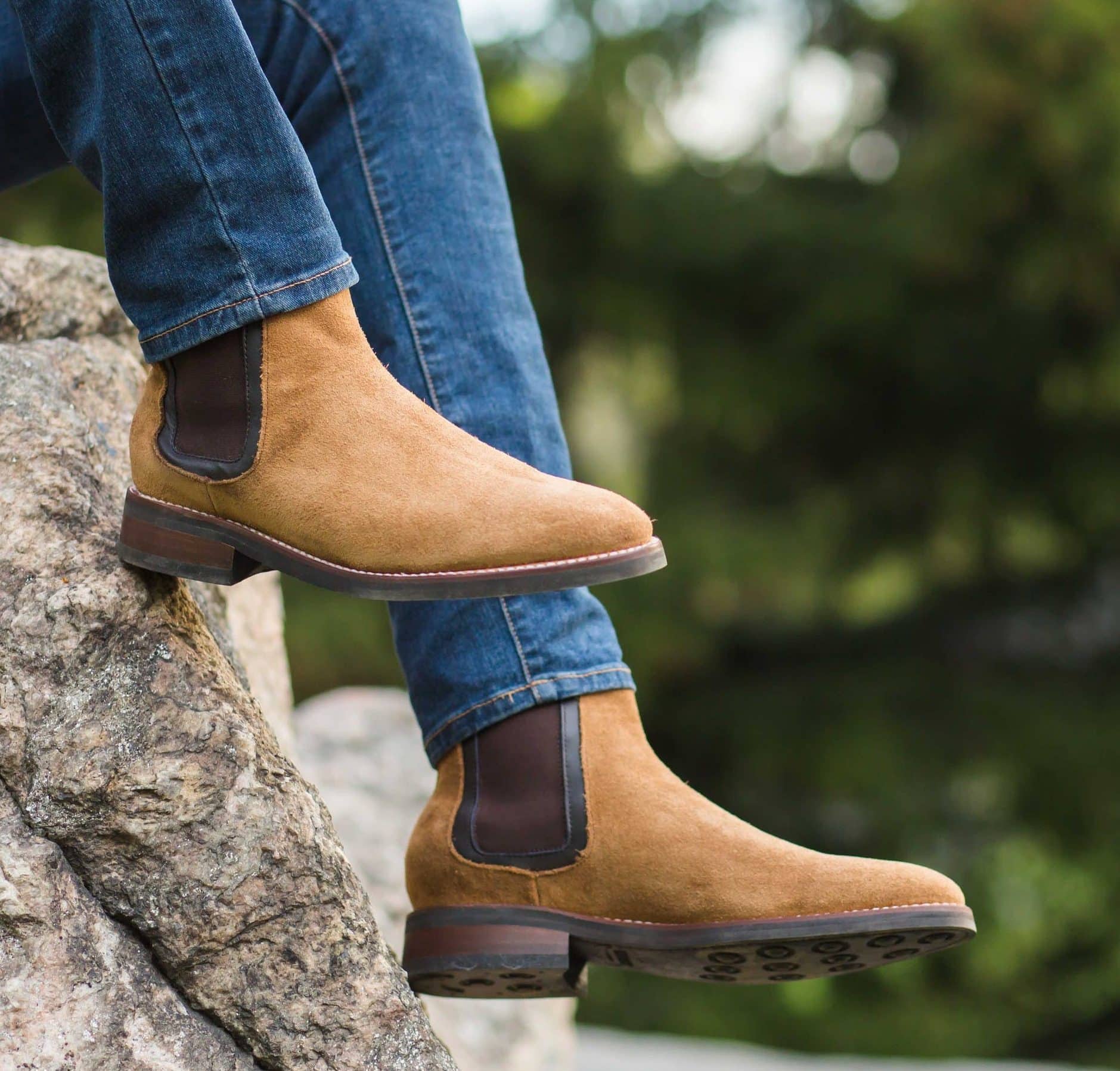 Though boots are often reserved for lower temperatures, they certainly have a place in men's spring fashion. Lace-up, chukka, and chelsea boots look great with lightwash denim and chinos alike. Retire thicker boots like moc toes or any boots with a waterproof coating, which inhibits breathability – no one likes sweaty boot feet!
Oxford
For weddings, interviews, or just when the event's a bit more formal, an oxford will do the job and do it right. A pair of oxfords or derbies in a lighter brown leather or suede finish will ensure you're prepared for any occasion. Though it may be warmer, don't skip the sock liners if you opt for the "sockless" look.
Men's Spring Fashion Accessories
Rucksack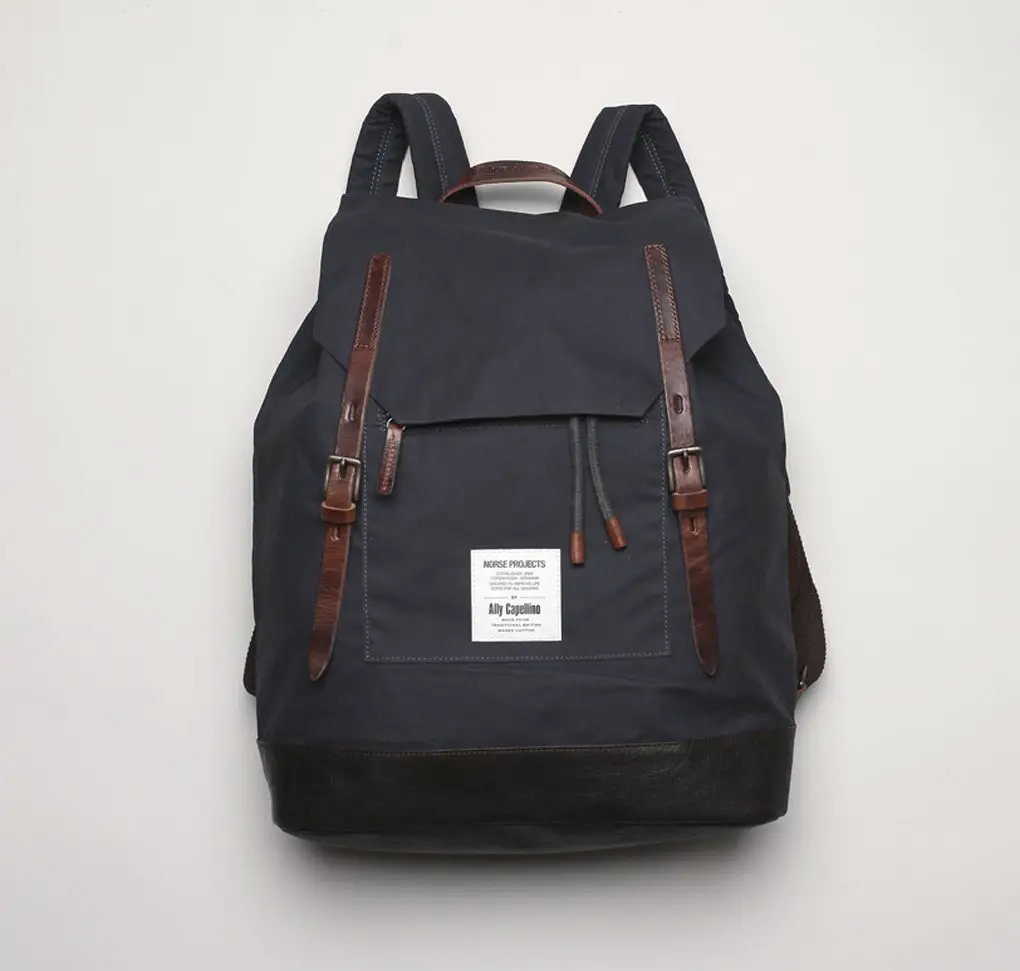 This is essentially just a handsome backpack. We cover all sorts of bags and briefcases in our guide to men's bags. Spring and summer are full of opportunities for adventure, so it's essential to have the right gear and a way to carry it all.
Watch
I can't stress enough the importance of a man owning at least one watch. It doesn't need to be expensive whatsoever, but the look of a clean watch adds tons of style factor to any guy's look. Some inexpensive options include Timex, Seiko, and Linjer. Be warned that Timex Weekender are loud as hell. I actually have to stuff mine in a sock in my drawer at night to suppress the .308 caliber ticking.
In the visual, we included some NATO straps, which are fantastic because you can totally change the look of your watch for only a few bucks. I swap out the strap on my watch whenever I get bored of it and it's like having a new watch entirely. They come in some nice color options as well – perfect for spring!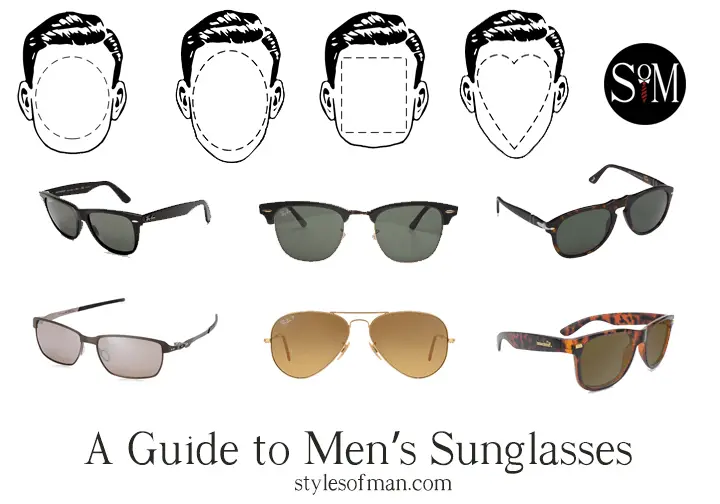 Sunglasses
Sun bright. Protect eyes. We cover everything from polarization to face shape to different styles in our in-depth men's sunglasses guide!
Bracelets
Bracelets are love 'em or hate 'em, though they're becoming increasingly popular among spring fashion men. Pair them with a clean watch to add a bit more flair to your wrist game.
You might like these other popular posts too