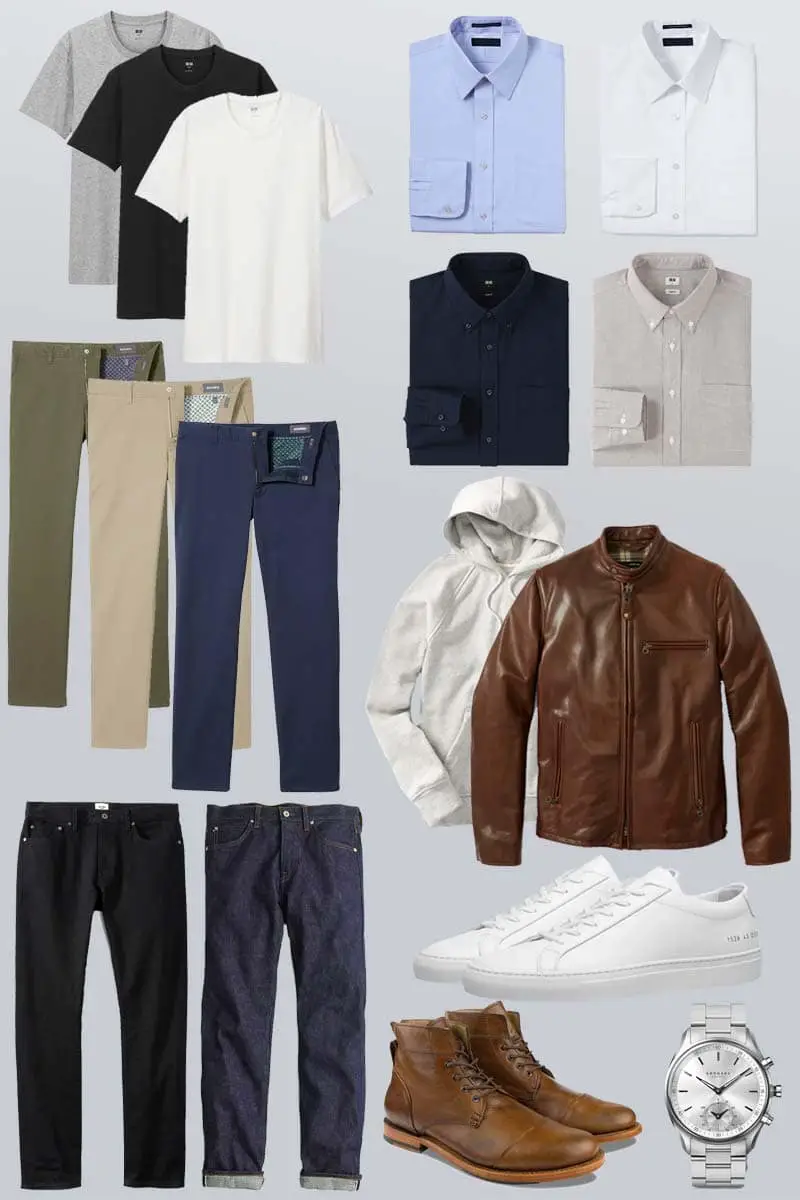 CONTAINS AFFILIATE LINKS [?]
Your 2nd morning alarm buzzes you awake and you spring upright in a panic, scrambling to get ready and arrive at work or school on time. You hop out of the shower as clean and groomed as time permits when the thought pops into your head⁠ ⁠— sh*t, what do I even wear?
Ever have one of these mornings? You are not alone.
We've all been in similar positions, our morning routines throttled with just too many choices when it comes to our wardrobe. Our closets can quickly become a black hole of old T-Shirts, ill-fitting jeans, or that sweet Hawaain shirt you refuse to get rid of.
Fret not, for there's a way to declutter your wardrobe of things you don't need while making more room for the garments you absolutely love. Here's everything you need to know about building a capsule wardrobe for men.
What is a Capsule Wardrobe?
Chances are, the term "capsule wardrobe" has crossed your path before. Let's start with the basics: what is a capsule wardrobe? More importantly, why should we even care?
"a small collection of clothes that can be put together in different ways and includes everything you would normally need to wear" (Cambridge Dictionary)
In short, a capsule wardrobe encompasses a fundamental core of clothing that maximizes compatibility while minimizing clutter and redundancy. This type of wardrobe aims to streamline the process for which you select and wear your clothing. The "capsule" part comes from the idea that you could get by just fine only having this set of clothing. These types of clothing wardrobes are often favored by those who travel often.
Taking a page from Marie Kondo, every single garment should be high-quality and something that you truly enjoy wearing. An effective capsule wardrobe for men ensures that clothing is not only of premium quality but that it integrates seamlessly with the rest of your closet.
Pro-tip: getting dressed is easier when you love everything in your closet.
Is a Capsule Wardrobe Right for Me?
Truth be told, capsule wardrobes aren't for everyone. The majority of us simply enjoy buying and building upon our collection of clothing, so why limit it to just the basics?
The best part about a men's capsule wardrobe is that it can be entirely tailored to you and your style.
A selection of 20 pieces of basic clothing? Eh, maybe not.
A selection of 20 pieces of congruent, quality garments you enjoy wearing? Count me in.
How to Create a Capsule Wardrobe for Men
Creating an effective men's capsule wardrobe requires more than just picking out your favorite clothes and calling it a day. It's easiest to break down building a capsule wardrobe into a few different segments.
The True Wardrobe Essentials
The word "essential" gets thrown around a lot these days, but don't let that cloud your perception of what's truly needed in a capsule wardrobe.
A well-fitting white T-shirt that can pair with essentially any jacket or mid-layer? Essential.
A pair of red chinos that only go with a handful of items? Optional.
Our 20 Picks for a Minimalist Men's Capsule Wardrobe
Before we even dive into our picks, keep in mind that the right capsule wardrobe must be configured to you and your needs. Things like climate, activity level, daily commute, work dress code, and personal taste all vary from person to person. Treat our list of 20 essentials and 5 optional pieces as a framework for building your own perfect men's minimalist wardrobe. True essential items like underwear and socks won't count towards our 20 picks. Please have enough underwear.
Since capsule wardrobes typically have a focus on quality, these picks aim to provide the most bang for your buck!
3 Basic T-Shirts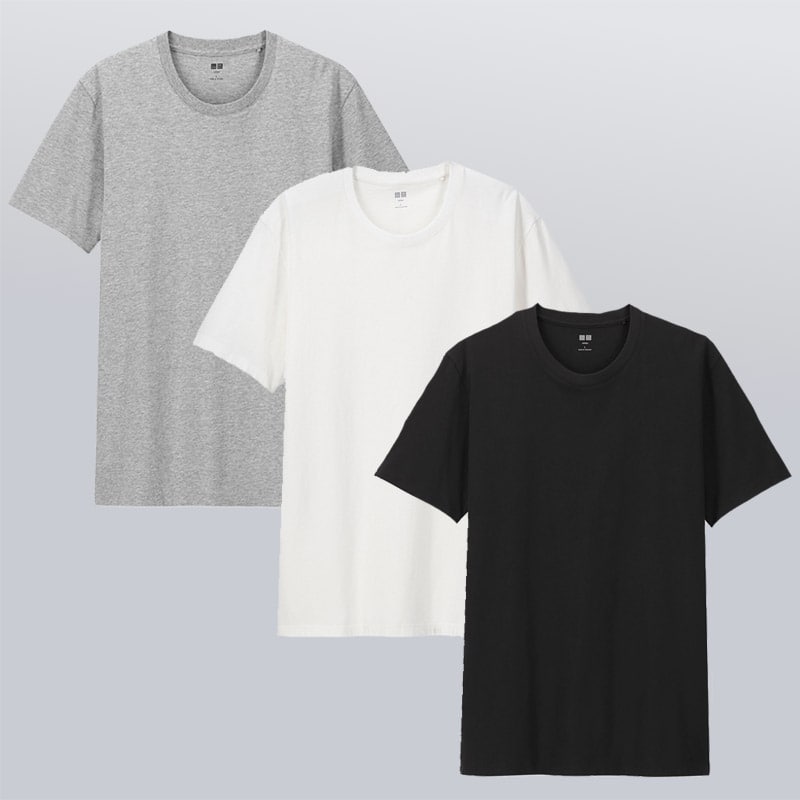 The workhorse of any man's wardrobe, basic T-shirts will serve as undershirts, base layers, or standalone garments. We'll get the most versatility from our tees by sticking with neutrals, so white, black, gray, or navy will do the trick. 
$: Uniqlo Supima Tee (Pictured)
$$: Mott & Bow Combed Cotton Tee
2 Dress Shirts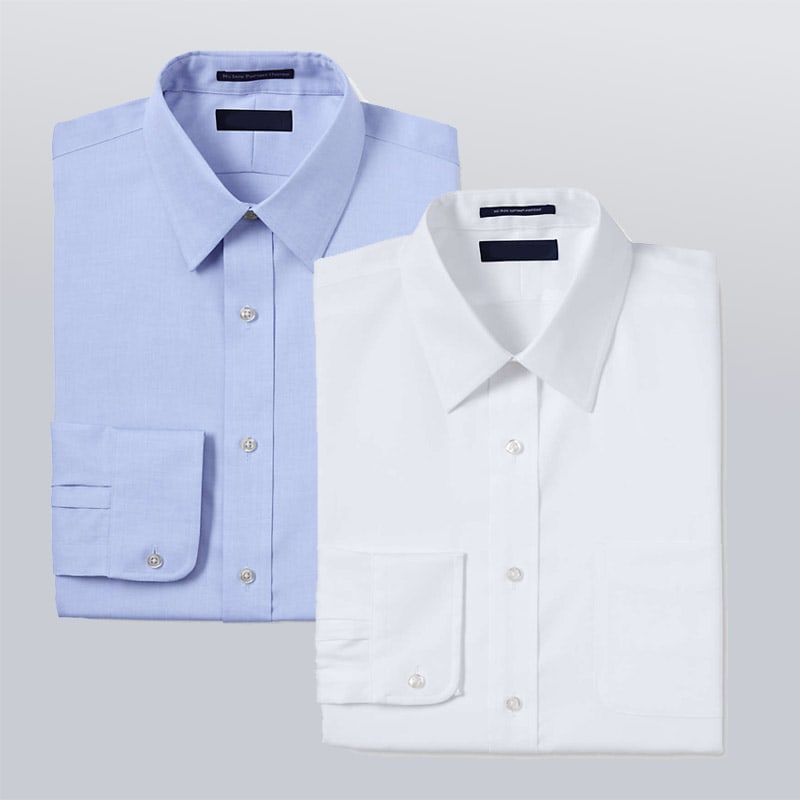 For the days we'll need to dress up a bit more, a white and light blue collared dress shirt will check off both business casual and smart casual requirements. 
$: Amazon Essentials Slim Dress Shirt
$$: Batch Essential Dress Shirt
$$$: Ministry of Supply Apollo Dress Shirt
2 Casual Button-Downs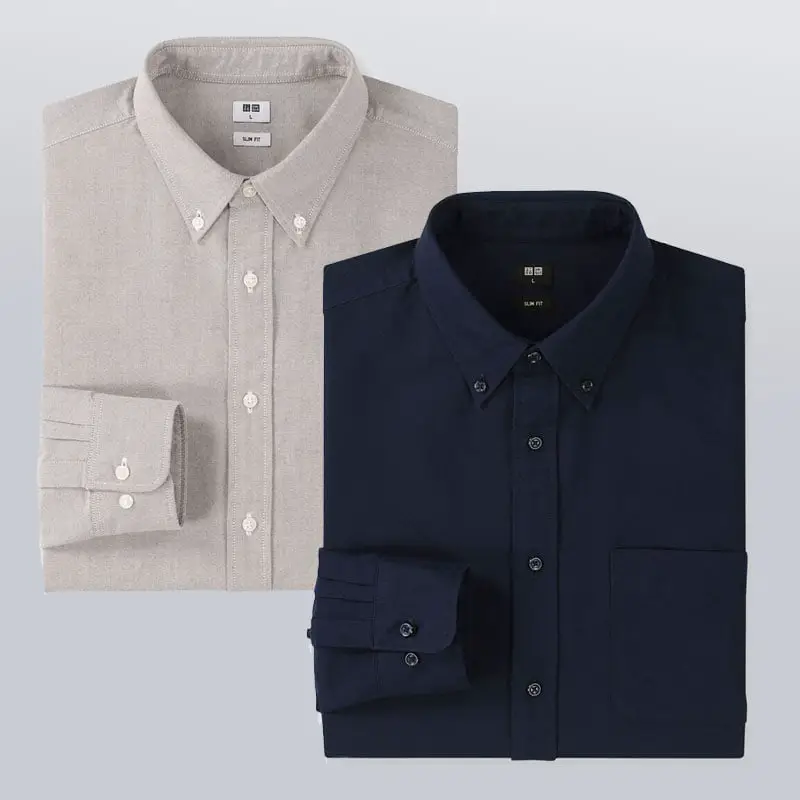 A pair of casual button-downs will guide you through the days where your attire calls for smart, but not over the top. We like oxford cloth button-downs (OCBDs), but cooler weather warrants thicker fabric like broadcloth. 
$: Goodthreads "Perfect Oxford"
$: Uniqlo Slim OCBD (Pictured)
Difference Between a Button-Down and Button-Up 
Though often used interchangeably, button-down and button-up shirts differ. A button-up has no buttons fastening the collar to the shirt. Instead, the collar stays in place with thicker fabric or shirtstays. Button-down shirts, on the other hand, have 2 buttons that secure the collar to the body of the shirt.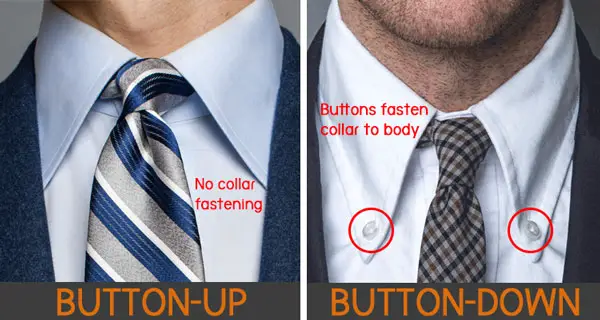 In terms of function, reserves button-down shirts for more casual settings while keeping button-ups for dressier occasions.

1 Hoodie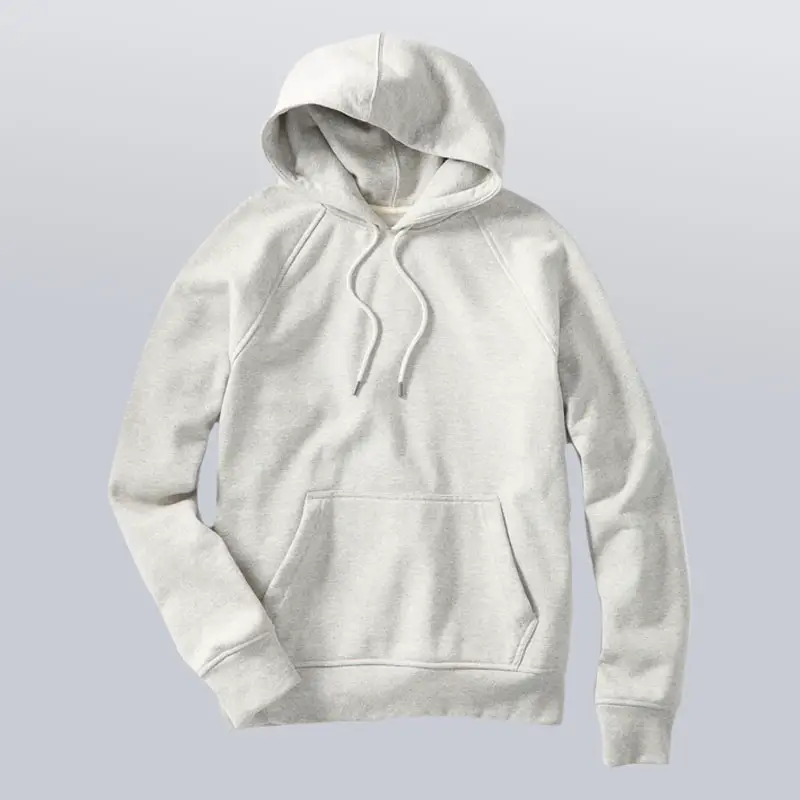 For those days. But in all honesty, hooded sweatshirts can offer a lot when it comes to creating outfits from a minimal selection of clothing. Whether it's standalone with a pair of chinos or used as a mid-layer under a jacket, don't forget the hoodie.
$: American Apparel California Fleece
$$: Flint and Tinder 10 Year Hoodie (Pictured)
1 Blazer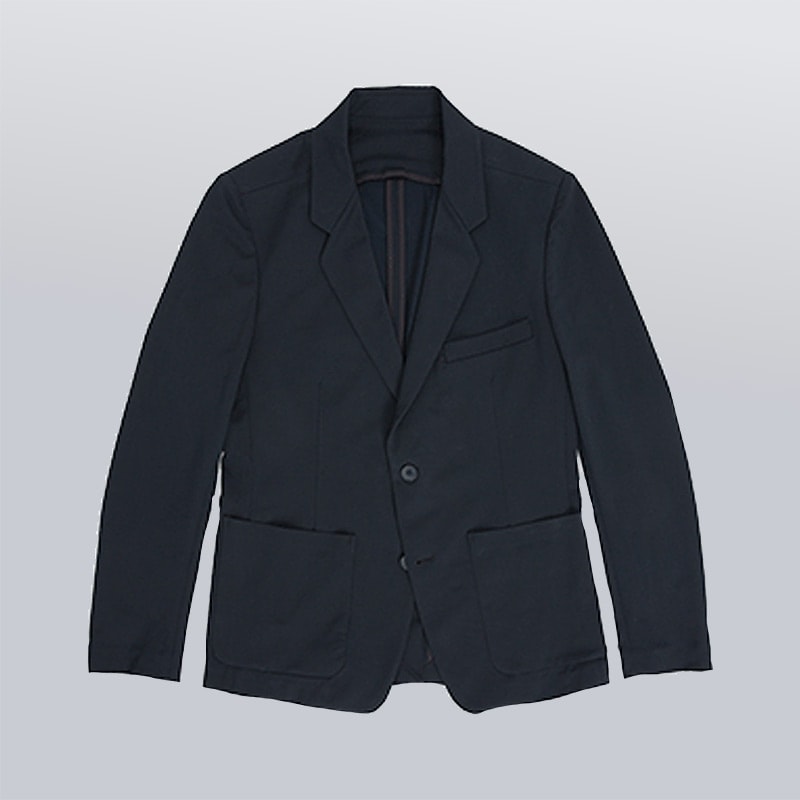 For when the situation calls for something more refined, a fitted blazer in navy or charcoal checks all the boxes.
$: Dockers Classic Navy Blazer
$$: Ministry of Supply Kinetic Blazer (Pictured)
1 Casual Jacket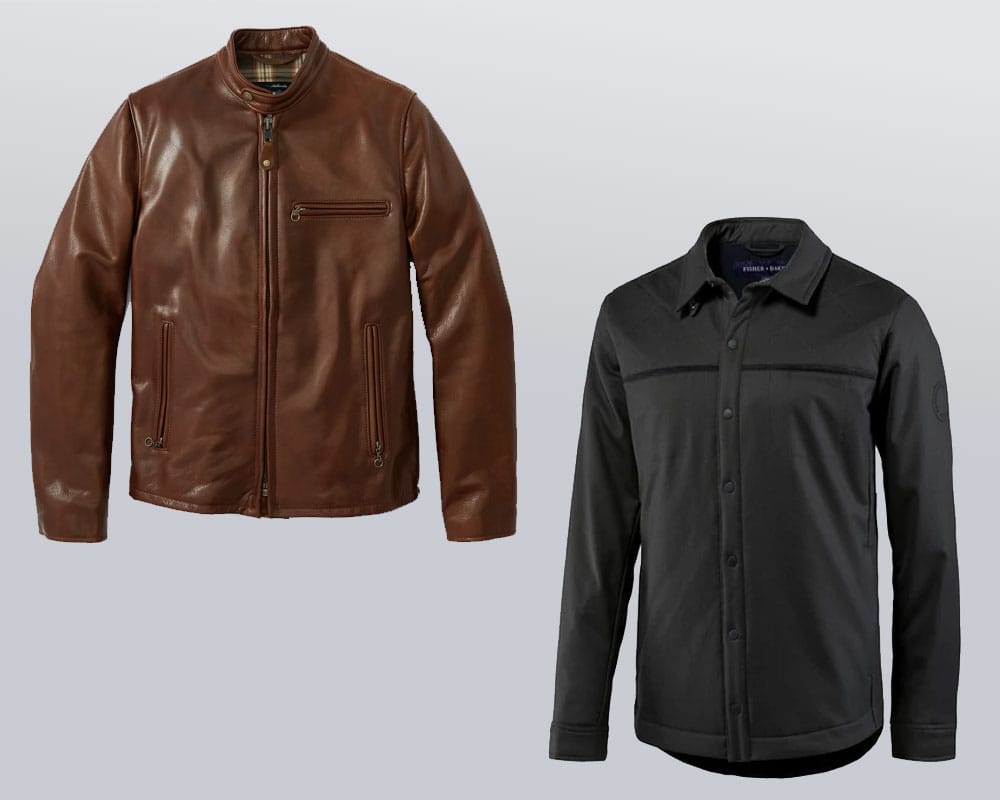 $$$: Schott Cafe Racer Cowhide Leather Jacket (Pictured)
$$$: Fisher & Baker Birmingham CPO Jacket (Pictured)
Every guy has a favorite jacket, so it deserves a spot in our men's capsule wardrobe. In terms of jacket types and styles, the choice is entirely yours depending on your personal style. We'd shoot for a brown leather cafe racer or CPO jacket. Unless you're in an area with frequent rain, opt for a jacket with no hood to harmonize with the hoodie we picked.
Remember, cohesion between garments is the whole point of a capsule wardrobe. With every selection, ask yourself the following: Does this make sense to add? Will this complement other items I've chosen?
1 Pair of Joggers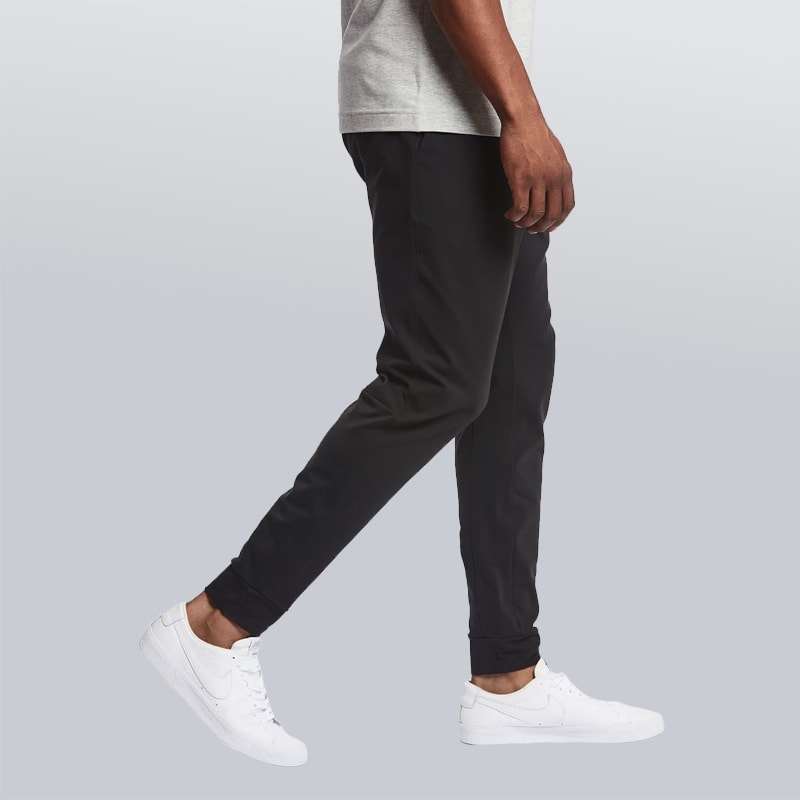 $$: Public Rec All Day Every Day Jogger (Pictured)
We're not dressing up every single day, so sometimes comfort supersedes style. But let's be honest, joggers are essentially stylish sweatpants. Shoot for a pair that tapers, yet doesn't constrict. 
A solid choice for both working out and walking about – versatile!
3 Pairs of Chinos
$: Jomers American Milled Cotton Pants
$$: Bonobos Stretch Washed Chinos (Pictured)
$$: Mott & Bow Charles Twill Chino
Whether you call 'em khakis or chinos, we all know the importance of fitted, flat-front pants. Pair them with anything from a button-down shirt for the office to a T-shirt for a beer with the boys. Though not technically a "dress" pant, no one will think twice about wearing these with a blazer. Grab a pair in tan, navy, and olive. 
2 Pairs of Jeans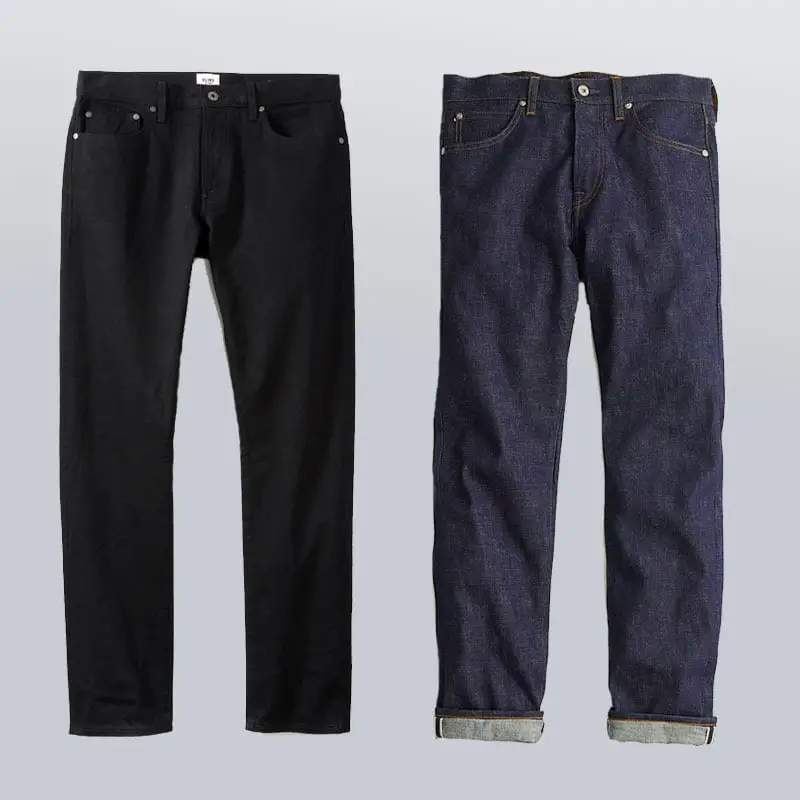 Nothing screams classic like a good pair of broken-in denim. We're including 2 pairs: black and indigo, but a third pair in a lightwash can fit in a men's capsule wardrobe with no issues.
$$: Flint and Tinder Black Stretch Selvedge Jeans (Pictured left)
$$: Mott & Bow Slim Indigo Denim
1 Pair of Dress Shoes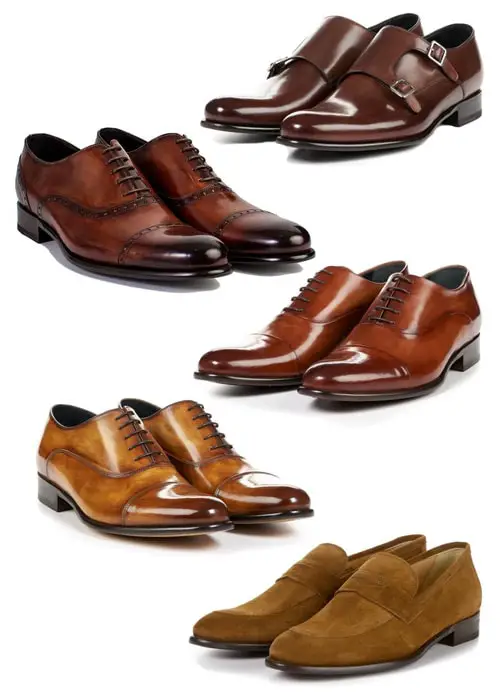 $$: Florsheim Castellano Monkstrap
$$$: Allen Edmonds Strand Cap Toe Oxford
Quality leather dress shoes need no introduction. We'll need a pair for synergizing with our business casual attire and for fancy nights out. We'd recommend a pair of oxfords, brogues, or monkstraps in a medium brown color like walnut or chestnut. Make sure you have a belt that matches the leather of your dress shoes.
1 Pair of Leather Boots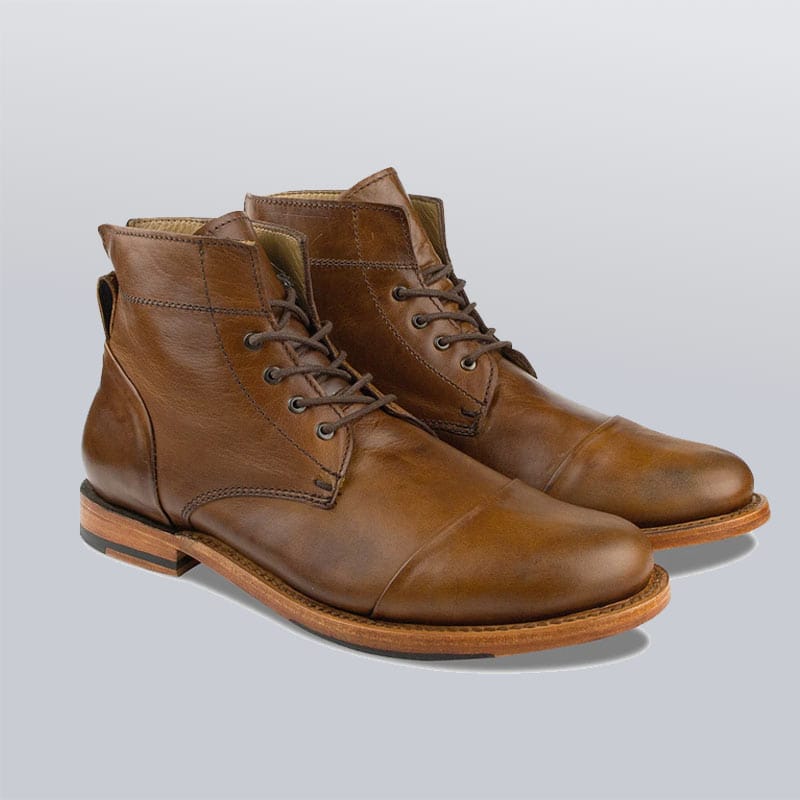 $: Golden Fox Boondocker Service Boot
$$: Thursday Boots Captain – Arizona Adobe
$$: Sutro Alder Boot – Honey (Pictured – use code SOM25 for $25 off)
Full disclosure: we absolutely love our boots here and it wouldn't seem crazy to us to include a pair in brown and one in black, especially during colder seasons. When it comes to anything leather, it's always worth spending the extra bit of cash upfront to purchase a quality product. We'd recommend a classic lace-up boot or chukka, but something like a suede chelsea can be a great pick depending on your personal style.
Shoot for full or top-grain leather boots from the USA or Mexico if your budget permits. "Genuine" leather quality is actually one of the lower grades despite the misleading name. Check out our guide to men's leather boots here.
1 Pair of Minimalist Sneakers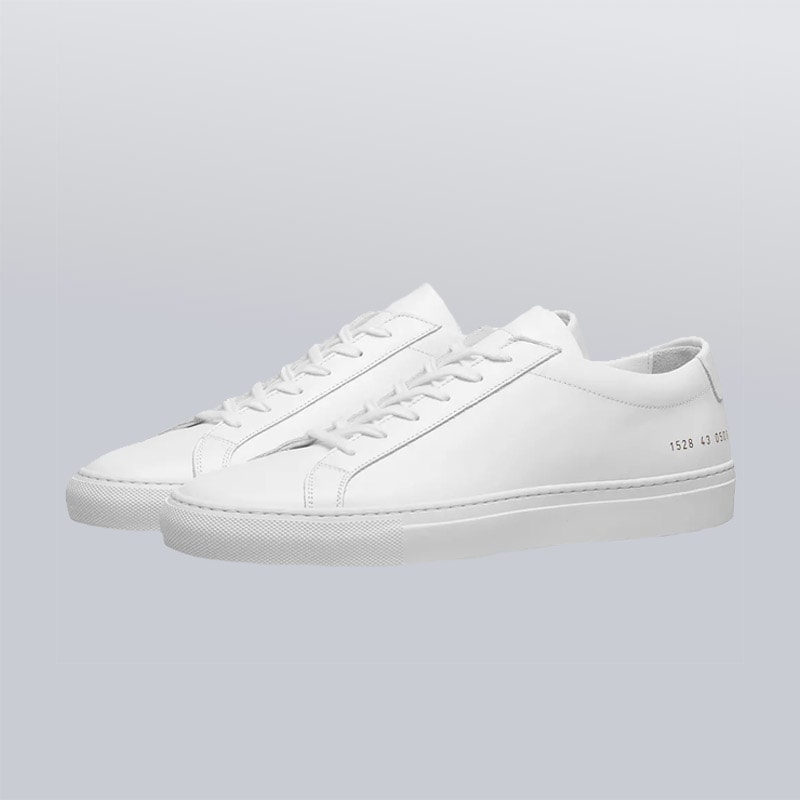 $$$: Common Projects Achilles Low
A pair of white sneakers or textured slip-on sneakers will go the extra mile in versatility. We'd highly recommend a pair of minimalist white leather sneakers since they're essentially the poster child for versatile footwear.
5 Optional Pieces
3 Pairs of Shorts—A must if you live in hot weather climates. 
1 Pair of Swim Shorts—For those beach dwellers and swimmers. 
1 Winter Coat—If you live in or travel to cold environments.
Tips for Creating the Perfect Capsule Wardrobe
Don't Count the Accessories
You can easily keep accessories such as bags, ties, pocket squares, sunglasses, belts, scarfs, and more without counting them in your essential items. Any piece that adds a touch of interest or purpose to your outfits without cluttering your closet is a win-win.
Take Inventory & Purge
Before getting started building your own capsule wardrobe, we suggest cleaning out your closet and determining if you already own basic pieces that can become a part of your capsule collection. Outside of the keepers in your closet, let go of the rest to declutter your space and mind. This will help your prep time be easy and carefree when you can pull your outfit for the day together in a flash. 
Capsulate for Your Lifestyle and Career
Note, a capsule wardrobe should work year-round for most climates by including essentials for both warm and cold weather. However, you'll need to curate your clothes according to how you live, work, and lounge. For example, if you work out daily, you'll certainly want to keep several days worth of gym clothes on hand depending upon how often you do laundry. 
If your workplace is casual, you'll want to opt-out of multiple dress shirts and go with causal button-downs or polos. Pants would be jeans and chinos instead of dress pants. Shoes would be sneakers and loafers. Vice Versa if you dress in suits and dress shirts for work do the opposite. If you are a die-hard shorts wearer, add the optional shorts to your lineup.
Plan It Out
Measure twice. Cut once.
Take a day and create your new super refined and streamlined capsule wardrobe. Be sure to get matching hangers to keep your capsule wardrobe easy to access and closet clutter-free. You'll start every day with less effort, minimal thought, and more confidence. Good luck!
You might like these other popular posts too