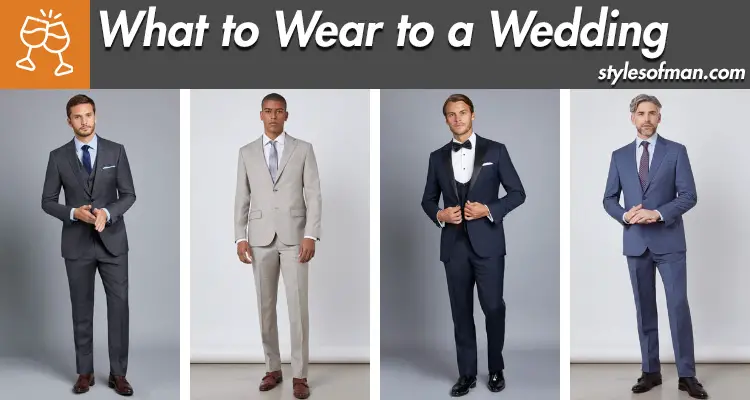 The wedding outfits men wear as guests are often overlooked. But let's face it; wedding photos live forever on social media, so it's important to wear the right thing on your friend or family member's big day.
Weddings are an exciting time to come together and celebrate with friends and family. Dressing according to the bride and groom's chosen dress code is a sign of respect.
Consider your real wedding gift to be not photobombing their wedding pictures with your poor wardrobe choice. Trust us, they'll thank you in 20 years.
When it comes to what to wear to a wedding, men can have a particularly difficult time. While you may want to dress to impress, you may only own a handful of formalwear pieces or be unfamiliar with wedding dress codes. Never fear! While fancier weddings may require special formalwear, you can get away with wearing many of your business professional pieces to most weddings.
In this article, we'll cover what men should wear to a wedding— and equally as important— what they should not. Because wedding attire can vary depending on the weather and time of year, we'll also explore what to wear to weddings during each season. We'll also breakdown these popular wedding dress codes and offer easy wedding outfits men can wear to each:
White tie
Black-tie
Formal
Cocktail/Semi-Formal
Smart Casual
Casual
What a Man Should Wear to a Wedding
Spring Wedding Attire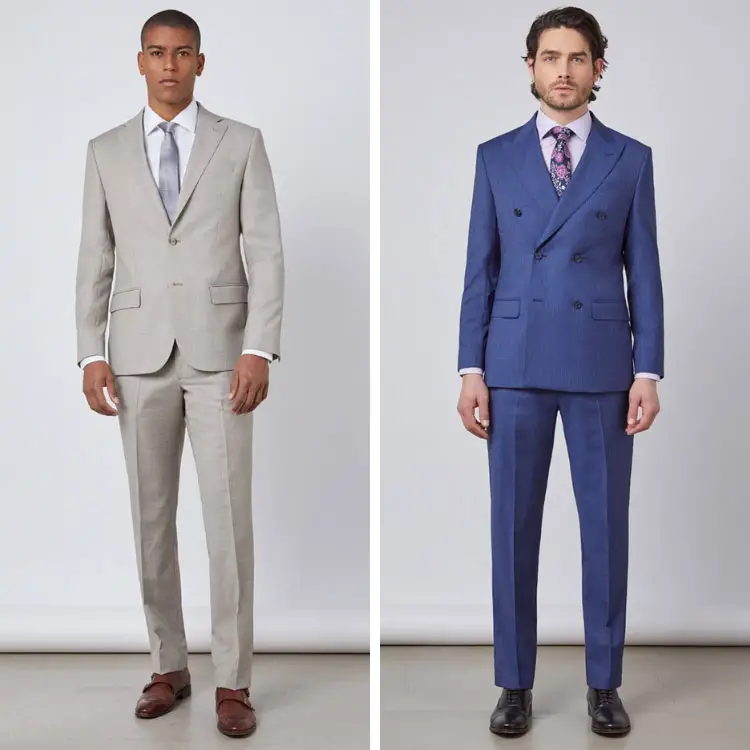 As the weather warms up, wedding attire typically becomes a bit more relaxed.
When it comes to color, you should lighten up as well. Go with light earth hues like taupe, tan, and light grey with accents of pastel colors, cerulean, and sage greens.
When it comes to accessories, consider wearing a colorful pair of printed socks or a playful polka dot pocket square. Some men may also choose to ditch their socks in favor of a more European look. During spring, feel free to be a bit more adventurous with your formal attire. That is, within the limits of the dress code provided. You are still attending a wedding after all.
Summer Wedding Attire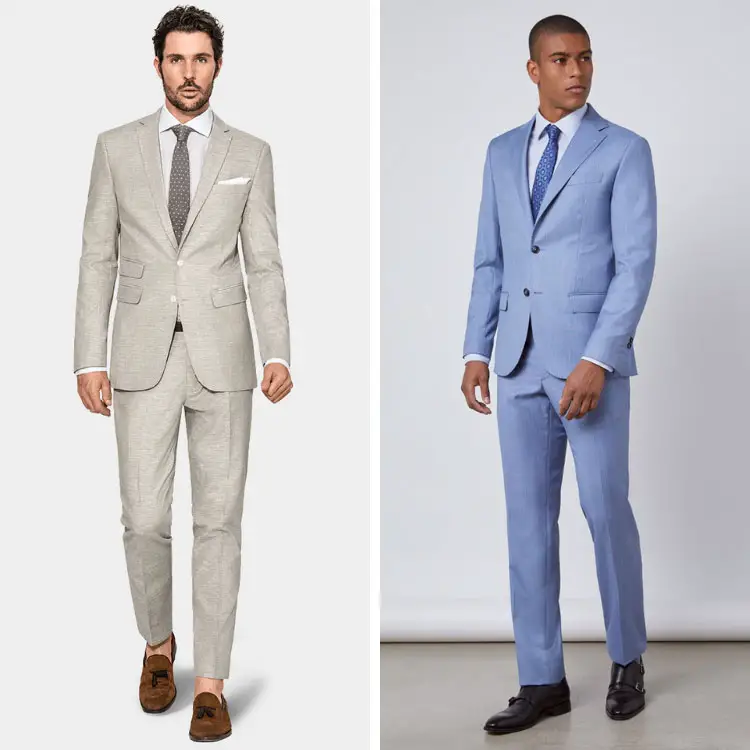 In the summer, avoid wool fabrics, three-piece suits, and dark colors that'll have you sweating buckets before the ceremony even starts. Instead, try a two-piece suit in a breathable, lightweight fabric like linen or cotton. Lighter colors, like tan or light grey, will help keep you cool when you're in direct sunlight.
An easy summer color combo is a beige suit paired with a white collared shirt and a colored tie.
During the summer, you may also find yourself attending a beach wedding, which typically allows for more casual attire than most regular weddings. You should still wear a suit jacket, so choose one in a breathable material and light color to avoid overheating.
Not only will dark colors be too hot, but they'll also create too much contrast against your light-colored surroundings. Tan or light-colored chinos can easily be cuffed to keep sand off them.
Go for a lightweight cotton collared shirt or a crisp white cotton t-shirt. While you may be able to go barefoot, don't get your hopes up. it's important to bring a pair of beach-appropriate shoes like leather sandals or summer loafers.
Fall Wedding Attire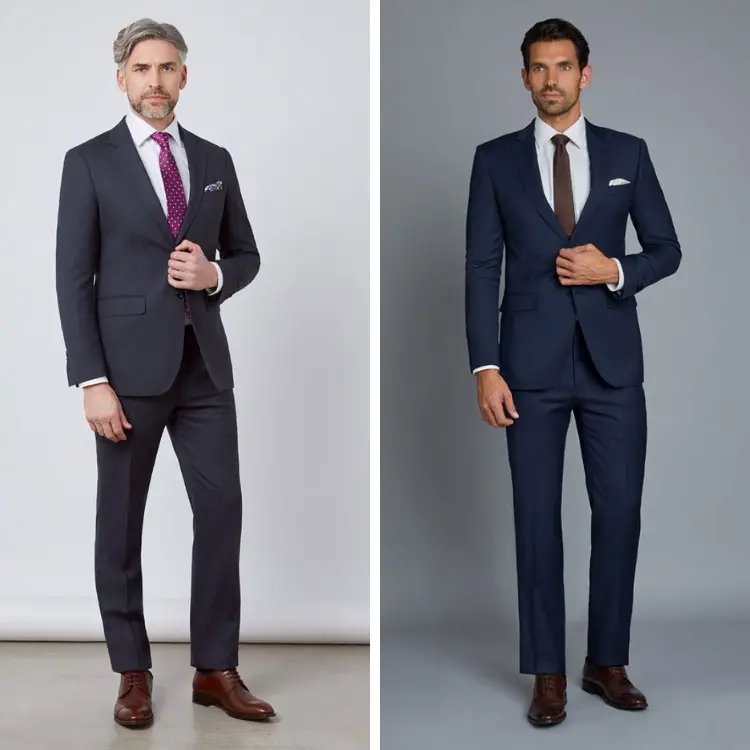 Fall wedding attire can vary greatly depending on weather and location. Suede footwear and textured suit fabrics can help add a fall feel to your wedding outfit. If it's still warm, stick to lightweight summer fabrics and two-piece suits in earthy tans, browns, and greys.
Accessorize with pops of jewel tones, orange, yellow and red. If it's colder, lean more towards winter wedding attire. Go with a wool suit in a dark grey, brown, or navy. If needed, bring a simple black or camel wool overcoat.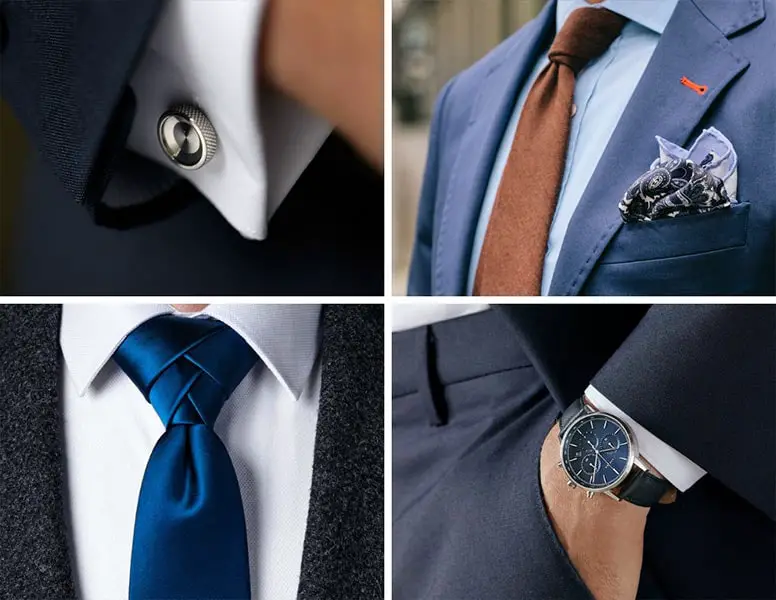 Winter Wedding Attire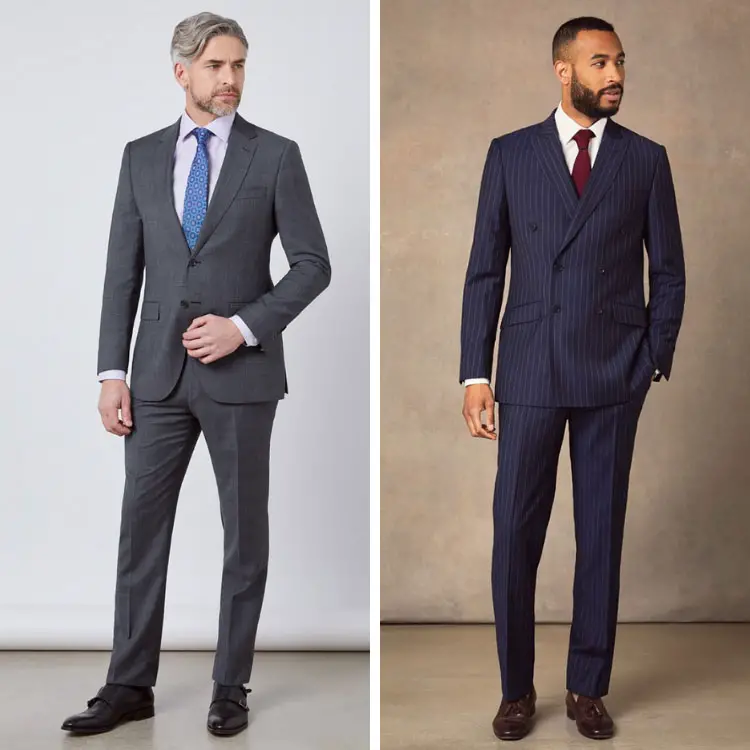 When it comes to cold-weather weddings, you'll want to stick with wool fabrics and three-piece suits. Your suit should be in a dark neutral like black or navy. If you need an additional layer of outerwear, wear a simple black wool overcoat. Keep to black leather footwear, and avoid suede fabrics that can easily be water-damaged. Avoid wearing any red or green pops of color, which can come across looking kitschy and Christmasy.
What Not to Wear to a Wedding
Regardless of the dress code, there are some things a man should never wear to a wedding. Unless the invitation specifically states otherwise, avoid these 10 things:
White jackets: Remember that old saying about how a woman attending a wedding should never wear white? The same rule applies to men.
Floral boutonnieres: Remember, this is a wedding and not a high school dance. Just like the white jackets, leave floral boutonnieres to the wedding party.
Shorts: No matter how hot it is outside or how casual the dress code may be, no bride wants to see your calves at their wedding. You should always wear full-length pants.
Jeans: Even if you're attending a casual or dress-code free wedding, you should still wear or dress pants (or chinos if you have nothing else).
Open-toe shoes, sandals, or flip flops: Unless you're attending a beach wedding, it's important to wear closed-toed shoes. Similarly, you should never wear sneakers or athletic shoes for a wedding. Oxfords, brogues, or loafers are always your best bet.
Anything distressed, torn, or ripped: It's important to look your best when attending someone's wedding. Avoid any sort of distressing, whether it be intentional or not.
Logos, graphics, and flashy prints: Avoid wearing clothing with recognizable logos or any type of graphic. And please, don't be the guy wearing the goofy tie.
Wrinkled clothing: Looking your best means looking wrinkle-free. Be sure to give your clothes a quick iron before heading out. The only type of garment that may circumvent this rule is linen, which is popular for summer weddings.
Hats: You should never wear any type of hat to a wedding. Ever.
Anything distracting or attention-seeking: As a wedding guest, you should never try to outdress the groom. If you're attending a wedding, all eyes are meant to be on the happy couple, not on you.
Wedding Dress Codes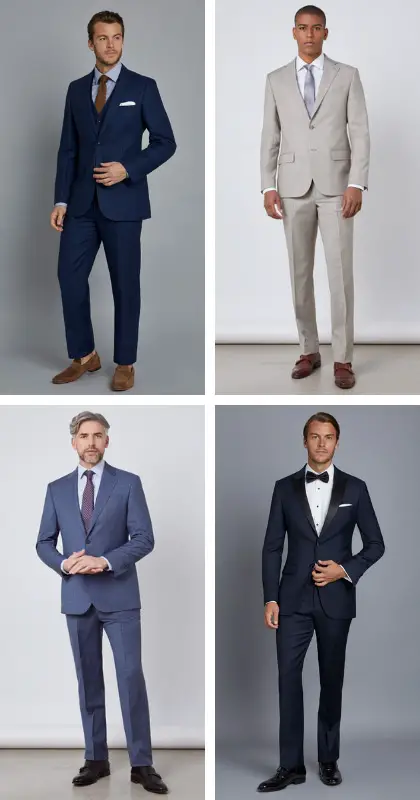 White Tie Wedding Attire
White tie weddings are rare these days. On a wedding invitation, you might see it referred to as a dress suit, tails, or full evening dress. While this used to be a popular dress code for high society events, it's now reserved for only the most formal occasions.
When you think white tie, think British royal wedding. To have this dress code, the wedding is very important, and its attendees are typically rich or famous. Don't be intimidated! This is a rare event so you should enjoy getting all dressed up.
As the name suggests, wedding guests should wear a white bow tie. Men must also wear a white waistcoat and evening tailcoat. Nowadays, it is more acceptable to wear a regular tuxedo jacket instead of tails, but do so at your own discretion.
Wear a crisp white collared shirt with your best cufflinks. Black patent leather shoes and black socks are a must. Consider classic white tie accessories like top hats, gloves and canes to be optional.
Black Tie Wedding Attire
If the invitation says black tie, you're wearing a tuxedo. Plain and simple.
Unfortunately, this strict dress code leaves little room for variation in what you wear. This means it's more important than ever for your suit to be well-fitting and wrinkle-free. You want to look polished and put together.
Stick to tradition by wearing a black tuxedo jacket, black tuxedo pants, and a bowtie. Pay attention to the details. Your bowtie should be hand-tied. Your grooming should be impeccable. Add nice cufflinks and a pair of black loafers or oxfords in patent leather or velvet. While it is technically acceptable to wear a midnight blue suit, your best bet is sticking to a more traditional look.
Black Tie Optional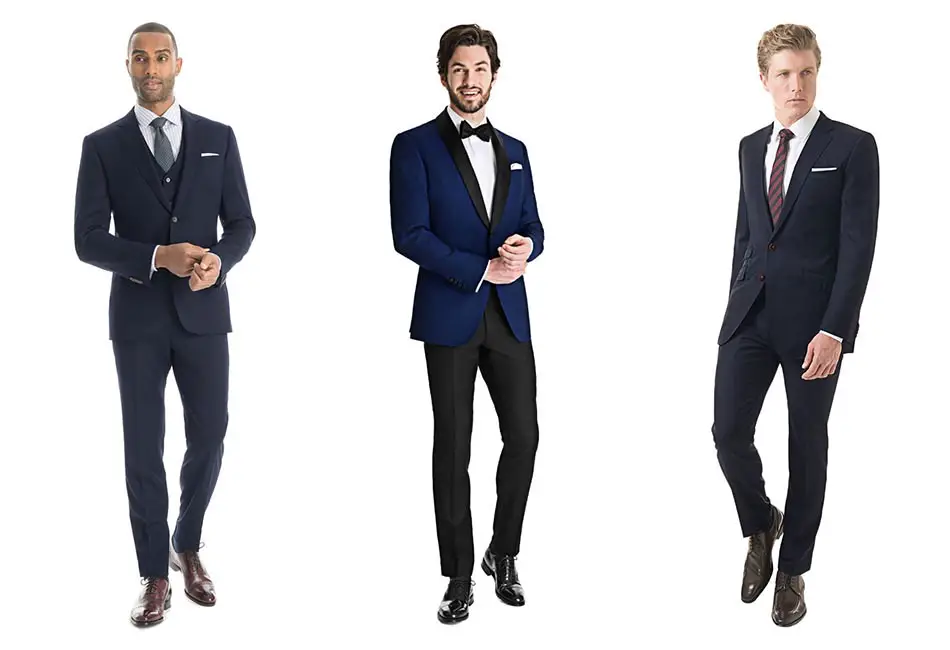 Now, what does a black-tie optional dress code mean? If you ever see this on an invitation, simply treat it as a regular black tie occasion. The optional part means it's technically okay to wear a lounge suit if you don't own a tuxedo. Instead, if you do by chance have a midnight blue tuxedo, consider this the perfect chance to wear it.
Cocktail Wedding Attire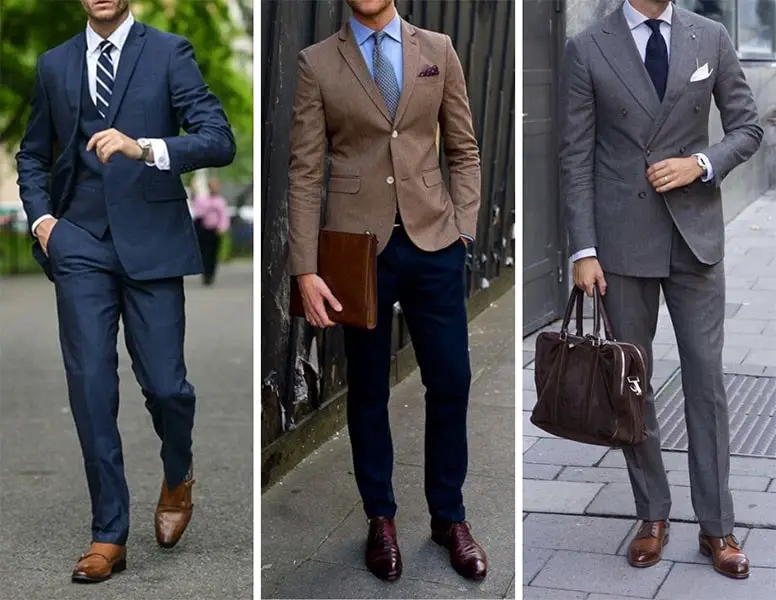 This dress code may also appear on invitations as semi-formal. Thankfully, it allows for more freedom when deciding what to wear. That being said, it's still important to wear a suit or suit separates and necktie. Do not wear a tuxedo, a classic suit jacket and trousers will do the trick. Consider cocktail attire a chance to show your personality through sleek accessories and smart color choices.
Smart Casual Wedding Attire
For many men, it can be hard to find the proper balance of smart and casual. As a rule of thumb, you should always go for being overdressed at a smart casual wedding as opposed to underdressed. Stick to suit separates with more relaxed tailoring.
These weddings are often a bit more fashion-forward so be a bit more adventurous with your wardrobe. Show your personality by wearing a jacket and trousers with contrasting colors. Try adding interest to your smart casual attire with a printed shirt, socks, tie or pocket square.
Casual Wedding Attire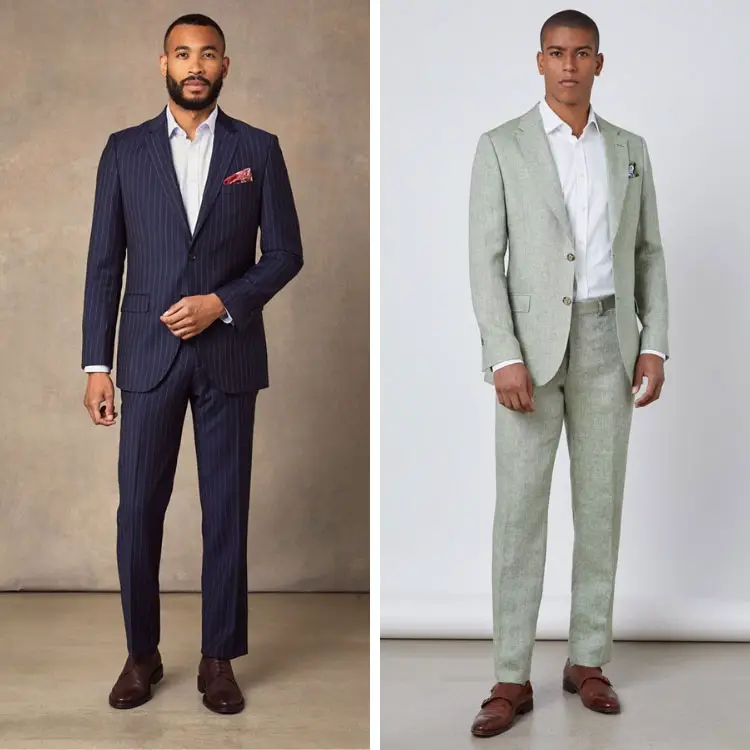 Seeing casual attire on a wedding invitation can be quite confusing. How casual does casual really mean? Because this dress code can be so broadly interpreted, look for clues in the invitation. The venue, time of day, and time of year can tell you a lot about what you should wear.
For starters, there's no need to wear a suit and tie. While you should still wear a collared shirt, you won't need to wear a tie and can leave your top button undone.
On the bottom, wear a pair of light-colored suit pants or chinos. Avoid tuxedos or dark-colored suits, which can feel too stuffy for the casual setting. Consider it a chance to wear some color!
It's important not to take the casual dress code too literally. You should never wear t-shirts, jeans, or denim jackets. Avoid casual footwear like sneakers and flip flops too.
You might like these other popular posts too