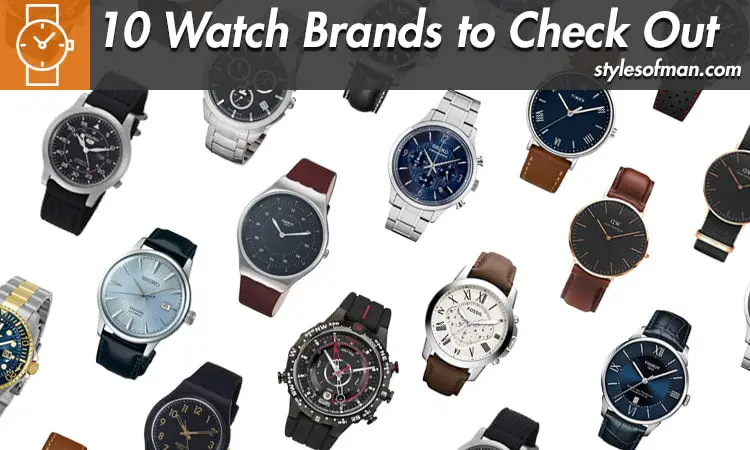 CONTAINS AFFILIATE LINKS [?]
If you're someone who's just beginning to build out their timepiece collection, a simple online search for best watch brands can leave you feeling anxious. With so many different brands and so much information out there, dissecting it all can often feel like a chore.
It's easy to end up being more confused than you were when you started out. One could end up feeling that perhaps this isn't something that they should be getting into in the first place.
Nothing could be further from the truth! Let's dive into our list of the best men's watch brands.
What are the Best Watch Brands for Men?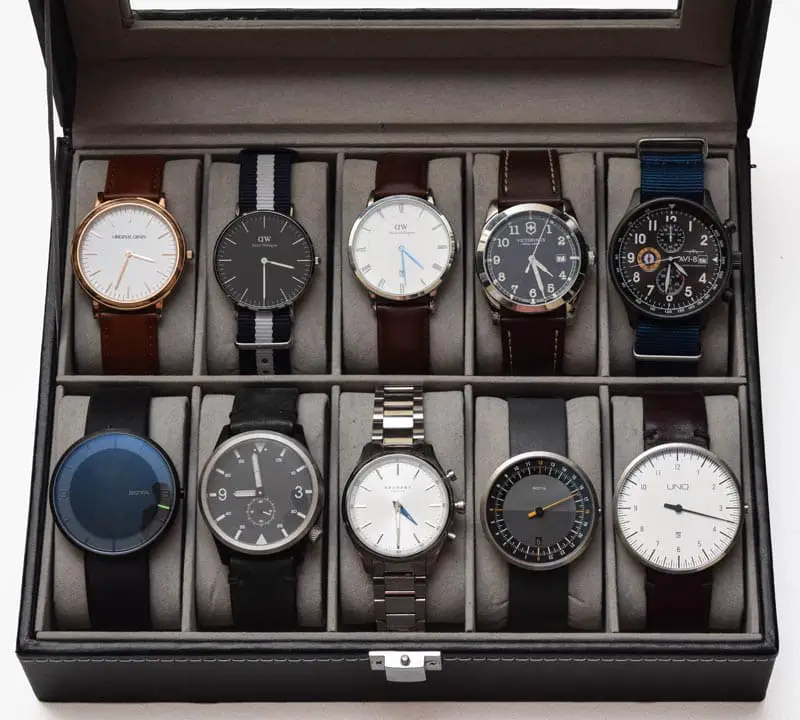 Building out a watch collection is one of the most satisfying hobbies ever. Take it from me; I've been doing it for more than a decade. Don't think for a second that you can only truly have a watch collection if it contains pieces from top Swiss brands that cost an arm and a leg. Even if you buy ten watches that just cost $50 each, what matters more is how you feel about a particular timepiece. True watch collectors don't really focus on the price or the prestige of a brand.
It's about the feeling that a timepiece evokes for them, regardless of whether it costs $100 or $100,000. Let's look at some of the best watch brands for men (in no particular order), what makes them special, and which of their offerings are worth your hard-earned cash.
On a budget? Check out our 12 favorite men's watches under $200.
Seiko
A Japanese icon that got its start back in 1881, Seiko brought on the quartz revolution that forever changed the watch industry as we know it. Even some of the most affordable Seiko models are very well made and they will typically be better than competing products from other manufacturers in the same price range.
Headquarters: Tokyo, Japan
Prices start from: $70
Seiko 5 Black Dial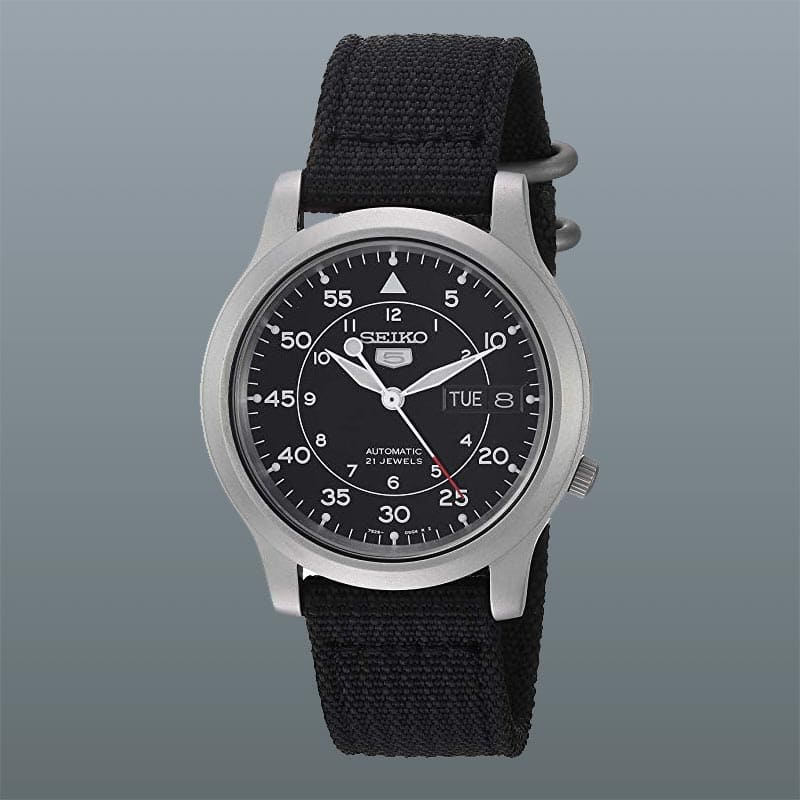 There aren't a lot of respectable watch brands that can offer you an automatic watch for under $100. The Seiko 5 Black Dial is one of those rare finds. The 21 jewel automatic movement is housed inside a 37mm stainless steel case and topped with a Hardlex mineral dial window. Almost 40 hours of juice power this timepiece while its water resistance keeps internal components nice and dry up to 30 meters.
Seiko Conceptual Chronograph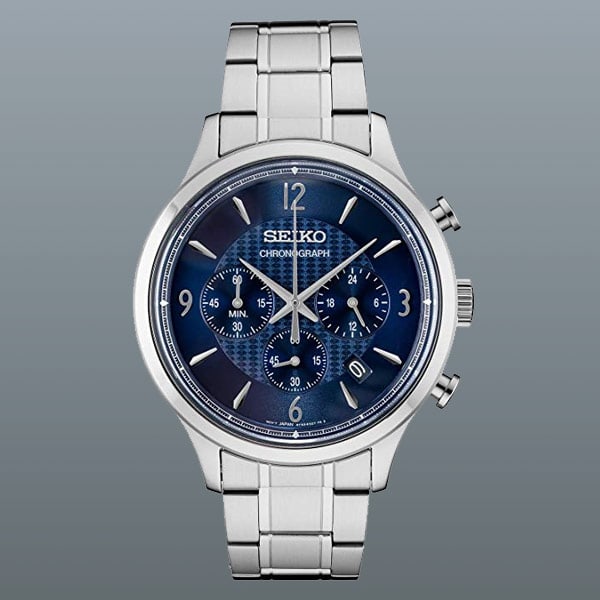 A chronograph doesn't have to cost an enormous amount of money and Seiko has demonstrated that with its vast collection of chronographs that cost less than $150 in some cases. The Conceptual Chronograph is one such example. The quartz chronograph movement is housed inside a 43.3mm stainless steel case and is capable of measuring up to 60 minutes of elapsed time in 1/5-second increments.
Seiko Presage Automatic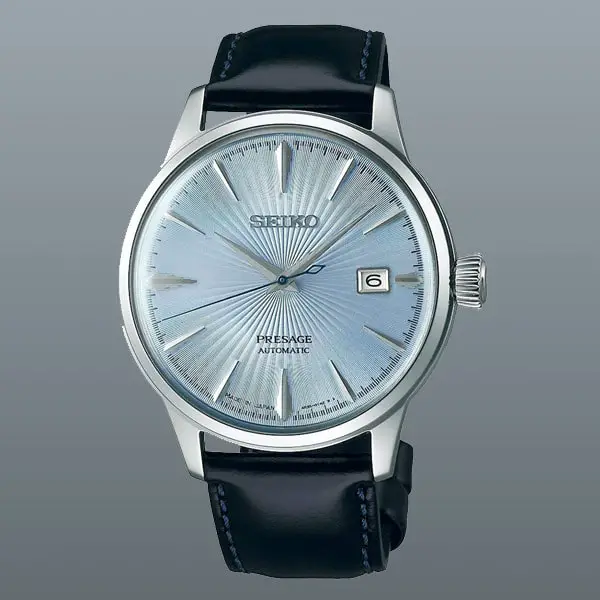 Seiko offers a great collection of classic dress watches as well. The 40.5mm Presage Automatic has a gorgeous ice blue sunburst dial complemented by a genuine leather strap. It's quite the dress watch at $350 and pairs effortlessly with a sharp suit or business casual attire.
Tissot
Tissot makes some of the most affordable watches with the well regarded "Swiss Made" label. It also has the force of the legendary Swatch Group behind it so you know that you're getting a quality product at a competitive price. From dress and sports watches to chronographs, Tissot's product offering encompasses a wide variety of the best men's watches.
Headquarters: Le Locle, Switzerland
Prices start from: $150
Tissot Classic Stainless Steel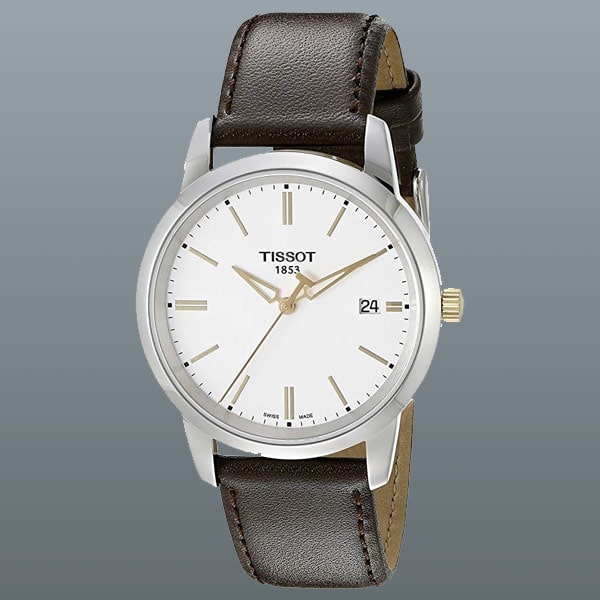 The vanguard of the Tissot brand, the Classic in stainless steel draws the most attention to this men's watch brand. The 38mm stainless steel case with a leather band offers the classic dress watch look while the quartz movement is great at keeping accurate time. At around ~$150, it's a no-brainer at this price range.
Tissot T-Sport Titanium Chronograph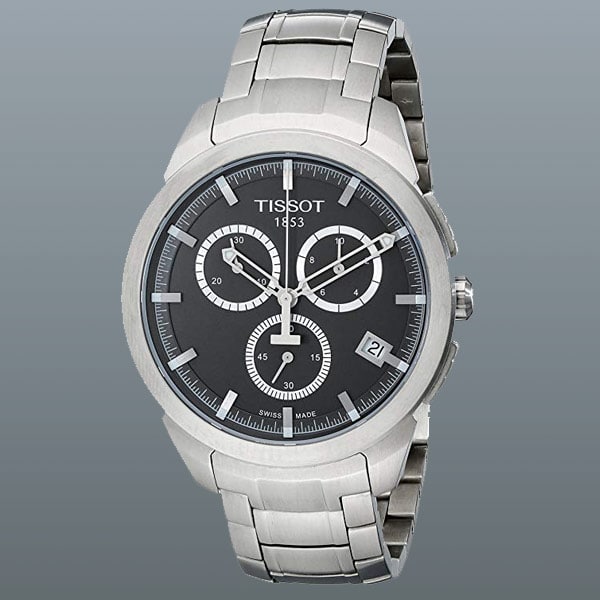 This timepiece blends the functionality of a chronograph in a timeless sports watch style. The Chronograph has subdials to measure 60 second, 30 minute and 1/10th of a second internals. There's also a fixed grey titanium bezel with a matching case and bracelet. An excellent chronograph option for under $250. Pairs equally well with a suit as it does with jeans and a tee.
Tissot Chemin des Tourelles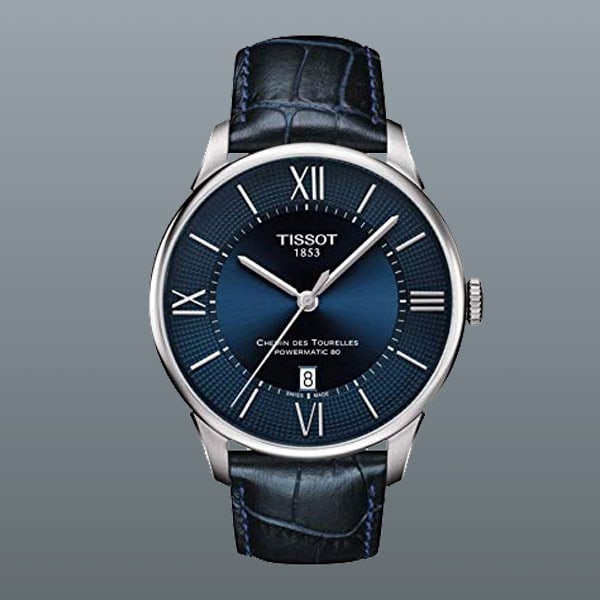 If classic men's dress watches are more your style, opt for the Tissot Chemin des Tourelles. It encapsulates a key part of the brand's history as it gets its name from the street in Le Locle, Switzerland where the first Tissot factory was set up in 1907.
Raymond Weil
As far as pedigree goes, Raymond Weil is a fairly recent entry to the Swiss watchmaking landscape, in that the company got its start in 1976. It was set up primarily to sell quality products to luxury watch buyers that were not interested in spending an arm and a leg.
Headquarters: Geneva, Switzerland
Prices start from: $300
Raymond Weil Toccata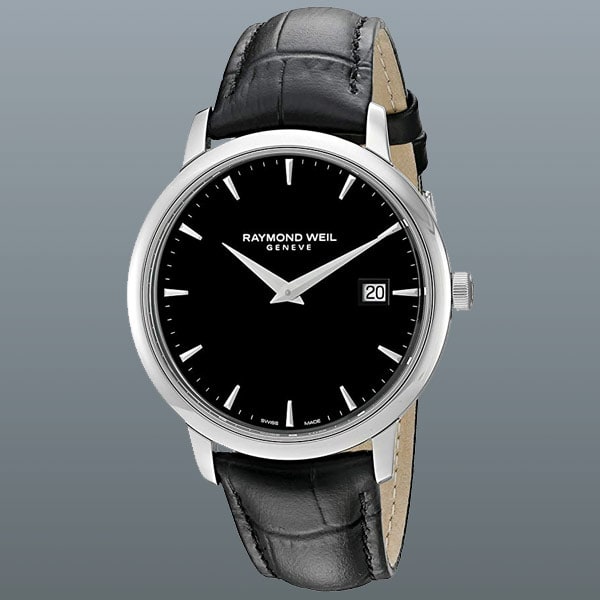 The Toccata's streamlined black dial contrasts strikingly with the stainless steel casing. In other words, this watch grabs attention. This is actually one of the first Raymond Weil watches that I bought for my own collection. It's a good option for customers looking for a slightly more premium dress watch that still costs under $350.
Raymond Weil Maestro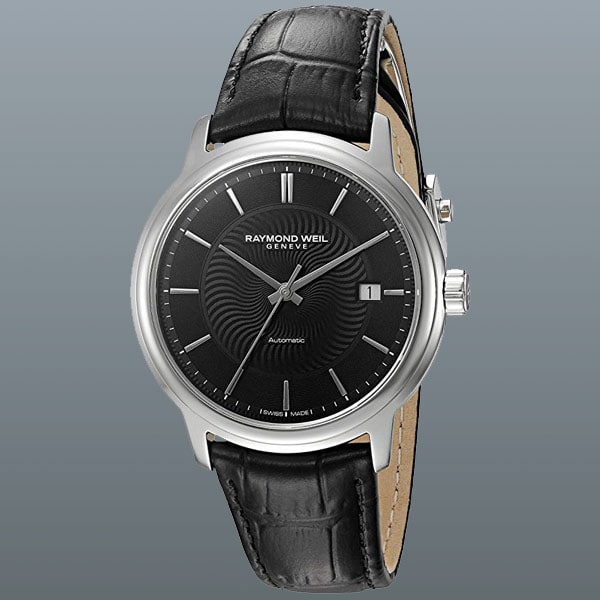 Customers willing to spend a bit more can opt for the Maestro dress watch from Raymond Weil. It has a slightly larger 39mm case and an automatic movement with a date window at the 3 o'clock position. It's hard to beat the value proposition of this watch at $500.
Raymond Weil Tango Chronograph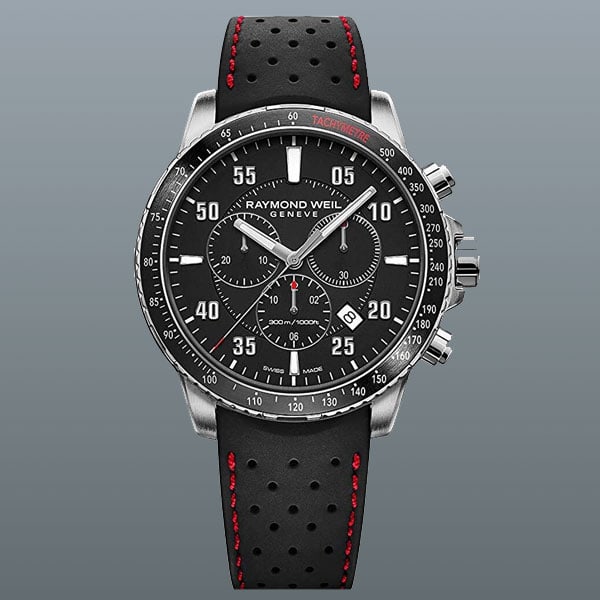 The aluminum top ring on its 43mm case has tachymeter markings while the three chronograph sub-dials display 60 second, 30 minute and 12 hour increments. The design looks sporty with the red stitching on the band giving this $500 watch a distinct look.
Longines
Longines can certainly be considered as one of the best watch brands for men. It was founded in 1832 and has the distinct honor of owning the oldest and still unchanged active trademark for its winged hourglass logo. The company has a long history of making elegant watches that are offered to customers across the entire price spectrum.
Headquarters: Saint-Imier, Switzerland
Prices start from: $650
Longines La Grande Classique Watch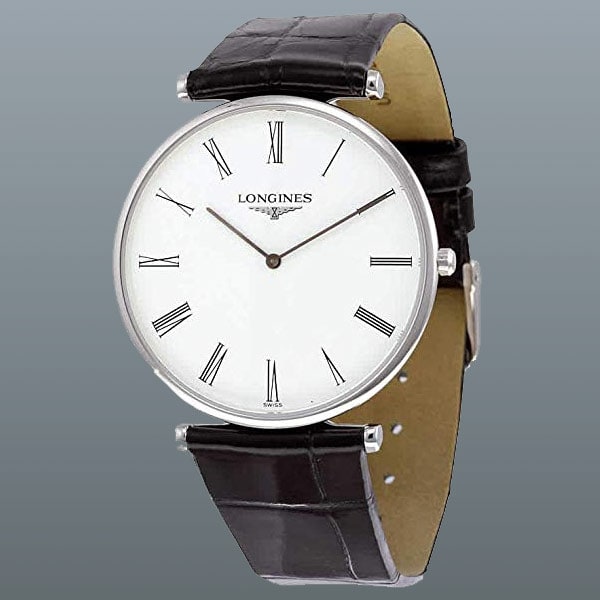 Given the exceptional brand value of Longines, it's no surprise that even its most basic dress watch starts at over $800. The La Grande Classique houses a Quartz movement in a 37mm stainless steel case that's complemented by a black leather strap. The watch is water-resistant up to 30 meters.
Longines Conquest Steel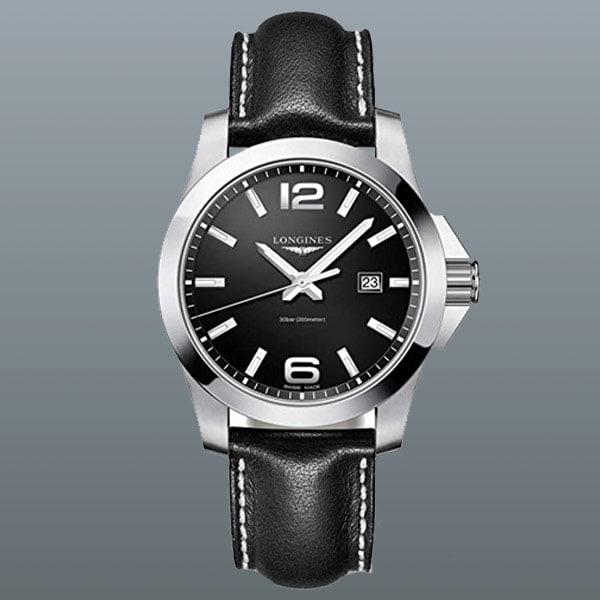 Many men's watch enthusiasts love the Conquest collection from Longines as it offers robust watches that can be used with both casual and formal attire. This watch, the Longines Conquest Steel, has a 43mm case size and is water resistant up to 300m. It's a steal for just $650.
Swatch
Swatch is one of the best known affordable Swiss watch brands in the world. This subsidiary of The Swatch Group got its start in 1983. It has set up in order to counter the influx of cheap quartz watches from Asian manufacturers which had significantly undercut watches from European manufacturers that traditionally used mechanical movements and were thus more expensive.
Headquarters: Biel, Switzerland
Prices start from: $50
Swatch Classic Quartz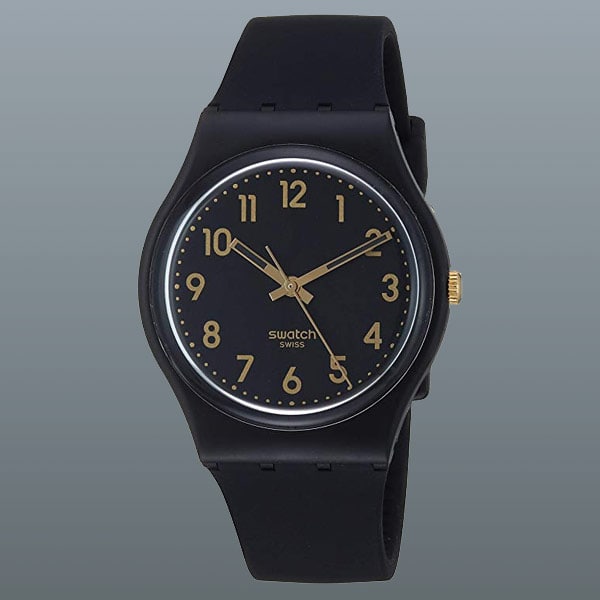 At around $40, the Classic Quartz offers the perfect mix of style and comfort coupled with a two-year warranty and free battery exchange at any Swatch retail location. The Swatch Classic is a great option for those looking for an inexpensive watch still boasting a recognizable brand.
Swatch Irony Skinbrushed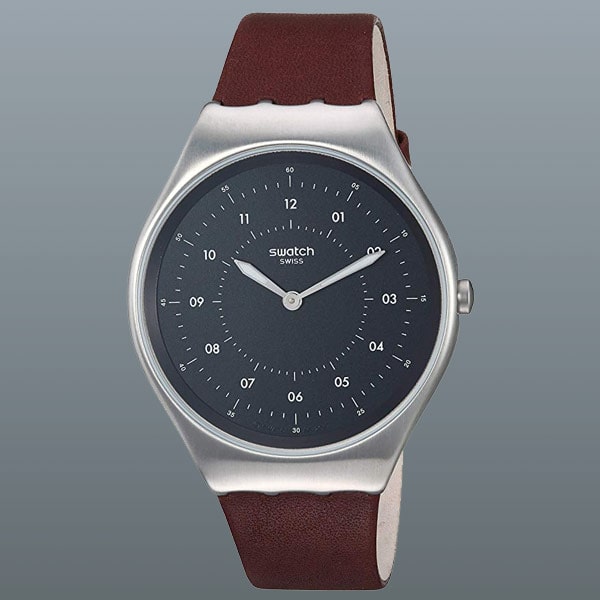 The brand's watches are great at offering modern styles at really affordable prices. The Skinbrushed watch from its Irony collection is a great example of that. It has a casual look with superluminova hands in a brushed steel case. A quartz movement provides accurate timekeeping. Not a bad option for just $150.
Invicta
It will not be possible to talk about the best affordable watches for men without mentioning Invicta. Despite its focus on making affordable watches, the Swiss brand has a long history as it was set up in 1837 in La Chaux-de-Fonds, Switzerland. The company's corporate headquarters is now located in Hollywood, Florida, the United States.
Headquarters: Hollywood, Florida
Prices start from: $50
Invicta Men's Pro Diver Watch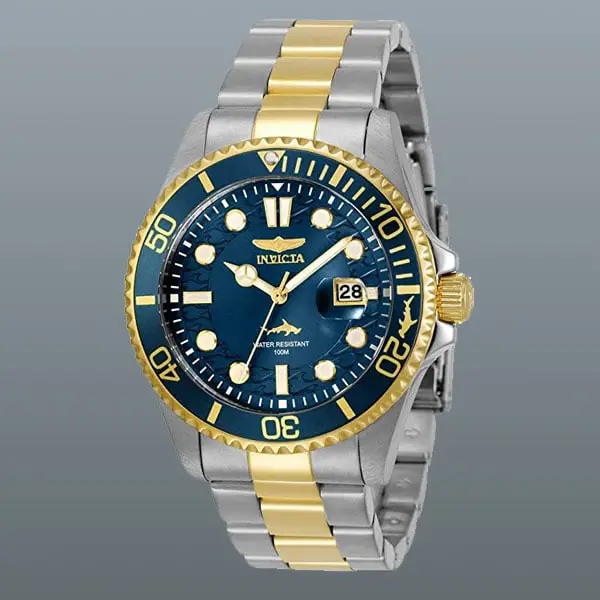 This popular watch from Invicta mirrors its design of that of much more expensive watches. The 43mm stainless steel case is complemented with a two-tone finish. The watch itself happens to be water-resistant for up to 100 meters. There's not much more you can ask from a $60 watch.
Invicta Men's Star Wars Stainless Steel Watch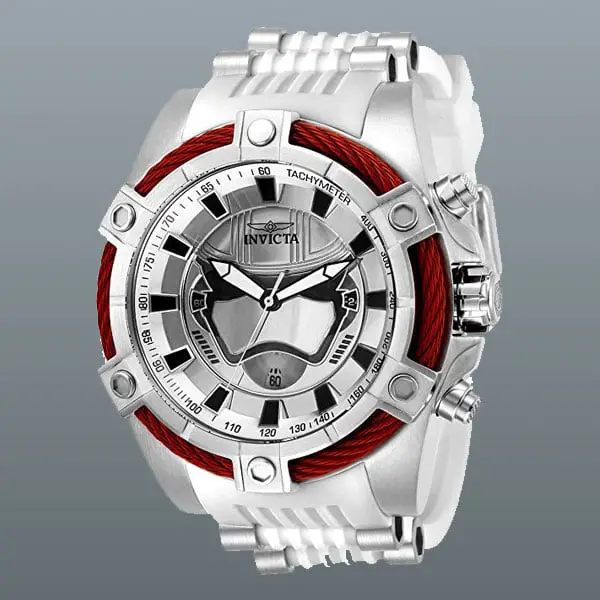 Invicta also has a very cool licensed Star Wars collection. It makes watches that have designs inspired by the epic movie saga that is Star Wars. This particular watch is from that collection and is modeled after Stormtroopers. With the hype for the upcoming Star Wars movie at an all-time high, this $234 watch with its 52mm steel case and Flame Fusion crystal will be great for your collection.
Fossil
Fossil was founded in 1984 and has quickly become one of the biggest manufacturers of fashion watches. The group also makes licensed watches for major fashion brands like Emporio Armani, DKNY, Diesel and more. Affordable watches that are in tune with the latest fashion trends are its specialty.
Headquarters: Richardson, TX
Prices start from: $75
Fossil Townsman Steel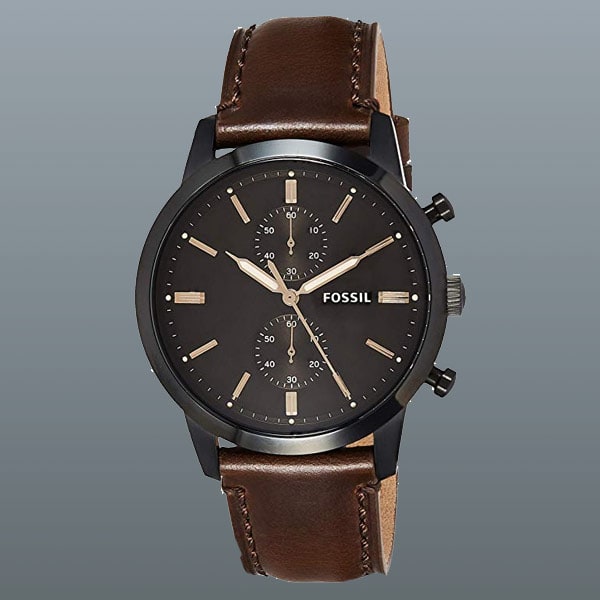 The 44mm Townsman captures the ethos of Fossil's watches beautifully. At $93, it's a quality watch with a quartz movement and water resistance up to 50 meters.
Fossil Grant Chronograph Watch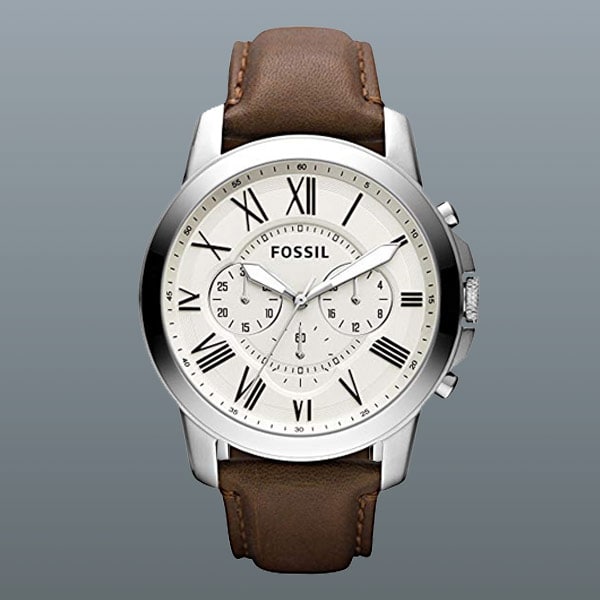 If chronographs are your cup of tea, opt for this particular Fossil watch. The 44mm case size is perfect for a chronograph and it comes with a genuine brown leather band with buckle closure. A great option for $72.
Citizen
Citizen is another great Japanese watch manufacturer. It was founded more than 100 years ago. The brand's strength lies in its vast collection of affordable watches.
Headquarters: Nishitōkyō, Tokyo
Prices start from: $70
Citizen Men's Two-Tone Quartz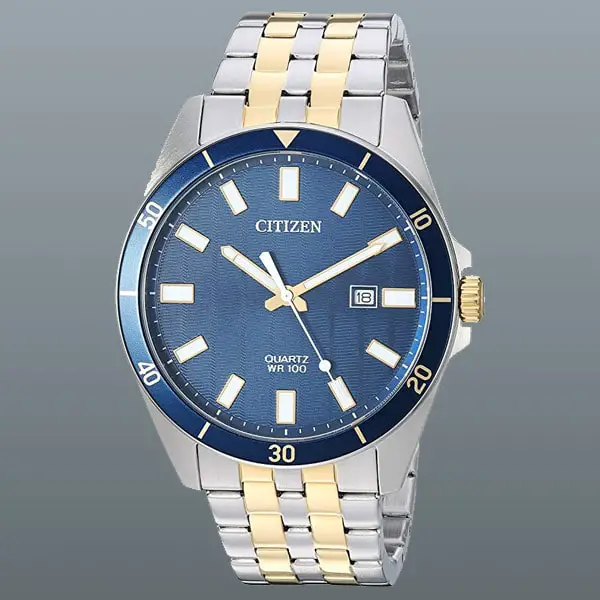 A staple of the Citizen collection, this stainless steel watch has a 42mm case and is water-resistant to 100m. At ~$70, it's a great option for those who want a quality timepiece.
Citizen Eco-Drive Action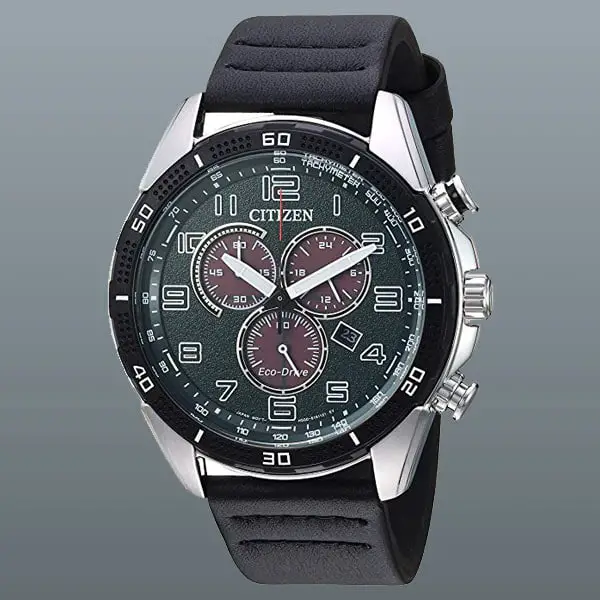 Citizen's Eco-Drive watches are unique because they are powered by light. They never require a battery. There's a Japanese quartz movement inside so it guarantees accurate timekeeping. That's not a bad value proposition for $138.
Daniel Wellington
Daniel Wellington is a very recent addition to the watch landscape, having been founded just 8 years ago in 2011. However, the company's watches have become incredibly popular because of how fashion forward they are and the brand's masterful use of social media.
Headquarters: Stockholm, Sweden
Prices start from: $100
Daniel Wellington Classic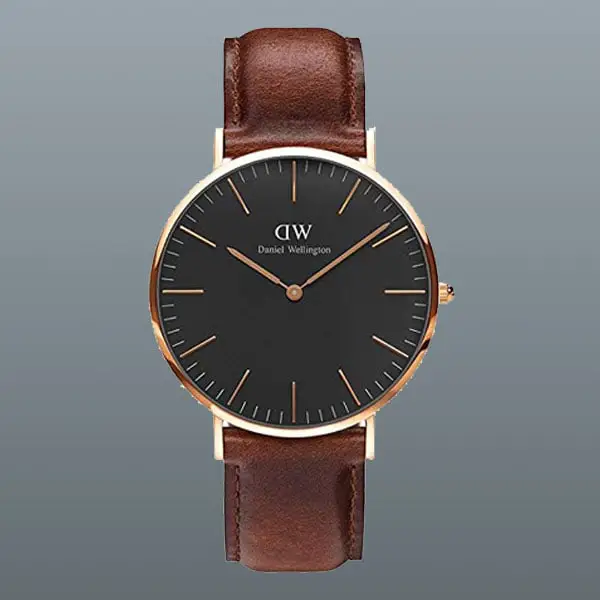 One of the most recognizable pieces from this brand, the Classic has a 40mm stainless steel case with a nice brown leather strap. It's a great dress watch option for $229.
Daniel Wellington Classic Cornwall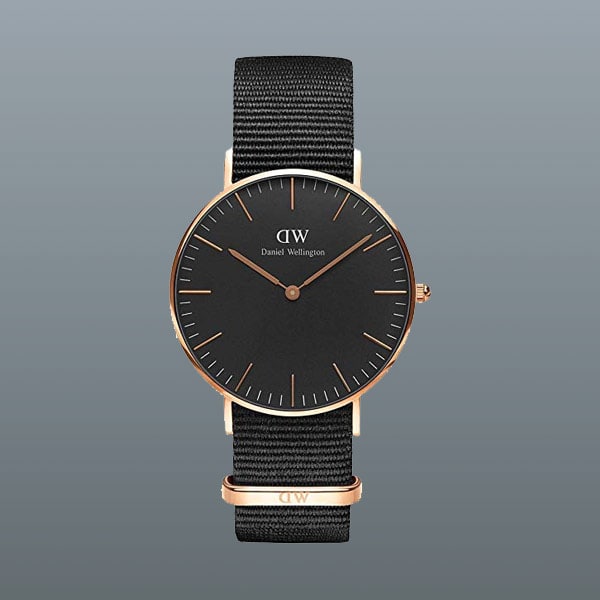 The distinctive dial sets this 36mm watch apart in addition to its all-black NATO strap. The sleek and elegant design is sure to capture the attention of people around you. It's a steal at $109.
Timex
Timex was founded back in 1854 and has its roots firmly in the history of American manufacturing. It remains a respected watch brand and many of its models are sought after by watch fans. Though they're not priced highly, Timex has a solid reputation of delivering a great bang for the buck.
Headquarters: Middlebury, Connecticut
Prices start from: $40
Timex Southview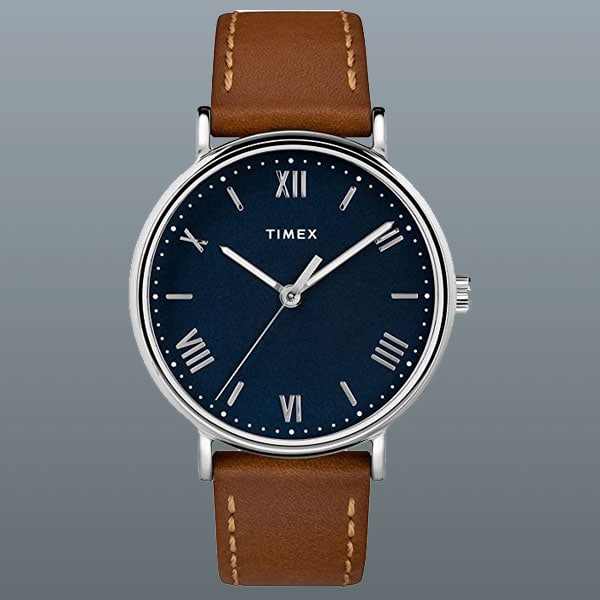 This 41mm watch has a sleek design that's complemented by a genuine leather strap. At $40, this quartz watch is a no brainer and works perfectly as a casual daily driver.
Timex Intelligent Tide Temp Compass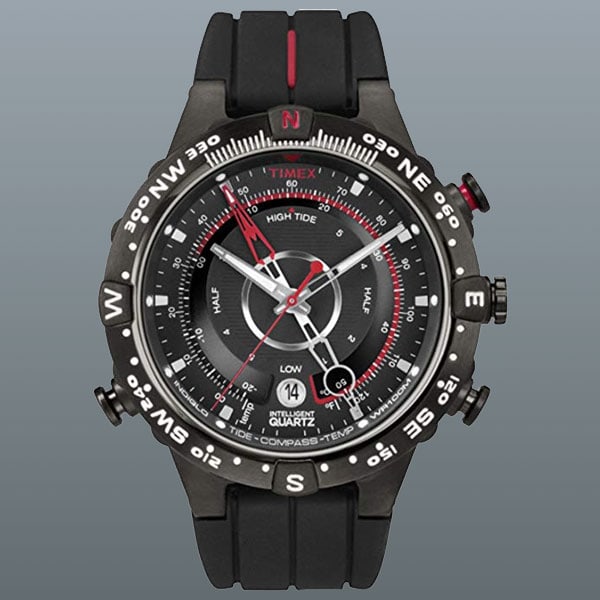 This is a great example of a functional watch. There's a built-in compass with adjustable declination angle. It even has a tide tracker which can show the time remaining to the next high or low tide. Other features include a digital thermometer with an analog display. The kicker? It costs just $110.
You might like these other popular posts too