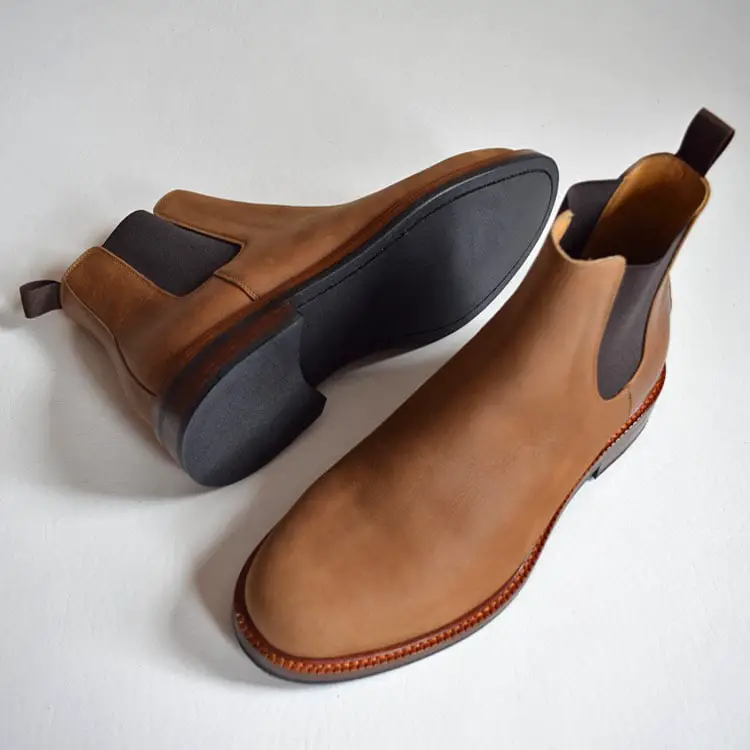 T
T
hese days, you won't have to search far and wide to find a pair of leather shoes online. But with so many brands to choose from, what separates the best from the rest?
"All shoes are not created equal."
Beckett Simonon specializes in made-to-order, direct-to-consumer leather footwear with ethics — both human and animal — embedded in the company's ethos. In this digital age, digitally-native companies spring up regularly. Companies like Warby Parker, Bonobos, Dollar Shave Club, and Beckett Simonon champion the idea that cutting out storefronts and distributors (AKA the middleman) cut unnecessary costs. Lower manufacturing and operation expenses typically mean the savings pass down to the consumer. As consumers, we enjoy this.
This manufacturing and distribution model allows Beckett Simonon to offer their handmade leather for a fair price (and I mean really fair). A pair of handmade, full-grain leather oxfords with Blake stitching can run you $199 or less while full-grain leather sneakers can be had for ~$100. Occasional sales often offer two pairs of shoes for $299 shipped from Beckett Simonon's Colombia workshop. The Preston Chelsea boots we're reviewing today retail for $219.
The caveat to all this? It takes time.
For instance, I ordered these Preston Chelsea boots in mid-April and they arrived in early July. Is it an absurd turnaround time? Definitely not, but it's something to consider if you're looking for some footwear for a specific occasion. Since these items are made-to-order, sizing is important to get right the first time around, but Beckett Simonon does have free returns in case the kicks don't fit perfectly. Finally, let's jump into this Beckett Simonon Preston Chelsea boot review.
Beckett Simonon Preston Boots Unboxing
I won't lie to you; I was pretty excited to receive these Chelsea boots and was delighted when they arrived at my doorstep. It was hardly a surprise, though, since I received several emails documenting the entire manufacturing process right up until the final tracking information email. As someone who geeks out about the behind-the-scenes of creating products, I found it interesting learning who was stitching my boots and why they opted for a Blake stitch. Surely enough, I rested easier at night knowing my boots were safely resting in their last so their leather took shape.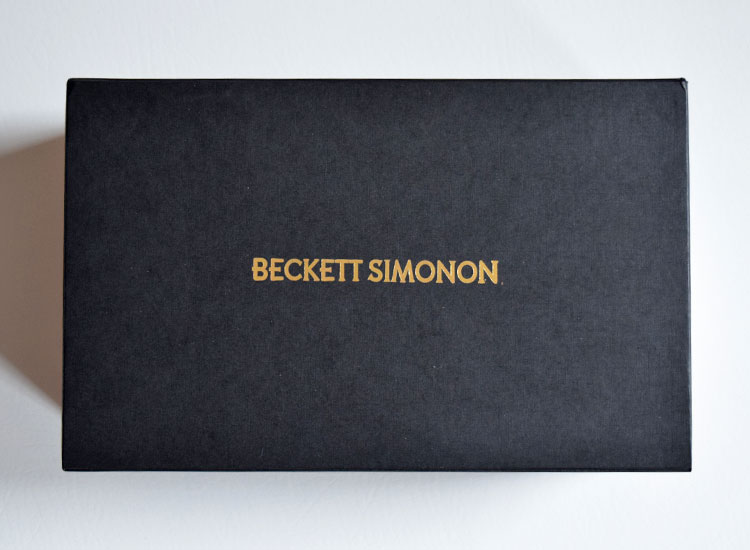 The shoebox itself presents gold embossed Beckett Simonon branding along with a sticker noting the model and size of its contents. TL:DR it's a regular shoebox.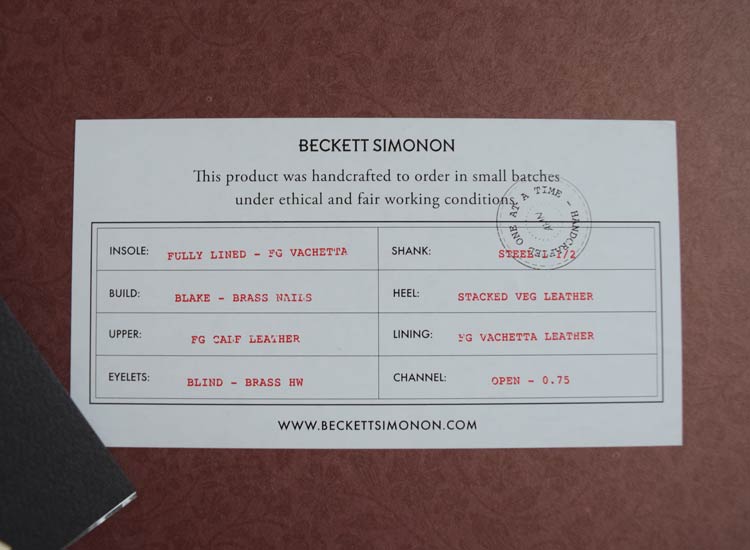 The underside of the lid has a sticker describing the boots' components and materials in greater detail. These Chelsea boots boast Vachetta leather lining, a soft and supple material typically found on more expensive luxury footwear – sweet.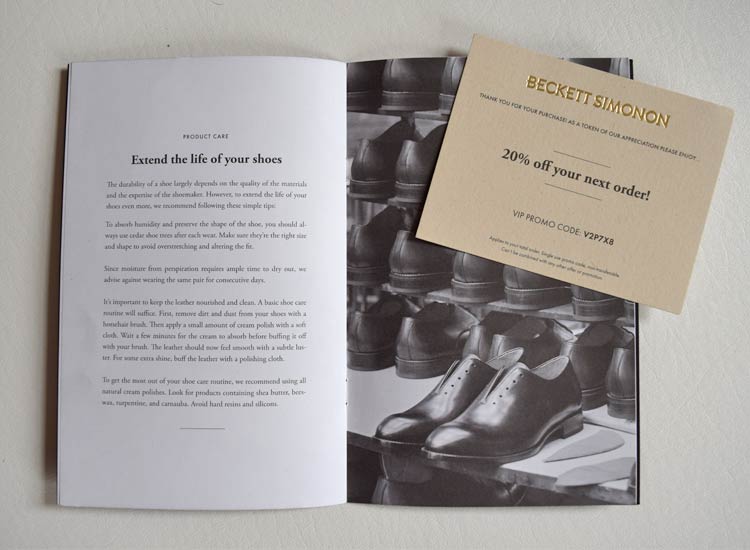 The package also includes a nice informational booklet about Beckett Simonon's origin, shoecare tips, and general info about your new shoes. My order included a unique 20% off promo code as well. The code is V2P7X8 in case a reader wants to use it. Please message me if you snagged it.
The folks at Beckett Simonon were kind enough to create a discount code just for my followers as well, so use SOM at checkout to save 20%! I do not receive commission for any sales using this code 🙂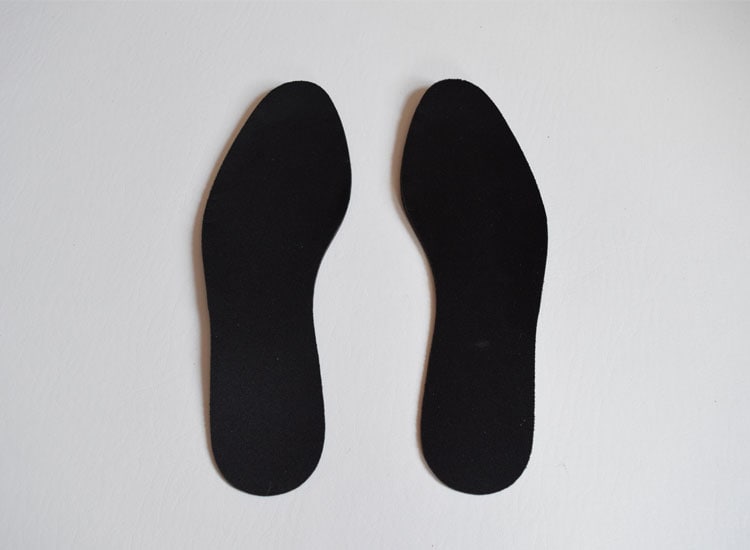 Since most of Beckett Simonon's footwear campaigns are only offered in whole sizes, getting the fit right can be tricky. To combat the issue of no half sizes, Beckett Simonon includes these foam sole inserts that add about a half size to your boots. It's obviously not as great as having the actual half size for the shoe itself, but it comes pretty damn close.

The Chelsea boots themselves come packed in felt dust bags to protect them during shipment. I like using these for storing footwear in my luggage for longer trips, so I'm glad they're included.
Beckett Simonon Preston Chelsea Boots Review

This particular version of the Preston Chelsea boots is made with pull-up leather and dyed a walnut color. Pull-up leather differs from other leathers by incorporating hot oils and paraffin wax into its outer coating. This creates a soft, suede-like leather that develops a patina when it stretches or pulls. As you wear the boots, they'll begin to lightly distress as the oil coating shifts around resulting in a unique finish. You can think of it as the "raw denim" of leather footwear.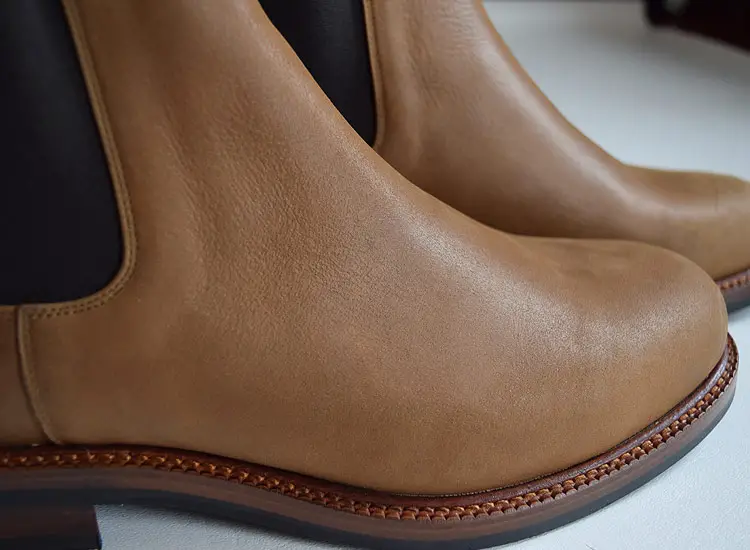 The unique finish of the leather really does add some character to the boots. The Preston Chelsea boots feel smooth to the touch, but the leather itself resembles a sort of less-fuzzy suede. I'm a big proponent of having the textures of my garments and footwear play into my outfits, so these are a welcomed addition to my boot lineup. The Blake stitching had no loose threads or errors, so props to the QA team.
By the way, Blake soles are resoleable, so don't worry about beating 'em up a bit!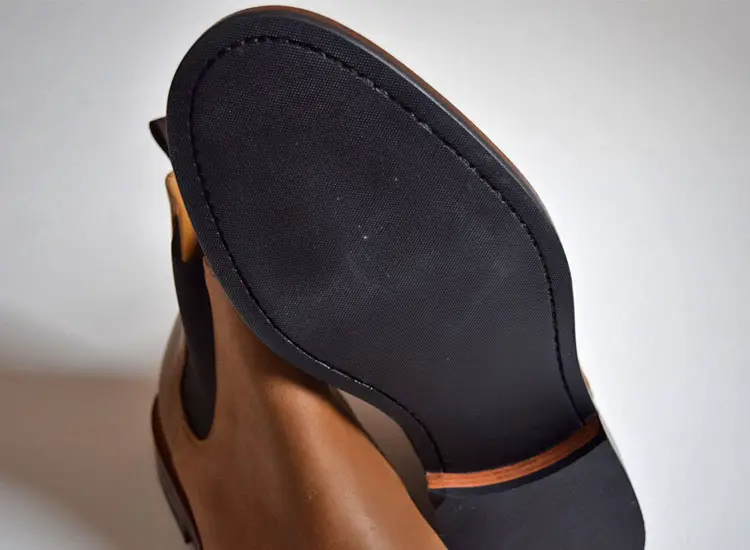 The Prestons come equipped with an SBR rubber sole, which is typically used as a substitute for natural rubber. Aside from having excellent abrasion resistance, SBR rubbers age particularly well, especially compared to natural materials. I do wish the soles had more grip though since they don't provide a ton of traction.
Sizing & Fit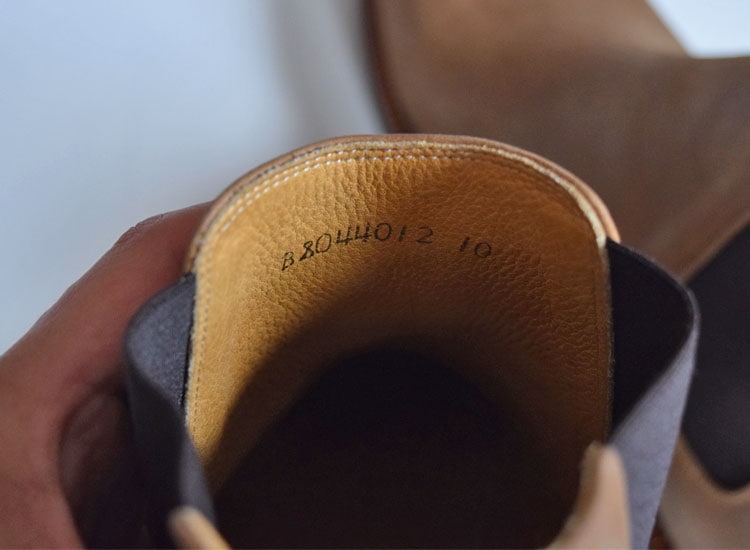 Chelsea boots obviously lack lacing or any sort of real fastening system, so getting the fit right isn't always easy. On that same note, far too many manufacturers insist on having abnormally large foot openings at the top of their Chelsea boots so that the elastic bands serve essentially no function at all.
Fortunately, this was not the case with my Beckett Simonon Preston Chelsea boots 🙂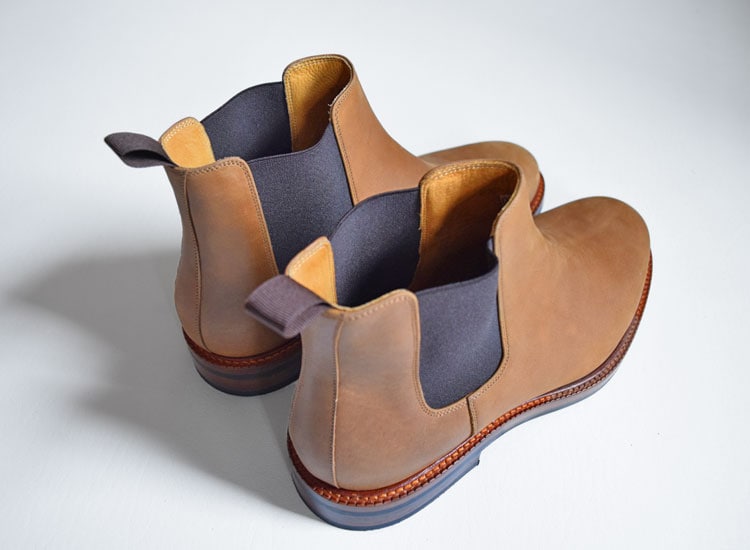 The top opening is just the right size, although I did have to use the included foam inserts to get the fit just right. Weather permitting, thicker socks should do the trick as well.
In terms of comfort, I'm pretty satisfied with the fit and breathability of the Prestons, even during the notorious "break-in period" of leather boots. Daily wear hasn't been painful in the slightest and I'm sure they'll get more comfortable as the pull-up leather stretches and morphs to my foot.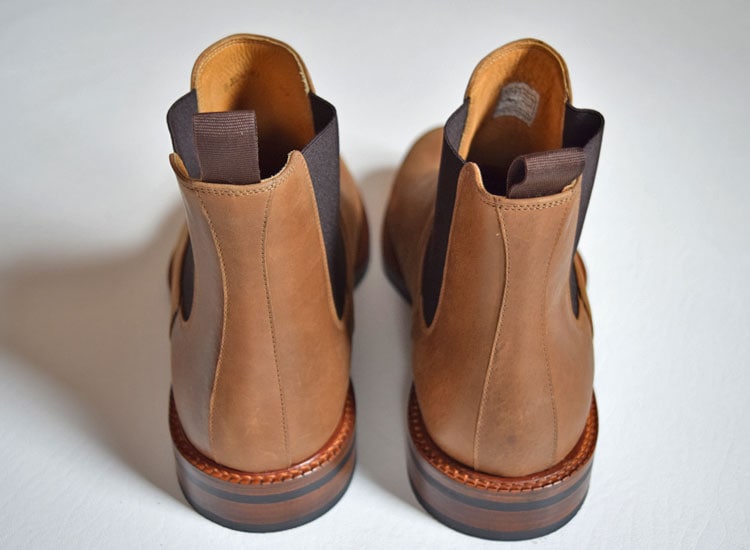 Final Thoughts
For $219 shipped to the US, a pair of handmade pull-up leather Chelsea boots with Blake stitching is a no brainer. Yeah, waiting a couple of months for the boots to arrive may deter some, but it was a non-issue for me. I do wish the sole had more traction and the removable foam sole insert was a little bit thicker, but they're minor gripes.
All things considered, I'm pretty happy with the Preston Chelsea boots. Prior to ordering, I wasn't totally sold on the pull-up leather, but I'm glad I went for it. I'm looking forward to seeing how the leather ages and how the fit + comfort changes as well. I'll be sure to post an update after a few more months of wearing these boots, so stay tuned!
Check out the Beckett Simonon Preston Chelsea boots Here (non-affiliate link)