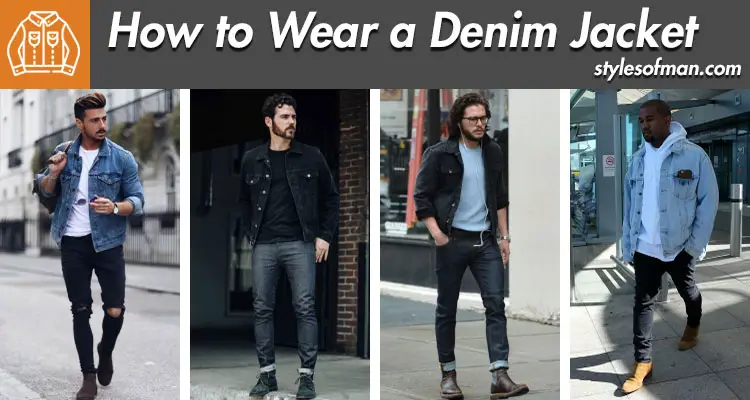 Denim Jacket Outfits For Men
In most of the Western world, blue jeans are the standard casual pants for both men and women. But denim doesn't just belong on your legs. It can also make for a cool, stylish jacket. Not only that, but it's also durable. If you're an outdoorsy person, it's not always practical to wear a sports jacket. And leather is an entirely different beast that isn't the right look for everybody. Denim provides a comfortable, viable alternative. Jean jacket outfits for men may seem straightforward enough, but there's a difference between wearin' one and rockin' one!
A good men's jean jacket will have a collar, as well as a tapered design that provides that V-shaped profile we all crave. It can be thick and decorative, like a biker jacket, or it can be thin and lightweight for a lumberjack look. Regardless, it provides a casual look that screams "I don't need to wear a suit!" But if you do, you'll love our formal attire guide!
It's also a versatile jacket. You can look like a truck driver, a biker, a cowboy, a rock star, or a rebel without a cause just by switching up a few accessories. And with its timeless look, you won't have to worry about your jean jacket going out of style any time in the foreseeable future.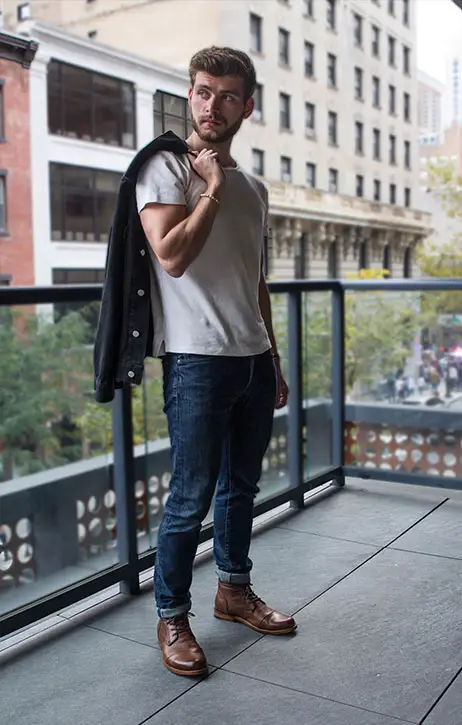 But how do you wear a jean jacket? It's easy enough to throw on a Levi's trucker and call it day, but how does one wear one fashionably? Here's a quick overview of how to create the best jean jacket outfits for men.
Men's Jean Jacket Do's and Don'ts
Let's start with the basics. If you're going to wear a jean jacket, there are a few things you need to keep in mind, regardless of the outfit.
Don't wear a Canadian tuxedo. The term "Canadian tuxedo" comes from a famous incident in the 1950s. American crooner Bing Crosby showed up to an expensive Canadian hotel wearing a denim jacket and matching jeans. He was refused entry, and Levi's jeans ended up creating a denim tuxedo to take advantage of the publicity. This fashion faux pas is also called "double denim", and it's not a good look. You can wear jeans with a denim jacket, but they should be a distinctly different color.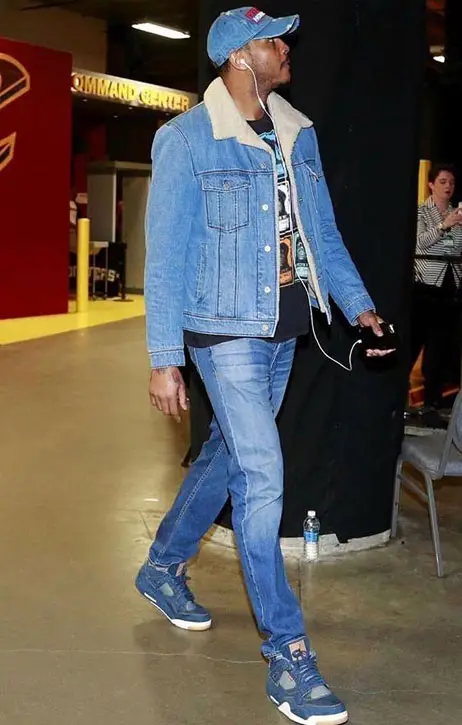 Do be aware of the color. Denim is a strange beast. When it's dark in color, it looks a little bit more dressed up. When it's faded, it looks casual and rugged. Depending on the color of your jacket, you're going to want to dress up or dress down the rest of your outfit accordingly. A medium wash is generally the best pick. This coloring is more versatile, and can be paired with a wider variety of other clothing. Not only that, but it tends to be a bit softer than a dark wash, which makes it more comfortable.
Don't wear a glossy shirt underneath. We're looking at you, gym rats. It might be tempting to throw that denim jacket over your Under Armour shirt. Please, don't. A denim jacket might be casual, but it's not that casual. Just wear a hoodie or a sweatshirt instead.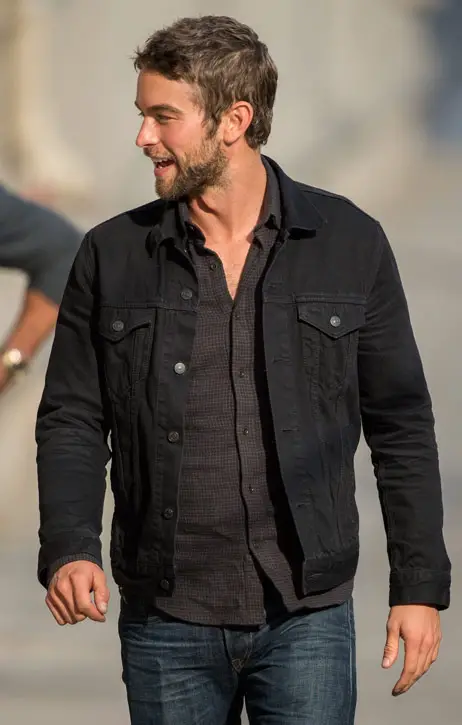 Do go casual. On the flip side, a denim jacket doesn't look great over a dress shirt. Unless you're from Texas and you're wearing a bolo tie, it's going to look out of place. Go casual, with a white tee shirt or a turtleneck underneath, and you'll hit the sweet spot. In chilly weather, a hoodie can even pair well, providing a more "urban" look.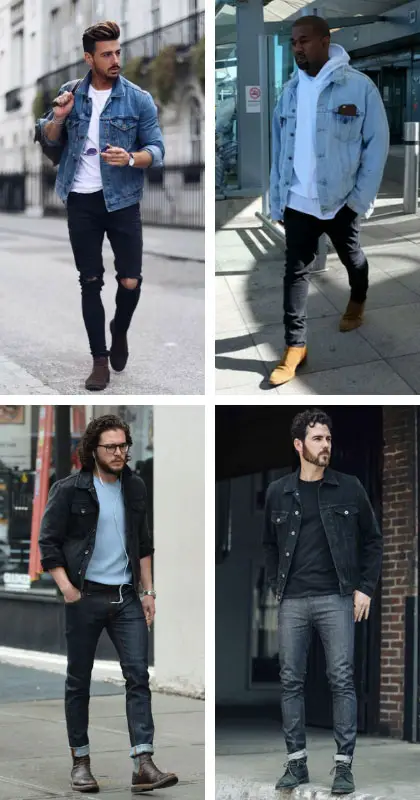 Pants to Pair with Denim Jackets
So, you've got yourself a denim jacket and a casual shirt. What do you wear on your bottom half? Unless you're going for the Donald Duck look, you're going to need some pants! Here are a few good options.
Chinos or Khakis
One way to avoid the Canadian tuxedo is to eschew jeans altogether. To steer clear of double denim, you can throw on a pair of chinos. They're cotton, and they're comfortable. And with their military background, they're also exceptionally durable, befitting a denim pairing.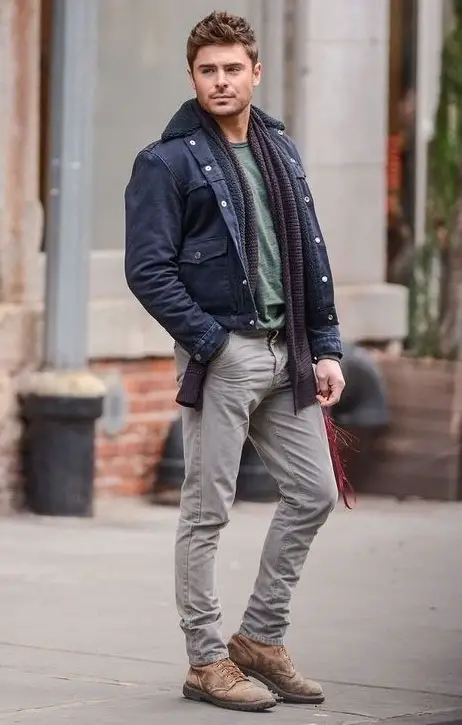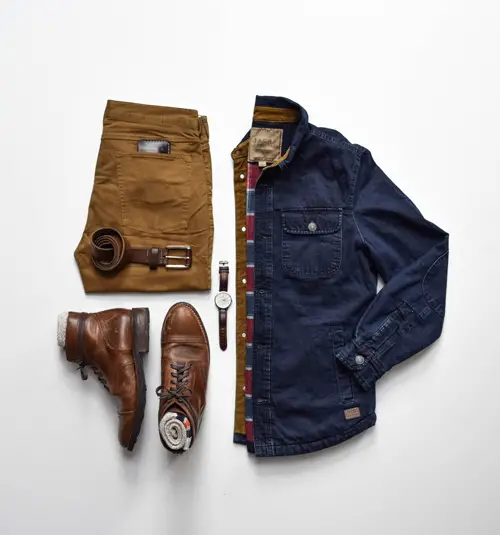 In the summertime, chinos pair best with a T-shirt, lending them a comfortable, casual look. With pleated chinos, you can throw on a turtleneck sweater and look a bit dressier. Because chinos are so versatile, they can form the cornerstone of just about any jean jacket outfit.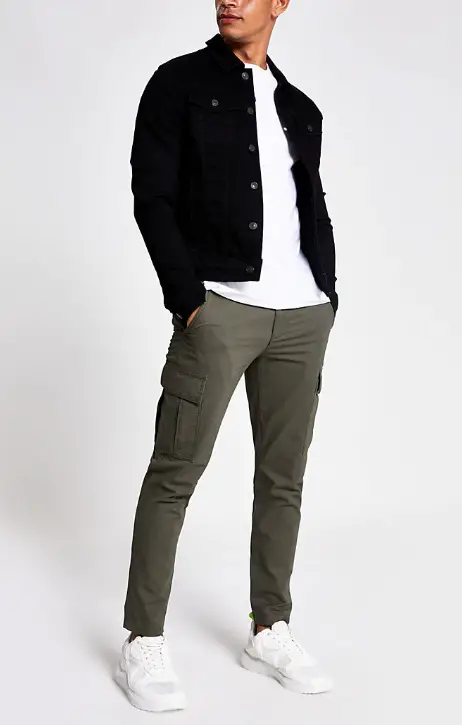 Corduroys
Another casual alternative is a pair of corduroys. They look a bit dressier than chinos and khakis, but they still don't fall into the category of formalwear. And, like denim, they're durable. Go with a darker, tighter fit for a dressier look. For a more relaxed look, choose a relaxed fit in a lighter color. It all depends on the look you're trying to achieve.
Non-Matching Jeans
Contrary to popular opinion, double denim is a viable option, although that comes with a caveat: your jeans can't match your jacket. Light jeans with a dark jacket are a viable option, as are dark jeans with a light jacket. Alternatively, consider some black or charcoal jeans. They'll pair well with just about any denim jacket.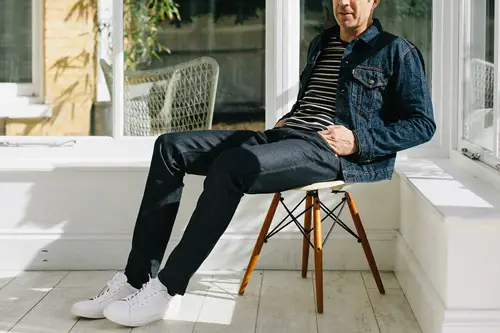 If you want to push things to the limit, you can even break all the rules and rock a Canadian tuxedo. This may or may not be acceptable depending on where you live. If you're in New York, you're going to look out of place. But in Texas or anywhere in the Rockies, there's no hard and fast rule against it. But the rule about color still holds. A darker matching outfit looks dressier, while a lighter matching outfit looks more relaxed.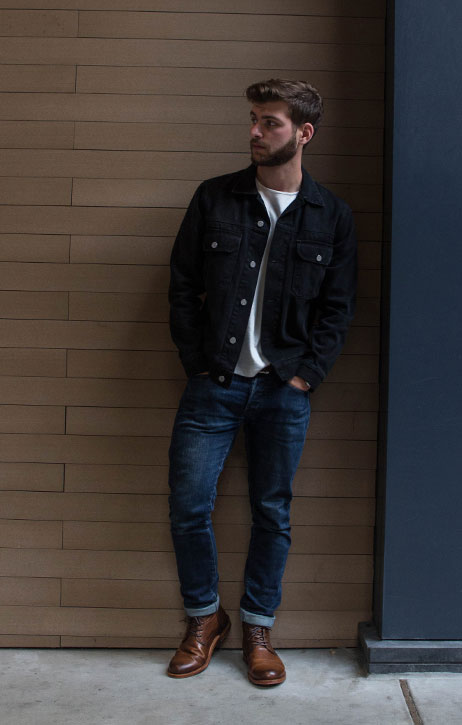 Choosing Shoes to Match
Because jean jackets are casual, you should go with a casual pair of shoes to match. Sneakers are the go-to option for most people, and they'll work just fine here. If you want to dress up your denim jacket, consider a set of derby shoes or Oxfords. Avoid a glossy finish, and they're virtually guaranteed to pair well. Want to go a bit edgier? Throw on a pair of boots, and you'll complete the package.
As an easy rule of thumb, pair your denim jacket outfits with boots in the fall/winter and white sneakers for the warmer weather. Looking for more visual inspiration? Check out the Styles of Man Instagram page!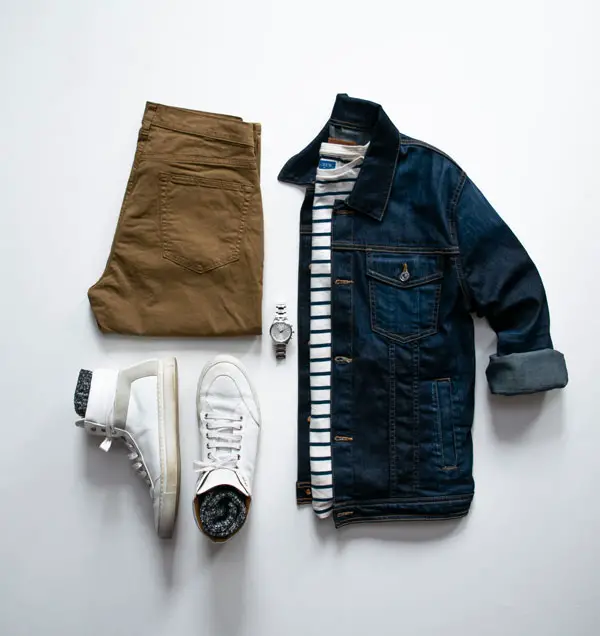 You might like these other popular posts too