Form or function? A men's scarf can do both, though it lends itself to be more of a functional garment once the bitter winter rolls through. Though donning a scarf isn't inherently difficult, there are different knots and drapes for each occasion. We'll help you brush up on how to wear a men's scarf this winter!
Scarf Fabrics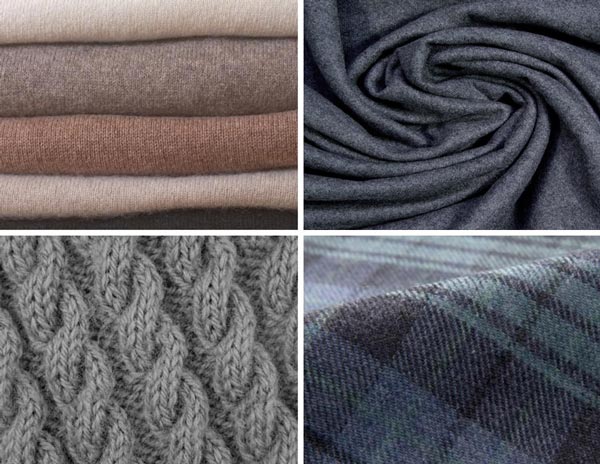 The fabric of your scarf will help inform you how to wear it. Silk, satin, and other lighter weight fabrics work best as a finishing touch to an outfit. Heavier fabrics such as cashmere or wool are best for keeping warm and combatting chilly temperatures.
For those looking for the most versatile scarf, we'd recommend opting for a mid to heavyweight wool fabric. It'll complement most coats and jackets without acting as strictly a statement piece.
How to Pick the Right Men's Scarf Length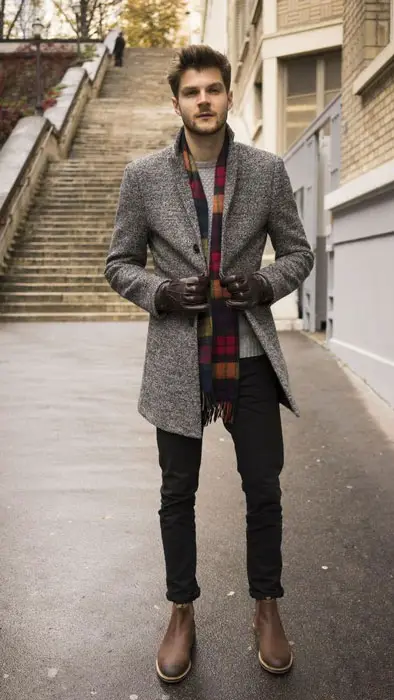 Though many scarves could be considered unisex, the main difference between men's and women's scarves lies in the width of the fabric. Men's scarves usually hover between 6-7 inches whereas women's scarves tend to be 10 inches or so. However, this is not prescriptive. If you like a wider scarf channel your inner Lenny Kravitz and go for it.
How to Tie a Scarf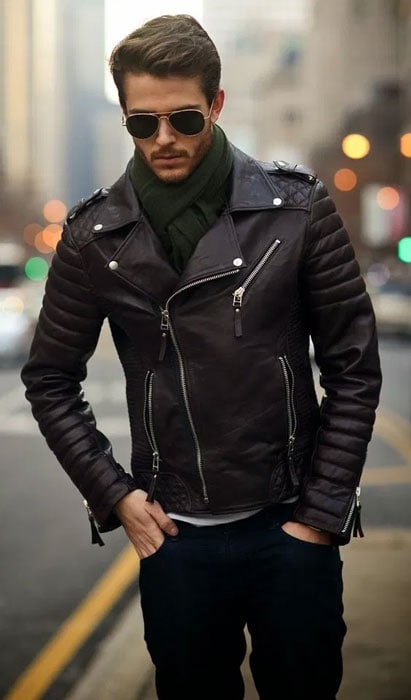 Tieing a scarf is a lot like tieing a dress tie; there are plenty of ways to do it and the preference varies from person to person. The spectrum these scarf knots fall on range from strictly stylish to optimum warmth and everything in between. Below we'll explore different knots and that you can master in minutes with just the help of a mirror.
Scarf Knots
Parisian Knot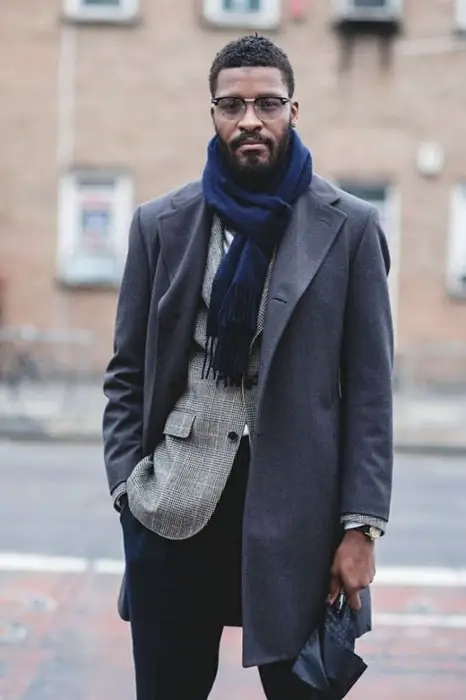 This knot is both stylish and warm. Use a longer scarf to achieve this look. The Parisian knot pairs best with thicker, long outerwear like a peacoat or overcoat. Neutral tones are the safest bet, but red, orange, and mustard can add a nice pop of color to your men's winter outfit.
Fold the scarf in half, end to end. So, there's a loop on one end.
Drape the scarf around your next. The loop should fall over one shoulder and the two touching ends on your other shoulder.
Pull the two loose ends through the loop.
Tug on the loose ends so the loop tightens up to your neck.
The Four-In-Hand Scarf Knot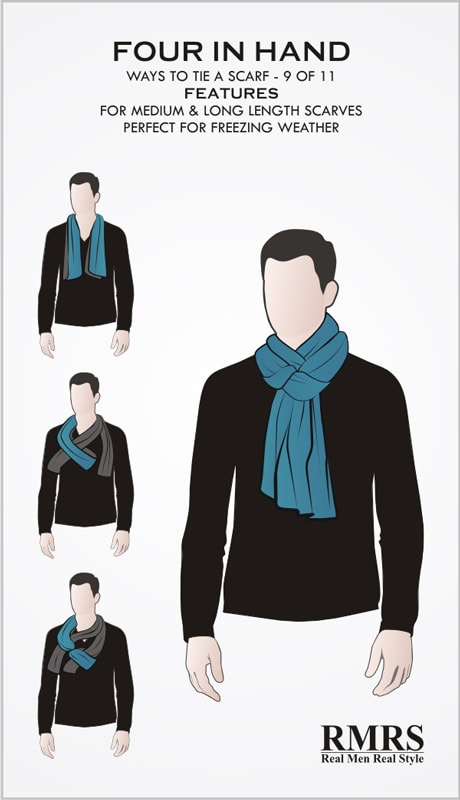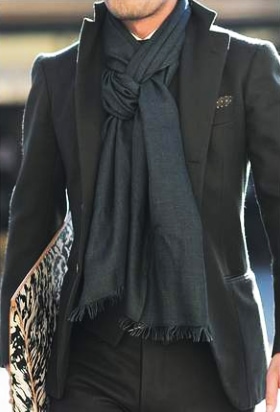 A bulkier knot than the Parisian, this tie is better suited to lighter scarves such as cashmere or thinner cotton. Wear your scarf this way to ensure extra protection for your neck and chest.
Follow the instructions above for the Parisian knot, but stop after step number 2.
Instead of pulling both of the loose ends over and through the loop, only pull one.
The second free end is then pulled through underneath the loop.
Pull the ends and tighten as you wish.
The Overhand Scarf Knot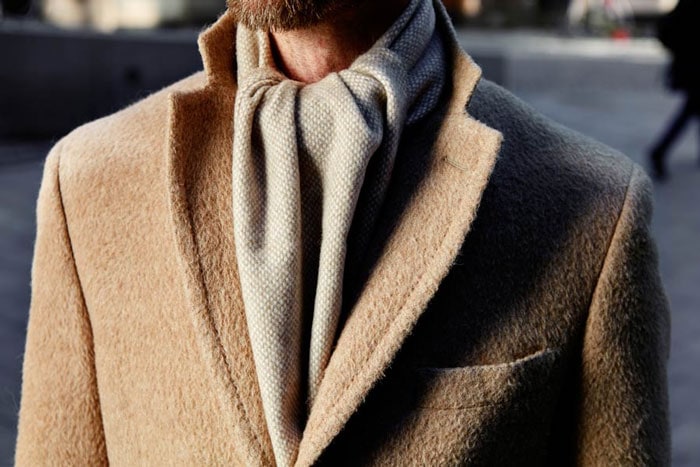 This knot exudes effortlessness without sacrificing style or warmth. Use a medium to long scarf paired with heavier outerwear for the optimal look.
Drape the scarf around your neck. One end should hang longer than the other.
Take the long end of the scarf and cross it over the shorter end.
Pull it underneath the shorter end and through the loop you've just created, making sure to pull it over top itself. (This is where the overhand part comes into play).
Pull both ends of the scarf to tighten and don't worry when one end is slightly shorter than the other. That's a sign of success.
Scarf Drapes
The Simple Drape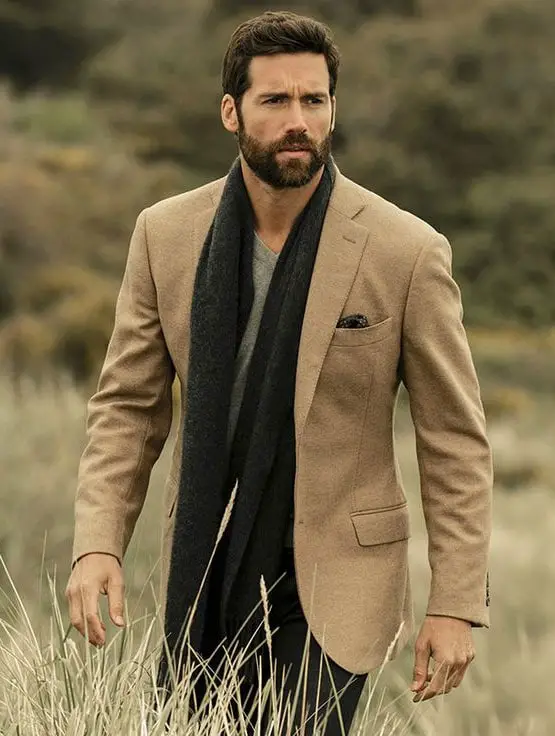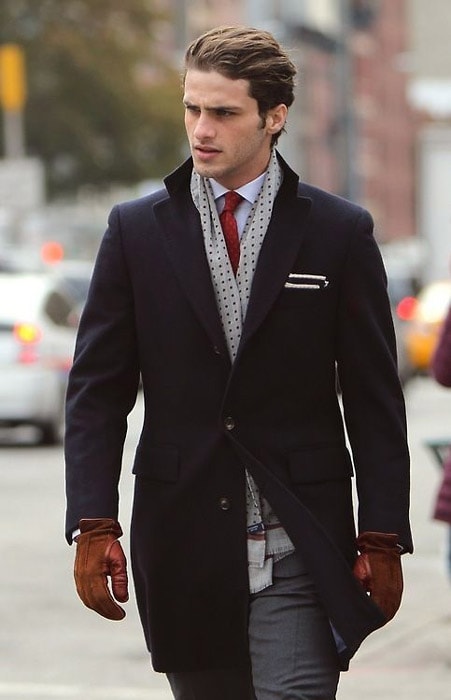 The one, the only, the namesake. The simplest way to wear a scarf. The drape is more for fashion than for shielding yourself against the elements as it doesn't cover as much skin as other knots or drapes. Wear the drape with a coat, tucked into a sports jacket, or just as is. It's up to you.
Drape the scarf around your neck so a loose end is hanging over each shoulder.
Yep, that's really all there is to it.
The Once Around Drape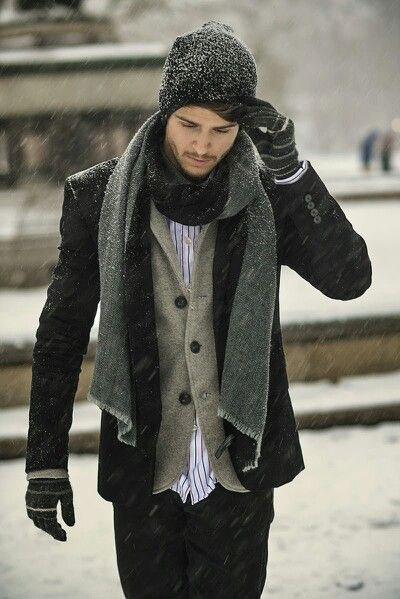 This may just be the second simplest way to tie a scarf. Grab a longer scarf, wrap it once, and set on about your day.
Drape the scarf around your neck so the two loose ends are hanging off opposite shoulders. Make sure one is longer than the other.
Take the longer end and bring it around your neck to its original position.
That's it! No need to tie a knot.
The Reverse Drape
Perfect for colder weather and tucked into a jacket, this style will protect your neck without moving. The Reverse Drape works best with thicker scarves as it'll "stack" on itself for more efficient cold protection.
Drape the scarf around your neck.
Take one loose end and pull it over the opposite shoulder.
Repeat with the other end.
No need to tie, just slip a coat on overtop and go.
You might like these other popular posts too