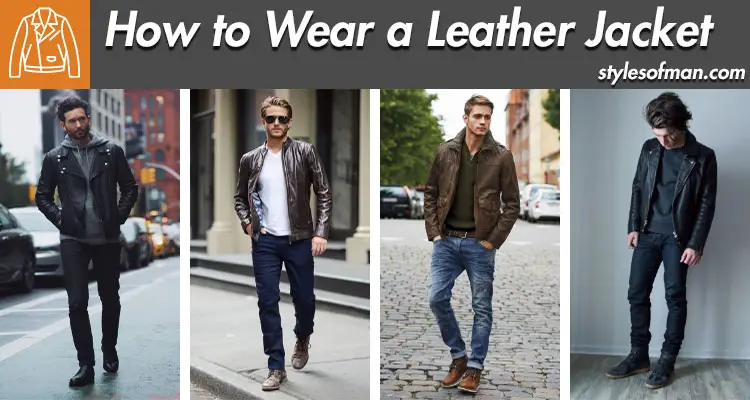 No man's wardrobe is truly complete without a tried-and-true leather jacket. This classic garment has stood the test of time, remaining popular in men's fashion for over a century. Leatherworking itself is an ancient craft filled with traditions that predate modern fashion, but the leather jackets we know today came to popularity in the early 20th century. Despite evolutions in material and construction over the years, the leather jacket stays true to its original form. In this guide, we'll show you how to create stylish leather jacket outfits for men that'll be sure to impress!
Like buying a great suit, investing in a leather jacket is considered by many to be a symbol of masculinity. While a real leather jacket may be quite a bit of an investment, if properly cared for it will last forever. In this guide to men's leather jackets, you'll not only learn how to wear a leather jacket, but how to find the right style and leather quality for you and your budget.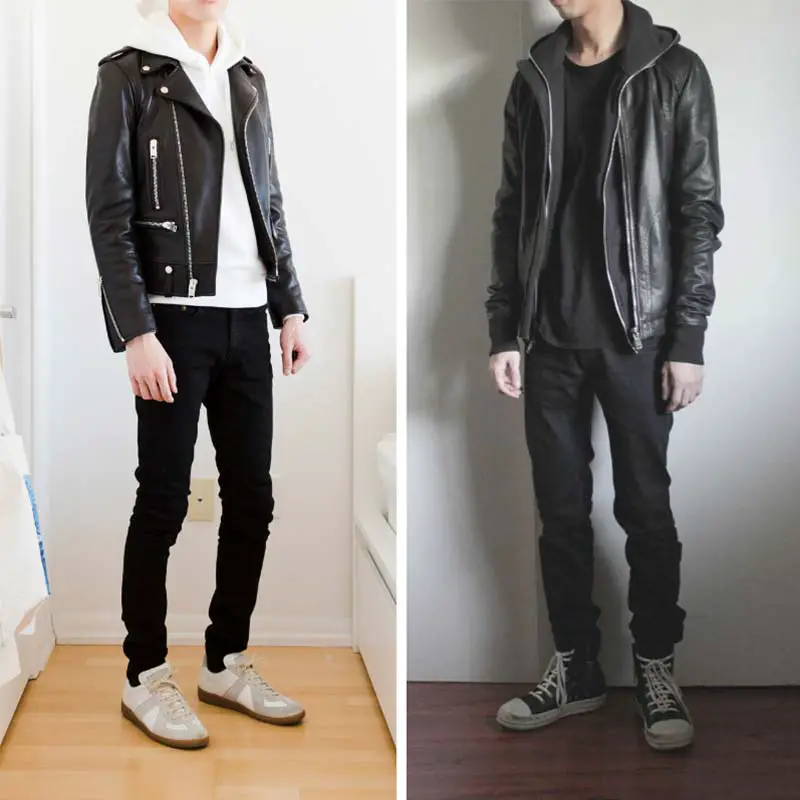 A Guide to Leather Jackets for Men
Types of Leather
Cowhide leather, which is made from the hide of a cow, is by far the most common type of leather used for apparel. Also common are suede and nubuck, leather finishes with a napped surface finish. Suede is soft and supple, while nubuck focuses on providing strength and durability.
Patent leather refers to leather coated with a plastic lacquer to create a sleek, shiny finish. Though far less common, you may also see deerskin, alligator, goat, and pig leather.
Vegan and faux leathers have come a long way in the past few decades. Nowadays, these cruelty-free alternatives are more popular than ever. It's important to remember that these plastic-based textiles are not always made sustainably and can vary greatly in quality.
While it can sometimes be difficult to tell faux leather from real, the most often giveaway is that faux leather will look too perfect or uniform.
How to Determine Leather Quality
When spending a few hundred dollars on a leather jacket, you'll certainly want to be sure you're getting your money's worth. There are four types of leather commonly seen in apparel: full-grain, top-grain, corrected-grain, and bonded.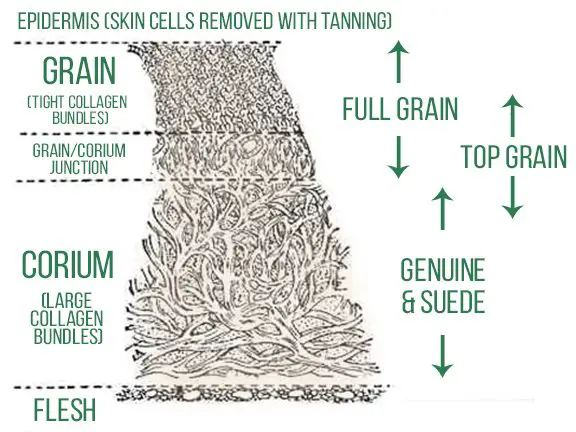 First, it's important to understand that grain refers to the top layer of the hide, which can have imperfections due to scars, brands, insect bites, and other blemishes.
Full-grain leather is when the entire grain is left intact, meaning that any imperfections are still visible. Despite having blemishes, this type is more desirable (and therefore more expensive) due to its durability.
Leather is called top grain if it has been corrected in any way. Typically, this involves buffing a thin layer off the top of the grain to remove any imperfections.
Corrected grain, also known as genuine leather, refers to lower quality leather. It tends to be tougher and less breathable because the surface is often painted or embossed after sanding to create a more flawless finish.
Bonded leather is made using the leftover pieces of the hide, making it the lowest quality (and lowest price). The pieces are bonded together and enhanced using synthetic additives like polyurethane or latex, and manufacturers are not required to disclose what percentage of the fabric is actual leather.
Common Leather Jackets Styles
Double Rider "Motorcycle" Jacket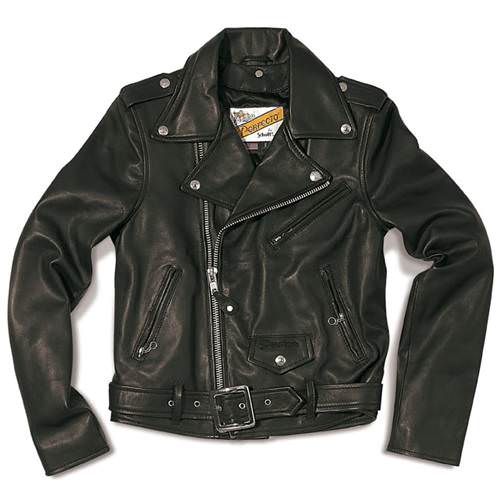 The motorcycle leather jacket we know and love today was originally designed for Harley Davidson in 1928. The thick fabric protected riders from minor accidents and the elements and the cropped style made it more comfortable to wear while riding. Throughout history, the style continued to be associated with edgy subcultures like greasers and punks.
It's also been undeniably prevalent in pop culture. You'll recognize it on Marlon Brando in The Wild One, on John Travolta and his crew in Grease and on the British punk band The Sex Pistols. Today, it's arguably become the most popular leather jacket style in mainstream fashion. The moto jacket is a universal classic, to say the least.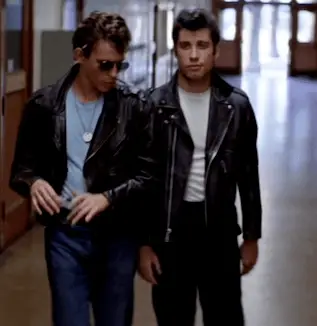 Motorcycle jackets have a shorter cut, often with a thick metal-buckled belt. The style features an off-center front zipper, layered lapels, and zippered front pockets. They typically have lots of metal detailing such as epaulettes, buckles, snaps and exposed zippers. You may also see this style referred to as a rider, which features one front zipper or a double rider, which has two. It may also be called a Perfecto, the trademarked name of the original Harley Davidson style.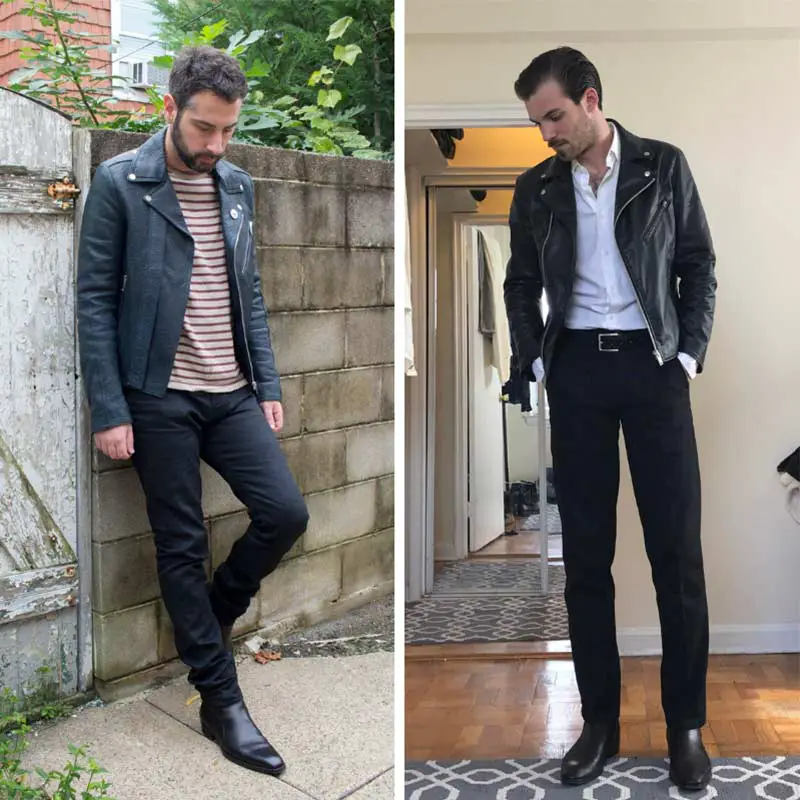 Bomber Jacket
Brown leather bomber jackets were originally worn by World War I pilots. This classic style secured its iconic status when it was worn by Harrison Ford in Indiana Jones and Tom Cruise in Top Gun. Today, bomber jackets have gained widespread popularity, both in leather and other fabrics such as satin or wool.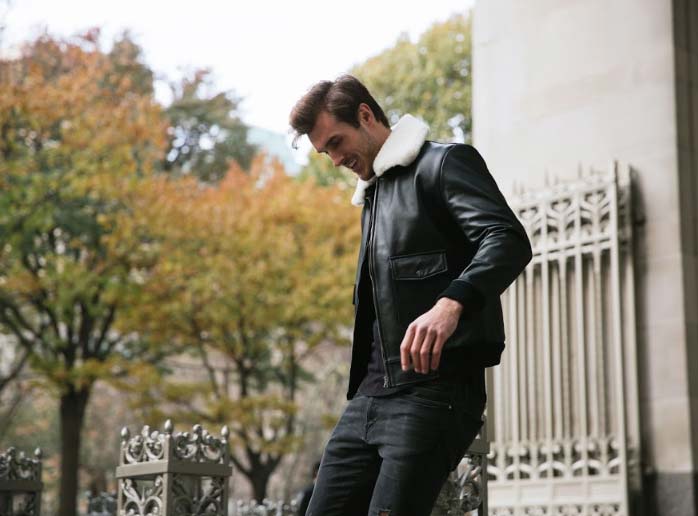 Bomber jackets are characterized by their collar, center-front zipper (sometimes covered by a placket), and ribbing on the cuffs and bottom hem. The style also features front pockets, either zippered or with a buttoned flap. During colder weather, you'll also see styles that are insulated or lined with fur. You may also see these referred to as a flight jacket or an A2.
Racer Jacket
When motorbike racing became popular after World War II, riders wanted a sleek, minimalist style that offered protection without getting in their way. Racer jackets' popularity has remained steady due to their simplicity and versatility. While this style may be simpler than other leather jackets, it's a great choice for men looking for a piece that will still be in style years for many years to come.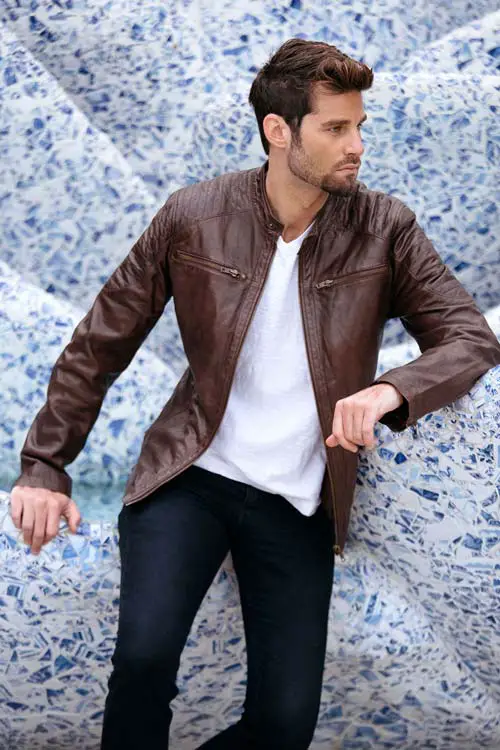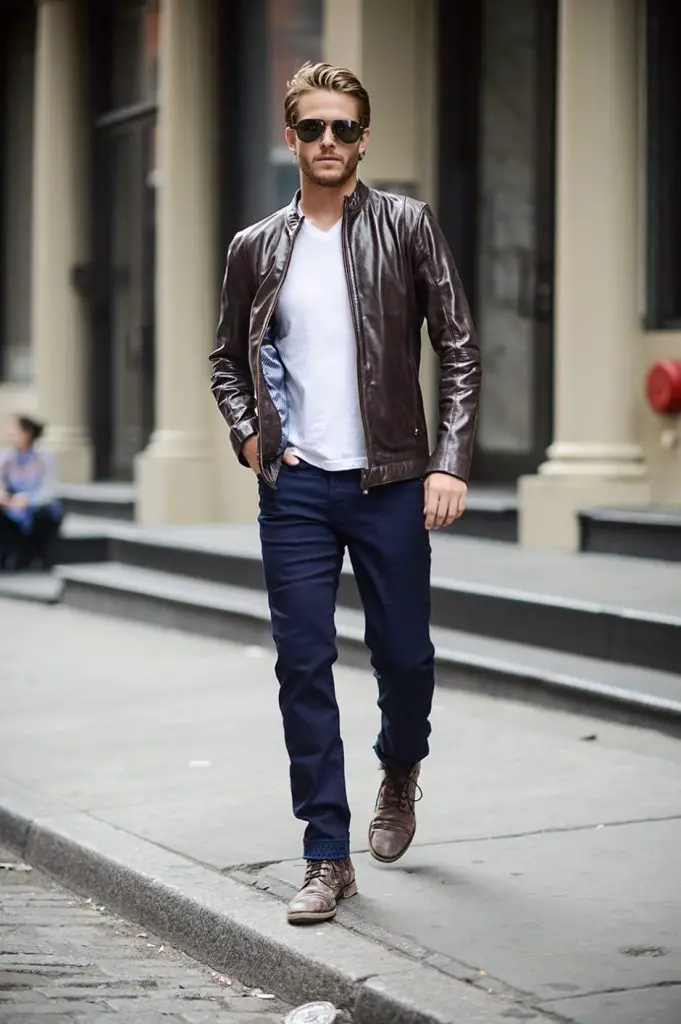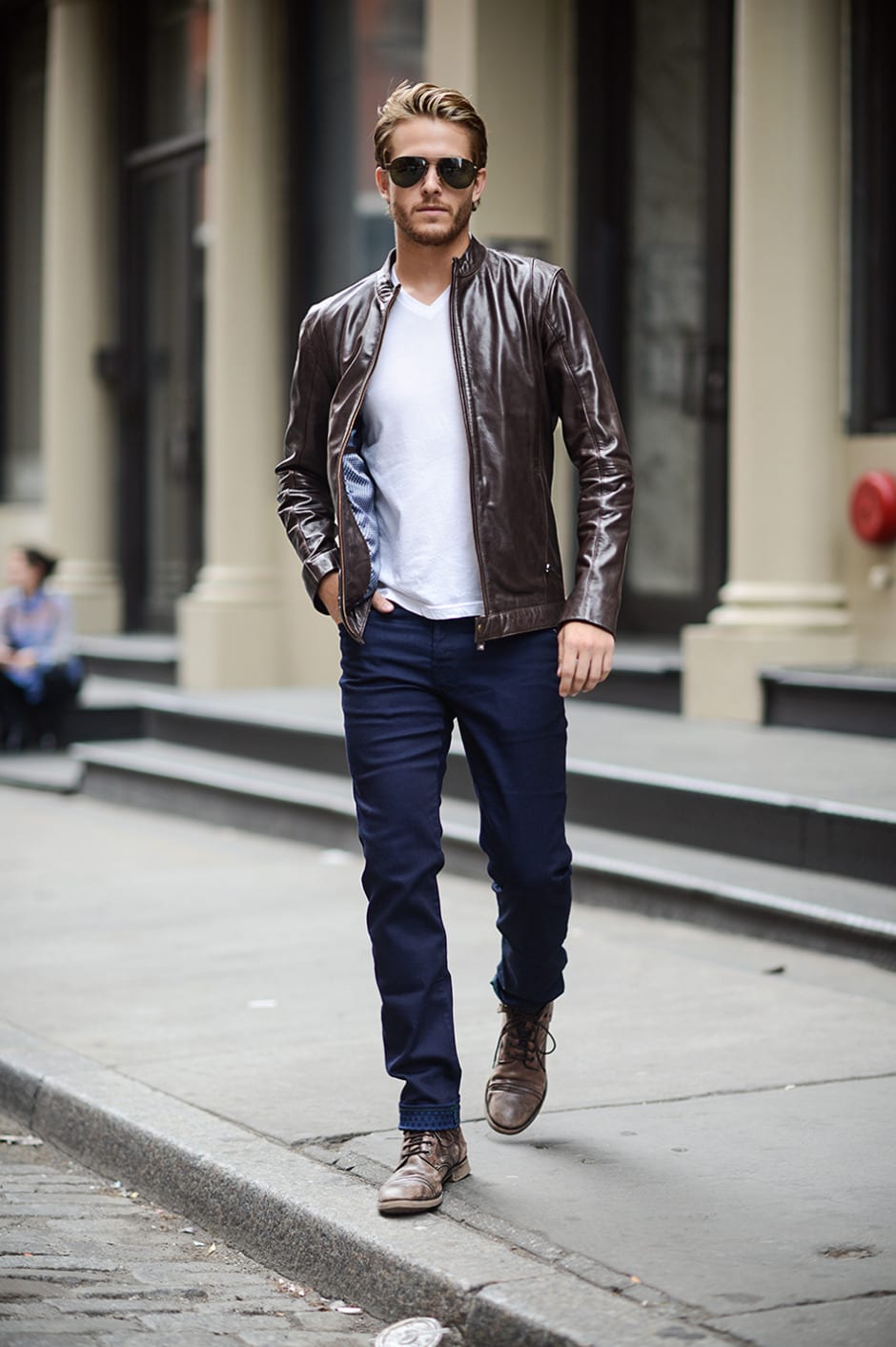 Racer jackets are defined by minimal detailing— a center front zipper, side pockets, and a band collar— and a slimmer fit. These jackets are flattering on a wide range of body types, particularly men with broad shoulders. Because of their simplicity, it's important that a racer jacket fits impeccably.
Leather Jacket Outfits for Men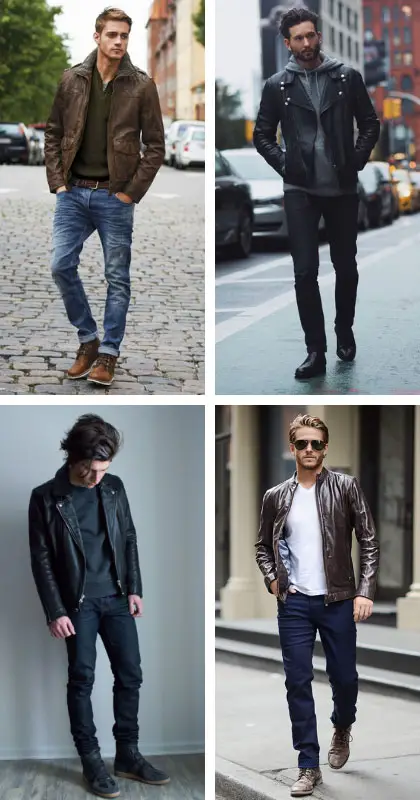 Because of their popularity and versatility, there are endless options when it comes to leather jacket outfits for men. Today, men's leather jackets are most popular for daytime looks and nights out. While you may be able to wear a leather jacket in some business casual offices, it's best to reserve this type of garment for nights out on the town where smart casual or cocktail attire would be too dressy.
Jeans and a T-Shirt
Perhaps the most iconic way to create a men's leather jacket outfit pairs some trust jeans with a simple t-shirt. For an edgier look, try pairing a moto jacket with a basic white t-shirt, a pair of distressed jeans, and sneakers or Chelsea boots. Or try a more European look by opting for a slim-fit racer jacket paired with dark wash jeans and a neutral-colored t-shirt.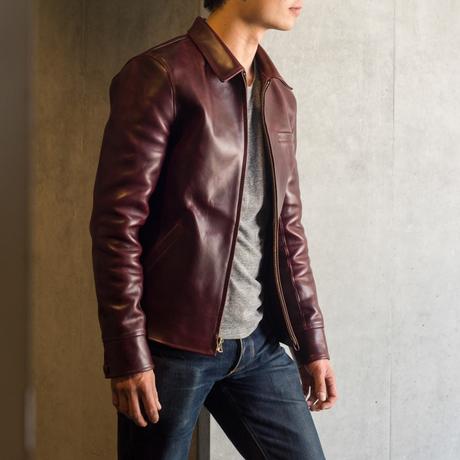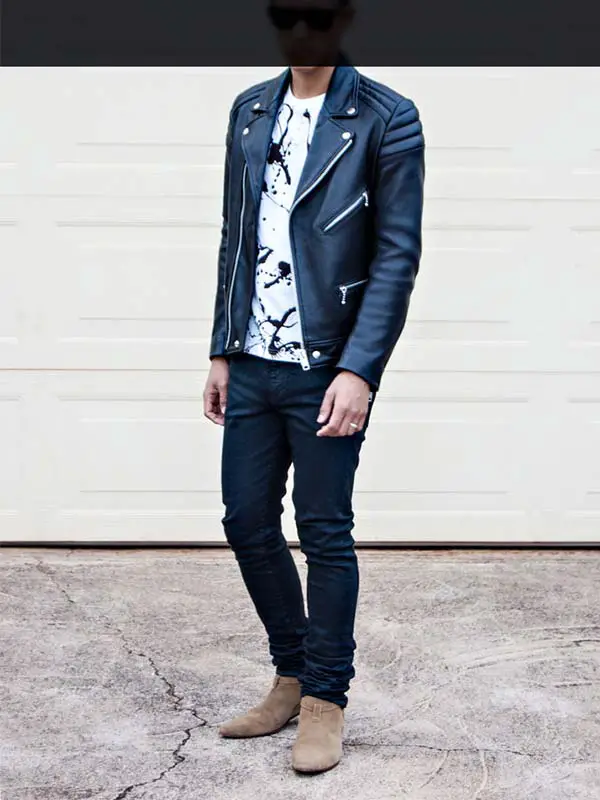 Leather Jacket Over a Hoodie
Another popular way to wear a leather jacket is layering it over a hoodie. This look works best with oversized jackets, particularly bomber or moto styles. Pair with jeans or sweatpants depending on the setting. You can also try this look with a zip-up sweatshirt or a sweater.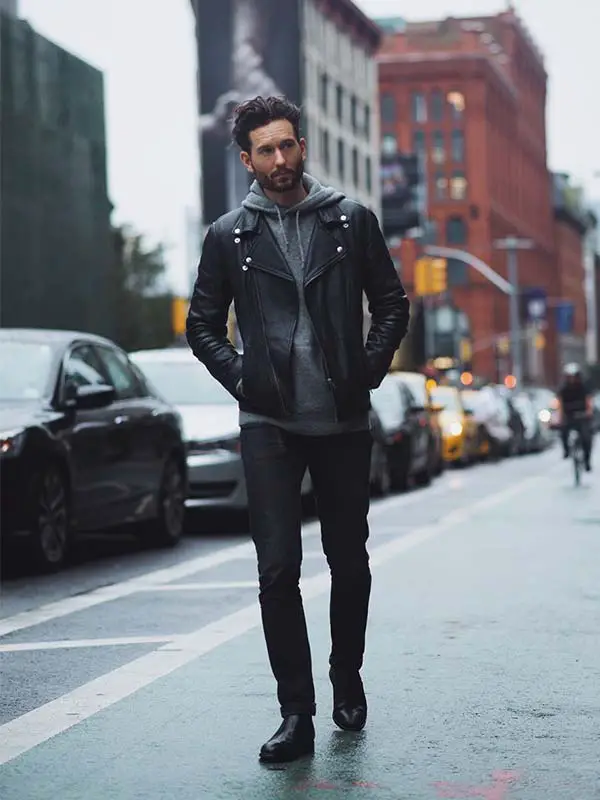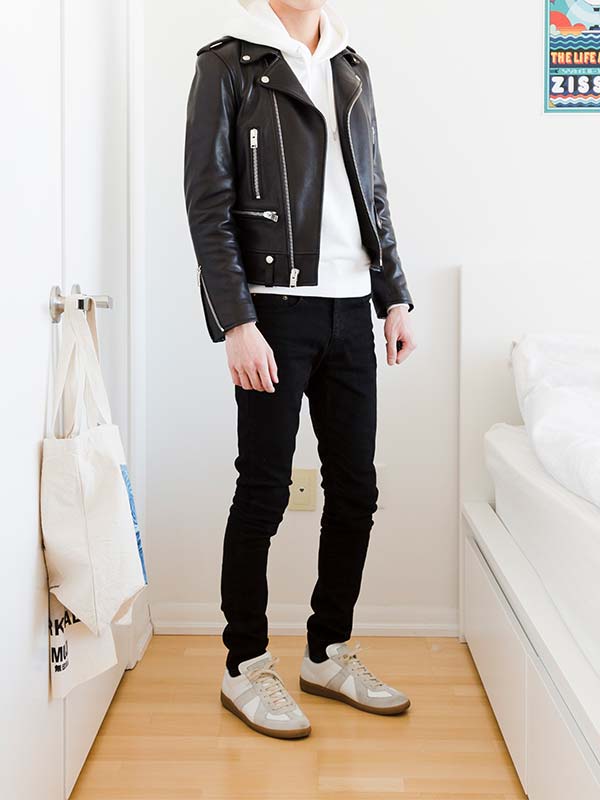 Button-Up and Chinos
Another easy outfit idea is pairing your leather jacket with a button-up and chinos. This outfit is perfect for heading to a dinner or happy hour. Unbutton your top button and leave your shirt untucked for a more laid-back look. Dress the look up a bit by swapping the chinos for a pair of trousers and wearing a pair of leather oxfords.