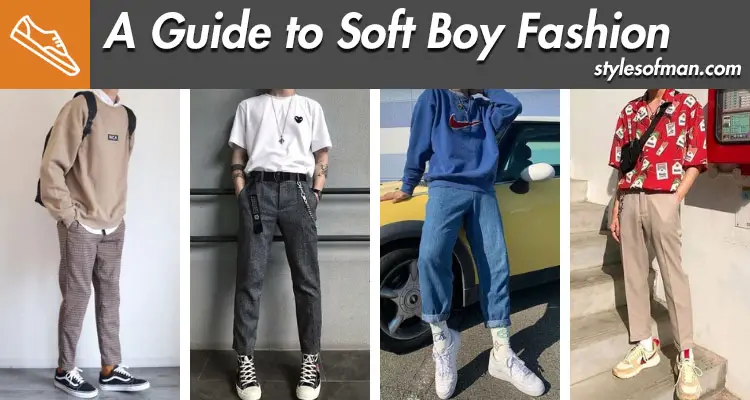 The soft boy aesthetic— the most recent fashion trend to emerge from Tik-Tok— has taken over the internet (and frankly, our hearts). Ask any Tik-Tok-using teenager about soft boys and you'll likely be met with heart eyes and a swooning sigh. Their sensitive, artistic nature makes them a hit with the ladies.
A soft boy is someone who flips culture's expectations of masculinity on their head. Instead of being tough, he is nonthreatening. Instead of spending a Sunday afternoon watching football, he's busy reading poetry and listening to the Smiths.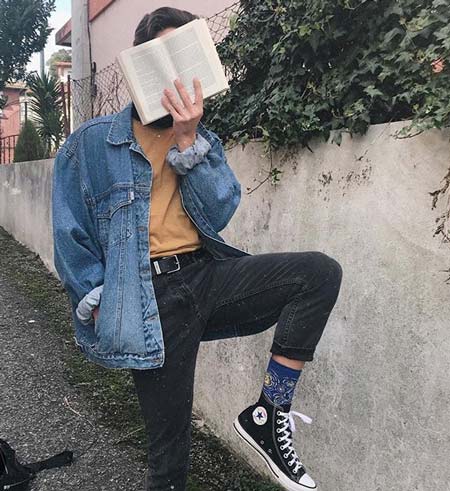 Below, we'll teach you what soft boy fashion is and where the term came from, as well as teach you how to dress like a soft boy with soft boy outfits you can easily recreate. With megastars like BTS, Timothee Chalamet, and Harry Styles all sporting the trend, it's time to learn how you too can dress like an internet-famous #softboi.
What is a Soft Boy?
The term soft boy simply refers to a young male who embraces clothing, hobbies, traits, and an overall aesthetic that is typically considered feminine. Like their edgier counterparts, E-boys, the soft boy aesthetic was born on Tik-Tok. The aesthetic is popular amongst Gen Z and is heavily influenced by K-Pop and social media. Because of its pastel colors, floral prints, and flowy fabrics, soft boy fashion is most popular in the spring.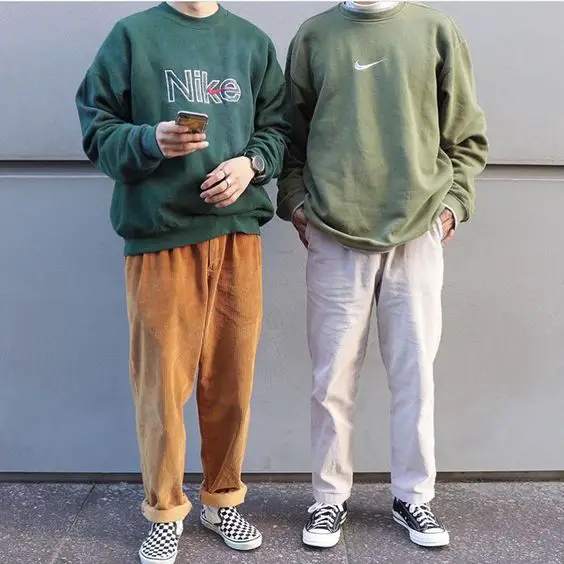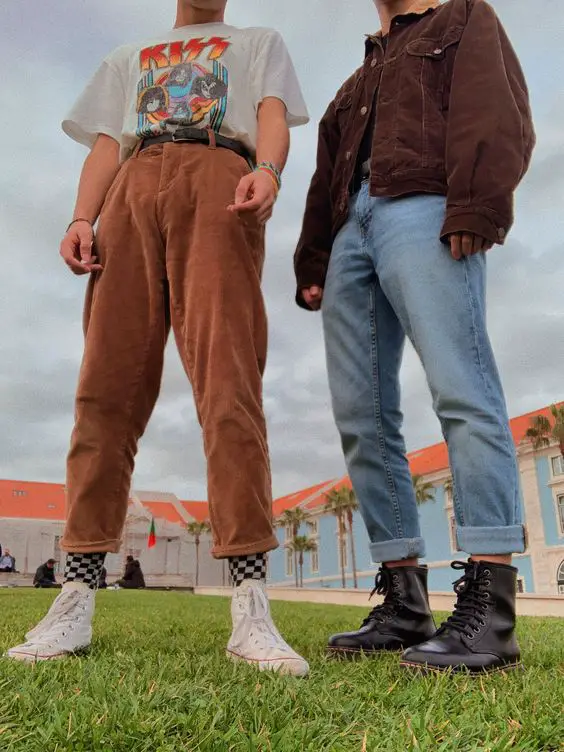 Soft boys typically have creative hobbies like art, photography, music, poetry, or philosophy. You can often spot them at museums, concerts, libraries, and hip bars. Watch out though! In the dating world, soft boys (dating app slang for stereotypical nice guys) have a reputation of breaking hearts.
The Origins of the Soft Boy Aesthetic
The soft boy look first emerged online in the late 2010s. The soft boy aesthetic is considered part of the same internet subculture as E-boys. In 2019, the trend quickly gained widespread popularity among Gen Z audiences on social media sites like Tik-Tok, Instagram, and Tumblr. It was also made popular by young celebrities like Timothee Chalamet, Harry Styles, and Jaden Smith.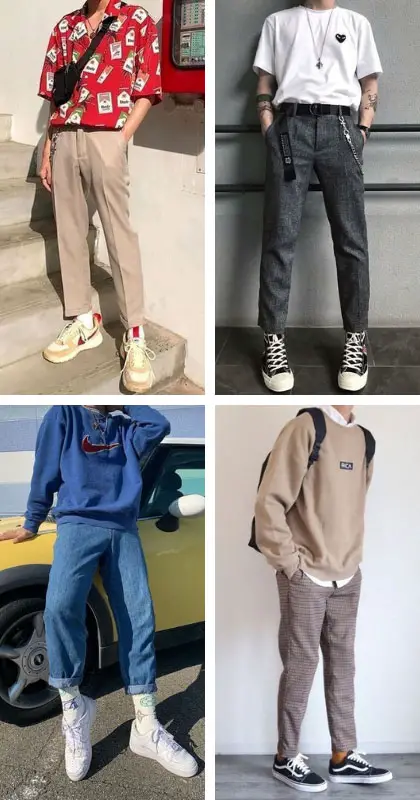 The soft boy aesthetic was born in an era of toxic masculinity. In the midst of a #MeToo world, soft boys reject the traditional ideals of masculinity in favor of a more gentle, non-threatening identity.
It's impossible to talk about the soft boy aesthetic without talking about K-Pop. While the aesthetic has gained worldwide popularity only in the past few years, it's been popular in South Korea's  K-Pop world from the start. You'll often see K-Pop idols wear feminine colors and fabrics, and many have bleach blonde or pastel hair. In most of today's popular K-Pop groups, there's at least one soft boy who plays the 'sensitive guy' role in the group.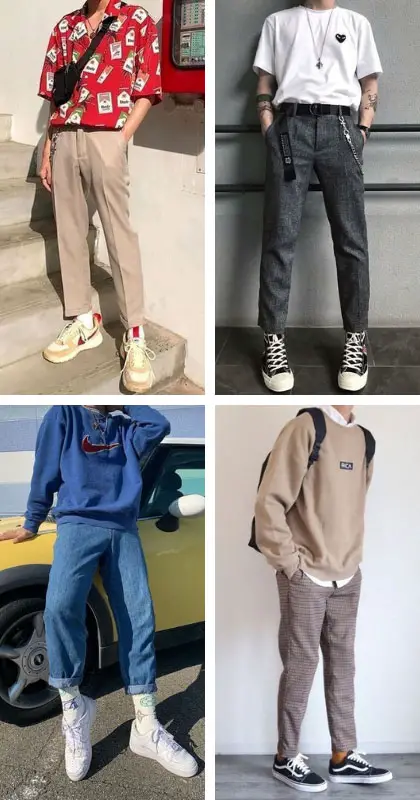 How to Dress Like a Soft Boy
Soft boy style plays with traditionally feminine styles, colors, and fabrics. It incorporates many romantic, vintage-inspired styles. You'll often see soft boys wearing fluffy sweaters and jackets and blouse-like shirts. In more formal settings, the soft boy aesthetic plays on classic menswear tailoring by using bold colors and rich fabrics. They typically wear slim-fit suits with cropped trousers, in brightly colored or velvet fabric.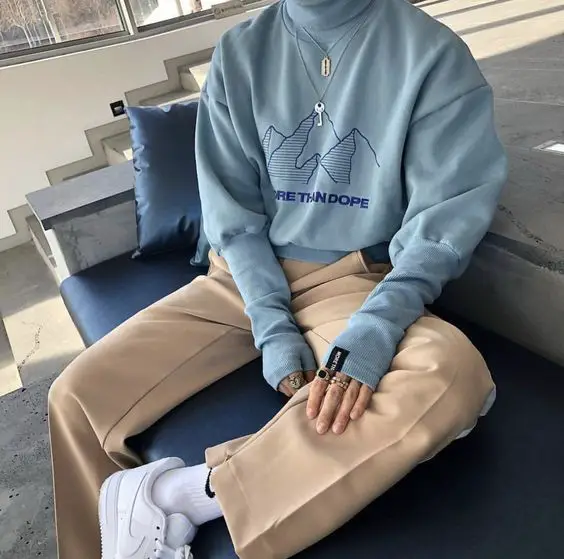 Here's what you'll need to successfully dress like a soft boy:
Wear Vintage-Inspired Clothing
Part of what makes the aesthetic so popular, it that it's easy to recreate on a budget. Many soft boy staples can be found at your local flea market or vintage store. Vintage clothing items you would likely find in a soft boy's wardrobe include:
High-wasted or pleated trousers
Windbreakers
Bowling shirts
Cozy crewneck sweaters
Soft Boy Accessories
Soft boys use accessories to make themselves appear more artistic and scholarly. You'll often see them wearing round wire-rimmed glasses, chain necklaces, gold rings and retro watches. They also love hats: bucket hats, rolled-up beanies, and pastel baseball caps.
Sneakers
Soft boys stick to classic sneakers in simple colors. Popular choices in 2020 include Nike Air Forces, Converse high tops, slip-on Vans, or Adidas Stan Smith. The more beat up and lived-in, the better. Soft boys almost always wear white tube socks with their sneakers and often cuff their pants to show them off.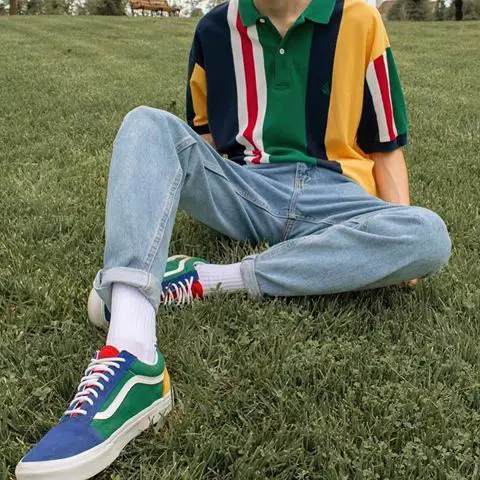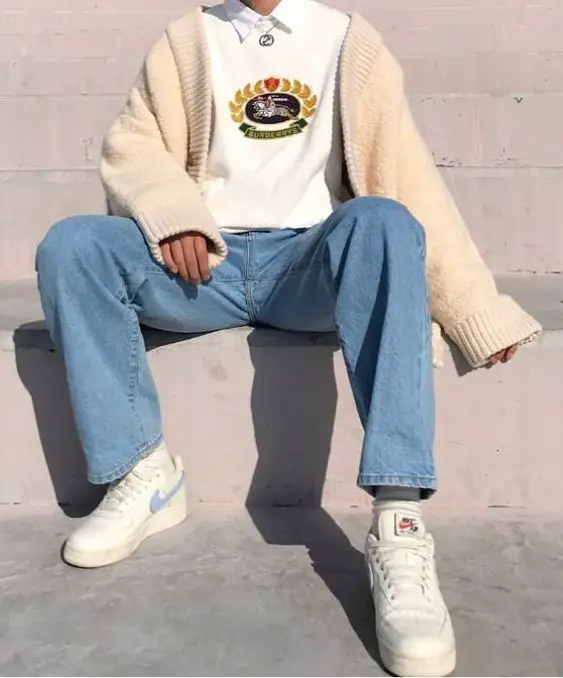 Soft Boy Hair
It's rare to see a soft boy with short hair. Most grow their hair out to medium length. Think of Timothee Chalamet or Harry Styles' floppy curls and shaggy cut. Some soft boys dye their hair bleach blonde or a K-Pop inspired pastel.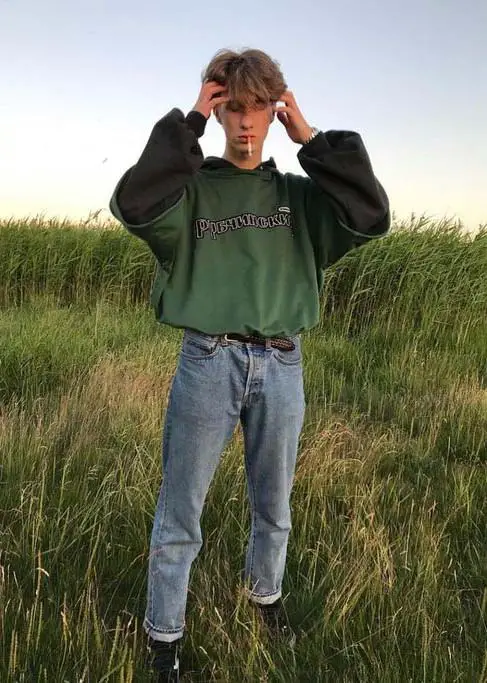 Soft Boy Outfits
Soft boy outfits are surprisingly easy to recreate. Plus, most are super comfortable thanks to their oversized fits and soft fabrics.
For a casual soft boy outfit, pair a striped long sleeve t-shirt with black or light wash skinny jeans and crisp white sneakers. Cuff your pants and accessorize liberally. Some soft boys like to layer a short sleeve striped tee over a long sleeve white tee. Be sure your tees have an oversized, vintage feel.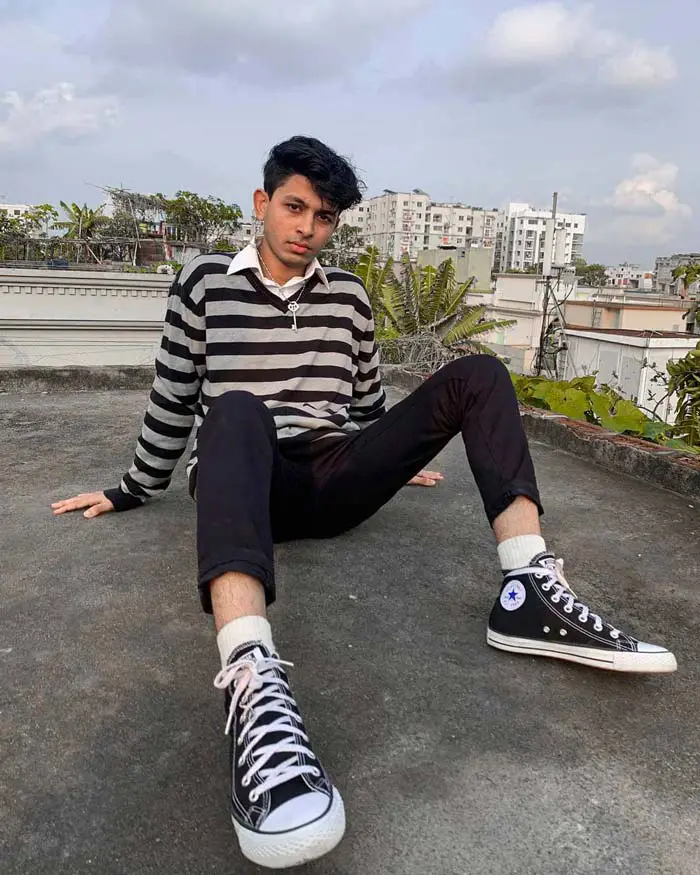 For a cold-weather friendly look, wear a crewneck sweater with a denim jacket and cropped trousers. Accessorize with a belt, sneakers, and tube socks. Soft boys also like to layer a white button-down or pastel polo shirt under their sweaters and sweatshirts.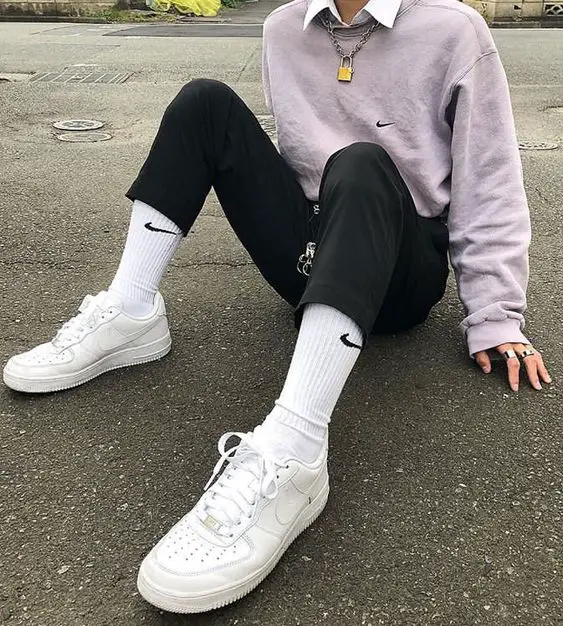 In addition to denim jackets, soft boys also wear flannels, cardigans, and retro windbreakers. Wear your jacket open with a white t-shirt and cuffed black chino pants. Tuck your shirt in and wear a belt. Add layered chain necklaces and a rolled-up beanie.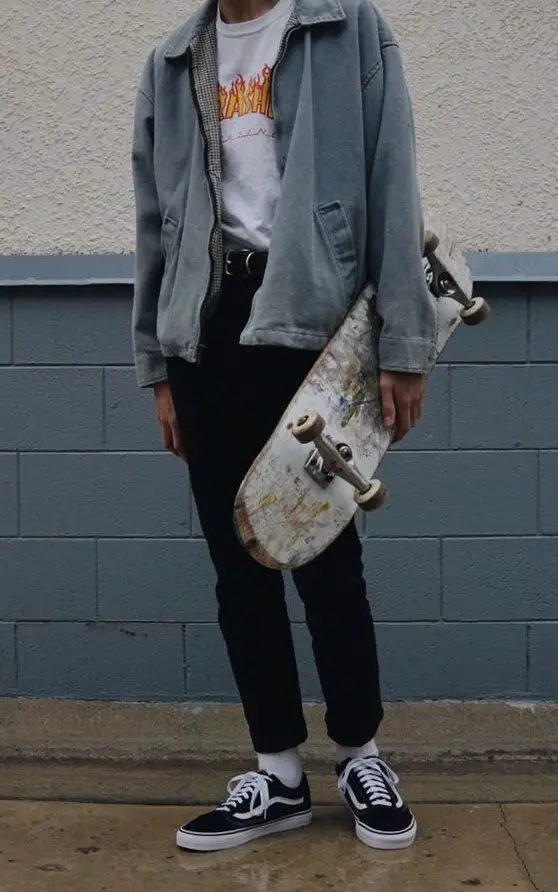 You might like these other popular posts too