Blue Suit With Brown Shoes: Everything You Need to Know
Believe it or not, there existed a time where brown shoes were nowhere to be found in professional workplaces. A man's professional attire was limited to black oxfords or brogues paired with a grey or black suit — fun, right?
Fortunately, the fluidity of men's style trends expanded to encompass navy blue suits and brown leather shoes, which were reserved for casual occasions only. Now, it's commonplace to see the pairing anywhere from business casual to semi formal.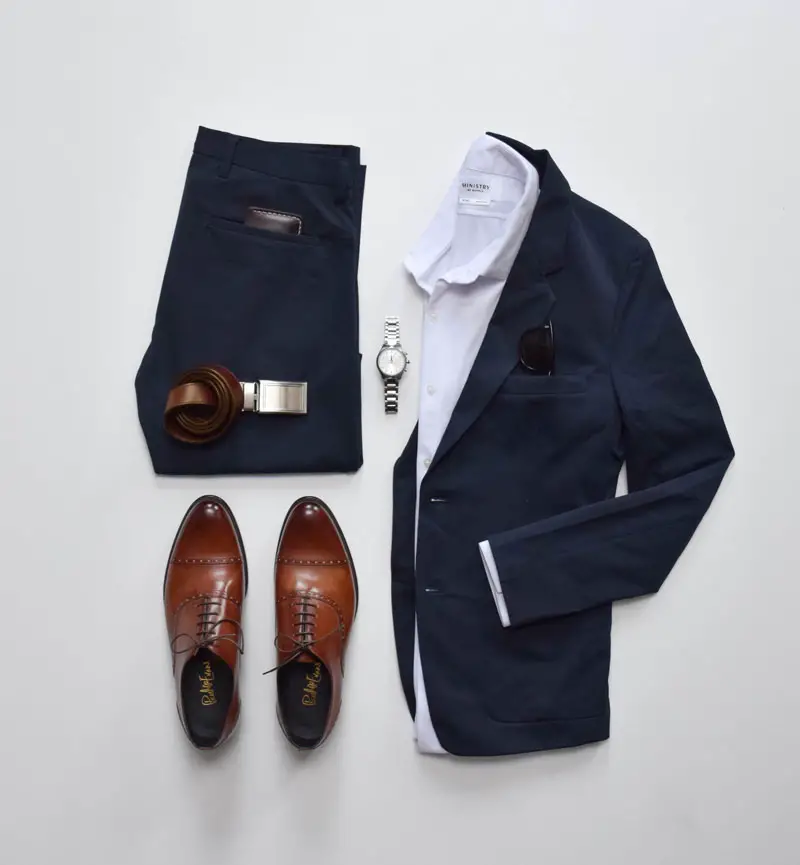 Look to today's style icons, debonair Italian men who covet brown shoes for their amenable nature and patinaed aesthetic, and only wear black shoes to weddings, funerals, and black-tie events.
Put simply, brown shoes add a dash of zeal to a plain suit.
Let's dive in further to answer the most asked questions regarding brown shoes and blue suits in men's fashion today. Here's how to incorporate this dynamic pairing into your dress wardrobe with ease.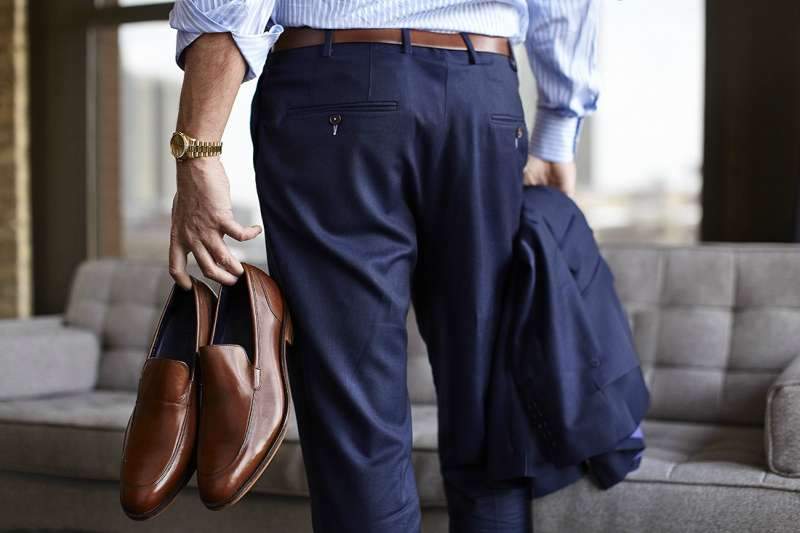 Do Brown Shoes Go with Blue or Navy Suits?
In short, they absolutely do.
With a relaxing in general office dress codes, today's professional men can certainly show up for the day dressed in brown shoes, even with a blue suit.
No color combination reflects high sartorial style more than the well-dressed gentleman in a tailored blue or navy suit with brown dress shoes. With that visual, you may wonder how one achieves such a look without appearing overzealous or underachieving.
How Do I Wear a Blue Suit with Brown Shoes?
With a wide range of blue hues available from deep navy to very light blue, we suggest choosing your blue based on the occasion.
For more semi-dressy events such as a day wedding or after-five cocktail party, a navy-blue suit + chestnut brown shoe combination would be more appropriate.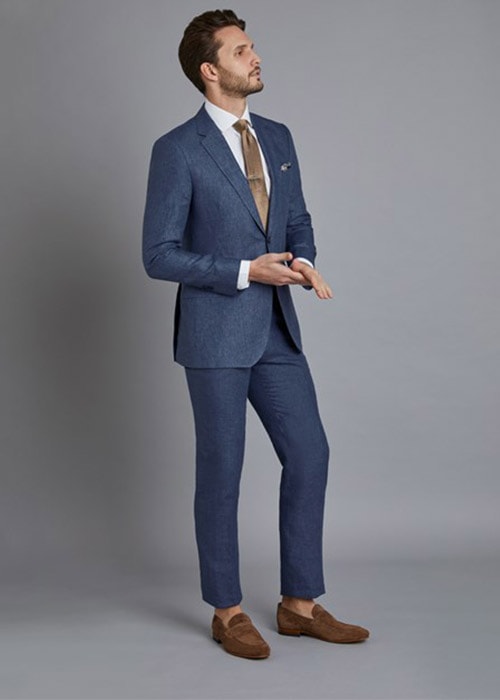 For daywear and office attire, today's standard mid-tone blue is the most versatile and easy to pull off. It's not too dark nor too light, too dressy nor too casual, thus reflecting the ideal blue suit brown shoe getup.
Leave the attention-grabbing electric blues and pale baby blues to the eccentric dresser. The goal here remains to stay classy and refined with just the right amount of wow. You can be sartorially on-trend without looking trendy. On the other hand, avoiding stuffy traditionalism can be achieved by keeping a casual approach when working with the blue suit/brown shoe combination.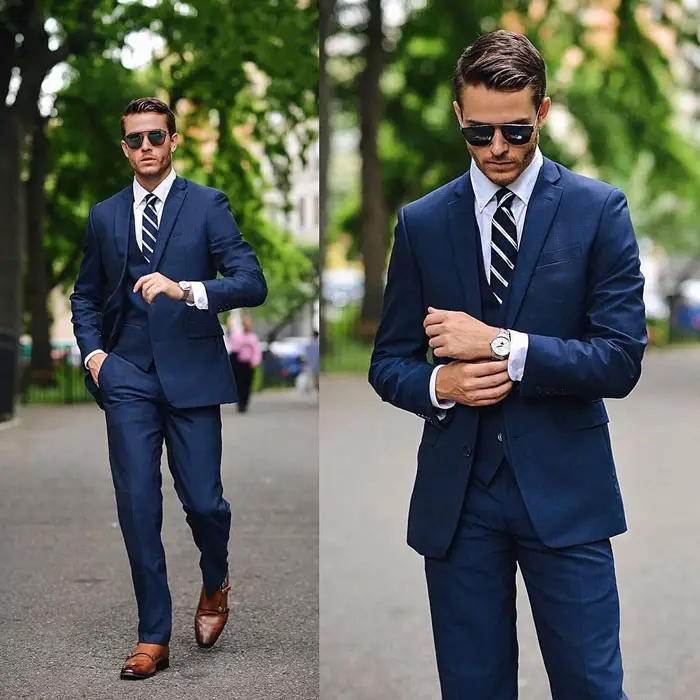 Remember, the key to pulling off a blue suit with brown shoes relies on the perfect color pairings.
What Shade of Brown Shoes Looks Best?
Brown leather possesses many wonderful characteristics not found in black leather. It ages beautifully with a varied patina and buttery softness, bringing a richness and depth to your look. Brown leather hues come in a wide spectrum from near-burgundy to a light camel with dark brown, cognac, and tan falling in between.
Whereas black shoes come in black or, uh, darker black.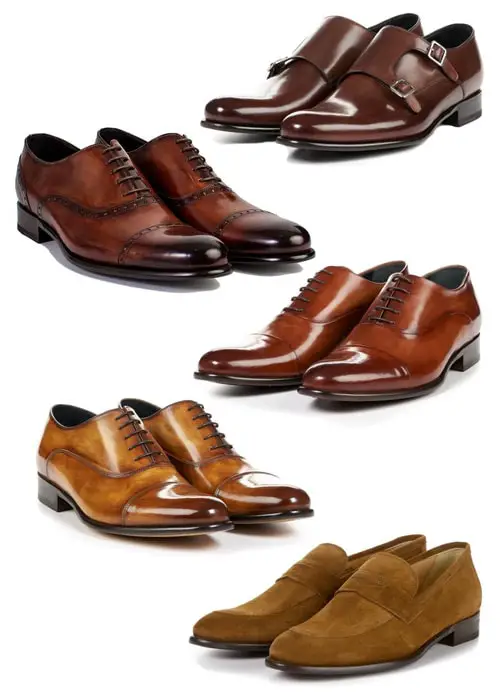 As with blue suits, the occasion will dictate the depth of brown you choose. For formal attire, a navy suit with the darkest brown shoe is an acceptable alternative to black, whether in the boardroom or at a client dinner. Reserve the suedes for more casual or cocktail occasions, where texture can play a larger part in your outfit.
For office attire, a cognac or chestnut shoe paired with the mid-blue tone suit will take you through the day and into the evening for after-work drinks.
Tan (light yellowish-brown), chestnut (reddish-brown) or camel (medium-light brown) shoes with a light blue suit look on-point and stylish for the day date, afternoon mixer, or weekend travel.
What Is the "Best" Types of Brown Dress Shoes to Pair with a Blue Suit?
The type of brown shoe depends on the level of formality of the blue suit.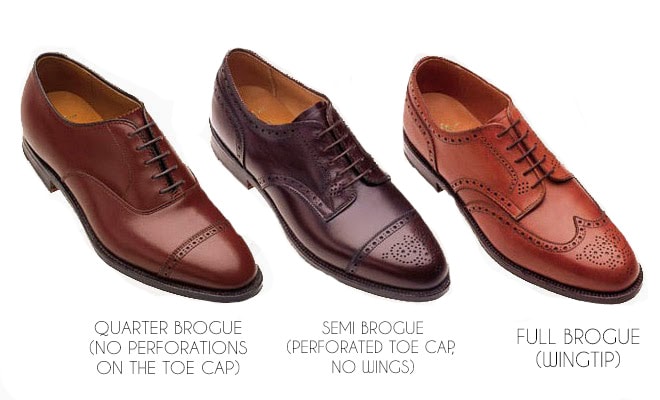 A few basic rules of thumb to consider.
Formal: A formal lace-up Oxford will pair nicely with a finely tailored suit and vest combination.
Semi-Formal: A simple plain toe, cap toe or wingtip shoe in medium to dark brown provides a level of formality sans the stuffiness and works nicely for an important work meeting. Wingtips pair nicely with a tweed suit for a classic look.
Casual: Loafers and tassel slip-ons in tan or camel provide a light air and look great paired with a linen-blend light blue suit with slender legs and tailored style.
Brown Shoes vs. Black Shoes with a Blue Suit—What Looks Best?
Gone are the days of stuffy black dress shoes with the widely accepted brown shoe trend that appears to have no end in sight. Furthermore, the brown shoe offers versatility with so many shades you can't achieve with a black-tie up shoe.
So, with your new-found confidence in the blue suit/brown shoe combination, venture out into a new world of possibilities with a new blue suit and pair of brown shoes, or two of your own.
You might like these other popular posts too