What are the Best Boots for Men in 2020?
Finding the best boots for men remains an essential part of building the perfect fall wardrobe. Great footwear options make it easy to build outfits, pack for trips, and create a versatile work wardrobe — whether you're working from a cubicle or your couch.
Men's boots should be multipurpose, comfortable, and able to withstand unpredictable fall and winter weather. While you don't need to break the bank on a pair of designer boots, you should consider your fall footwear to be a long-term investment in your wardrobe.
Though faux leather options may seem like a bargain at first, it's worth investing in a pair of leather boots. While the price may be appealing, the soggy socks you'll get when it rains won't be. After a few wears to break them in, leather boots will form to your feet, making them far more comfortable than stiff leather alternatives.
Remember: the best boots for men are those that are properly cared for. You should always waterproof, condition, and regularly clean your footwear, particularly leather and suede pairs.
The extra effort ensures your boots will hold up well in any weather and last for years to come.
Below, we've rounded up our favorite boots for men in 2020 and offered our top picks for the best men's boots to pick up for the season.
Men's Lace-Up Boots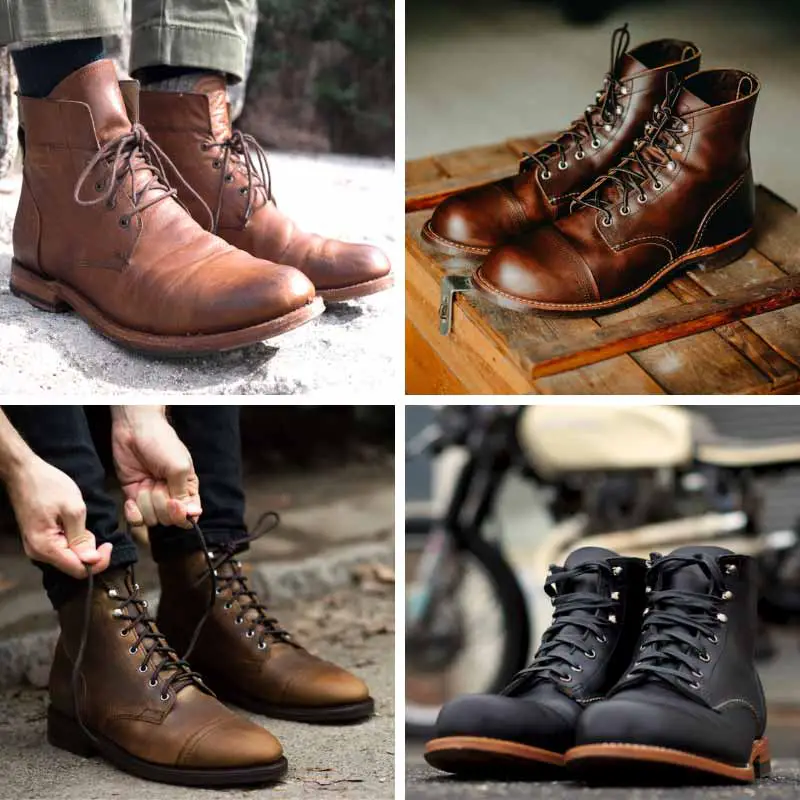 Lace-up boots are typically what come to mind when the average person thinks of "men's boots". They're characterized by 4 to 9 eyelets that allow laces to fasten the boot and provide a good fit (hence the "lace-up"). Even in 2020, these types of boots remain ubiquitous in men's fashion for both fashion veterans and those just beginning their style journey.
In addition to being incredibly popular, lace-up boots come in a wide array of styles, leathers, outsoles, and price ranges.

Cap toe boots— lace-up boots with a straight seam across the top of the toe area— are considered to be more formal. They pair well with slim-fit tailoring and business casual outfits. If you're looking for something you can wear to the office, stick with a pair of cap-toe boots in a classic chestnut brown shade.
Picking up your first pair of boots? These are the perfect place to start.
Our Men's Lace-up Boots Picks
Thursday Boot Terracotta Captain Lace-up Boot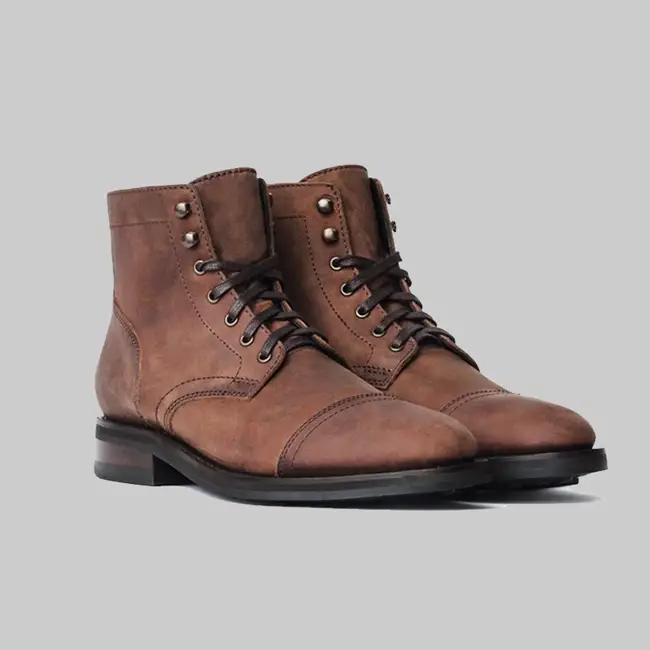 As one of my personal favorite lace-up boots, my pair of Thursday Captain boots have been going strong for a few years now. Constructed with beautiful full-grain leather on a studded rubber outsole, these boots are worth every penny. Resoleable Goodyear welt construction ensures your boots will stay with you for years to come. ($199, Amazon.com).
Red Wing Iron Ranger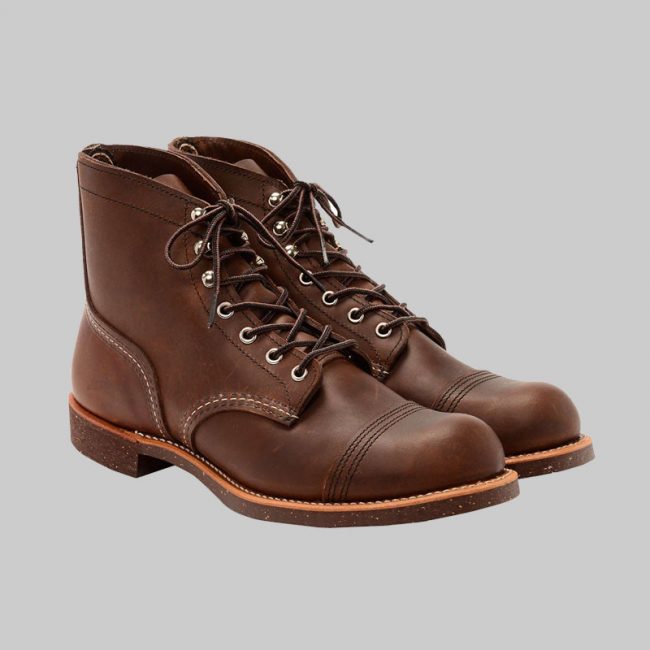 Originally designed for American coal miners in the 1930s, Red Wing Iron Rangers won't fall short when it comes to dependability and grit. Leather insoles and cork midsoles bend and mold to the form of your feet leading to a pair of boots shaped just for you. A popular choice among menswear and workwear enthusiasts, Iron Rangers are at home with a quality pair of cuffed raw denim and your favorite overshirt. Though they're far from cheap, consider these the endgame of American-made leather boots. ($329, Zappos.com).
Doc Martens 1460 Lace-up Boot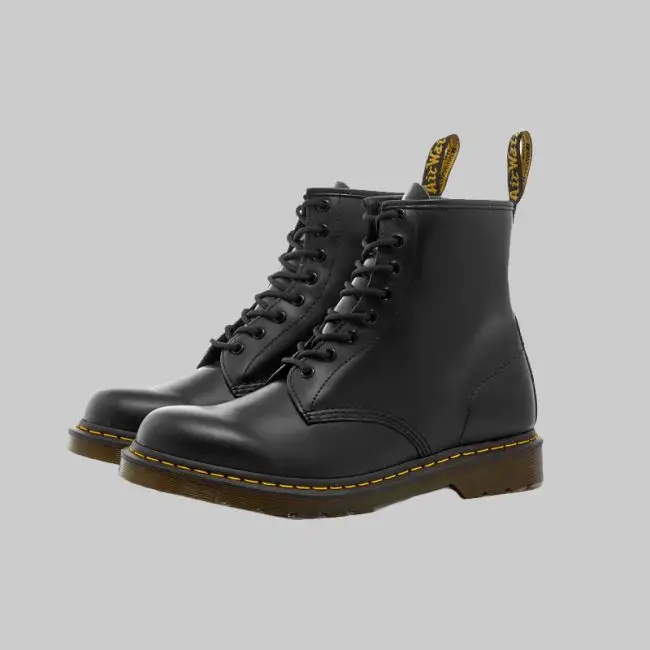 If you find your style to be edgier than traditional menswear, you can't go wrong with a pair of Dr. Martens. The 1460— a classic combat boot complete with chunky soles and Dr. Martens signature yellow stitching— has retained a cult following for good reason ($150, DrMartens.com).
Chukka Boots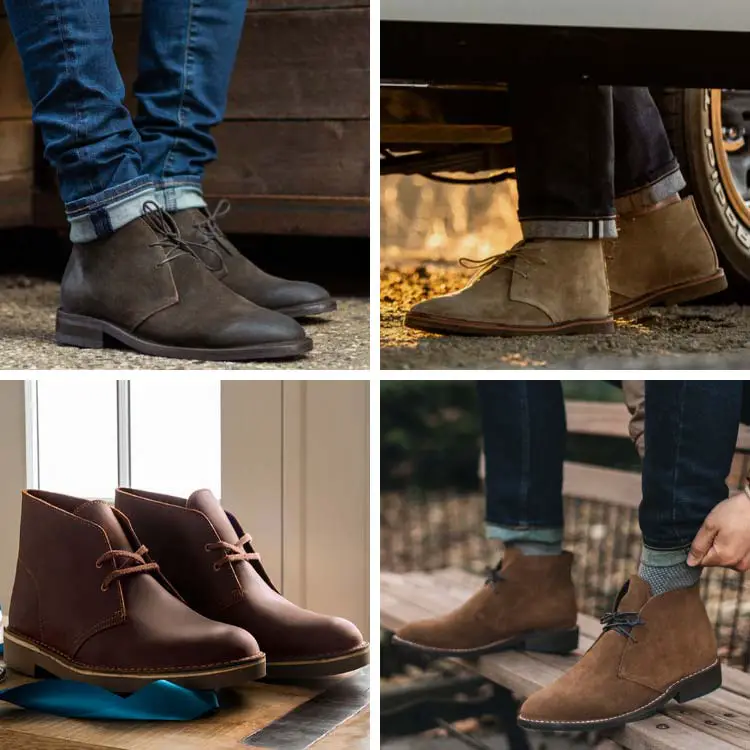 It's impossible to compile a list of the best boots for men without including the chukka. Chukka boots are a popular style of men's boots characterized by their short stature and minimalist construction. Unlike lace-up boots that hit above the ankle, Chukka boots stand ankle-high and lace-up with only 2-3 eyelets. They're lightweight, easy to get on and off and look great with a pair of cuffed chinos or denim. While Chukka boots are ideal for transitional fall weather, they can easily be worn year-round.
Our Men's Chukka Boots Picks
Thursday Boot Scout Suede Chukka Boot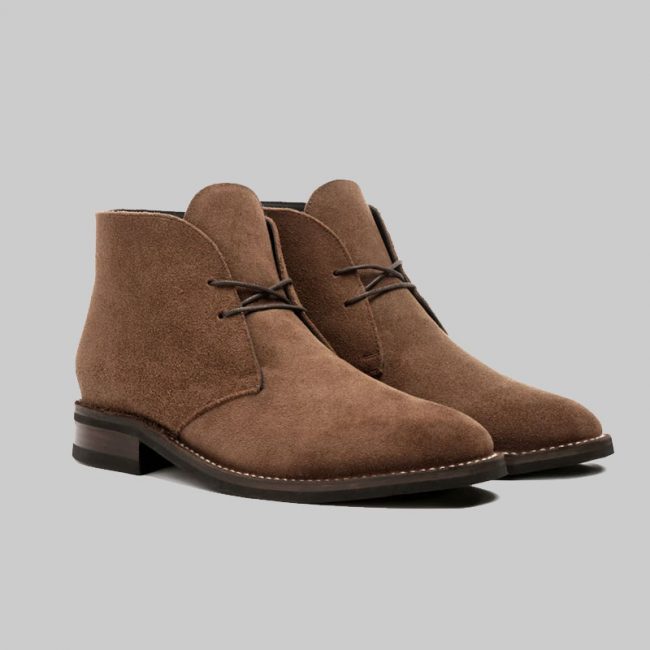 Designed in NYC and handmade in Mexico, the Thursday Boots Scout chukka stands as true-to-form to a chukka as you can get for the price. Constructed of a beautiful cognac-colored water-resistant suede, the Scouts can carry you from the office to date night and everywhere in between. This pair comes with only 2 eyelets to fasten the tongue to your foot, so make sure to pick the correct size. I wear a 10.5 in most shoes and opted for a 10 with the Scouts. Perfect fit! ($149, Amazon.com).
Rhodes Footwear Dylan Chukka Boot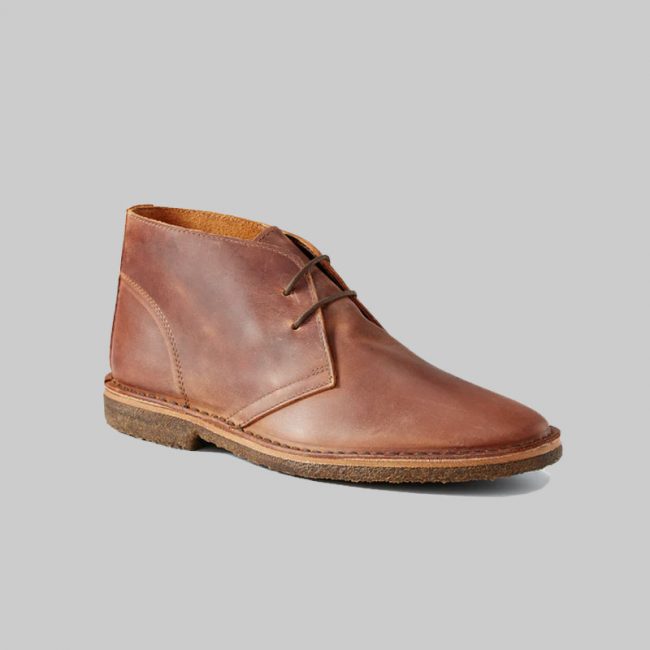 Though still a chukka, these boots would more accurately be referred to as a desert boot. Defined by thinner leather or suede fitted onto a crepe sole, desert boots work best in fair, dry weather. The Dylan Chukkas make their way from Italy, where they're handmade from Italian leather and sewn onto a natural rubber sole. Our only gripe with these is that the rubber sole can potentially wear away, especially if you often drag your feet. Still, a good European-made choice for under $140. ($139, Huckberry.com).
Best Boots for Men: Chelsea Boots
If chukkas are the more casual, easy-going boot, consider Chelsea boots the stylish, clean-shaven older brother.
This British-inspired style dates back to 19th century England and has been worn by everyone from Queen Victoria to the Beatles. Truly a classic, their form has seen minimal alterations over the years. Best of all, they're easy to slip on and off thanks to the heel tabs and elastic section on the sides. On the same note, it's essential to ensure a perfect fit with Chelsea boots as there aren't any laces or zips.
If you're looking to make your style feel more sophisticated, black leather Chelsea boots are a no-brainer. This classic style is great for dressing up at the office, weddings, and other formal settings. These boots pair best with a darker color palette, leather jackets, and slim or skinny denim.
Our Men's Chelsea Boots Picks
Thursday Boots Cavalier Chelsea Boot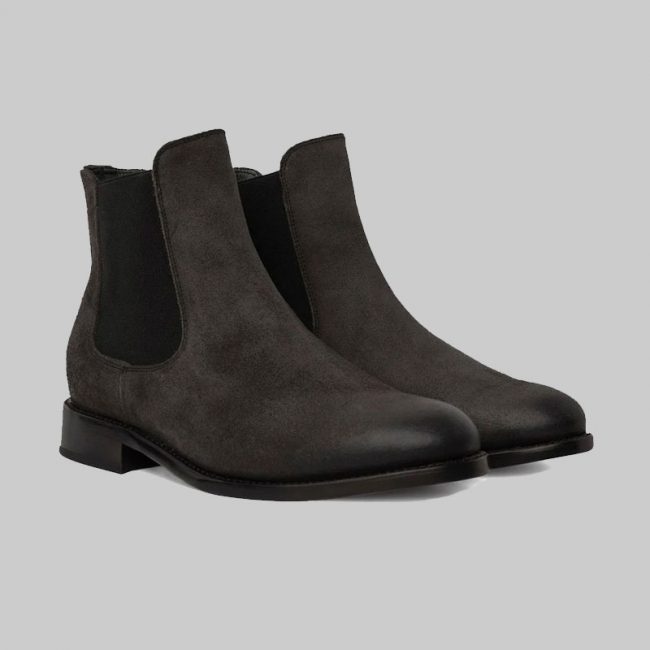 Constructed from the same hydrophobic treated suede as the Scout Chukkas, the Cavalier Chelseas won't falter if date night gets an unexpected rain shower. These boots come in 2 types of leathers and 4 shades of suede. While the darker colors are objectively more formal, the lighter suedes and leathers can be a more versatile choice. ($190, ThursdayBoots.com).
Oliver Cabell Lion Chelsea Boot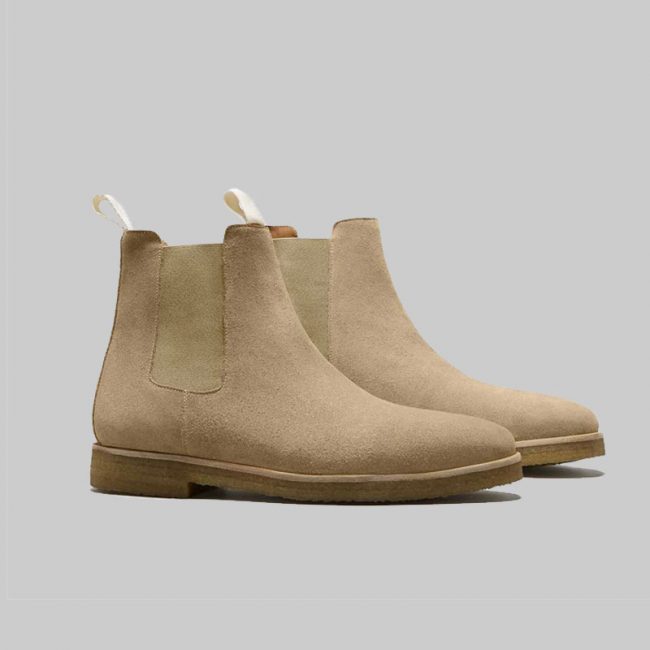 While Chelsea boots have traditionally been worn more formally, the slip-on design lends itself well to casual looks as well. If you want something more laid-back, try a pair of light-colored suede Chelsea boots that will look stylish no matter the season. Unlike the boots from Thursday, these Spanish-made boots feature 3oz Italian split suede fitted onto a crepe sole made from Hevea milk. ($221, OliverCabell.com).
Hiking Boots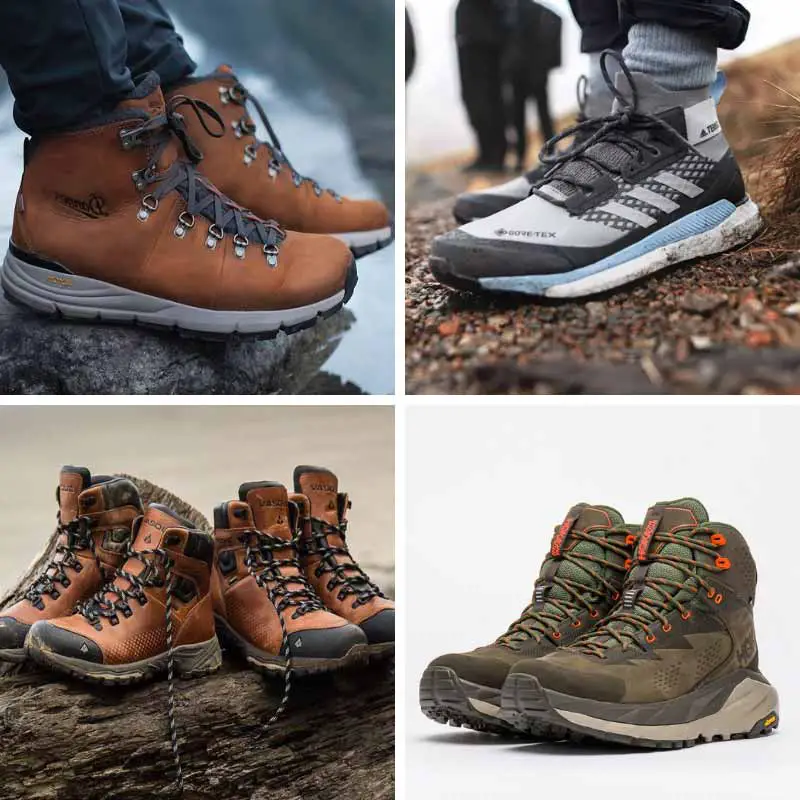 Regardless of whether or not you'll be hitting the trail, it's never a bad idea to have a good pair of hikers. Because of their durability, hiking boots are great for days with bad weather. A stylish pair of hiking boots adds a rugged, outdoorsy feel to any outfit. Technical qualities like Vibram soles and Gore-Tex waterproofing — commonplace for hiking boots — have even led to their adoption in techwear communities.
Focusing on function doesn't mean sacrificing on style. If you have a job where you frequently visit worksites or outdoor areas, leather hiking boots can be both a smart and stylish choice.
Our Men's Hiking Boots Picks
HOKA ONE ONE Kaha GTX Hiking Boot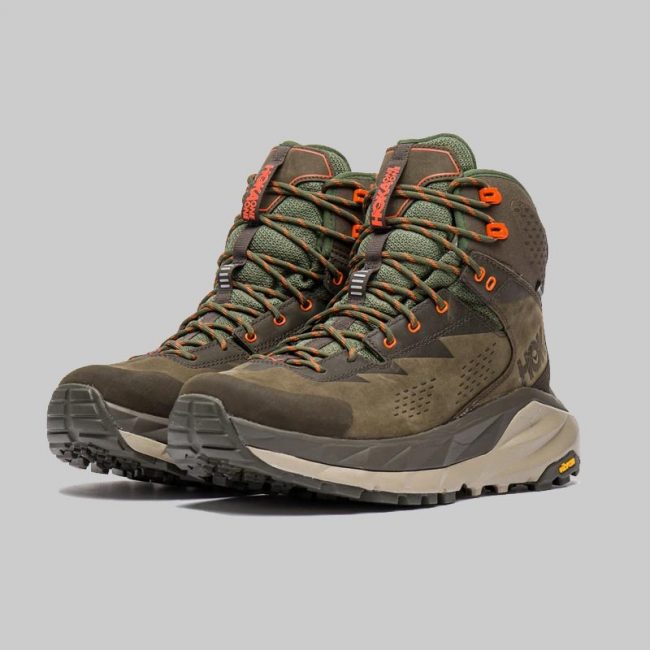 There's a reason why the HOKA ONE ONE Kaha boot gets a lot of buzz from the hiking community. Not only does it look great, but smart choices in composition make it surprisingly lightweight for its size at 18.2oz. Made from full-grain leather and waterproofed with Gore-Tex, the Kaha GTX will easily guide you through a day hike and for a celebratory beer afterward. $219, BackCountry.com).
Adidas Terrex Free Hiker

Proudly walking the line between boot and sneaker, the Adidas Free Hiker offers the best of both worlds. Think of it as the Ultraboost's more outdoorsy (yet still fashionable) cousin. Sitting on the ever-popular Adidas Boost midsole with a Continental rubber outsole, the Free Hiker guarantees both comfort and stability with each step. The shoe's upper is composed of a sock-like PrimeKnit upper to provide a snug, yet comfortable fit. Unlike most boots, the Free Hiker fits true-to-size. Since the fit is so snug, I ended up exchanging my pair of size 9.5 Free Hikers for a 10.5. ($199, BackCountry.com).
Tactical Boots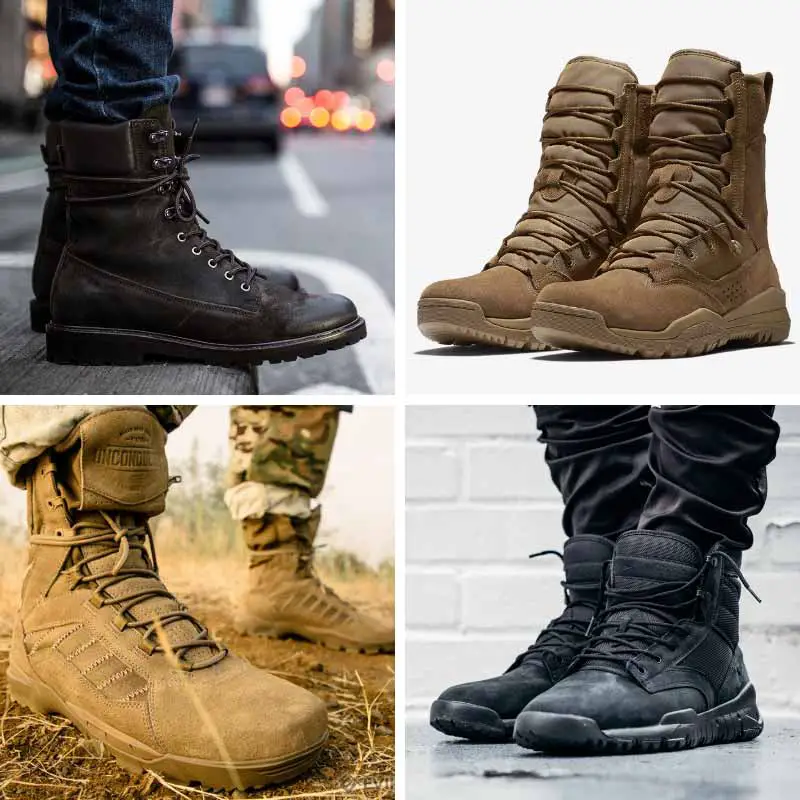 While tactical boots draw inspiration from military footwear, they've become an increasingly popular choice for everyday casual wear. A favorite amongst streetwear fanatics and techwear gearheads alike, they're a great fall alternative to sneakers.
Our Men's Tactical Boot Picks
Nike SFB 2 Field Boots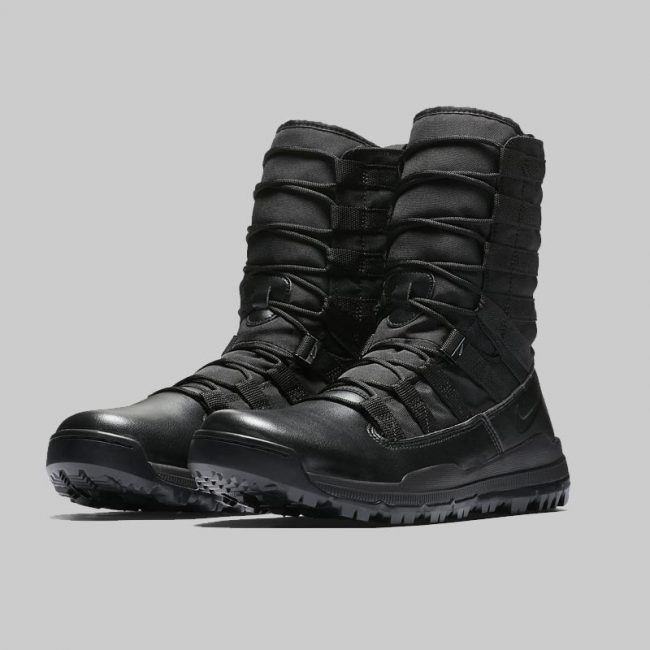 Originally manufactured for first responders and armed forces, Nike's second iteration of its Special Field Boot stand tall. Literally. At 8″ high, the boot ensures your feet stay dry and protected. They run more true-to-size, so order your usual Nike size. ($170, Nike.com).
HOKA ONE ONE Tor Ultra Hi Boots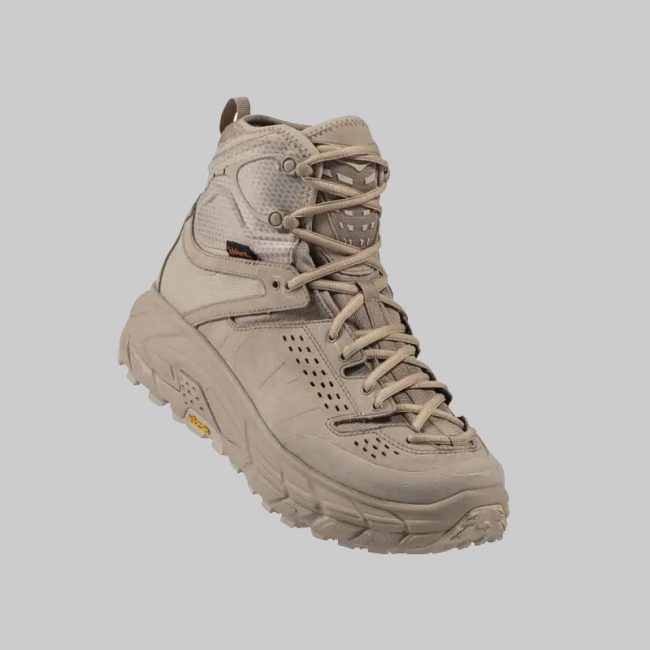 While the Tor Ultra Hi boots from HOKA ONE ONE may be meant for hiking, they fit in just fine in the tactical boot category. Their techy appearance also makes them popular in more casual wear. Blending running shoe cushioning with a more rigid, supportive upper, the Tor Ultra Hi is a quintessential outdoor boot. It's fitted on a Vibram MegaGrip outsole with an EVA and RMAT midsole, meaning each step gains traction and energy return. Plus, they're waterproof. ($219, BackCountry.com).
You might like these other popular posts too